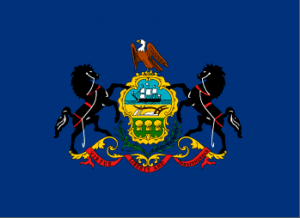 Hanger exits, while the Democrats hold Senate and AG debates at the Progressive Summit. Plus, last week's Ups & Downs! Good morning politicos, here's the Playbook!
2/19 Ups & Downs: No Kane second term, Scalia causes Toomey trouble and a battle erupts between the Donald and the Pope. See who made this week's list!
PA-Gov: Hanger Leaves the Wolf Administration: John Hanger is stepping down as Secretary of Policy and Planning.
PA-Sen: Democrats Debate at Progressive Summit in Harrisburg: The three Democratic candidates for Senate gathered in the ballroom of the Harrisburg Hilton this evening for their first formal debate.
Rivals Hammer Shapiro at AG Debate: Zappala and Morganelli team up against Shapiro at the Progressive Summit.
2016 Progressive Summit Preview: Here's what progressives will be up to in Harrisburg this weekend.
PA-Sen: Fetterman Makes the Personal Pitch: We interview the Braddock Mayor and Senate Democratic hopeful.
Pennsylvania Online Voter Registration Hits 100K: Six months in, the online system has already added thousands of new voters.
2016 PoliticsPA Nevada/South Carolina Pool: Cosponsored by PoliticsPA & The Law Offices of Adam Bonin, enter for your chance at eternal glory. Winners announced here next week.
Sunday Show Preview: February 21, 2016: We take a look at the Sunday morning political talk shows that will air throughout the state.
Statewide
State House Sound Bites: Top aide leaving Wolf administration
PA Independent: Pennsylvania Supreme Court removes charter school enrollment caps
StateImpactPA: Worker dies in pipeline accident, PUC steps up calls for reform
Philadelphia
Heard in the Hall: Petition launched to abolish City Commissioners
Inquirer: Kenney releases transition team report
Inquirer: Phila. interfaith group expands POWER
Inquirer: Lawyer's name runs through email traffic
WHYY Newsworks: Trump, Cruz carry primary appeal for Pa., N.J. Republican voters
WHYY Newsworks: Clarke seeks legal nudge to make city-supported business give Philly applicants priority
WHYY Newsworks: After nearly 100 recovery homes move in. Bristol Township acts to 'stay' their growth
WHYY Newsworks: Helping immigrants with business needs, Philly hopes to gain in translation
SEPA
Pottstown Mercury: $90k Pottstown Schools salary plan raises questions, teacher ire
Bucks County Courier Times: Bucks County Judge Rubenstein reflects on career as forced- retirement age looms
Bucks County Courier Times: Referendum asks if judges' retirement age should be 75
Bucks County Courier Times: Burlington County officials to fight proposal for chemical plant in Falls
Delco Daily Times: U.S. Rep. Pat Meehan speaks at federal forum
Pittsburgh
Tribune-Review: Importance of prosecutorial experience debated in attorney general race
Tribune-Review: South Carolina primary offers snapshot of GOP
Tribune-Review: Pa. Gov. Wolf adviser Hanger leaving administration
Tribune-Review: Judge sides with UPMC in anti-trust suit
Post-Gazette: Democratic candidates for state AG tout career accomplishments
Post-Gazette: Report: Hate groups up in Pennsylvania
Southwest
Beaver County Times: Beaver County solicitor Bernie Rabik fired for unspecified reasons
Beaver County Times: House members call school district consolidation bill a step toward big savings
Observer-Reporter: Peters Township School District, union post latest contract proposals
Observer-Reporter: Robinson Township manager resigns
NEPA
Times-Tribune: Scranton pensions face multiple legal challenges
Citizens Voice: Election might perpetuate state budget fiasco
News Item: Changes coming for vehicle registration
South Central
York Dispatch: York women among group fighting to remove Essure
York Dispatch: Exonerated prisoners here 'existing 1 day at a time'
York Dispatch: Toomey, Senate GOP very unlikely to back Obama Supreme Court pick
Carlisle Sentinel: Energy Lessons: Solar arrays meet expectations but energy credit revenue falls short
Lancaster Intelligencer: Pizza, Honest Abe and other highlights of the Lancaster poverty commission's hearing
Patriot News: Resume battles, visions for office dominate first debate in three-way Democratic field for Attorney General
Patriot News: Dauphin County Democrats declare open primary in U.S. Senate race
Roxbury News: John Hanger leaving Wolf Administration
Lehigh Valley
Reading Eagle: Cancer task force raises hopes
Express Times: Phillipsburg councilman switches to GOP after fight over appointment
Morning Call: Funeral director/legislator pushing bill that would up his profits
Morning Call: Allentown Mayor Ed Pawlowski has $100,000 left in his U.S. Senate campaign fund
Capitol Ideas: Few on-stage distinctions among Democratic U.S. Senate hopefuls
North by Northwest
Williamsport Sun-Gazette: Domestic violence crosses all lines
Williamsport Sun-Gazette: Independent to run against US Rep. Marino
Erie Times-News: Badams: Erie school funding a moral issue
Opinion
Carlisle Sentinel: Sanchez: Latino voters not loving Cruz, Rubio
Carlisle Sentinel: Thomas: Antonin Scalia's successor
Carlisle Sentinel: Bernie, Hillary fail Economics 101
Lancaster Intelligencer: The friendship between the late Justice Scalia and Justice Ginsburg, ideological opposites, offers a lesson for us all
Lancaster Intelligencer: The hidden costs of Pennsylvania's long-running, seemingly entrenched, budget impasse
Patriot News: Gerow: Filling Scalia's seat is one thing – replacing him? That's another
Patriot News: May: With SCOTUS opposition, Toomey and GOP are galvanizing voters – just not theirs
Reading Eagle: Deitz: Nowhere to hide when light shines into the darkness
Morning Call: White: Scalia vacancy claim is Republican urban legend
Williamsport Sun-Gazette: 'Cheapest' solution may cost the most in Montoursville
Erie Times-News: Howard: Officials should explore police merger in Erie suburbs
Delco Daily Times: The Wolf at the door in Pa. Budget war
Inquirer: Donald Trump a fine one to accuse others of lying
Inquirer: Smerconish: What Kane did right
Tribune-Review: Kathleen Kane's balls & chains
Post-Gazette: Obama to Cuba: The U.S. needs normal relations with its neighbor
Post-Gazette: A vote for youth: Online registration works, especially for the young
Blogs
Citified: It's not just Flint, Philadelphia has a lead problem too
Keystone Crossroads: In case you missed it: This week's best reads from Pennsylvania's cities
Keystone Crossroads: Pa. bill would exempt military from local income taxes
Keystone State Education Coalition: PA Ed Policy Roundup Feb 20: Community Schools: Transforming Struggling Schools into Thriving Schools
Commonwealth Foundation: A Tale of Two School Districts  
Lu-Lac Political Letter: Law and Order: Elmy Charged
Above Average Jane: Emerge PA Women on the Ballot