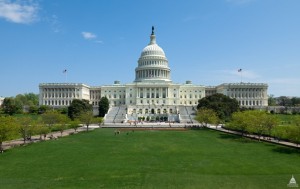 Allyson Schwartz makes a big move, and the DCCC comes after Fitzpatrick again. Good morning politicos, here's the Buzz.
Schwartz Out as Top DCCC Fundraiser: In another sign that Allyson Schwartz is all but certain to make a gubernatorial bid, the Congresswoman stepped down from her post as Finance Chair of the Democratic Congressional Campaign Committee.
DCCC Hits Fitz on Sequestration – Again: The DCCC is stepping up its campaign against Mike Fitzpatrick. A series of robocalls begins today urging PA-8 constituents to contact Rep. Fitzpatrick and demand that he support a plan to end sequestration.
SP&R Poll: PA Voters Disapprove Obamacare: The latest survey from Republican pollster Susquehanna Research & Polling finds that Pa. voters believe that Obamacare will increase healthcare costs for businesses and consumers.
Softball: Matthews <3 Kathleen Kane (With Video): Chris Matthews had nothing but warm works for Attorney General Kathleen Kane during 'Hardball,' Tuesday night, 15 months after MSNBC host gave Kane her first bit of the national spotlight.
Statewide
State House Sound Bites: Education secretary explains money for teacher investigators
State House Sound Bites: Contracts show state could pay $1.2 million for lottery consultants
State House Sound Bites: A telling moment amid pension talk
PA Independent: PA lawmakers have to face pension pain sooner or later
PA Independent: Snail mail slows PA's campaign finance reports
StateImpact: Nebraska GOP congressman working on bill that would give fracking oversight to states
StateImpact: For Marcellus drillers, profits rise
Capitolwire: Tomalis asks: schools, lawmakers love fed grants. Why not Passport for Learning?
Capitolwire: Pension obligation bonds could be piece of pension solution puzzle, say SERS, PSERS officials
Capitolwire: Influx of appeals drives need for bigger budget, Open Records director says
Philadelphia
AP: Corbett says he'll meet with Sebelius on Medicaid
AP: Corbett pension details outlines
AP: McCord steps up criticism of Corbett pension plan
Inquirer: Groups criticize Nutter over school closings
Inquirer: State stores age like a rancid wine
The Big Tent: Schwartz quits national Dem fundraising post
The Big Tent: Pa. AG Kane's hit on 'Hardball'
Philly Clout: Prison commissioner defends inmate healthcare provider at Council hearing
WHYY Newsworks: Funds sought to resolve backlog of complaints about Pa. teachers
WHYY Newsworks: Philadelphia prison health contract questioned at council hearing
WHYY Newsworks: Philadelphia approving homestead exemptions without the home
Phillynow: Pa. gun background checks almost tripled since Sandy Hook
Phillynow: Huge majority of Pennsylvanians support LGBT rights – so now what?
KYW Newsradio: Philadelphia School District wants teachers to work longer days for less money
KYW Newsradio: Community activists demand Nutter delay Philadelphia school closures
KYW Newsradio: Pennsylvania intercepting tax returns to recover overpaid unemployment benefits
KYW Newsradio: Amid privatization efforts, head of Pa. liquor sales defends agency's performance
SEPA
AP: Special prosecutor to probe Penn State grand jury
AP: Pa. pension officials to appear before lawmakers
AP: Corbett plan would cut Pa. pensions by $12 billion
AP: Pa. district blocked websites about gays
AP: Corbett honors 5 for Black History Month
Delco Daily Times: Senator eyes dog law changes after 2 Chesco pets fatally shot
Pittsburgh
City Paper: Target Practice: Mayor says he's not a target in federal investigation. Does that mean he's out of the woods?
City Paper: Secret recipe
Early Returns: McVay eyes state court
Early Returns: Toomey wants a vote
Early Returns: Casey gets subcommittee chairmanship
Early Returns: Dowd releases police invoices
Early Returns: ISO Mayor Luke
Early Returns: Smith pushes new ALFTSL cut
Early Returns: Breakfast Sausage: 5 stories to read this morning
Post-Gazette: Corbett still declines to expand Medicaid, but will talk to Sebelius
Post-Gazette: Sen. Toomey offers bill to soften sequester
Post-Gazette: Pa. treasurer disputes purported savings in Corbett's pension overhaul
Post-Gazette: Pittsburgh council considers plan to transfer police funds
Post-Gazette: Attorney general weighs defending voter ID
Tribune Review: Pittsburgh councilman releases police job records; groups seek input on new chief
Tribune Review: Judge sets May 7 sentencing for Joan Orie Melvin
Tribune Review: Judge names special prosecutor to probe Penn State grand jury
Tribune Review: Wagner continues to consider run as independent for Pittsburgh mayor
Tribune Review: Lawmakers express sour grapes over LCB in-house label
Southwest
Beaver County Times: Artists are inspired by Marcellus shale, but no money to be found -Lauar
Beaver County Times: State treasurer, liberal think tank rip Corbett pension reform plan
Altoona Mirror: Ten seeking spot on Act 47 commission
Johnstown Tribune-Democrat: 5 things to know for today in Pennsylvania news
Johnstown Tribune-Democrat: Slowest state stores lost $274G combined
NEPA
The Times Tribune: State Treasurer: Governor's pension reform would dig deeper hole
The Times Tribune: County votes to defy any gun restrictions
The Times Tribune: Campaign 2013
The Times Tribune: DiBileo raises valid issues
Citizens Voice: Magisterial system slow but reliable
Wayne Independent:  Officials raising a stink over proposed regulations
Pocono Record: Monroe County legislative forum to air in March
Lehigh Valley
Pennsylvania Ave.: Dent to vote 'no' on House GOP VAWA bill, 'yes' to Senate Dem version
Pennsylvania Ave.: Schwartz uses Christie Medicaid decision to pounce on Corbett
Morning Call: Pennsylvania seeks money to investigate teachers
Morning Call: Revenue secretary tells chamber Corbett's budget is good for business
Morning Call: Corbett's Cabinet members grilled over state budget
Morning Call: Get rid of exceptions on background checks, local mayors say
WFMZ: Easton to have new parking meters installed
Express-Times: Lehigh Valley superintendents implore lawmakers for charter, special education funding reforms
Reading Eagle: ACLU criticizes district's Internet-content filter
Reading Eagle: Reading School board member alleges HS teachers provoking students
Reading Eagle: Reading board denies application for I-LEAD charter middle school
Reading Eagle: Demand low for natural gas but emotions high over proposed pipeline that would bisect Berks
Reading Eagle: Public education on brink, state House panel told
South Central
Carlisle Sentinel: Corbett says he'll meet with Sebelius on Medicaid
Carlisle Sentinel: Penn State Football: Ganter leaves football PSU program after 46 years
Harrisburg Patriot News: Lottery privatization may be more attractive if state pension system benefitted
Harrisburg Patriot News: Gov. Tom Corbett: Prosecutions, politics and the criticism he can't shake
Harrisburg Patriot News: Update: Special prosecutor to investigate secrecy issues in Penn State grand jury
Harrisburg Patriot News: U.S. judge won't reconsider dismissal of Harrisburg leaders' lawsuit against Act 47 plan
Harrisburg Patriot News: 185K spyware images sent to Aaron's rental computers, lawsuit claims
York Daily Record: York County officials: Impending sequester already hurting prison
York Dispatch: York County officials fear sequester's impact on number of detainees held at prison
Lancaster Intelligencer/Era: SDL, LNP at odds on tax issue
Lebanon Daily News: HACC Lebanon offering new tuition-free CNA progam
Lebanon Daily News: Drugs won the drug war: The world's lax narcotics enforcement
Lebanon Daily News: Retirement ends job stress, but can be tough in other ways
Lebanon Daily News: South Lebanon board briefed on tire collection by West Nile Virus program
Roxbury News: Rep. Patty Kim: "I invite everyone to the table."
North by Northwest
Erie Times-News Campaign '13 Blog: Harborcreek supervisor Pepicello staying put, rules out run for Erie County executive
Centre Daily Times: State College Area schools to refinance bonds
Centre Daily Times: Trustee candidate Goldsmith holds meet-and-greet
Centre Daily Times: Penn State football physician Wayne Sebastianelli leaving post
Williamsport Sun Gazette: Pleas pending in illegal Mexican workers case
Williamsport Sun Gazette: 'Little Rock 9' speaker visits Mansfield
Williamsport Sun Gazette: Township supervisors OK road work bid
Opinions
Tribune Review: The Arms Trade Treaty: Stop the U.N. gun grab
Post-Gazette: Sequester madness: Congressional folly puts America at risk
Post-Gazette: Drone drain: The U.S. doesn't need a spy base in Niger
Post-Gazette: Best practices: Pittsburgh's schools can learn from each other
Post-Gazette: Flying start: Kerry's tour sets foreign policy focus
Observer-Reporter: PLCB arguments fail to convince
Observer-Reporter: Confronting prescription drug abuse
Johnstown Tribune-Democrat: Pa. a hotbed of deceit
Inquirer: Judicial reform needed in Pa.
Inquirer: Politics in the way of quality preschools
phillyburbs: Washington and the art of high drama
Delco Daily Times: Editorial: Koop bravely placed public health before politics
Express-Times: Gov. Christie sees light on Medicaid; Gov. Corbett should follow his lead
Blogs
Keystone Politics: Corbett Laying Groundwork For Flip Flop on Medicaid
Keystone Politics: More Questions for Michael Lamb About the PGH Police Scandal
Keystone Politics: Is Tom Corbett Going to Try to Privatize the Department of Public Welfare?
Keystone Politics: Governor's Plan Digs a Deeper Pension Hole
Keystone Politics: Why's the Land Value Tax Progressive?, Cont'd.
Keystone Politics: John Taylor, Alcohol Reform, and Republican Competitiveness in Cities
Keystone Politics: Allyson Schwartz Calls on Tom Corbett to Flip Flop on Medicaid
Jon Geeting: Peak Car
Jon Geeting: Cutting Edge Conservative Analysis
Jon Geeting: Progressive Caucus: " Just Cancel the Sequester"
Jon Geeting: Adam Waldron for Bethlehem City Council
Jon Geeting: Why's the Land Value Tax Progressive?
Keystone State Education Coalition: Pennsylvania Education Policy Roundup For February 27, 2013: As sequestration looms, leaders in Washington are intently focused on……
Commonwealth Foundation: Privatization Could Open Doors for PA Winemakers
PennPatriot: House Speaker Sam Smith to re-introduce House downsizing bill
PennPatriot: John Baer: Congress' $85 billion cut won't crush us
PennPatriot: University of Pennsylvania professor, tolerance expert to speak at Tech
PennPatriot: Abortion Bill: Proposed Pennsylvania Legislation Would Block Abortion-Related Insurance Expenses
PennPatriot: Snail mail slows PA's campaign finance reports
PennPatriot: PA lawmakers have to face pension pain sooner or later
PennPatriot: Inmates' heavy usage of Right to Know Law becoming problematic
Lehigh Valley Ramblings: Morganelli for Lt. Guv?
Lehigh Valley Ramblings: Adam Waldron Running For Bethlehem City Council