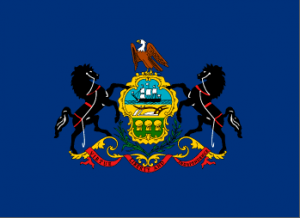 Parrish unveils a plethora of endorsements, Santorum commits a gaffe and we present the latest FEC totals in every PA congressional race. Good morning politicos, here's the Playbook!
Q4: Congressional Breakdown: A look at the top-line fundraising numbers in every congressional district in the commonwealth.
PA-6: Parrish Announces Endorsements From Democratic Leaders: Congressional candidate Mike Parrish is touting a long list of endorsements from Democrats throughout the commonwealth.
Rick Santorum's Busy Day (VIDEO): The former PA Senator dropped out of the presidential race, endorsed Marco Rubio and committed a gaffe in a twenty-four period.
PA-Sen: Toomey Praises and Defends Rubio: Senator Pat Toomey holds a conference to talk about his support for Marco Rubio for president.
Zappala Files Petitions, Makes Primary Ballot: The Allegheny County DA is the first to get on the April 26th ballot.
Statewide
StateImpactPA: Landowners brace for start of tree-felling by Constitution Pipeline builders
PLSReporter: Auditor General offers to take over PERC's municipal pension-related functions
Capitolwire: AG DePasquale says he's willing to do some of PERC's job, but only if everyone agrees … and that could be an issue
State House Sound Bites: State Police Confirm Probe: "We Will Leave No Stone Unturned"
State House Sound Bites: Fund Fight: Transportation vs. Troopers
Philadelphia
Inquirer: Bad for Fattah: Kenney backs Evans
Inquirer: Phila. Council tentatively approves Kenney's choice for city solicitor
Inquirer: Council tackles criminal justice reform
Inquirer: State Rep. wants apology for meteorologist's Punxsutawney Phil 'diss'
Inquirer: Santorum draws blank on Rubio accomplishments
WHYY Newsworks: Frackin' flap in Pa. US Senate race
WHYY Newsworks: Visiting Philly school, Wolf says he'll seek $60 million more for early childhood education
SEPA
Pottstown Mercury: Montco commissioners say 'state of the county' is strong
Bucks County Courier Times: Attorney General warns of new 'phishing' scam
Delco Daily Times: Upper Darby's Keffer gets county dem endorsement in 163rd House race
Daily Local News: Lansdale officials envision international, veteran flags along Main Street
Pittsburgh
Tribune Review: Pa. House set to vote Monday on starting Kane impeachment investigation
Tribune Review: Pa. board approves new environmental rules for drillers
KDKA: Protesters Angry Over Mount Lebanon Deer Culling Efforts
Post-Gazette: PERC chief says Pa. auditor general should handle change in pension plan reviews
City Paper: Two women declared candidacy for the Pa. legislature for the 2016 election. Will more run?
Southwest
Observer-Reporter: Rep. Daley lambastes Weather Channel over Punxsutawney Phil comments
Observer-Reporter: Constable who patrol polls will be getting raises
Beaver County Times: Wage, personnel cuts expected ii revised 2016 Beaver County budget, Financial Administrator Ricardo Luckow says
NEPA
Times Leader: Light agenda, heavy public comment at Nanticoke City Council meeting
Times-Tribune: Wolf considers growing greener reboot
Times-Tribune: Campaign Notes 2/4/2016
Citizens Voice: Statewide student test requirement on hold
Citizens Voice: Local superintendents react to Wolf's announcement
South Central
Carlisle Sentinel: Growing class sizes leading to drastic ideas to solve issue
Patriot-News: Tom Houtz to challenge Russ Diamond in primary election for 102nd House District
Patriot-News: McGinty leads U.S. Senate hopefuls in fundraising race, but Toomey looms large
LancasterOnline: Leaked audio: Manheim Township school board conspired to deliberate privately on superintendent search
York Daily Record: Gov. Tom Wolf's 2015 campaign finances
York Dispatch: York GOP funds dwindled to $500 at end of 2015
York Dispatch: Wolf wants additional $60M for early education
Lehigh Valley
Reading Eagle: Berks commissioners grow weary of state budget impasse
Morning Call: Could tough sentence for Reading official signal what's to come for Allentown corruption defendants?
Morning Call: Whitehall commissioner shocked to learn township ethics board is investigating him
North by Northwest
GoErie: Erie County Council hears plan for Blasco Library
Centre Daily Times:Legislator demands apology after swipe at Punxsutawney Phil
Opinion
Tribune Review: Who pays? Take out the 'garbage'
Post-Gazette: Justice derailed: Wrongful convictions put too many in prison
Post-Gazette: Class monitor: Penn Hills schools could use state oversight
Post-Gazette: Fractured Libya: The ungoverned country is a worry for the U.S.
Inquirer: Council gave away the house on city pensions
Inquirer: Money talks in elections
Patriot-News: 'Thanks, Obama' – the one map that explains why Republicans will miss the POTUS
Patriot-News: Half of all U.S. adults think 'some' Muslims are anti-American, new Pew poll finds: The Numbers Racket
Patriot-News: Here's that amazing Sanders/Clinton Twitter fight over who's the bigger progressive
Blogs
Keystone Crossroads: Ideas Worth Stealing: Section 8 voucher money to assist with homeownership
Lu-Lac Political Letter: Franklin and Marshall PA Poll
Above Average Jane: Muroff Starts Tour of Gun Violence Sites