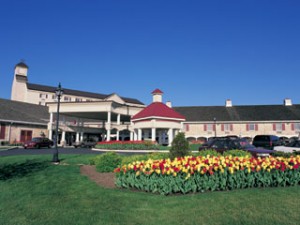 F&M releases a raft of interesting numbers. Plus it's state committee weekend! See you in Harrisburg or Hershey. Good morning politicos, here's the Buzz.
And don't forget to check back later for the Ups & Downs.
Dem Winter State Committee Preview and GOP Winter State Committee Preview: It's that time of year politicos. Democrats and Republicans from around Pa. will gather this weekend in Hershey and Harrisburg for their winter state committee meetings. Here's what to watch and which parties to attend.
F&M Poll: Corbett Approval Lowest Ever: Another poll, another round of bad numbers for Tom Corbett. The latest survey from Franklin and Marshall shows that only 26% of registered voters think the Guv is doing a good job: the lowest for a sitting governor in the history of the F&M College Poll.
F&M Poll: Voters Support Gay Marriage & Gun Control, Oppose Legalized Pot: Voter opinion has shifted dramatically toward support of same sex marriage in recent years, according to the latest poll from Franklin & Marshall.
Biden Coming to Philly to Talk Guns: Vice President Joe Biden will come to Philadelphia Monday to continue the administration's push for more stringent gun laws, the White House announced Thursday.
Another GOPer for Superior Court: Another name has surfaced for Pa. Superior Court: Republican Ron Wyda. The Allegheny County Magisterial Judge tossed his hat in the ring Thursday.
And in case you missed it – Pennsylvania's Best County Party Chairs: Here are the 12 men and women who stand out at the complex, tough and often thankless job of a county party leader.
Isenhour to Mack Crounse: Former PA Dems ED Mary Isenhour has joined DC-based direct mail firm Mack Crounse Group as a Strategic Partner, the organization announced Thursday. She'll also keep her consulting work with Isenhour Rooney. "Mary brings unmatched experience in Pennsylvania. For years we have worked with Mary as she has led Democratic campaigns to hard-fought victories across the state. We are excited to have her join us as a strategic partner," said MCG Partner Kevin Mack.
Local Election Updates
Lehigh Executive: Citing dissatisfaction with the GOP, his former party, Tom Muller tossed his hat in the ring. He complained that the county's Republican officials were letting conservative ideology reduce their ability to govern.
Statewide
State House Sound Bites: F&M poll shows Corbett with lowest rating yet
PA Independent: Liquor privatization could mean new markets for PA wineries
StateImpact PA: Rendell downplays role in Range contamination case
The Economist: PERSPECTIVE: Fracking in Europe
Capitolwire: Liquor privatization will test Corbett as a salesman
Philadelphia
AP: NCAA wants Pa. gov's Penn State lawsuit dismissed
WHYY Newsworks: More CHIP funding applauded Pa., but some strategies questioned
WHYY Newsworks: Gov. Corbett fares poorly in poll on job approval
WHYY Newsworks: Union: Nutter threatens public employees statewide
PhillyNow: Did Corbett Budget Live Up To Post-Newtown Mental Health Comments?
Philly Clout: Councilwoman Blondell Reynolds Brown plans to stay in office
Philly Clout: Council's 'serious six' to examine issue of tax delinquents
Philadelphia Inquirer: VP Biden to discuss guns in Phila. Monday
PA Independent: Pa. wineries looking forward to withering of state stores
KYW Newsradio: Pennsylvania Senator Calls For Increased Vehicle Registration And License Fees
KYW Newsradio: Plaintiffs In Pennsylvania Voter ID Case Ask Judge To Extend Block On The Law
Inquirer Harrisburg Bureau: Corbett's challenge: Raising funds, keeping 'no tax' pledge
Daily News: Nutter's request to high court previews battle with unions
SEPA
Pottstown Mercury: Biden to visit Philadelphia to discuss gun control
Pottstown Mercury: New safety study at Limerick Nuke plant rejected by panel due to regulation paradox
phillyburbs.com: What more can we do to prevent highway tragedy
phillyburbs.com: Republicans blamed again
Delco Daily Times: Authorities probe incident at Darby Township School
Delco Daily Times: SOUND OFF — Feb. 8, 2013
Montgomery Media: Corporal rank reinstated for Hatfield Township Police Department
Bucks Local News: Former Tullytown Borough councilman won't go to jail, but loses his county job over subpoena flap
Bucks Local News: Governor announces liquor privatization plan highlighting consumer choice, convenience; $1 billion to education
Bucks Local News: Pennsylvania lawmaker advocates legalization of marijuana, says it could pour millions into state coffers
Daily Local News: Goodbye Saturday mail? Postal Service plans cuts
Pittsburgh
Tribune Review: Natural gas-fueled power plant in Lawrence County gets site approval
Tribune Review: Suppliers, experts dispute savings claims from Medicare competitive bid program
Tribune Review: Taxpayers paid $33,475 for staffers to work on Melvin's campaigns, accountant testifies
Tribune Review: Prosecutors expected to rest today in Melvin case
Tribune Review: Port Authority benefits of Corbett transportation plan touted
Tribune Review: Poll: Voters oppose lottery's privatization
Tribune Review: Complaint filed about financing in Pittsburgh mayor's race
Post-Gazette: Allegheny County reaches $500 million deal for airport drilling
Post-Gazette: Pittsburgh mayoral race heats up as Peduto challenges Lamb's finances
Post-Gazette: Pennsylvania transportation plan costs hard to figure
Early Returns: Dems: Follow McDonnell's lead
Early Returns: Peduto: Ravenstahl $$ bloated
Early Returns: F&M: Corbett approval at new low
KDKA: Property Tax Deadline Extended Due To Error
WTAE: Allegheny County tax bill mistake to cost thousands
Southwest
AP: Pa. judge's fundraiser: Worked with state staff
Beaver County Times: UPMC settles union-busting complaint with board
Observer-Reporter: Irey Vaughan campaign sued for fundraising bill
Altoona Mirror: Company adapts for shale gas industry
NEPA
The Times Leader: Hedge fund execs charged in alleged $311M swindle
The Times Leader: NCAA wants Pa. gov.'s Penn State lawsuit dismissed
The Times Leader: UPDATE: Airlines canceling flights in advance of storm
The Times Leader: Gov. in W-B to tout $13.4M budgeted for CHIP
Times-Tribune: NEPA on fringe of winter blast targeting New England, but snow is on the way
Times-Tribune: Saturday mail may stop, local customers resigned to the possible change
Citizens Voice: Sources: Feds seek LAG records
Citizens Voice: Corbett says no to Medicaid expansion
News Item: Supers: Budget is good and bad
News Item: Prothonotary not seeking re-election
Standard Speaker: Complaints about Broad Street's condition mount
Standard Speaker: Lawmakers pushing to legalize small office wagers
Standard Speaker: Lokuta lawsuit claims conspiracy
Pocono Record: Trustee who fired Paterno to leave Penn St. board
Lehigh Valley
AP: NCAA wants Gov. Tom Corbett's suit over Sandusky sanctions dismissed
Pennsylvania Ave: Biden to Philadelphia for guns roundtable
The Morning Call: NCAA challenges Corbett lawsuit over Sandusky sanctions
Reading Eagle: State senate criticizes Corbett's liquor plan
WFMZ: NCAA wants Pa. gov's Penn State lawsuit dismissed
Express-Times: Northampton County Council introduces legislation for KOZ sites in Easton, Wilson Borough
South Central
Carlisle Sentinel: House committee approves Delozier bill
Carlisle Sentinel: Barletta pushes port plan for Cumberland County
Harrisburg Patriot News: Analysis: State GOP, Democrats gather to soul search and plot
Harrisburg Patriot News: Pennsylvania congressional delegates join ranks of lawmakers calling for repeal of medical device tax '
Harrisburg Patriot News: U.S. Rep Lou Barletta talks health care, gun control, illegal immigration and more at Carlisle Chamber breakfast
Harrisburg Patriot News: Gov. Tom Corbett approval numbers worst in F&M poll history
York Daily Record: Kevin Schreiber will keep job while running for 95th district seat
York Dispatch: Corbett's budget offers hope to human services professionals
Roxbury News: PA. Attorney General Kane: Major Public Safety Announcement
North by Northwest
AP: Pa. lawmakers wary, Corbett takes plan on the road
AP: Number of Pa. beer, wine retailers open question
Erie Times-News: Thompson to headline Erie GOP breakfast
Centre Daily Times: Centre County road projects could be expedited if Gov. Tom Corbett's budget plan passes
Opinions
Williamsport Sun Gazette: Check Lotter facts, but check some other things, too
Tribune Review: Corbett's budget: Likes & red flags
Tribune Review: Owning firearms is a First Amendment exercise, too!
Post-Gazette: Harm to veterans: It takes Congress to probe the Pittsburgh VA
Observer-Reporter: Corbett addresses fiscal realities
Altoona Mirror: Corbett booze plan reasonable
Altoona Mirror: Doctor: Medicaid takes away dignity
Blogs
Jon Geeting: Fed up with "Tea People," lifelong Republican Tom Muller running for lehigh county exec as a Democrat
Jon Geeting: Emmaus councilman Wes Barrett running for Lehigh Co. commissioner
Keystone Politics: Corbett's education spending skewed toward wealthiest districts
Keystone Politics: PA is "stuck with" nutty alcohol monopoly because Brian Sims doesn't want to vote to change it
Keystone Politics: Corbett has worst numbers in F&M poll history
Keystone Politics: There's nothing wrong with playing hardball to pass your political objectives
Keystone Politics: What's the Democratic agenda for pensions?