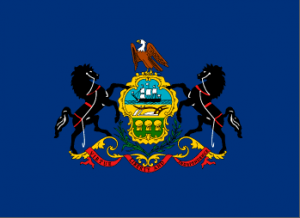 Lamb and Saccone look to run in different districts following the special election, state Sen. Guy Reschenthaler is circulating petitions in the 14th Congressional district, an internal poll shows Rachel Reddick leading the Democratic primary, Costello is reportedly considering ending his Congressional re-election bid, and Toohil is granted a three year PFA against Miccarelli.  Good morning politicos, here's the Playbook!
PA-14 Petitions Being Circulated for Reschenthaler: Petitions are reportedly being circulated for state Sen. Guy Reschenthaler for a run in the new 14th Congressional district.
PA-1 Internal Poll: Reddick 27 Wallace 20 Bacher 7: In an internal poll of the Democratic primary in the new 1st Congressional district Rachel Reddick leads Scott Wallace and Steve Bacher.
Costello Considering Ending Run: Report: Republican Congressman Ryan Costello is reportedly talking with GOP officials about ending his re-election bid.
PFA Against Miccarelli Granted: A protection from abuse order that was filed against state Rep. Nick Miccarelli was granted by a Luzerne County judge. The request was filed by fellow state Rep. Tarah Toohil.
Saccone Circulating Petitions for New 14th District: State Rep. Rick Saccone, who lost in a close special election for the old 18th Congressional district, announced he is circulating petitions for the new 14th Congressional district.
Lamb to Run in New 17th Congressional District: Coming off his narrow victory in the 18th Congressional district special election Democrat Conor Lamb will reportedly run in the new 17th Congressional district to challenge Republican Congressman Keith Rothfus.
Legislative Election Update
CD-6: Former Vice President Joe Biden endorsed Democrat Chrissy Houlahan in her bid to challenge Congressman Ryan Costello.  "Chrissy Houlahan is an Air Force veteran, business leader, and former teacher, and she is precisely the type of public servant we need serving in Congress.  She knows what it means to serve our nation and ensure we are taking care of our veterans. She knows what it takes to create good paying jobs with dignity and ensure employees have access to healthcare benefits and paid family leave. She knows what it takes to educate our children and develop programs to help with early childhood literacy," Biden said.
CD-5: Philadelphia Mayor Jim Kenney endorsed Democrat Rich Lazer in his Congressional bid.  "Today I am endorsing Rich Lazer for Congress in the 5th Congressional District because there is no one better qualified and no one more committed to a progressive agenda than he is — Rich is a kind, compassionate, and caring young man. Rich is a husband, father, son, brother, volunteer coach, and neighborhood activist, and probably one of the smartest and hardest working young people I know," Kenney said.  
CD-5: Stewart Greenleaf, Jr and Philadelphia City Councilman David Oh announced their endorsement of Republican Pearl Kim in her bid for Congress.  "Pearl has spent her professional career advocating for children and society's most vulnerable. She not only did so in the courtroom, but leveraged her knowledge and experience to influence legislation at the state level to protect victims of crime.  Pearl will take that same level of advocacy to Washington," Greenleaf said.
"The residents of the 5th Congressional District need a champion with a servant's heart. One who will fight for them here at home and down in Washington DC. Pearl is that champion. Strength without pride. Compassion without surrender. Hard-work not front row seats. Best practices not latest fad. Results not rhetoric," Oh said.  
CD-1: VoteVets announced their endorsement of Democrat Rachel Reddick's bid in the Congressional district.  "Rachel Reddick has service running through her veins, and that's why she's going to be a great servant to her community, in Congress.  Rachel was blessed with a really sharp mind, but rather than use it to earn millions as a high-powered lawyer, she used it to become a legal advocate for survivors of domestic abuse, and then to serve her country in the Navy. That's what we need in Washington right now – not more people looking to use politics to help themselves," Chair of VoteVets PAC Jon Soltz said.
Statewide
State House Sound Bites: Pa. lawmaker gets three-year restraining order against Miccarelli
State House Sound Bites: Lawmakers attempt to tackle high lead levels in schools
City & State: Philly eyes $50M deal with IT company that botched past city contract
Capitolwire: Gun safety caucus pushes bills head of committee hearings.
Philadelphia
WHYY: Gov. Wolf creates Pa. school safety task force, no students included
WHYY: Local 98 gave $500,000 to DelCo Republicans, angering some Dems
WHYY: Philly DA announces changes to 'end mass incarceration' through lighter sentences
WCAU: Gov. Tom Wolf Sets Up Task Force in Effort to Improve School Safety in Pennsylvania
Philly Tribune: Wolf launches school safety task force
Inquirer: Pa.'s 18th Congressional District: How counting the votes works in tight Lamb-Saccone race
Inquirer: New headache for Pennsylvania GOP: Rep. Ryan Costello mulls retirement
Inquirer: Did Delco Rep. Greg Vitali pull a bait-and-switch on Democrats? | Clout
Inquirer: Judge extends restraining order against state Rep. Nick Miccarelli of Delco
Inquirer: In latest edict, Philly DA Larry Krasner tells prosecutors to seek lighter sentences, estimate costs of incarceration
Philly Mag: Here's Why We Didn't Walk Out of School Yesterday
Philly Mag: After Parkland Shooting, Pa. to Get a School-Safety Task Force
SEPA
Daily Local: Gov. Tom Wolf sets up task force in effort to improve school safety
Bucks County Courier Times: Report filed on claims state lawmaker abused 2 women
Pottstown Mercury: Montco commissioners presented with new transportation grant program
Pottstown Mercury: Area school boards join opposition to school choice bill
Delco Times: Miccarelli vs. Toohil: Both state reps claim victory in PFA dispute
Pittsburgh
Tribune Review: Gov. Tom Wolf announces new school safety task force
Tribune Review: Pennsylvanians 'want to be inspired again,' governor candidate Mango says at Springdale Twp. diner
Tribune Review: Rick Saccone's campaign confirms bid for newly drawn 14th Congressional District
Tribune Review: Trump comments on Conor Lamb victory at private dinner
Post-Gazette: Election whiplash: Saccone, other candidates scramble to get into race for new district before dust settles on District 18 contest
Post-Gazette: Sarris posts, then deletes apology for hosting Saccone, Trump Jr.
Post-Gazette: Westmoreland County sheriff to face trial on campaign-related criminal charges
Post-Gazette: Democrats face a conundrum in some midterms as the party tries to decide on liberals, moderates or both
Post-Gazette: Democrats put Lamb in their incumbent-protection program
Post-Gazette: State utility commission to begin PWSA oversight April 1
Post-Gazette: Joe Biden to speak at Duquesne University event honoring Dan Rooney on Friday
Post-Gazette: Trump on Lamb: 'He ran on a campaign that said very nice things about me.'
Post-Gazette: In Washington County, they take their ballot counting seriously
KDKA: Saccone, Lamb Gearing Up To Run For Congress In 2 Different Districts
KDKA: Saccone Refuses To Concede Until Every Vote Is Counted, 'Irregularities' Cleared Up
Southwest
Beaver County Times: Wolf, DePasquale to lead new statewide school safety task force
Beaver County Times: Reschenthaler joins Saccone in 14th Congressional District GOP primary; Bartolotta not running
Altoona Mirror: Cambria to upgrade 911 system
Altoona Mirror: Council support sought for neutral redistricting
NEPA
Times Leader: New Luzerne County election board member deemed eligible to serve
Times-Tribune: Former Taylor councilman pleads guilty to simple assault, hindering apprehension
Times-Tribune: Lawyers reach agreement in Toohil PFA case
Standard-Speaker: Development divided in voter registration glitch
South Central
WHTM: SAFE Caucus takes aim at gun control legislation
WHTM: Pa. launches 'opioid dashboard' to help fight overdoses, addiction
Patriot News: Wolf should use emergency power to allow drug needle, syringe exchanges: Pa. health leaders
Patriot News: Governor candidate Paul Mango's campaign scrambles to kill rumors he's lost his running mate: Exclusive
Patriot News: Who is Laura Ellsworth, and why is she running for governor of Pennsylvania?
Patriot News: Does Mike Stack live with his mother? Legal challenge seeks to throw Lt. Gov. off the ballot
Patriot News: Deal on PFA sends Rep. Nick Miccarelli back to the House, with conditions
Patriot News: Deal struck to issue 3-year PFA against embattled state Rep. Nick Miccarelli
Patriot News: State Rep. Miccarelli allowed back in Capitol, even as judge OKs PFA sought by colleague
LNP: Restraining order against Pa. lawmaker extended 3 years, but he'll be allowed to work in Capitol
LNP: Hourly pay for Lancaster County corrections officers to increase to $19 by 2022
Lehigh Valley
Reading Eagle: Schuylkill County commissioner running for Congress
Reading Eagle: Mango promises Berks Patriots he'd be a pro-life governor
Reading Eagle: Berks commissioners address recent issues
Morning Call: Where does Pennsylvania Lt. Gov. Mike Stack live? His political career may depend on the answer
Morning Call: Allentown solicitor will stay — and so may rules for interim mayor pick
North by Northwest
Bradford Era: Vietnam veterans invited to pinning ceremony
WICU: Pennsylvania Governor Tom Wolf Unveils Plans for School Safety Task Force
Centre Daily Times: Disciplinary hearing scheduled for former Penn State trustee
Opinion
York Daily Record: EDITORIAL: Gov. Tom Wolf's government reform proposal is good plan for Pennsylvania
Inquirer: Uber, Lyft driving Parking Authority crazy by withholding data | Editorial
Daily News: Abolishing ICE is the radical idea America needs to be talking about | Will Bunch
Tribune Review: Colin McNickle: Pittsburgh pensions healthier, but need more reforms
Post-Gazette: Lamb's moment: The Democrat ran a flawless race that inspired
Patriot News: Let's clear up some misconceptions about an opioids-related bill before the Pa. House | Opinion
Reading Eagle: Editorial: Harrisburg ethics need not be an oxymoron