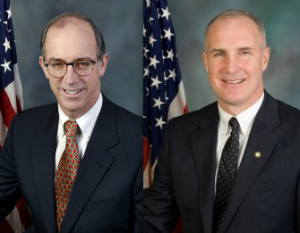 It's a big day for gay rights advocates in Pa. Equality PA unveiled the 58 members of the LGBT Equality caucus in Harrisburg, including 3 Republicans. The group also announced the results of a public poll that show wide public support on its issues.
"Any member of the General Assembly who is reluctant to vote in support of LGBT civil rights should look at the more than doubling in size of the LGBT Equality Caucus from last session coupled with our overwhelmingly positive poll numbers for reassurance that their colleagues are there and the public is with them," said Ted Martin, executive director of advocacy group Equality Pa. "Pennsylvania is the worst state in the northeast when it comes to how we treat our LGBT citizens, and now is clearly the time to trade in that sad title."
The 58 member caucus includes 35 state Representatives and 13 state Senators. Among them are three Republicans: Rep. Mike Fleck (R-Huntingdon), who came out in December as Pa.'s first openly gay lawmaker; Rep. Tom Murt (R-Montgomery) and Rep. Chris Ross (R-Chester). Murt and Ross each is married and has children.
The caucus formed for the previous legislative session and had just 26 members – and no Republicans.
"While many Pennsylvanians are still evolving on LGBT civil rights, a strong majority agree that LGBT people like me should not lose our jobs or be denied a table at a restaurant or a room in a hotel based simply on who we are," said Rep. Brian Sims (D-Phila), the first openly gay person elected to the state legislature.
While gay marriage is a hot topic in many states, it's not the most important issue for most LGBT activists in Pa. It's not even in the top three. "Marriage" earns no mention in the caucus mission statement (below).
The biggest subject they want to address is non-discrimination: having it written into law that employers and businesses may not deny a person employment or services based on sexual orientation or gender identity.
Rep. Dan Frankel (D-Allegheny) introduced a non-discrimination bill Wednesday.
Poll
Equality PA Wednesday released the results of a poll it had commissioned that shows wide public support on anti-discrimination.
Equality PA also commissioned a public poll via the Pittsburgh-based firm Civic Science. Its methodology is rather unique, relying entirely on online surveys. The poll was conducted Jan. 29 and 30. The number of respondents varies per question.
Asked whether LGBT citizens should be granted the same civil rights as other minority groups, 62% of the survey sample of 1,350 said yes versus 29% who said no. (44% to 42% among self-identified Republicans).
Asked whether people should be protected from being fired on the grounds of their LGBT status, 69% of 1,160 respondents said they should versus 24% who said they shouldn't. (61% to 28% among self-identified Republicans).
Finally, asked whether hotels and other businesses should be permitted to deny service to individuals based on LGBT status, 72% said no versus 23% who said yes. (62% to 28% among self-identified Republicans).
Background
Here's the caucus mission statement:
"The mission of the Pennsylvania LGBT Equality Caucus is to promote lesbian, gay, bisexual, and transgender (LGBT) equality. The bi-partisan LGBT Equality Caucus will be comprised of Members of the General Assembly who are strongly committed to achieving the full enjoyment of human rights for LGBT people in the Commonwealth and around the nation. By serving as a resource for Members of the General Assembly, their staff, and the public on LGBT issues, the Caucus will work toward the extension of equal rights, the repeal of discriminatory laws, the elimination of hate-motivated violence, and the improved health and well-being for all regardless of sexual orientation or gender identity/expression."
Its members are:
House: Reps. Frankel (co-chair), B. Boyle, K. Boyle, Bradford, Briggs, V. Brown, Brownlee, Clay, Cohen, D. Costa, P. Costa, Cruz, M. Daley, Davis, Dean, DeLissio, Dermody, Evans, Fabrizio, Fleck, Gainey, Harkins, J. Harris, B. Keller, Kim, Kinsey, Kirkland, McCarter, McGeehan, McNeill, Molchany, Mundy, Murt, O'Brien, Painter, Parker, Roebuck, Ross, Rozzi, Santarsiero, Schlossberg, Sims, Sturla, Wheatley and Youngblood.
Senate: Sens. Leach (co-chair), Blake, Farnese, Ferlo, Hughes, Schwank, Smith, Stack, Tartaglione, Teplitz, Washington, Wiley and Williams.