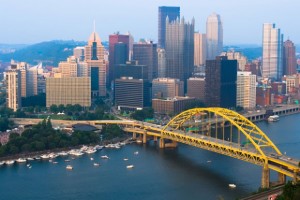 The budget battle continues in Harrisburg, Wagner makes his Pittsburgh mayoral bid official, and more. Good morning politicos, here's the Buzz.
Corbett-Castor Sniping: A Reader: Here's a quick recap of the recent back-and-forth between Gov. Tom Corbett and Montgomery County Commissioner Bruce Castor, the man who might challenge him in the GOP primary.
3/8 Ups & Downs: Some shady dealings with taxpayer money and political contributions headline this week's list.
Dinner and a Filibuster: Pat Toomey's Busy Day: Senator Pat Toomey has been very busy. He dined with President Barack Obama, stood on the Senate floor to join Sen. Rand Paul's filibuster, appeared on Fox and Friends, and gave a speech at the Heritage Foundation.
Statewide
AP: As Counties Shed Weights and Measures Services, Ag. Dept. Picks Up Slack
AP: Jack Wagner Plans to Run for Mayor in Pittsburgh
AP: PA Unemployment Rate Highest Since October 2010
AP: State-Owned University Faculty Union Endorses Contract
AP: PA-Based Company Cited For Spill Into WV Creek
AP: Sequestration Could Close Airport Control Towers in Midstate
Capitolwire: Gov. Corbett says he followed law but is looking into code and gifts
Capitolwire: Corbett will consider liquor proposals from Legislature
Capitolwire: Lawmakers make their pitch to colleagues on House Appropriations panel
Capitolwire: Zogby and House Democrats tangle over budget and priorities
PA Independent: Drones over Pennsylvania
PA Independent: PA Week in Review: Budget hearings wrap up, Corbett under fire
State House Sound Bites: Boosting Internet access in Adams County could improve education
StateImpactPA: Proposed Pipeline would Transport Marcellus Resources to Gulf Coast
Philadelphia
AP: Corbett's meeting with Sebelius looms large
Inquirer: Parents turn in their sons after seeing $13 robbery on video
Inquirer: Property-tax debt is ravaging Philadelphia
Inquirer: Guns-rights advocates rally in Doylestown
Philly.com: Ravaged by Debt: A Tax Deliquency Project
Newsworks: Corbett responds to criticism over gifts
Newsworks: Better security, more monitoring sought at Philly's recreation centers
Newsworks: Meaning of PA insurance program ruling proves elusive
CBS: Campaign under way to save Philadelphia's police headquarters
SEPA
Delco Times: Poll: Sestak would lead Democrats in run for governor
Delco Times: PA university professors approve new contract; get pay hikes
Bucks Local News: Outsourcing support services, selling bus fleet would save Pennsbury $24 million
Bucks Local News: Morrisville School Board president addresses Pennsbury School Board on proposed merger talks
Pittsburgh
WPXI: State Senate president's bill would revamp Port Authority
WPXI: Finance director says police chief told her to open secret account
WPXI: Paper: Philly tax delinquents cost city, neighbors
WTAE: Sen. Bob Casey hoping for swift passage of anti-bullying bill
KDKA: Allegheny County Dems Endorse Lamb
KDKA: Jack Wagner Running For Mayor
KDKA: Jack Wagner On The Mayoral Race And His Trip To Israel
KDKA: Peduto Welcomes Wagner To Mayoral Race
KDKA: Sen. Casey Working To Stop Bullying In Schools
Early Returns: Lamb in a landslide
Early Returns: ACLC neutral on mayor
Early Returns: Pgh Airport: Metaphor for Obama's America
Early Returns: Scarnati targets PAT, Fitz
Early Returns: Medicaid Friday
Post-Gazette: Allegheny County Democratic Party endorsing candidates today; mayoral field in formation
Post-Gazette: Pittsburgh Democrats assemble Sunday to endorse May primary candidates
Post-Gazette: Pennsylvania residents urge Corbett to expand Medicaid
Post-Gazette: Fracking's 'revolving door' draws a warning
Tribune Review: Pittsburgh Democrats endorse Lamb for mayor
Tribune Review: Review of Ravenstahl's travel records exposes noticeable gaps, raises questions
Tribune Review: Pennsylvania resists financial rescue for Amtrak's Pittsburgh-to-Harrisburg run
Tribune Review: Conservation districts disappointed with state's funding adjustments
Tribune Review: Dawson Borough Council to meet Monday
Tribune Review: Armstrong School District to decide on charter school's fate
Tribune Review: North Apollo ready to approve tax to support fire department
Tribune Review: NRC on alert at Beaver Valley nuclear plant in Shippingport
Tribune Review: Corbett open to all state store bills to privatize liquor sales
Tribune Review: Labor group won't endorse candidate for Pittsburgh mayor
Southwest
AP: State university professors approve new contract
Observer-Reporter: Corbett's meeting with Sebelius looms large
NEPA
The Times Leader: Health care for Pa. gets D.C. input
The Times Leader: Tax collectors sue county to keep jobs
The Times Leader: Discard your electronics properly in Pa., state says
The Times Leader: FEMA trailer residents face decision
The Times Leader: More Republicans plan runs for County Council spots
The Times Leader: Pontifical politics rule at Vatican
Times-Tribune: Per diems persist; state lawmakers collect more than $2M
Times-Tribune: Kelly: Rosetti's reign and the lavish lifestyle it afforded come to a shameful end
Citizens Voice: Elected tax collectors file suit against county
Citizens Voice: Vote coming on state liquor store proposal
Citizens Voice: Dissension arises over DA funds
News Item: Sound Off: Friday, March 8, 2013
News Item: Sound Off: Saturday, March 9, 2013
News Item: Sound Off: Sunday, March 10, 2013
News Item: Seven tax facts about medical and dental expenses
News Item: Shamokin supports PennFuture solar panel initiative
News Item: Grant sought for '99 steps' project
Wayne Independent: WEDCO dinner is scheduled
Standard Speaker: Some resist assessment for Freeland authority
Standard Speaker: Sequester reduces HUD program funding
Standard Speaker: CITY UNDER SIEGE: Citizens seek to solve Hazleton's crime problem
Pocono Record: New 'scorecard' for college costs: White House list puts Pennsylvania educations among most expensive
Pocono Record: Nuclear transports to increase on I-81
Pocono Record: FAA OKs training drones over Pa. airspace
Pocono Record: Advocate group wants Pennsylvania education funding formula reinstated
Pocono Record: Campaign under way to save Philly 1960s police HQ
Pocono Record: Cause of off-color, fetid water eludes Pa. town
Pocono Record: Sequester has not hit home, poll indicates
Pocono Record: Corbett to discuss Medicaid with feds
Lehigh Valley
Express Times: Local officials, prosecutor still want legislation requiring lost, stolen guns to be reported
Express Times: Bethlehem Area Superintendent Joseph Roy connects with students on Twitter
Express Times: Bethlehem expecting $230,000 in savings from compost, recycling projects
Express Times: Wrong-way police pursuits are closely-monitored decisions, Pennsylvania State Police say
Morning Call: Why gun sale background checks face hurdles
Morning Call: Districts take steps to keep kids safer
Morning Call: Northampton County DA and executive battle over promotions
Morning Call: Faculty at state-owned universities approves four-year contract
Morning Call: Upper Macungie settling accounts of defunct Berks Lehigh police
Pennsylvania Ave: Fitzpatrick hopes for Pot-O-Gold at St. Patrick's Day fundraiser
Reading Eagle: Major expansion of natural gas pipeline on front burner
WFMZ: Campaign finances of Reading Mayor being probed
WFMZ: History's Headlines—Gifford Pinchot: Father of Pennsylvania's State Store system
WFMZ: ASD cuts: How might they happen?
WFMZ: Former Reading Mayor Tom McMahon hospitalized on trip to Costa Rica
South Central
AP: Pro-gun voters put heat on Democratic senators
Carlisle Sentinel: Delozier to host forum for local business community
Harrisburg Patriot News: Pennsylvania House of Representatives poised to vote on statute of limitations reform
Harrisburg Patriot News: Dauphin County Democrats endorse judge, prothonotary candidates
Harrisburg Patriot News: Brent Sailhamer announces bid for Carlisle Borough Council
York Daily Record: Rep. Ron Miller's office to livestream meeting on Chesapeake Bay cleanup program
York Daily Record: AG rules no charges to be filed against Judge Tom Kelley
York Daily Record: Pennsylvania Gov. Tom Corbett's meeting with Sebelius looms large
York Dispatch: State lawmaker introduces push for armed guards in Pa. schools
York Dispatch: Medicare seminar in Spring Grove
Lancaster Intelligencer/Era: Lancaster County lawmakers make few Pa. laws
Lancaster Intelligencer/Era: Gov. Corbett's appearance at Millersville University's commencement may spark protests
Roxbury News: Dauphin County Democratic Endorsement Meeting: "You can go outside, you may go outside, go outside."
Roxbury News: Pa Senator Scarnati: Reform and Restructure the Port Authority of Allegheny County.
Roxbury News: Harrisburg School District Debt: $437.1 million.
Roxbury News: Nevin Mindlin: "I think both parties are part of our problem."
North by Northwest
Williamsport Sun Gazette: Commissioners OK reassessment
Williamsport Sun Gazette: Tourism questions: Representative can't have it both ways
Campaign '13: Wiley sits on Senate panel on Medicaid
Opinions
Lebanon Daily News: Good idea, but no
Post-Gazette: Cheers to change: Lawmakers approach a fateful decision on the LCB
Post-Gazette: Asides
Tribune Review: A carbon tax? At our own peril
Express Times: Corbett's 'freebies' call for legislative ban on gifts, free travel
Reading Eagle: Convicted Supreme Court justice should step down
Reading Eagle: Give physicians access to database on prescriptions
Beaver County Times: Corbett's twisting logic to reject Medicaid expansion
Altoona Mirror: TSA knife decision cuts out all logic
Johnstown Tribune-Democrat: Deep cuts in defense spending appear inevitable
Pottstown Mercury: Attorney General Kane needs to read job description
Pottstown Mercury: Heroin's devastating effects touch our towns
Inquirer: Caged birds aren't singing to be targets
Blogs
Keystone Politics: PA Medicaid expansion debate isn't about costs, cont'd
Keystone Politics: Tom Corbett's Medicaid contraction
Keystone Politics: PDQ should join team land value tax
Keystone Politics: Rep. Lou Barletta an example of Republican hypocrisy on debt
Pittston Politics: Mecadon says he'll be "Guided by the values and principles of our parents and grandparents"
The Pennsylvania Progressive: Universal Neglect: A Failure to Protect Americans' Health
The Pennsylvania Progressive: Feud Grows Between Reading Mayor and Newspaper
The Pennsylvania Progressive: Reading Mayor Slams Newspaper's Ethics