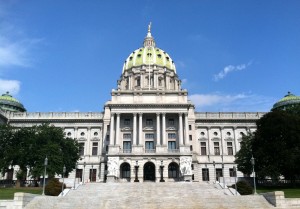 A national look at Dems' recruiting in SEPA, Pittsburgh mayoral race updates, and more. Good morning politicos, it's petition deadline day! Here's the Buzz.
Rothenberg Cites SEPA as Dems' House Headache: National political analyst Stu Rothenberg this week named four congressional seats where Democrats will need to improve their recruiting if they have any chance of retaking the House. Half of them are in Pa.
Pittsburgh Mayoral Race Updates And Endorsements: Former Auditor General Jack Wagner added his name to the list of candidates running for mayor of Pittsburgh. In case you've lost count, petitions are due tomorrow evening. Michael Lamb is now the endorsed Democratic candidate for mayor. The Allegheny Labor Council announced their endorsements on Friday.
Casey Stands Up For Students: Senator Bob Casey (D-PA) visited Dunmore Middle School school in Lackawanna County today to speak about bullying and promote the Safe Schools Improvement Act. The proposed bipartisan legislation would require schools receiving federal funding to enact codes of conduct that specially forbid bullying and harassment.
Statewide
Politico: Next 'war on women' front: Pennsylvania Governor race?
AP: Sandusky Case Costs Top $41 Million for Penn State
AP: PA House May Move Toward Impeaching Justice Melvin
AP: More Than 400 to Lose Jobs at Tobyhanna Army Depot
AP: Three Top Employees at PA's DPW Have Been Fired
AP: PA Inspector General Resigns to Take Job in Ohio
AP: Lawsuit claims PA inmates with mental illness languishing in isolation
StateImpactPA: The Search for the Source of Butler County's Water Woes Continues
State House Sound Bites: Midstate Ranks High on List of Texting-While-Driving Tickets
PA Independent: Pension bonds would be risky, illegal maneuver to ease PA debt
PA Independent: WATCHBLOG: PA transparency earns temperate grade in Sunshine week report
Capitolwire: Legislature positions special education funding commission bills
Capitolwire: Senate Democrats say Majority Leader Turzai trying to tie liquor privatization to transportation funding
Capitolwire: Gov. Corbett says he followed law but is looking into code and gifts
Capitolwire: Corbett will consider liquor proposals from Legislature
Capitolwire: OFF THE FLOOR: Gov. Tom Corbett's liquor privatization nightmare
Philadelphia
WHYY Newsworks: Suit claims PA prison system inflicts cruel, unusual punishment on mentally ill
WHYY Newsworks: PA liquor-privatization plans in flux
WHYY Newsworks: Dems blame Corbett for rise in PA unemployment rate
Inquirer: Playing with the city's tax money
Inquirer: Guv is painting a poor image of himself
Inquirer: PA Inspector General Faulkner leaving for job in Ohio
Inquirer: Tioga sees a turnaround as new businesses move into old factory sites
Inquirer: In Chesco town, opposition helped stop proposed gas pipeline
SEPA
Intelligencer: Cops: Former Warrington ambulance employee stole $642K
Intelligencer:
Daily Times: Nearly 5,000 Pennsylvania state workers earned $100,000-plus
Daily Times: Montco Drug Court embraces treatment
Mercury: Pottstown council OKs business tax break with 4-3 vote
Mercury: Montco launches improved website
Bucks Local News: Revolutionary Moment: Perseverance pays off with opening of newly-renovated $5M Washington Crossing Visitor's Center
Bucks Local News: Lower Makefield Supervisors deny request to demolish run-down historic Edgewood Village house, ask developer to determine if it can be saved
Daily Local News: Downingtown teacher stalemate continues
Pittsburgh
KDKA: Lamb's Party Endorsement Means Less Today, Some Say
WTAE: Ravenstahl won't pick chief, but could make changes before leaving
Tribune Review: Lawmakers want PEMA to explain lack of notification about drilling waste in river
Tribune Review: Peduto gets Steelworkers' endorsement for mayor
Tribune Review: Ravenstahl says he will let the next mayor choose Pittsburgh police chief
Tribune Review: Pastors increasingly pushing politics, despite IRS regulations
Tribune Review: Sutersville, Smithton, West Newton tax bill mistake affects 2,064
Tribune Review: Lawmakers seek cosponsors for resolution on impeaching Joan Orie Melvin
Early Returns: Jumpin' Johnny's for Bill
Early Returns: Dan's the man – or was, anyway
Tribune Review: Pittsburgh mayoral candidates urged to refrain from mudslinging
Post-Gazette: Deadline of April 1 set to collect money Pittsburgh owes to 900 people
Post-Gazette: Dozens may have received wrong Allegheny County tax bill
Post-Gazette: Mayoral hopefuls crash Pittsburgh's Democratic endorsement party
Southwest
Beaver County Times: 400-plus workers to lose jobs at Pa. Army base
Beaver County Times: Pa. House members seek support to move vs. judge
Johnstown Tribune-Democrat: New teachers may pay more
NEPA
The Times Leader: Exploits of Mollies' hailed at Eckley
The Times Leader: FEMA trailer residents face decision
Times-Tribune: Scranton parking-meter employees in labor limbo
Times-Tribune: Study finds NEPA needs more physicians
Times-Tribune: Large sinkhole discovered beneath Bethlehem home
Times-Tribune: NEIU employees look to future after Rosetti sentencing
Times-Tribune: Community Life Support Systems moving ambulances, offices to Scranton
Citizens Voice: Nuangola man charged with theft from fire department
Citizens Voice: 12 jobs cut at Mohegan Sun at Pocono Downs
Citizens Voice: 17 NEPA legislators took $200K in per diems
Citizens Voice: Scranton parade cleanup crews quickly wash away revelry
Citizens Voice: Sandusky lawyer outlines basis for defense appeals
News Item: Bus carrying Penn State students catches fire
Standard Speaker: State lawmakers collect $2M in per diems
Pocono Record: Tobyhanna Army Depot to lay off up to 418 contract workers
Lehigh Valley
Morning Call: Pennsylvania Department of Education clears up confusion over PSSA training test
Morning Call: House approves special education commission
Express-Times: Bethlehem deli owner Dave Sander running for city council
Express Times: Bethlehem vo-tech asking school districts for 2.84 percent funding for 2.84 percent funding increase
WFMZ: Leaders discuss crime-fighting efforts, hope talk soon leads to action
WFMZ: Tobyhanna cutting 400+ contractor workers
WFMZ: Reading mayor declines comment on campaign finance probe
WFMZ: Pa. suit: Mentally ill inmates stuck in isolation
WFMZ: Nearly 5,000 Pa. state workers paid $100,000-plus
WFMZ: Reading City Council president launches campaign to keep job
South Central
AP: Water study shows spill concerns from Marcellus Shale drilling small
AP: Nearly 5,000 Pennsylvania workers paid $100,000-plus
Lancaster Intelligencer/Era: Response to Millersville University speaker debate
Roxbury News: Harrisburg Mayor Thompson: Neighborhood Safe Zone.
Carlisle Sentinel: Shots fired at W. Pa. gas drilling site
Harrisburg Patriot News: U.S. and PA's economic recovery haunted by faces of the unemployed
Harrisburg Patriot News: Is Gov. Tom Corbett overpaid or underpaid?
Harrisburg Patriot News: One in three $100K earners comes from the state-owned universities
Harrisburg Patriot News: Pennsylvania House fight over statute of limitations for child sex victims intensifies
Harrisburg Patriot News: State House passes bill to overhaul special education funding formula
Harrisburg Patriot News: Deadline for candidates to file petitions for May primary is tomorrow
Harrisburg Patriot News: Judge OKs Steel-High school district's plea to borrow $2.5M for debt relief
North by Northwest
Williamsport Sun Gazette: Legislative Tally
Opinions
Tribune Review: How Medicare's low prices inflate health costs
Tribune Review: Pennsylvania law must stop kowtowing to Big Labor's thugs
Reading Eagle: ACLU intervention seems unnecessary at Gov. Mifflin
Observer-Reporter: Don't count out coal yet
Intelligencer: Democracy inaction
Daily Times: Treatment Courts help addicts in Delco, too
Mercury: Pottstown council should approve KOZ tax deal
Blogs
2 Political Junkies: VAWA "vote" goes national
2 Political Junkies: Tell the PA Senate: No immunity for frackers! (SB411)
Keystone Politics: Projected Medicaid spending has fallen by $200 billion
Keystone Politics: Dan Onorato was Ravenstahl mystery candidate, still not running
Keystone Politics: "I am not a secret callahan employee": An interview with John Blankstein on Lehigh Valley politics"