3/12 Morning Buzz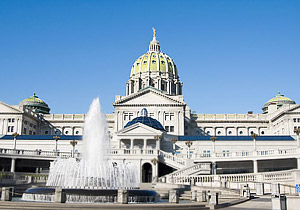 Good morning politicos, and welcome to the Buzz. Did you all see HBO's 'Game Change' this weekend? Shout out to Pa. political operative Ryan Shafik, who appeared as an extra in the film and did a little on-location consulting.
Christian to Remain on US Senate Ballot: David Christian will remain on the ballot for U.S. Senate. Representatives of the Pa. Republican Party plan to withdraw their challenge to the nominating petitions of the Bucks County businessman and veterans' advocate.
Does Tom Corbett Think Steve Welch Was Part of Operation Chaos? Tom Corbett has stood by his endorsement of Steve Welch for U.S. Senate. But in a recent conversation with radio host Dom Giordano and again with conservative writer John Gizzi, the Governor cited up a new – and anachronistic – explanation for Welch's party switch.
3/9 Ups & Downs: Election season feels like it's really begun now. This week's Ups & Downs takes a look at the trail, as well as a few items in Harrisburg and Washington.
Bailey to Run for AG as Indy, Not Dem: Don Bailey, who served as a Congressman and Pa. Auditor General, will not seek the Democratic nomination for Attorney General. After his nominating petitions were challenged by allies of Patrick Murphy, he withdrew and said he'll run as an independent.
PA Comes Back to Santorum: Two interesting articles caught our attention this weekend. The Post-Gazette looked at why few Pa. politicos are backing the former Senator. And Karen Heller of the Inquirer caught up with some of his former professors to investigate Santorum's claim that conservative students had a tough time there.
U.S. Treasury Dep't Probes Rendell Over Speeches For Iranian Dissidents: The Washington Times reports that the Treasury Department's counterterrorism arm is investigating speaking fees paid to a long-timeDemocratic Party leader who is among the most vocal advocates of an Iranian opposition group designated as a terrorist group by the State Department.
Legislative Election Updates:
SD-15: Candidates met for a debate hosted by Harrisburg Hope Thursday night. Republicans Josh First and William Seeds, and Democrat Rob Teplitz attended. Republican John McNally and Democrat Alvin Taylor were absent. In other news, the Dauphin GOP endorsed McNally, its immediate past chairman. First, who did not seek the endorsement, criticized the decision. "Yes, it's true that about 70 people in Dauphin County are the small 'tail' trying to wag the entire 'dog' that is Dauphin County and northern York County," First complained, "and voters reject this effort to minimize the value of their vote."
HD-22: Heavy-hitting Democrats are backing Marty Schmotzer for the seat of now Allegheny County Controller Chelsa Wagner. That's despite his being accused of taking $50,000 while a deputy in the Allegheny County Clerk of Courts office in 1997. He avoided prosecution after paying the money back.
HD-51: Republican Uniontown Councilman Gary Gearing beat a challenge and will remain on the ballot to face Rep. Tim Mahoney (D-Fayette). But another GOPer who was tossed off is appealing the decision. Michael Cavanagh sentenced in 2001 to spend 2 to 23 months in jail upon his conviction for a fraudulent $1,373 insurance claim. Convicts may not run for office. In his appeal, he claims his due process rights were violated in part by "removing his name from the Republican ballot while allowing the name of H. William DeWeese to remain on the Democratic ballot for the same elected state office."
HD-102: Rep. Rose Marie Swanger won the Lebanon GOP endorsement in her three-way primary. The committee voted narrowly to make and endorsement, 23-20. She won the first ballot, 29-12 margin over county Committeeman Joe Eisenhauer. GOP State committeeman Tom Hawk garnered two votes.
HD-134: The candidates are chosen in the special election to replace former Rep. Doug Richley, now a Lehigh County judge. Republican Ryan Mackenzie will square off against Democrat Patrick Slattery.
HD-169: Philly Republicans selected Dave Kralle as their candidate for the special election to replace Rep. Denny O'Brien. Kralle has been a long-time aide to O'Brien and won his boss's endorsement. O'Brien was elected to City Council in 2011. "While working in Denny O'Brien's office for the past 10 years, I have gained an intimate understanding of not only the legislative process but of the neighborhoods, civic groups, athletic associations and town watch organizations within our district," Kralle said. He faces Democrat Ed Neilson, a former political director with IBEW local 98.
HD-179: Rep. Tony Payton (D-Phila) officially kicked off his re-election campaign Saturday morning at the Artistas y Músicos Latino Americanos Centro. "This campaign is about putting people back to work during these difficult economic times, improving access to quality education for all of our children and ensuring that we have safe communities to live, work and play," Payton said. He's facing a primary from James Clay.
National:
Tribune-Review: Catholic voters in many states shy away from Santorum
Tribune Review: Young voters are engaged and civil
Post-Gazette: Santorum Is Pennsylvania's Not-So-Favorite Son So Far
The Big Tent: Santorum Says Romney Cannot Close The Deal
Daily Caller: Daily Caller Interviews Sen. Casey Regarding the Blunt Amendment
Star-Tribune: Sen. Casey Among Those Warming To Obama As Campaign Ally
State Impact: Republicans Question Sen. Casey Keystone Pipeline Vote
ABC Philadelphia: Sen. Casey Preps For Re-Election As A Moderate
Jewish Exponent: Sen. Casey Comes To The Fore On Iran
Washington Post: Rep. Meehan: GOP Will Have The Most Success When They Talk About Economics
Vally News Dispatch: Rep. Mark Critz Vows Social Security, Medicare Reform Will Not Hurt Seniors
USA Today: Rep. Joe Pitts Among Those Who Backed Controversial Energy Department Loans
Tribune-Democrat: Lawmakers To Fight Planned Air Force Cutbacks
Sewickley Patch: Lawmakers Insist "Fight Not Over" To Save 911th Airlift Wing
Post-Gazette: Local Officials Lobby Obama To Save 911th Air Wing
Politico: Rep. Barletta: Transportation Bill Is Key To Re-Election
Reading Eagle: Transportation Bill Could Jeopardize Transit Funding
Intelligencer Journal: Lancaster Transit Agency Among Those Who Would Lose If Transportation Bill Passed
Inquirer: Sen. Casey, Sunoco Mend Fences Over The Future of Area Refineries
Delaware County Times: Sunoco, Government Officials Discuss Refineries' Future
Intelligencer: Arthur Shenefelt Reflects On Career in National Politics
New York Times: Sen. Toomey Introduced Centerpiece of JOBS Act In The Senate
Morning Call: Sen. Toomey Helps Write Jobs Bill
Bensalem Patch: Rep. Fitzpatrick Votes For JOBS Act
Times-News: Dahlkemper Urges More Women To Run For Office
Ottawa Citizen: For Hockey-Loving Lawmakers, Including Rep. Meehan, Misconduct Is Off The Ice
Reuters: Santorum wins Kansas Republican Caucuses
AP: Romney, Santorum each post state wins
AP: Government can't keep up with information requests
USA Today: Santorum: Volatile GOP race isn't all about math
State Column: Rep. Mike Kelly to President Obama: Make coal a priority
Patriot News: Journal lists Sen. Pat Toomey as a plausible running mate for Romney
Statewide:
Patriot News: Republican presidential nomination race is heading to Pennsylvania
Star Gazette: Presidential year brings PA election tinkering
Pottstown Mercury: PA redistricting chair: Talks tense, unproductive
Bloomberg BusinessWeek: Harrisburg, PA set to default on $5.27 million GO bond payments
ABC 27: Could gas drilling cause PA earthquake?
AP: Photo ID bill splits AG candidates along party lines
Fox Philadelphia: Why the GOP primary matters in Pennsylvania
Daily Local: House GOP leader wants vote on new PA district maps next week
Capitol Ideas: Friday Morning Coffee: A quick buffet of links
Morning Call: Corbett: Joe Paterno should have done more regarding Sandusky situation
Patriot News: Gas industry paying Penn State to train future gas industry regulators
WITF: District maps not ready, revenue estimate stands
WITF: Counties, state at odd over funding requests, spending at emergency call centers
PA Independent: Local option sales, income taxes could replace a segment of property taxes
PA Independent: Week in review: State takes on voter ID, taxes, budget
PA Independent: PA House to vote on controversial voter ID bill
StateImpactPA: Drill Bits: Keystone vote, impact fee update, new lawsuit
StateImpactPA: Republicans question Casey's Keystone pipeline vote
StateImpactPA: Exxon: Fracking failing to crack China, Europe shale
StateImpactPA: Susquehanna River Basin commission's new rules for radicals
Capitolwire: Turzai: Reapportionment commission ready to vote on prelim plan
Capitolwire: Zogby, House Democrats spar on education funding
Capitolwire: Too early to reduce revenue shortfall estimate, Zogby says
Morning Call: Pennsylvania Politics as usual
WFMZ: Pa. could play pivotal role in GOP race for nomination
WFMZ: Redistricting talks not going well
Inquirer: Two Democrats break party's mold in run for Pennsylvania Attorney General
Jewish American News: On Purin, Pennsylvania US Senate candidate Sam Rohrer lauds Israel and observes how history repeats itself
Philadelphia:
Inquirer: How Post Office Closures Would Effect The Philadelphia Area
Inquirer: Probe of support to Iran exile group said to seek Rendell records
Inquirer: Pumping up the ire before mayor's speech
Daily News: Picture this: Voter ID law is about to pass
Daily News: Will Council take a hike?
Inquirer: Nutter proposes $3.6 billion budget for Philadelphia
Phillynow.com: That's a Rapp: PA legislator revealed as puppet of anti-abortion lobbyists
KYW Newsradio: Sen. Pat Toomey emerges as possible Republican VP candidate in 2012 election
KYW Newsradio: Heated exchange at town hall ends with Christie calling Iraq vet an 'Idiot'
SEPA:
Lansdale Patch: Rooney Readies For Battle Against Allyson Schwartz
Southampton Patch: Rep. Fitzpatrick Speaks At Biotech Center
Bucks Local News: County Congressman Mike Fitzpatrick votes in favor of JOBS Act
Bucks Local News: Charles H. Martin becomes longest tenured commissioner in Bucks County annals
Delco Daily Times: Sonoco execs, Delco pols hold Saturday summit to discuss future
Pittsburgh:
Tribune Review: Preservationists hoping to save Pennsylvania's historic barns
Tribune Review: Internet sweepstakes games concern Pennsylvania officials
Tribune Review: Biden to visit Pittsburgh for St. Patty's Day parade
Tribune Review: Former aide: Jane Orie's campaign "all-day affair"
Tribune Review: PWSA needs $720,000 in equipment to meet new regulations
Tribune Review: Pittsburgh, overseer bicker over millions the ICA is holding
Tribune Review: Several property assessment appeals meetings scheduled
Tribune Review: Neighbors say Shick acted bizarrely, taped angry notes to walls
Tribune Review: Drills prepared University of Pittsburgh police for hail of gunfire
Tribune Review: Corbett aims to capitalize on Pittsburgh region's accolades
Post-Gazette: Western Psych shooting causes lives to intersect
Post-Gazette: Ohio: Youngstown quakes caused by dumping Marcellus waste
Post-Gazette: Dems likely to back Schmotzer in House race
Post-Gazette: Wecht says Fitzgerald reneged on promise to appoint him as new medical examiner
Post-Gazette: Fitzgerald wants to take Health Department in 'new direction'
Post-Gazette: Ex-Orie volunteer's testimony aids perjury charge
Early Returns: Dr. Wecht's sweet science
Early Returns: Casey breaks with Obama again
Early Returns: Pgh Dems: All in the family
Southwest:
Observer-Reporter: Investors buy idled Allenport steel site
Observer-Reporter: State's gas impact fee means windfall for some
Observer-Reporter: Trinity student helps discover unusual pulsar
Indiana Gazette: Wastewater treatment plant, operator school to open soon
Somerset Daily American: Schools funding budget gaps with endowment programs
Somerset Daily American: Mine 42 resident taking fundraising pilgrimage
Altoona Mirror: Chamber debate called off
Altoona Mirror: Griffith family foundation fighting cancer
Altoona Mirror: Shuster challenger removed from ballot
WJAC: Gamesa sells local wind farm as part of $900M deal
WJAC: Penny-A-Pin Challenge raises money for UCP
WJAC: Ag expert examines connection between dairy production and Marcellus drilling
South Central:
Harrisburg Patriot News: Pennsylvania joins states that would require ultrasound before abortion
Harrisburg Patriot News: Middletown council hires financial consultant to help with budget
Harrisburg Patriot News: New USDA free school lunch project targets  Pennsylvania
Harrisburg Patriot News: Central Dauphin School District lunch prices may go up; health foods law blamed
Daily American: Shuster challenger kicked off ballot
York Daily Record: Candidates' night to listen Monday: This time, you'll do the talking
NEPA:
Pittston Politics: Cartwright's campaign is all about location, location, location
State Column: Rep. Marino Honored By Humane Society
Times Leader: Two area senators co-sponsor bill to halt test
Times Leader: Pa. Superior Court panel set for Scranton
Times Tribune: Social service agency providers say governor's budget cuts affects those in need
Citizens Voice: W-B area solicitor resigns amid probe
Pittston Politics: PA's secret code with Sciandra
Standard Speaker: Council talk gets heated
Standard Speaker: Schuylkill county commissioners approve library funding ballot addition
Go Lackawanna: Council seeks assistance for PILOT pay
Lehigh Valley:
Morning Call: MacKenzie, Slattery to sqaure off for Reichley's seat in special election
Morning Call: Edward Bush of Palmerton Presented With Medals For Military Service by Rep. Barletta
Morning Call: Berks Lehigh Regional Police Department may disband
WFMZ: Legislators stump in new stomping grounds
Express Times: Easton taking another shot at Keystone opportunity zones
Express-Times: Holden Opens Easton Campaign Office With Celebration
North by Northwest:
Centre Daily Times: Carbon dated: Lawmaker says emissions testing on vehicles no longer necessary
Sharon Herald: Officials take aim at blight
Williamsport Sun Gazette: Political analyst Dick Morris to speak in city
Altoona Mirror: Shuster Challenger Thrown Off The Ballot
Opinions:
Beaver County Times Column: No Apologies From Us Or Mark Critz
Morning Call: Apple should shift its jobs to U.S.
Morning Call: Obama always in campaigning
Morning Call: Religion will play an important role in election
Morning Call: Oil can be America's Trojan horse
Reading Eagle: Limbaugh crosses line with comments about student
Reading Eagle: Maine moderate Snowe will be sorely missed in Senate
Express Times: Day after daylight-saving switch should be a national holiday
Express Times: Pa. Republicans seek to suppress vote with voter ID bill
Times Leader: Officials obligated to let light shine in
Times Tribune: Deep cuts in health care transfer pain
Citizen's Voice: Judge selections must be apolitical
Tribune Review: Opinion: Obama's growing Iran-Israel dilemma
Tribune Review: Enviros' asthma ad was way off
Tribune Review: Opinion: Democrats' pill tough to swallow
Tribune Review: Opinion: A financial fix for strapped cities
Tribune Review: Opinion: 'Vulture capitalism'?
Tribune Review: Opinion: What to do with Perzel?
Tribune Review: Opinion: Rush Limbaugh forgot 'mob rules'
Tribune Review: Cutting the strings to this purse isn't hard
Wayne Independent: Public has a right to know about all issues
Standard Speaker: Military option should be last resort in Iran
Daily Review: Rules are rules and they should be implemented
Daily Review: Capitol Matters: state agencies divide impact fee money
Times News: Smoking
Pocono Record: Thumbs up, thumbs down
Pocono Record: Second, third look at pipeline
Greg Wrightstone, Tribune Review: Tim Murphy's convenient conservatism
PA Independent: Stimulus gone, schools in bind
Blogs:
Citizens Call: Montgomery County seen as key to Obama victory with Cheltenham office as campaign hub
Keystone Politics: Democratic candidate stole $50K from taxpayers
2 Political Junkies: Jack Kelly Sunday
Pennsylvania Progressive: Photo voter ID = poll tax violation
PA Budget and Policy Center: Revenue tracker: as economy picks up, PA revenues take turn for the better in February
Lehigh Valley Ramblings: Dent, Holden vote for bipartisan JOBS Act
Lehigh Valley Ramblings: Tim Holden opens Easton campaign office
Lehigh Valley Ramblings: Union deputies want an elected (union) sheriff
NEPArtisan: Cowardly Buffoon Corbett still blaming Paterno
NEPArtisan: PA-17: more NEPA endorsements for Holden
Keystone State Education Coalition: PSEA files civil rights complaint on behalf of Chester Upland students