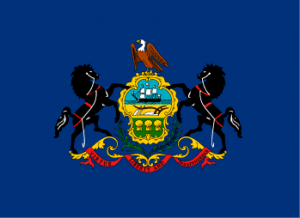 The NRSC goes after McGinty, Kane defends herself and we look at the unhealthy relationship between the media and Donald Trump. Plus, last week's Ups & Downs! Good morning politicos, here's the Playbook!
3/11 Ups & Downs: Polls, ads and phone calls. See who made this week's list!
PA-Sen: NRSC Accuses McGinty of Improper Coordination: Ed Rendell's loose lips cause more problems for Katie McGinty's campaign.
Kane: "I've Done Nothing Wrong" (VIDEO): The Attorney General sits down with 6abc's Nydia Han.
Analysis: How Trump Won the #Content Primary: The unacknowledged symbiotic relationship between Donald Trump and the media.
Peters Makes Case Voters Support Him: Republican candidate Joe Peters releases some internal polling.
Too Little or Too Late for Kasich?: The Kasich campaign isn't worried about a late challenge to his ballot petitions.
Sunday Show Preview: March 13, 2016: We take a look at the Sunday morning political talk shows that will air throughout the state.
Legislative Elections Update
HD-10: Beaver County Coroner David Gabauer and Sheriff Tony Guy are both endorsing Republican candidate Aaron Bernstine.
"I think the voters in Beaver County have already shown they are weary of business-as-usual," Gabauer said. "That's what makes Aaron Bernstine the perfect fit for a district that's been neglected for too long."
"With his experience in the private sector, Aaron brings a fresh approach that is necessary to lead reforms in Harrisburg," Guy said. "I am proud to endorse Aaron Bernstine, and know that he will serve each of us with honor and integrity."
The 10th district consists of parts of Beaver, Butler and Lawrence Counties.
HD-157: Hans van Mol is running as a Democrat against GOP incumbent State Rep. Warren Kampf.
"Pennsylvania is coming into a time of need," van Mol said. "I want to provide a fresh perspective."
The 157th district includes parts of Chester and Montgomery Counties.
SD-5: State Rep. Boyle won the endorsements of the ward leaders in the 58th, 66-A, 57th, 54th, 64th and 65th wards. He is running against incumbent State Sen. John Sabatina in the Democratic primary.
"I am honored to receive the official Democratic Party endorsement as I run to represent communities from Somerton and Parkwood to Port Richmond and Bridesburg in the state Senate," said Rep. Boyle. "We have the support of ward leaders who are strident advocates for the Democratic Party and for our district, and with their support I know we'll have a greater capacity to get our message out to voters in the coming weeks."
The 5th district consists of Northeast Philadelphia.
Statewide
Elle: Senate Hopeful Katie McGinty Can Play Ball
State House Sound Bites: Wolf Cabinet Members Resign After Mysterious Leave
State House Sound Bites: Latest Budget Meeting? Try December.
Capitolwire: Despite it being mentioned often, 'compromise' not on ready display during House's Budget Office hearing
PLSReporter: Rotunda Ramblings – March 11, 2016
Philadelphia
Inquirer: Dougherty's long-running feud at 3rd & Reed
Inquirer: Kenney considering revision to soda tax
Inquirer: Pa. official quits after anonymous allegations
Inquirer: Judge dubious of Fattah attempt to have indictment dismissed
Inquirer: Fattah's new legal firm no stranger to high-profile cases
WHYY Newsworks: Summer jobs program seeking sponsors, employment for Philly youth
WHYY Newsworks: Senate GOP challenges wording of judges' age ballot question
WHYY Newsworks: Philly Council president: Firms doing business with the city must have U.S. headquarters
SEPA
Pottstown Mercury: Phoenixville school board reviews redistricting plan
Pottstown Mercury: Pottstown Community Health and Dental listed to receive federal funds to combat opioid crisis
Pottstown Mercury: Prosecutors fight Kathleen Kane's request to bar Montco judges from presiding at her trial
Bucks Local News: Pennsylvania Governor Tom Wolf backing Santarsiero for U.S. Congress in 8th District
Bucks Local News: State Rep. Steve Santarsiero calls for sweeping climate legislation; plan would require dramatic reduction in greenhouse emissions by 2030
Pittsburgh
Early Returns: Perry on Politics: primary battles boil over
Post-Gazette: Pittsburgh has a growing list of notorious mass shootings
Tribune Review: Video doesn't guarantee civil rights charges against police officers
KDKA: Trump, Kasich, Sanders Stopping Youngstown Monday
WESA: Oil Trains Carry Bigger Risks For People Of Color
WESA: How Low Oil Prices Are Changing Career Plans At An Ohio College
Southwest
Beaver County Times: Water woes: Beaver County's aging infrastructure taking its toll
Beaver County Times: Western Pa. GOP legislators go to Heidelberg to blast Gov. Tom Wolf's tax plan
Observer-Reporter: 4-H: Head, Heart, Hands, Health and Halt? Agriculture programs hung up in state budget impasse
Observer-Reporter: A commissioner looks for a rebound beyond the current bust
Johnstown Tribune-Democrat: Rep. Moulton says VA delivers frustration more than appointments
NEPA
Citizens Voice: Municipalities mixed on transparency
Times Leader: After near-death experience, former Exeter mayor Cassandra Coleman-Corcoran raises blood clot awareness
Times-Tribune: 'Sunshine' in short supply for some Lackawanna County governments
South Central
Patriot News: Pennsylvania furniture company says: "We're not THAT Wolf" in new advertising campaign
Patriot News: Wolf's attorneys defend wording of ballot question on when judges must retire
Carlisle Sentinel: Highway construction dollars, local police protection clash
York Daily Record: Sen. Wagner targets another colleague
York Dispatch: York lawmakers split on Wolf minimum wage action
Lebanon Daily News: Many Lebanon County voters are changing party affiliation
Roxbury News: Harrisburg City Council- Possession of small amounts of marijuana
Lehigh Valley
Morning Call: Chester Mayor urges patience after officer shooting
Morning Call: Senate GOP challenges wording of judges' age ballot question
Reading Eagle: Berks still leads counties in Pa. in spending to fight abuse
WFMZ: 69 News "Week in Review"
North by Northwest
Centre Daily Times: Statewide decrease in PSSA scores spurs extra training for teachers
Onward State: Students for Trump club opens chapter at Penn State
Williamsport Sun Gazette: Right-to-know proposal would make lists public
Erie Times News: Medical marijuana bill to be debated by Pa. House this week
Opinion
Patriot News: Here's what Jeff Sheridan got wrong about the minimum wage
York Daily Record: No statute of limitations for abuse
Lancaster Intelligencer: Our polarized politics affect our views on every issue, including the minimum wage
Express Times: Welcome to Pa. Budget optional.
Citizens Voice: Due deliberation before decriminalization
Pocono Record: Open books trade with Cuba
Times Leader: Threat of mass school closings might compel Harrisburg to finally pass state budget
Times-Tribune: Falling short on openness
Times-Tribune: About time for DST study
Observer-Reporter: Offering aid to laid-off miners
Observer-Reporter: Marcellus Shale impact fee funds need more oversight
Johnstown Tribune-Democrat: Schools should do as they teach when facing adversity
Post-Gazette: Pennsylvania's shame: Public schools shouldn't have to sue to stay open
Post-Gazette: The Dimock effect: Cabot's loss in court warns the drilling industry
Tribune Review: McNickle: Did a phone call telegraph the Wolf administration's real intent on shale gas?
Tribune Review: Rewarding mediocrity: TSA's bonus scam
Inquirer: Better leaders would end state's budget impasse
Inquirer: Right out of 'Seinfeld,' the opposite candidate
Blogs
Keystone Crossroads: Lawmakers: More oversight for Pennsylvania's municipal authorities
Keystone Crossroads: Pennsylvania comes up short on funding for lead testing and cleanup
Commonwealth Foundation: Wolf's "Plague" on Public Education
Commonwealth Foundation: Breaking Promises to Fund Broken Programs