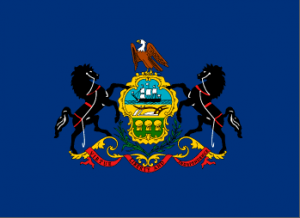 Eakin resigns, Wolf advocates for medical marijuana and we ask who the GOP AG nominee will be. Good morning politicos, here's the Playbook!
BREAKING: Eakin Resigns from Supreme Court: The pornographic email scandal notches its second Supreme Court casualty.
Reader Poll: Who Do You Believe Will Be the GOP's Attorney General Nominee?: We ask our readers how they think the primary battle between John Rafferty and Joe Peters will end up.
Reader Poll: Majority Against Minimum Wage Increase: Our readers aren't in favor of raising the hourly minimum wage from $7.25 to $10.15.
PA-9: Shuster Highlights 'Fight to End Obamacare' in New Ad (VIDEO): The Congressman's spot touts his work against the president's health care program.
PA-Sen: PA Building Trades Endorse McGinty: The Pennsylvania State Building and Construction Trades Council has made their choice in the Senate Democratic primary.
PA-Gov: Wolf Urges Legislature to Legalize Medical Marijuana (VIDEO): The Governor makes the case for the commonwealth to allow medicinal pot.
Mercyhurst Poll: Economy, Terrorism Most Important: PA voters want a president who will improve the job market and keep the country secure.
Legislative Elections Update
SD-5: The Pennsylvania State Troopers Association endorsed State Sen. John Sabatina for re-election.
"I'm humbled to have earned the endorsement of the Pennsylvania State Troopers Association," Sabatina responded. "I've spent my career fighting injustice and the members of the PSTA know first-hand what it means to work to make our streets safer. I really appreciate their support."
The 5th district consists of Northeast Philadelphia.
HD-93: Middle school teacher Shawn Little is running as a Democratic write-in candidate.
"I'm not a politician, I'm just a normal guy," he said. "It's something I always wanted to do but something I didn't think was realistic."
The 93rd district is located in York County.
HD-182: Philadelphia Mayor Jim Kenney endorsed State Rep. Brian Sims' re-election.
"Brian is a true champion for a progressive agenda that embraces all and seeks to leave no one behind," Kenney said. "He has spent his adult life breaking down barriers and fighting for equality and inclusion for all our citizens. As a fairly new legislator, Brian wasted no time in standing up for women's health and reproductive rights. He has been a tireless advocate for Philadelphia and our schools. I need Brian Sims in Harrisburg fighting for our city and our people. Brian's commitment to the people of his district is well known with a constituent service operation that has helped thousands of local residents in need."
The 182nd district consists of Center City Philadelphia, specifically Rittenhouse Square and Washington Square West.
Statewide
StateImpactPA: Gas royalties bill back in the spotlight
State House Sound Bites: Budget Plan Puts GOP, Wolf On Collision Course
State House Sound Bites: E-Mail Scandal Brings Low Another High Court Justice
State House Sound Bites: Call To Lift Statutes Of Limitations On Child Sex Abuse Cases
PLSReporter: Medical marijuana scheduled for possible final House action Wednesday
PLSReporter: Legislative push to end current year's budget process still faces Wolf question mark
PLSReporter: VIDEO: Dean, gun-safety advocates announce formation of PA SAFE
PLSReporter: VIDEO: Gov. Wolf talks budget, Justice Eakin resignation, medical marijuana
Capitolwire: GOP plan to finish FY2015-16 budget positioned for final vote in Senate, House Wednesday
Philadelphia
KYW: How Does Philadelphia's Sugary Drink Tax Proposal Stack Up?
KYW: Rutgers Professor Shares Insight On Russia's Decision To Withdraw Forces From Syria
KYW: Councilman Bill Greenlee: Donald Trump's Remarks Were 'Bigoted'
WHYY Newsworks: Former Gov. Rendell backs Evans over Fattah in in congressional primary
Inquirer: Democrats win 2 special elections in Philly
Inquirer: In race to Kane, Shapiro leads in cash
Inquirer: Pa. GOP files complaint against McGinty over Rendell's spending predictions
SEPA
Daily Times News: Time to exhale: Delco lawmakers support medical marijuana
Daily Local News: Auditor General cites lost fines
Daily Local News: Phoenixville school board reviews redistricting plan
Bucks County Courier Times: Middletown supervisors moving to regulate 'transient dwellings'
Pittsburgh
Pittsburgh Business Times: Cuba to get more U.S. travelers, business deals as White House eases restrictions
Pittsburgh Business Times: Unemployment rate unchanged in Pittsburgh region
KDKA: PennDOT Unveils Major Construction Plans For Interstate 70
WESA: 2nd Pennsylvania Justice Resigns Over Porn Email Scandal
Post-Gazette: Peduto: Transportation changes coming regardless of Smart City grant
Post-Gazette: IUP professor to fill 57th Legislative District
Tribune Review: Kasich delays Trump train, takes Ohio's 66 delegates
Tribune Review: Highmark loses members, $773M in Obamacare plans
Southwest
Johnstown Tribune-Democrat: 'Terrible day for evil': Three members of Franciscan order indicted in connection with Baker sexual abuse at Bishop McCort
Johnstown Tribune-Democrat: Republicans push to close books on overdue state budget
Observer-Reporter: State Police ramping up 1-70 enforcement
Beaver County Times: State legislators hear how agricultural programs affect state, farmers
Beaver County Times: Obama supporters increase pressure on Senate Republicans to consider Supreme Court nominee
Altoona Mirror: Agency to distribute abuse funds
NEPA
Citizens Voice: Districts consider closing schools as money runs out
Citizens Voice: Officials say Dallas won't end school year early over state budget crisis
Times-Tribune: Frein seeks to move trial out of Pike County
Times-Tribune: Scranton back-pay settlement at least $32 million
Standard Speaker: Mayor to present nominees to city council again
South Central
Patriot News: Here we go again. General Assembly set to vote on another 2015-16 budget proposal
Patriot News: The Old Boys Club? Men whose careers were changed by Kathleen Kane's email probe
Carlisle Sentinel: Holly residents drill council over answers about roundabouts
York Daily Record: Gov. Tom Wolf blasts new GOP budget bill
York Dispatch: Gov. Wolf meets with medical cannabis advocates
Lebanon Daily News: Diamond seeks to expand Do Not Call List
Lehigh Valley
Morning Call: Poll: Allentown Mayor Ed Pawlowski scores well in a Senate race he abandoned
Morning Call: Referendum on term limit for Allentown mayor yanked from council agenda
Reading Eagle: Pottstown Borough agrees to 1.5 percent raise for 57 employees
WFMZ: New rules take aim at controlling crowds at Penn pump park
North by Northwest
Centre Daily Times: Appeals court reverses Centre County Right-to-know ruling
Onward State: Penn State receives $17.8 million grant
Williamsport Sun Gazette: Wolf: Bill will go to counties
Erie Times News: Erie schools superintendent meets with governor
Opinion
Patriot News: Justice Eakin made the right move with Supreme Court resignation
Patriot News: Our legislature is bankrupting Pennsylvania
Morning Call: Rep. Charlie puts judgment before party
Post-Gazette: Patients in need: Medical marijuana deserves House approval
KYW: Republican Voters Refused To Be Influenced By Establishment
Inquirer: D.A. shouldn't dodge 'Johnny Doc' case
Tribune Review: Justice Eakin retires: A few object lessons
Tribune Review: On his 265th birthday, a few wise words from James Madison
Johnstown Tribune-Democrat: Is it too late for a Republican fusion ticket?
Observer-Reporter: The right approach on the minimum wage
Altoona Mirror: Tax-bump confusion no surprise
Citizens Voice: Regional police could lift burden
Times-Tribune: Willful theft of police services; State taxpayers absorb bill for protection in rural areas
Times-Tribune: And they say it isn't politics
Blogs
2 Political Junkies: Some More Worries For Senator Pat Toomey
Above Average Jane: Leanne Krueger-Braneky a Rising Star
Above Average Jane: Rebecca Ross Haywood Nominated for US Court of Appeals
Above Average Jane: Shapiro Statement of Finances
Commonwealth Foundation: Taxpayers on the hook for Wolf's Spending Binge
Citified: Insider: How to Incentivize Development In Philly's Overlooked Neighborhoods