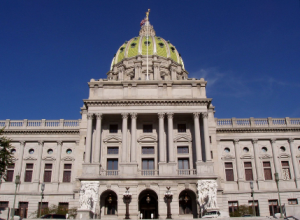 Big news from the AG, Wolf showcases western support, Koplinski to challenge Paterno's petitions and we provide a round-up of last week's governor's news. Plus, last week's Ups & Downs. Good morning politicos, here's the Buzz.
Kane Halts Sting Operation: The Attorney General stopped a three year sting investigation that examined politicians who were allegedly accepting bribes in Philadelphia.
Koplinski Hires Lawyer To Challenge Paterno Petitions: The Harrisburg City Councilman hired elections lawyer Larry Otter to have Paterno removed from the ballot.
PA-Gov: Wolf Posts Western Pa. Support Video: The ad features film clips from last weekends endorsement event held in Pittsburgh.
PA-Gov Round-up: Plans, Praise and a Shot: We take a look at the events of the last week in the state's gubernatorial and lieutenant gubernatorial race.
Schlossberg Promotes Legislative Crowdsourcing: Facebook group "Crowdsourcing Pennsylvania" aims to help out the Commonwealth.
3/14 Ups & Downs: Petition signatures were due this week, and the totals dominate the Ups & Downs list, but some other good news for Democrats in Philly earns an Up Arrow and a State Senator was indicted. See who all made this week's list.
Legislative Elections Update:
SD-28: Pennsylvania State Senate candidate Linda Small announced that the Capital Region Stonewall Democrats and Pennsylvania NOW PAC endorsed her. A number of the Democratic gubernatorial candidates, including Katie McGinty, Jack Wagner, and Tom Wolf will be coming to York County to rally Democrats in support of Small, as well.
Democrat Linda Small, 53, is running for state senator for the 28th district in the special election on March 18, 2014 against Republicans Rep. Ron Miller and Scott Wagner, who is a write in candidate.
HD-120: Three Democrats filed to run in the seat vacated by Rep. Phyllis Mundy's retirement: West Wyoming Borough Council President Eileen Cipriani, Wyoming Board member John Bolin and Wyoming Valley West School Teacher Gary Mack.
HD-169: West Manheim Township Supervisor Marc Woerner participated in York ACTION of PA's Candidate Forum on March 15th and won their straw poll with 51% of the vote. Woerner is running in the Republican Primary on May 20th for State Representative in York County's new 169th House District seat.
Statewide
State House Sound Bites: Between a website and a hard place: On campaign finance rules
PA Independent: Week in review: Lawmaker charged, Ironworkers' donations scrutinized
PA Independent: Former staffers play key part in corruption charges against lawmaker
StateImpactPA: What's still at stake in the Act 13 court battle?
StateImpactPA: Elk County township prepares for battle against deep injection well
StateImpactPA: Chesapeake Energy's $5 Billion Shuffle
StateImpactPA: Berks County gas-to-liquids plant gets preliminary approval
Philadelphia
Inquirer: Kane shut down sting that snared Phila. officials
Inquirer: Some Democrats wonder: Can anyone stop Wolf?
Inquirer: Party for State Senator was on voters, say prosecutors
PhillyClout: Yo City Council, where are your budget details?
PhillyClout: Committee seeks to add e-cigs to public ban on smoking
AxisPhilly: How dumb can you be?
PhillyNow: Thank John Hanger for campaigning on the issues you care about
KYW Newsradio: Legal Snag Could Delay Pay Boost For Phila. Tax Appeals Board
KYW Newsradio: Pa. Auditor General Hears Tales Of Charter School Accountability Woes
SEPA
Pottstown Mercury: Phoenixville council votes to approve tax abatements, but school board cautions
Pottstown Mercury: With Parkhouse sale finalize, Montgomery County officials explain the process
Pottstown Mercury: Chesco D.A.: With heroin scourge, 'Nobody is safe'
The Intelligencer: Montco DA expands drug collection program
The Intelligencer: Think juvenile records are sealed? Think again
AP: First wave of PennDOT fee increases about to land
Pittsburgh
Tribune Review: Officers rack up overtime under Peduto
Tribune Review: Arbitrator won't sign residency ruling for Pittsburgh police officers
Tribune Review: Allegheny County meets federal air standards for first time in 2013
Tribune Review: Pittsburgh mayor cuts number of city take-home vehicles
Post-Gazette: Results vary in Pittsburgh when comparing taxis to ride-sharing
Post-Gazette: Jay Paterno's nominating petitions for lieutenant governor's post challenged
Post-Gazette: Peduto decides to disband Redd Up crew
Early Returns: Deadline today for city employees to file for early retirement
KDKA: Allegheny Co. Executive Says Air Quality, Jobs Improving
Southwest
AP: Corbett warns against employee promotion
Observer-Reporter: Hanger may have boosted Pa. medical marijuana bill
Observer-Reporter: Corbett, Our Town address drugs
Observer-Reporter: Hollidaysburg Council receives fire cleanup update
Johnstown Tribune-Democrat: Corbett tours Somerset facility
Johnstown Tribune-Democrat: Conemaugh to partner with Duke LifePoint Healthcare
NEPA
The Times Leader: New tax law will target slumlords
The Times Leader: President signs bill delaying flood insurance hike
The Times Leader: LIU labor negotiations heat up with dueling labor complaints
Times-Tribune: Poverty growing in area classrooms
Standard Speaker: Bill would prohibit using drones to harass sportsmen
Pocono Record: Unlocking public information: How Pocono municipalities fare
South Central
Patriot-News: Attorney General Kane shuts down sting investigation on Philadelphia lawmakers without filing charges: report
Patriot-News: Dauphin County Democrat quits party leadership over Patty Kim non-endorsement
Patriot-News: York County Senate race: Ron Miller says he knows how to get things done
Patriot-News: First wave of Corbett driver fee increases to hit April 1: The Sunday Brunch
York Daily Record: Affordable Care Act: As deadline nears, dozens of York-area residents sign up
York Daily Record: Special election: Everything you need to know before Tuesday's vote
Lehigh Valley
Morning Call: Sources: Kathleen Kane shut down probe of Philly Democrats
Morning Call: Toomey says Putin wants new Russian empire
Morning Call: European solar home model comes to Emmaus
Morning Call: Allentown hockey arena is changing attitudes about downtown
Express-Times: Region's STEM jobs not just for those with bachelor's degrees, State of Lehigh Valley report finds
Express-Times: Bethlehem water rate increase will be discussed at public hearing
North by Northwest
Go Erie Times: Erie schools take stance against charters
Go Erie Times: Safety, emergency officials consider oil-train safety
Go Erie Times: Court invalidates some of Erie's rental-inspection program
Sun-Gazette: Corbett talks issues with Sun-Gazette
Sun-Gazette: Bill threatens transparency
Opinion
Patriot-News: A stronger region, strong schools and a clean environment: PennLive's 2014 Editorial Agenda
Express-Times: EDITORIAL: Bob Casey-sponsored bill for disabled, their families deserves approval by Congress
Philly.com: Arguments for natural gas
Pottstown Mercury: Breaking up PASSHE isn't the way to fix it
Post-Gazette: Pension pitfall: The Senate Dems' plan fails to curb future costs
Beaver County Times: Flawed charter funding more pressing
Times-Tribune: Pass bill to protect gas leaseholders
Blogs
Citizens Call: Coalition Calls for More State Investment in High Quality Pre-K Programs
Media Trackers: Philadelphia Union Leaders' Self-Pay Scheme Raises Eyebrows
Media Trackers: Union Members Get Head Start on Opposing Sale of Philly Gas Works
Keystone Politics: #PAGov: First Wolf vs Corbett Exchange Highlights Key Wolf Strength
Keystone Politics: PA Senate Republicans Attach Anti-Paid Sick Leave Amendment to Bipartisan Domestic Violence Bill
Pittston Politics: Analyzing 120th field, Bolin just might have a niche
Pittston Politics: PA Board should not sit on Kindergarten Center
Commonwealth Foundation: Senator Uses Public Money For Politics – So What?
Commonwealth Foundation: Risky Business: Bonds Alone Could Worsen Pension Crisis