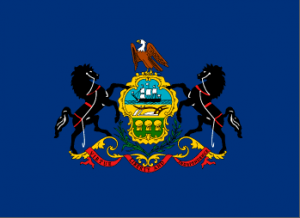 Wolf could have budget veto overridden, we take a look at what Ohio means for PA and how 54 delegates could decide who the GOP nominates for President. Good morning politicos, here's the Playbook!
PA-BGT: Senate Close to Veto Override: Several Senate Democrats have about had it with Gov. Wolf and his promises.
Shapiro Touts DA Endorsements: Six District Attorneys across the commonwealth are backing Josh Shapiro for Attorney General.
What Does Ohio Teach Us About PA?: We take a look at the results of the Ohio primary and what they might portend for Pennsylvania's contest on April 26th.
PA-12: Larchuk Calls on McClelland to Drop Out: Larchuk is challenging her petition signatures, in hopes of moving forward to the general election.
Pennsylvania's 54 Toss-Up Delegates: How PA could hold the key to the GOP Presidential Nomination.
2016 PoliticsPA "Make or Break" Tuesday Pool Results: See who made the top 10.
Statewide
PLSReporter: Retirement commission muddles through despite legal sword of Damocles
Capitolwire: Independent pescion agency's commissioners agree they need legal counsel from OAG
Philadelphia
WHYY Newsworks: U.S. Senate candidate Katie McGinty promises to 'get 'er done'
WHYY Newsworks: Philadelphia councilwoman wants to crack down on illegal towing
WHYY Newsworks: Two immigrant families look to join fight to close Pa. detention center
WHYY Newsworks: After Ohio win, Kasich gets early face time in Pennsylvania
Inquirer: Eakin to keep pension after Porngate scandal?
Inquirer: Wolf calls for new campaign finance reform
Philly.com: Philly gets $28M to fight homelessness
SEPA
Daily Local News: Republican Rivera withdraws from Chester County primary ballot
Bucks County Courier Times: Middletown supervisors move forward on $1.63 million road improvement program
Bucks County Courier Times: 8th congressional candidate Santarsiero talk guns, gay rights, and global warming
Pottstown Mercury: Why some Pennsylvania counties don't measure up in health rankings report
Pittsburgh
WESA: Allegheny County Improves In Statewide Health Ranking
Early Returns: Wolf calls on legislators to enact reform measures
Post-Gazette: Highmark unveils new cancer reimbursement plan to save patients money
Tribune Review: Governor touts ethics reform in shadow of budget veto
Southwest
Beaver County Times: Beaver Falls mother relieved by state House passage of medical marijuana bill
Beaver County Times: Slow going in 12th Congressional District petition challenge hearing
Altoona Mirror: Obama court pick creates divide
NEPA
Standard Speaker: Toohil: This was truly a bipartisan budget
Pocono Record: Northeast Pa. lawmakers promote redistricting reform
Times Leader: To our health: Luzerne County avoids the lowest ranking in the state
Times Leader: Raise the Wage demonstration targets Sen. Lisa Baker's Dallas office
Times-Tribune: Scranton mayor to reveal back pay settlement details
Times-Tribune: Pennsylvania primary will matter in presidential race
Times-Tribune: Scranton unions approve settlement deal; council waiting to see details
Citizens Voice: Yudichak says no schools will close due to budget stalemate
South Central
Patriot News: State police cheating scandal: What we know and what we don't know
Patriot News: Six percent of state troopers are non-white. How do others compare?
Carlisle Sentinel: Public and council vent over prospects of roundabouts in Holly
York Dispatch: Implementing Pa. medical marijuana could be years off
Lancaster Intelligencer: Lancaster County's oldest covered bridge closed indefinitely for major rehabilitation project
Lebanon Daily News: Rep. Maurie Gingrich endorses Pierre Hess
Lehigh Valley
Morning Call: John Kasich kicks off Pa. Presidential campaign
Morning Call: Veteran Zach Mako is youngest face seeking Lehigh Valley state House seat
Reading Eagle: Polling place will not move back to Kutztown University, board rules
WFMZ: S. Whitehall seeks lower speed limit on Walbert Ave.
North by Northwest
Centre Daily Times: VP Kirsch to leave Penn State in August
Onward State: Ford/Jordan Earn Panhel Endorsement, Agnihotri/Fleming Earn NPHC/MGC Nod
Williamsport Sun Gazette: Gas royalty bill goes back to committee
Erie Times News: Erie City Council approves liquor license transfer hearing for proposed waterfront bar
Opinion
Patriot News: Gov. Wolf should drop veto threat
Patriot News: Are you smarter than a 10 year old?
Morning Call: Why I cannot support Donald Trump if he is the GOP nominee
Express Times: Allentown's Mayor: It's more about the kids than the state budget
Daily News: Bunch: Trump and the prophecy of Fatimah
Daily News: Mayor's desperation tax-tics
Post-Gazette: Do your duty: The Senate must set a hearing for Judge Garland
Post-Gazette: Call waiting: A key state agency reforms customer service
Tribune Review: The Garland nomination: He's no 'moderate'
Standard Speaker: Shine lighting all corners of government
Times Leader: Growth of hate groups challenges Pennsylvania notion of 'brotherly love'
Times-Tribune: Toomey must do his job
Blogs
2 Political Junkies: For Senator Toomey, It's NOT About The Candidate – It's All About Obama
Above Average Jane: Ellen Malcolm at the Free Library
Commonwealth Foundation: Wolf's Bad Budget Bluffs
Keystone Crossroads: How the state monitors a child who has elevated blood lead levels
Keystone Crossroads: What Is It That Keeps A City Going Pittsburgh Has Some Answers