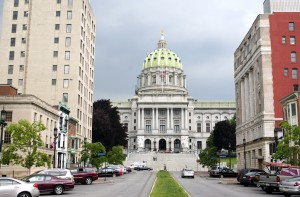 Good morning politicos, here's the Buzz!
Amended Liquor Sales Bill Going To House: During a Monday hearing by the House Liquor Control Committee, an amendment was made to House Bill 790. The modified version of the proposal to privatize state liquor sales will be introduced on the floor of the House for first consideration.
Casey Opposes Electoral College Tinkering: Bob Casey wants Pennsylvania to remain a winner take all presidential state. The Senator wrote Pa. Senate Majority Leader Dominic Pileggi to voice his opposition to a longshot proposal to award the state's electoral college votes proportionately.
We're Number 1! No wonder all these people have been positioning themselves to run for Governor in 2014! Pennsylvania's chief executive is the highest-paid in the nation, according to a California study.
Statewide
Capitolwire: Thornburgh, Leader, Ridge, Rendell back judicial appointments
Capitolwire: House Liquor panel moves liquor reform to full House
State House Sound Bites: Casey chimes in on plan to change electoral votes tally
State House Sound Bites: Pa. "Dream Act" introduced, faces uphill battle in house
State House Sound Bites: LATimes: Pa. at top in governor's pay
PA Independent: Privatization plan doesn't toast to beer consumers, brewers say
PA Independent: Problems run deep at PA Turnpike Commission
PA Independent: WATCHBLOG: PA Guv tops national salary list
StateImpactPA: Pike County court orders protesters to stay away from Tennessee pipeline
StateImpactPA: State funds available to build more affordable housing in drilling regions
StateImpactPA: After fracking wastewater spill, residents and regulators believe water is safe
Philadelphia
AP: Philly-area mayor won't resign amid gun probe
PhillyNow: Pennsylvania Lawmakers Follow 'Year of the Bible' with 'Year of Religious Diversity'
Philly Clout: 23 of 29 Traffic Court candidates face legal challenges
Philly Clout: Report finds problems persist with city's stop-and-frisk policy
Philadelphia Inquirer: Of big cities, Phila. worst for people in deep poverty
Philadelphia Inquirer: Council asks accused Marcus Hook mayor to quit
Philadelphia Inquirer: Thomas Fitzgerald: For na Democrat, Nutter facing tough fight with local unions
Heard in the Hall: Mayor Nutter faces five days in Florence
Heard in the Hall: Council Hearing on Tax Delinquency
Commonwealth Confidential: PA lawmakers to gun makers: Gun-clingers welcome you
WHYY Newsworks: Philadelphia could take cars as part of crackdown on delinquent taxes
WHYY Newsworks: Undocumented immigrants in Pa. push for in-state tuition rate- luara
WHYY Newsworks: Nutter unveils details of StartUp PHL Seed Fund
WHYY Newsworks: 3 questions about StartUp PHL
WHYY Newsworks: Former Pa. governors back judicial merit selection
KYW1060: Former Willow Grove NAS To Become Remote Piloting Station for Drone Planes
KYW1060: Pa. Lawmaker Proposes Tuition Incentive For Illegal Immigrants Who Are Striving
SEPA
AP: Pa. House votes to end 'triple dipping' benefits
AP: Online voter registration bill advances in Pa.
AP: Welfare secretary: Pa. can't afford dept. name change
AP: Pa. governor's salary nation's highest in 2012
AP: Corbett warmly received at farm group's luncheon
AP: Editorials from around Pennsylvania
Daily Local News: Oxford mayor schedules town hall on guns
Delco Daily Times: Committee OKs bill for slow privatization of liquor system
Delco Daily Times: State Rep. Margo Davidson to host small business expo
Delco Daily Times: City Dems, GOP pick candidates for May primary
Phillyburbs: Drone command center coming to Horsham
Pittsburgh
Post-Gazette: 60 projects outlined by Pittsburgh Downtown Partnership
Post-Gazette: Pittsburgh City Council OKs pursuit of major tax package for Hazelwood project
Post-Gazette: Mars Area School District to add bleachers to football stadium
Post-Gazette: No smoking: Pittsburgh City Council passes playground smoking ban
Early Returns: Controller releases reassessment "Windfall Watch"; we mess around with it
Early Returns: Casey slams GOP electoral vote bill
Tribune-Review: Liquor privatization bill clears PA House committee
Tribune-Review: Judge won't bow out of lawsuit between Robinson, Range Resources
Tribune-Review: Challenge filed to Shawn Flaherty county council petition signatures
Tribune-Review: Pittsburgh area unemployment rate rises
KDKA: Reluctantly, Washington County Issues RFP For Reassessment
Southwest
Beaver Co. Times: Felony charges in courthouse muffin caper
Beaver Co. Times: Beaver Falls fire department to use grant for cameras, headsets
Observer-Reporter: Peters Twp. School Board hears about big-ticket projects
Observer-Reporter: Company submits plans to open new coal mine in Nottingham
Altoona Mirror: Commissioners vote to sell Valley View Home
NEPA
Pocono Record: Pike chamber cancels gas line speaker, after hints of protests
Standard Speaker: State court ruling reinstates county jury commissioners
News Item: Suspended Pa. judge fined for fixing own tickets
News Item: Columbia County candidates file nominating petitions for primary
Citizens Voice: Council members want to settle flood authority dispute
Times-Tribune: Scranton/Wilkes-Barre area residential unemployment up in January
Times-Tribune: Turnpike chief orders inquiry
Times-Tribune: Scott Twp. police chief under investigation; suspended with pay
The Times Leader: Farewell to unclaimed tax money?
The Times Leader: Senators introduce child protection law overhaul
Lehigh Valley
AP: Committee OKs overhaul of Corbett liquor bill
WFMZ: Governor Corbett Announces Recent Appointments, Nominations
Express Times: Challenges filed against Northampton County candidates' primary ballot petitions
Express TImes: Warren County municipalities oppose proposed state early voting laws
Pennsylvania Ave: Casey weighs in on electoral-vote change
Morning Call: Pa. lawmakers add 119 amendments to liquor bill
South Central
Roxbury News: Election 2014: Max Myers for Governor. "I have a strategy for bringing transformation to Pennsylvania."
Roxbury News: Sale of the State Liquor System: An explanation of Amendment 375.
Roxbury News: Petition Challenge: Office of the Controller, Jennifer Smallwood.
Lancaster Intelligencer/Era: School District of Lancaster board rejects charter for controversial business school
Lancaster Intelligencer/Era: Pa. Sen. Lloyd Smucker's bill granting some undocumented immigrants tuition discounts picking up support
Lancaster Intelligencer/Era: Ephrata superintendent to retire; assistant will replace him
Lancaster Intelligencer/Era: Conestoga Valley officials review student technology, discuss budget options
Lancaster Intelligencer/Era: Ephrata superintendent to retire; assistant will replace him
Carlisle Sentinel: Proposed budget includes tax hike, program cuts at CV
Carlisle Sentinel: Online voter registration bill advances in Pa.
Carlisle Sentinel: Pa. is most generous to its governor, survey says
Carlisle Sentinel: Ex-Pa. DEP chief McGinty weighing bid for governor
Carlisle Sentinel: House stops triple-dipping by state retirees
Harrisburg Patriot News: Pennsylvania State House to debate liquor privatization Wednesday
Harrisburg Patriot News: PennDOT has $8.6M contract with firm tied to Turnpike 'pay-to-play' scandal
Harrisburg Patriot News: Mechanicsburg Borough Council sets town hall meeting on repaving Main, Simpson streets
Harrisburg Patriot News: Pennsylvania Department of Environmental Protection outlines 2013 plans for Susquehanna River
Harrisburg Patriot News: Financial woes at Lower Paxton's Friendship Center could prompt major changes
Harrisburg Patriot News: US to revise cigarette warning labels after abandoning legal battle with tobacco companies
Harrisburg Patriot News: FAA pushing back decision on tower closures
York Daily Record: Two Democrats challenge York mayoral candidate Joe Beltrante's residency
York Daily Record: York officials mull struggling commission's future
York Dispatch: Challenge raised to Smith's signatures for controller race
York Dispatch: West York eyes possible staff, program cuts
York Dispatch: HRC concerns roil York City Council meeting
York Dispatch: York residents dispute mayoral hopeful's eligibility
Lebanon Daily News: Lebanon's jobless rate rises slightly in January to 6.9%
Lebanon Daily News: Craig Boltz of Lebanon School District to retire
North by Northwest
Centre Daily Times: Recruitment, education play role in seeking municipal election candidates
Centre Daily Times: Gas pipeline worries State College residents, will help Penn State meet federal regulations
Centre Daily Times: Pa. is most generous to its governor, survey says
Erie Times-News Campaign '13 Blog: Casey against Pa. electoral vote change
Erie Times-News Campaign '13 Blog: Republican Ned Smith seeks 2nd District seat on Erie County Council
Williamsport Sun Gazette: Union County 2nd healthiest in state; Tioga, Lycoming trank 15th and 16th
Opinions
Pottstown Mercury: Pa. pension reform stalled by lack of voter concern
Bucks County Courier Times: Guest Column: Harrisburg bought and paid for by special interests
Delco Daily Times: Guest Column: CPAC shows conservatives still looking for a leader
Delco Daily Times: Guest Column: Message in a bottle: Pa. needs full liquor privatization
Morning Call: Paul Carpenter: Keystone Exams loophole undermines impact of standardized tests
Post-Gazette: Scarnati's mission: Does he want to fix transit or make mischief?
Post-Gazette: Gun slingers: GOP senators miss the message of Sandy Hook
Blogs
Keystone Politics: Republicans Selling Out Beer Consumers in Alcohol Reform Bill
Keystone Politics: Bill Peduto is the Only #PGHMayor Candidate with Actual Plans for Transit
Keystone Politics: Land Tax to Fund SEPTA Is Harrisburg's Decision, not Septa's
Keystone Politics: Exciting Fake Reforms Coming to the Turnpike Commission
Keystone Politics: Ed Rendell Shakes Glenn Reibman off His Leg