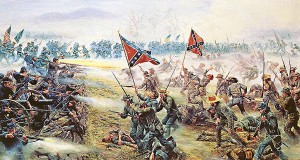 Good morning politicos, here's the Buzz. Tonight he's gonna party like it's 1863. Rick Santorum will be in Gettysburg tonight to watch the election returns come in from the primary in Illinois. Any Civil War wonks want to compare his campaign strategy to a famous general?
Luksik Forms SuperPAC for Rohrer: She's back. Peg Luksik, the perennial candidate who most recently challenged Pat Toomey in the 2010 GOP primary for U.S. Senate, has formed a super PAC to boost 2012 Senate hopeful Sam Rohrer.
Rohrer Signs on to 9-9-9: Senate hopeful Sam Rohrer has signed onto the tax plan of one-time GOP presidential hopeful Herman Cain. The proposal would scrap the current U.S. tax code in favor of a 9 percent corporate tax, a 9 percent personal income tax, and a 9 percent national sales tax.
Gingrich, SC Guv Haley Coming to PLC: Newt Gingrich is coming home. The former House Speaker, who represented Georgia in Congress but was born and raised in Harrisburg, will speak this weekend at the Pa. Leadership Conference. South Carolina Governor Nikki Haley will also attend as a Romney surrogate.
¿Dónde están los latinos Republicanos? The Morning Call takes a look at the widening gap between Dems and Republicans in the growing Latino population in Pa. and around the country.
Reader Poll: Which Dem Will Win AG Nom? Democrats must choose between Kathleen Kane, a former prosecutor from Lackawanna County, and Patrick Murphy, a former Congressman from Bucks County. Who do you think will prevail?
More Medicare Messaging from Dems: The Democratic Congressional Campaign Committee, as well as individual candidates, are ramping up their Medicare messaging. The DCCC is running robocalls against five Pa. members of Congress: Dent, Fitzpatrick, Gerlach, Meehan, and Murphy.
Santorum Backed Specter for Prez, Reminds Romney: Mitt Romney is reminding voters of Santorum's support for his former colleague, Senator Arlen Specter, when he ran for President briefly in 1995.
PoliticsPA Reader Poll: Holden Faces Toughest Primary: After over 1,000 votes, the results are in. PoliticsPA readers think the PA-17 race between Rep. Tim Holden and attorney Matt Cartwright is the toughest primary in the state.
Who Got Boos at Pittsburgh Parade? Short answer: everyone. It was a beautiful weekend for the St. Patrick's Day parade in Pittsburgh. But sunny skies or not, VP Joe Biden and Gov. Tom Corbett took their share of grief from the crowd.
Legislative Election Updates
SD-29: The Melley Memorial Lodge of the Fraternal Order of Police, which represents over 500 current and former state police officers, voted to endorse Brian Rich. He's challenging Sen. Dave Argall (R-Schuylkill) in the primary. "I am honored to have the support of the state police officers, who have risked their lives protecting the citizens of Pennsylvania," Rich said.
HD-16: Kathleen Coder, the former Bellevue Council president who is one of two Republicans vying to challenge Rep. Rob Matzie (D-Beaver), had a campaign kickoff event last night that drew 75 people. Former Steeler Rocky Bleier is chairing her campaign, and word is future events could draw more retired Steelers. Her primary opponents is Jeremy Angus.
HD-24: Rep. Joe Preston (D-Allegheny) will remain on the ballot, by the skin of his teeth. After a court challenge, he was left with 308 petition signatures. 300 are required. His campaign withdrew two pages of petitions which were accused of containing forgeries. He faces Ed Gainey in the primary.
HD-39: Dan Connolly is out of the Dem primary to face Rep. Rick Saccone, leaving just former Rep. Dan Levdansky and Robert Rhoderick.
HD-92: The GOP candidates have scheduled a debate in the race to replace Rep. Scott Perry (who is running for Congress) for next Tuesday, March 27. Scott Derr (Dillsbug), Daniel Johnson (York Haven), Anthony Pugliese (Camp Hill), Mike Regan (Dillsburg), and William Sieg (Etters) will take questions from WGAL 8's Matt Belanger.
HD-103: Roy Christ, the former President of the Harrisburg School District Board, took strong aim at the new Voter ID law Monday. "This is a systematic process by Tom Corbett and the Republican leadership to make it harder for people to vote.  Wars and movements have been fought and waged to get the right to vote and insure that is administered fairly.  This is our most basic right and Tom Corbett and the legislature are taking it away from thousands," he said during a press conference in front of the Governor's mansion.
HD-182: Rep. Babette Josephs' campaign responded to criticism (via YouTube video) from primary opponent Brian Sims, and attorney and LGBT activist, that she wouldn't debate. She said her record speaks the loudest. "Mr. Sims has not challenged me on a single substantive issue," Rep. Josephs said. "He's just playing 'gotcha' and distracting voters from the very real threats from the right wing in Harrisburg. These are real issues and we are dealing with them right now. Where was Mr. Sims when we held off the Marriage Discrimination Amendment?" She accepted a debate invite by the Center City Residents Association and other local organizations on April 17th, 2012.
Not seeing your news in the Buzz? Add press@politicspa.com to your distribution list.
National
Early Returns: Santorum no lefty
Politico: Rick Santorum not talking much about the economy
Politico: Santorum steps in it on unemployment
Politico: Republican foreign policy message: TBD
Politico: Santorum campaign shoots back: Mitt 'trying to deceive voters
Five Thirty Eight: In Illinois, Santorum's chance at nomination is slipping away
New York Times: In Santorum writings, a consistently conservative voice
The Caucus: Santorum waves away economics
The Caucus: Before Illinois primary, Santorum talks about a brokered convention
The Hill: Newt won't exit, thought others should
Pennsylvania Ave: DCCC targets Republicans on Medicare
Pennsylvania Ave: Santorum retreats to Pennsylvania
Statewide
PA Independent: PA seeks to swap property taxes with hikes in sales, income taxes
AP: Orie testifies in Pa. campaign corruption retrial
Times-Tribune: Pa. Criminal Courts All Now Taking Online Payment
Capitol Ideas: Monday Morning Coffee: PA's integrity laws score an C-minus
StateImpactPA: States Shell deal trades short-term tax losses for long term jobs
StateImpactPA: Drilling property mortgages may get closer look from Agricultural Department
StateImpactPA: What sets Pennsylvania's gas prices?
Philadelphia
Daily News: PSU alum Santorum calls Paterno question 'ridiculous'
Daily News: Weigh in on the city's budget plan
Daily News: Rick Santorum's making the GOP antsy
Daily News: Commonwealth Court rejects effort to keep Obama off primary ballot
Inquirer: Inquirer investigation into Philly school violence wins prize
Heard in the Hall: Inspector General reports saving millions for city
PhillyClout: This campaign commercial has been rated: N for Nasty
Phillynow.com: Daily Grinder: AG candidate Murphy says he won't enforce 'ultrasound' legislation
Phillynow.com: Rick Santorum doubles down on porn; porn responds
Phillynow.com: Candidate Jill Stein addresses Green Party of Philadelphia [Pt. 1]
WHYY Newsworks: How Pa., N.J., & Del. fared in the State Integrity Investigation
WHYY Newsworks: Taking the show on the road
SEPA
Delco Daily Times: General Assistance on chopping block
Delco Daily Times: Oil industry experts testify at refinery hearing
Delco Daily Times: CUSD board approves new financial software
Bucks Local News: Langhorne Borough Police Chief: Criminal arrests are up from 2011
Bucks Local News: Bucks County Community College president makes the case for increased state funding in Harrisburg
Bucks Local News: Charles H. Martin becomes longest tenured commissioner in Bucks County annals
Bucks Local News: Penn State: Marcellus Shale activity may be having negative impact on dairy production in Pennsylvania
Bucks Local News: Representative Scott Petri outlines state budget issues at town hall meeting in Wrightstown
Pittsburgh
Tribune Review: Orie: I was 'conscientious' about separating campaign, state work
Post-Gazette: Orie tells jury she conducted few fundraisers
Post-Gazette: It's prosecutor vs. legislator for Democrat attorney general nomination
Early Returns: No left turn for shortstop Santorum
Early Returns: Santorum: Ike or Lee?
KDKA: Cyril Wecht testifies as character witness for Jane Orie
Post-Gazette: New cab service for Downtown, some city neighborhoods
Southwest
AP: Orie testifies in Pa. campaign corruption trial
AP: Santorum: 'Issue in this race is not the economy'
WJAC: Casey touts Biden meeting to try to save Air Force Reserve base
Lehigh Valley
Morning Call: Joe Biden coming to Lafayette College in Easton
MFMZ: Congress Dent tours local businesses
Real Clear Politics: DCCC unveils robo-calls to attack Paul Ryan budget budget and GOP supporters, including Dent
Express Times: Gloria Steinem scheduled to keynote Lehigh Valley Women's summit
South Central
Carlisle Sentinel: Pennsylvania may get rare chance to help pick GOP nominee
Harrisburg Patriot News: Penn State releases trustee candidates' position papers
York Daily Record: Newt Gingrich to come to Harrisburg
Lancaster Intelligencer/Era: I didn't allow comp time for political work
North By Northwest
Erie Times-News: Santorum primary night party in Gettysburg
Centre Daily Times: Court: Benefits for babies born after dad's death?
Opinions
Daily News: Letter to the Editor: Open-carry gun law gets bad reception
Daily News: Letter to the Editor: Efforts to save Catholic parish elementary schools in Philadelphia
Inquirer: Opinion: Jobless applicants are subjected to bias
Daily Local: Letter to the Editor: Governor Corbett's budget is bad for the environment
Delco Daily Times: Letter from the Editor: Fight to save refineries is heating up
Times-Tribune Editorial: Mellow Case Needs More Detail
Wayne Independent Editorial: Just What Are They Thinking In Harrisburg
Morning Call: Where is the return on investment for taxpayers?
Morning Call: Tuition increases could price students out of college
Reading Eagle: Do not expect district to resolve bigotry on its own
Courier Express: New voter ID law supported by most of us
Courier Express: Wheelchair-bound Capitol protest risks tragedy
Blogs
Down With Tyranny: Meet Aryanna Strader, Dem vs. Rep. Joe Pitts
Keystone Liberty: Pennsylvania's fork in the road on transportation spending
Young Philly Politics: Just what we need! A new city council tax break for the .0000…1%
Commonwealth Foundation: Pensions' prevailing point of no return
Lehigh Valley Ramblings: Allentown continues to stonewall on EIT tax grab
Lehigh Valley Independent: Against the Earmark ban
Lehigh Valley Independent: Swing district GOPers bracing for backlash from Party's right-ward lurch
2 Political Junkies: Tracking the Crazie
Pennsylvania Progressive: Fracking health, environmental impact greater than claimed
Keystone Progress: Affordable Car Act strengthens Medicare
Keystone Politics: So far Bob Casey is not selling us out on health care prices
John Hanger: EPA becomes everybody's Dimock "fracking" punching bag