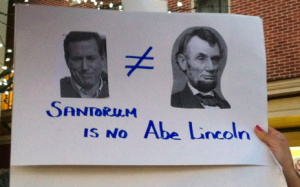 Good morning politicos, here's the Buzz. It was a big night in Gettysburg, a far cry from the last time PoliticsPA attended a Santorum for President event. Over a thousand people lined up to get in and over a hundred protesters came, too. So did about 40 members of the national media.
Santorum Seeks to Reinvigorate Campaign in Gettysburg: Rick Santorum returned home Tuesday night, seeking to regain his footing after a more than ten point loss to Mitt Romney in Illinois. And here are some of the details about the protest he met.
Murphy Goes on TV (Video): Rep. Tim Murphy is putting his $1 million cash-on-hand to use. The incumbent Republican today began airing a television ad that emphasizes his opposition to President Obama's health care law. Murphy faces a primary from Evan Feinberg.
NRA Backs Murphy: The political arm of the National Rifle Association has endorsed Rep. Tim Murphy (R-Allegheny) in his primary versus Evan Feinberg.
Smith for Senate Launches Bus Tour: Two words: game change. Tom Smith, the coal industry veteran from Armstrong County, is on the road. The Senate hopeful commenced the next phase of the campaign on Tuesday, in his brand new custom tour bus.
Dems for AG Serve Red Meat on Ultrasound Issue: Kathleen Kane and Patrick Murphy are opposed to a law requiring women seeking abortions to obtain an ultrasound, and they want you to know about it. The Democratic candidates for Attorney General have played to the base on the political issue.
RNC Airs Anti-'Obamacare' Ad in PA (Video): The Republican National Committee is targeting President Barack Obama's signature legislative accomplishment via television ads set to air in 6 swing states, including Pa.
Enviro Groups Unveil Lawmaker Marcellus Scorecard: A coalition of environmental groups issued a scorecard Tuesday rating the voting records of Pa. Senators and Representatives on the issue of Marcellus shale. See which lawmakers got good marks, and who went home with a zero.
Featherman Does It Again (Video) [NSFW]: John Featherman is at it again. The perennial protest candidate unveiled a new web ad aimed at his general election opponent Rep. Bob Brady. It features Philly radio host Ruth Weisberg – and little else.
Critz Nabs Labor Support in Altmire's Home Turf: Mark Critz continued his strong performance among labor unions today. He picked up the support of the Beaver-Lawrence Central Labor Council, which is centered in the part of the district represented by Jason Altmire.
Legislative Election Updates
HD-14: Democrat Sam Rosatone, who pulled name off ballot instead of fighting challenge from Rep. Jim Marshall (R-Beaver), says he won't run at all now, not even a write-in. This means Marshall is unopposed.
HD-182: Rep. Babette Josephs won the endorsement of the Political Action Committees for Planned Parenthood Pennsylvania and the Philadelphia chapter of National Organization of Women on Tuesday.  "The times are not good for women's health in Harrisburg," Philadelphia NOW President Terri Falbo said. "Babette has the guts to speak up for women's issues and educate people about the real implications of these bills. Now, more than ever, we need to keep strong women like Babette Josephs in the House of Representatives." Josephs is facing a primary from attorney Brian Sims, whose supporters are keen to note would be the first openly gay state legislator. But Josephs reminds voters that there are aren't many women in office in Harrisburg, either.
National
New York Times: Pennsylvania Rises in Importance for Santorum After Loss in Illinois
State House Sound Bites: Santorum supporters rally in Gettysburg
Patriot News: Crowds greet Rick Santorum in Gettysburg; he says election is about fundamental change
Capitolwire (paywall): Santorum says Romney, GIngirch change with political climate, not him
Morning Call: Santorum revs up campaign for big push in Pa.
Post-Gazette: Romney cruises to big victory
Inquirer: Santorum, in Gettysburg, remains upbeat
Gettysburg Times: After loss in Illinois, Santorum stresses importance of freedom
Gettysburg Times: Many do not give Santorum a warm welcome in his home state
Chambersburg Public Opinion: Santorum draws Gettysburg crowd, renews focus on freedom
Phillynow.com: Election 2012: Santorum says 'Poll shows we can beat Obama'
Times-Tribune: Scranton Mayor To Greet Irish PM At The White House
MSNBC: House moving to kill key provision in Obamacare
Pennsylvania Ave: Tom Smith campaign bus tour
Politico: Illinois primary results: Mitt Romney  crushes Rick Santorum
Politico: Rick Santorum's faith journey takes center stage
Politico: Santorum in the black
Politico: Rick Santorum strategist hits Mitt Romney on labor
Early Returns: Santorum camp argues delegate math
Early Returns: Daily Santorum: Project Petrus
The Caucus: In Louisiana, ad spending heats up
The Caucus: Santorum raised $9 million in February
Washington Post: Mitt Romney won Illinois? So what?
Washington Post: Santorum's blunt talk is proving troublesome
Five Thirty Eight: Romney slightly exaggerating advertising edge
Statewide
Inquirer: After female ultrasound bill, Sen. Farnese wants 'invasive tests' for men as well
AP: Voter registration deadlines nears for primary
Pocono Record: Perzel, Other GOP Defendants Face Sentencing
Capitol Ideas: New legislative maps could be done by April 12 — unless they're not, of course
Capitol Ideas: Activists give lawmakers failing marks on shale fee report card
State House Sound Bites: Links: Sentencing for "Computergate" defendants, Santorum due in Gettysburg
PA Independent: PA cracks down on fraud in Medicaid billing
StateImpactPA: Marcellus voting rosters under the environmentalists' microscope
StateImpactPA: "So, is Dimock's water really safe to drink?"
StateImpactPA: Drill Bits: DEP asks WPX energy to give residents water, and bad air near drill sites
WFMZ: Three sentenced for state corruption
Essential Public Radio: Lt. Governor touts Marcellus jobs potential
Philadelphia
Inquirer: Judge rules Sandusky defense must receive data on accusers
Inquirer: Perzel aides sentenced in 'Computergate' corruption case
Inquirer: Phila. Archdiocese fights to keep documents out of Lynn trial
Inquirer: Plan for district in N. Phila. hits opposition
Inquirer: Council hears case for funding women's shelter better
Inquirer: Congressional hearing focuses on Philadelphia-area oil refiners
PhillyClout: City moves forward with possible PGW sale
PhillyClout: Property assessors working to finish reassessments
Phillynow.com: Protestors play hockey on Broad Street to protest bank
Phillynow.com: John Featherman back with 'Naked Truth' smutty ad
Phillynow.com: Daily Grinder: City Council to take on movie ratings?
WHYY Newsworks: Back on the police tweet: Philly detective to resume posts
WHYY Newsworks: Public health officials denounce planned cuts to Pa. human services
SEPA
Pottstown Mercury: Perk Valley district looks to self-insure to save money
Delco Daily Times: Meehan: Disruption in refining 'could cause serious issue for our nation and our security'
PA Independent: PA seeks to swap property taxes with hikes in sales, income taxes
PA Independent: Cuts to food aid could hurt state's economic growth
Bucks Local News: Pennsbury appoints Fox Rothschild as board of school directors solicitor
Bucks Local News: Newtown Township narrows search for manager to five 'very highly qualified' candidates
Daily Local: Oxford Council adds time for comment
Pittsburgh
Tribune Review: Orie denies forging documents that led to mistrial
Tribune Review: Republican commissioners fire public defender Dante Bertani
Tribune Review: Ex-lawmakers recall jail stints as 7 prepare to hear their fates
Tribune Review: Sen. Orie: 'I did everything in my power' to comply with ethics law
Tribune Review: Judge sentences three former aides of House speaker to probation
Post-Gazette: Sen. Orie claims she separated office work from campaigning
Early Returns: New legislative maps on April 12?
Early Returns: Santorum camp argues delegate math
Early Returns: Murphy TV ads start today
Early Returns: Critz gets Beaver labor nod
Early Returns: Daily Santorum: Project Petrus
KDKA: Prosecution questions State Sen. Jane Orie
Southwest
AP: Monday is the Pa. voter-registration deadline
Valley News Dispatch: Perzel, other defendants face sentencing
Altoona Mirror: Primary registration deadline looming
AP: House GOP unveils budget blueprint
South Central
Chambersburg Public Opinion: Senate transportation bill includes rail provisions, possibly millions of dollars
Carlisle Sentinel: Monday is Pa. voter registration deadline
Carlisle Sentinel: Cumberland County commissioners approve bids
Harrisburg Patriot News: 3 candidates vying for vacant seat on Central Dauphin board
Harrisburg Patriot News: Philly Democrat counters ultrasound proposal with ED bill
York Daily Record: Southern pledges not to exceed tax cap
York Daily Record: Candidates vying for 92nd state House seat to debate March 27
York Daily Record: Rep. Perry to host first 'Diner Stop' in Hanover
Lancaster Intelligencer: Romney takes lead in Illinois, hoping to pull away
NEPA
Times Leader: Mellow Resigns From Local Bank Board
Times-Tribune: State Rep. Ken Smith To Host Forum
Times-Tribune: Lackawanna County Online Records Access Upgraded
Lehigh Valley
Morning Call: Berks Lehigh Regional Police remains a force
Reading Eagle: Registration deadline Monday for primary election
WFMZ: $4 million budget gap looms for Easton Area school district
WFMZ: Rep. Dent tours local businesses, talks gov't regulations
North by Northwest
Erie Times-News: Judge delays ruling in trespassing cases against Occupy Erie members
Erie Times-News: Senate approves federal highway safety programs
Sharon Herald: Access Network rep tries to explain health care law
Sharon Herald: Authorities, students try to raise awareness of law
Centre Daily Times: Marcellus Shale impact fee critics address county commissioners
Centre Daily Times: Amendola, AGs office discuss hearing
Opinions
Chris Freind: Blame Congress – and yourself – for rising gas prices
Daily News: Editorial: College loans the next "debt bomb"
Daily News: Editorial: Ban on food distribution on Parkway heats up
Daily News: Letter to the Editor: Councilwoman Quinones-Sanchez defends 'Land Bank' legislation
Inquirer: Opinion: Regional spotlight: City tax grab risks reforms
Inquirer: Opinion: On the issue of choice in Philadelphia archdiocesan schools and parishes
Inquirer: Opinion: Heeding the experts on Iran
Times-Tribune Editorial: Don't Cut Program, Use It For Growth
Post-Gazette: Senate abuse: Republicans stand against a domestic violence bill
Post-Gazette: It's clear the county reassessment was bungled
Chambersburg Public Opinion: Carefully parsing those definitions
Chambersburg Public Opinion: Don't let voter registration deadline get in the way
Harrisburg Patriot News: 'Devout' is overused in religious connotation
Harrisburg Patriot News: Natural gas might be an option for energy needs
Harrisburg Patriot News: State Capitol restrictions are barriers that can't exist
Harrisburg Patriot News: Schools need to make do with resources they have
Harrisburg Patriot News: Enough military might
York Daily Record: York County DA building track record of openness
Erie Times-News: Obama is for high gas prices?
Erie Times-News: New primary system shakes up GOP
Erie Times-News: Columnist defends Romney over dog Seamus' crate trip
Erie Times-News: Catholics, contraceptives, John Locke: Administration hasn't won debate
Centre Daily Times: A reminder of how far we've come
Centre Daily Times: Death penalty killing justice
Morning Call: Begin taking Pennsyvania back on April 24th
Morning Call: PA voter ID law is a "disgrace"
Morning Call: Rush Limbaugh makes a valid point
Morning Call: PA must give school boards more autonomy to manage funds
Express Times: Paying for sick days is unhealthy, bad habit
Express Times: Easton's taxes of omission add up to irritation
Public Opinion Online: PA needs to make more strides in transparency
Daily Local: PA's new voter ID law is an outrage
Pottstown Mercury: Gov. Corbett is committed to public education
Blogs
Think Progress: PA GOP Senate candidate falsely claims Obama "gave himself the power to spend at will"
Lehigh Valley Ramblings: Bethlehem Township to join legal challenge to Allentown's EIT tax grab
Lehigh Valley Independent: What should liberals be looking for in school tax reform?
Lehigh Valley Independent: Allentown NIZ and Public benefits
Lehigh Valley Independent: Taxing bad stuff > taxing good stuff
Lehigh Valley Independent: The Choice
2 Political Junkies: Now this is a surprise
Pennsylvania Progressive: Spending twice as much on prisons as universities
Pennsylvania Progressive: Will Pennsylvania be Santorum's Waterloo
Pennsylvania Progressive: Another black eye for PA Dems
Pennsylvania Progressive: Pennsylvanians opening their eyes to Corbett's misadventures
Keystone Progress: Pennsylvanians rally to challenge Santorum's lies
Keystone Politics: More democracy needed in choosing special election candidates
Keystone Politics: All four labor councils in 12th District endorse Critz
Keystone Politics: Everybody hates house GOP's IPAB repeal bill
John Hanger: With friends like Senator Inhofe, the gas industry needs no enemies
Jan Jarret's Ad Hoc Blog: Cooking up the Marcellus sausage