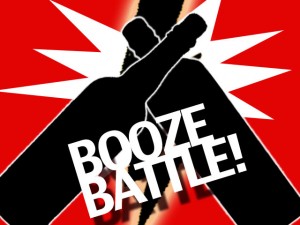 The PA House is set for a battle royale over liquor privatization – one that will last late into tonight. Good morning politicos, here's the Buzz.
Former Guvs Back Merit Selection for Judges: Citing the case of Joan Orie Melvin, a bipartisan group of four former Governors say Pennsylvania should change the way statewide judges are selected. They want to do away with elections and transition to a system of appointments.
PA Dems Wade into Pittsburgh-UPMC Battle: The Pa. Democratic Party has chosen sides in the brewing legal battle between the City of Pittsburgh and the University of Pittsburgh Medical Center.
PoliticsPA Partnership: We'd like to announce that PoliticsPA will now work with the folks at ElectNext to add a new layer of data to our articles. If you scroll down to the bottom of this Buzz article and future PoliticsPA pieces, you'll now see basic bio information on the politicians we've named.
Statewide
Capitolwire: House readies for liquor privatization vote
Capitolwire: Fiscal hawk warns warn House lawmakers on impending liquor amendment votes
StateImpactPA: Secrecy lifted in fracking case
PA Independent: WATCHBLOG: Liquor debate live blog – House vote on liquor expected Thursday, Senate still a huge question mark
State House Sound Bites: Liquor privatization headed for final vote in house
State House Sound Bites: DPW name change passes committee amid cost concerns
Philadelphia
KYW1060: Federal Employees Protest Budget Cuts on Independence Mall
KYW1060: Board OK's Contracts with Pa. University Faculty Raises
KYW1060: Survey: Pa. Gov. Corbett Highest Paid Governor in US
KYW1060: Pennsylvania House Passes Victim Advocate Parole Law
Heard in the Hall: Council hears more about Philly's delinquency problem
Heard in the Hall: Coalition Seeks Reassessment Data
WHYY Newsworks: With parent demand surging, 20 charters seeking to expand in Philadelphia
WHYY Newsworks: Philadelphia City Council looking at more than property taxes deadbeats
WHYY Newsworks: Move to revise name of Department of Public Welfare advances in Pa.
Philadelphia Inquirer: Philadelphia Magazine story discussed with Philadelphia Association of Black Journalists
Philadelphia Inquirer: Liquor privatization: Vote could come tomorrow
Philadelphia Inquirer: Horsham command center for drones wins support
Philadelphia Inquirer: Corbett near top of U.S. governors in pay
Philadelphia Inquirer: Nutter off to Italy with delegation of mayors
Philadelphia Inquirer: Bid made to salvage Phila. Traffic Court
City Paper: Councilwoman Brown's tax delinquent rental property
City Paper: Federal workers already feeling pain of sequester in Philly
City Paper: Squilla to give personal AVI savings to an inaccurately assessed property owner
PhillyNow: New Pennsylvania Liquor Bill Goes to Full House
Daily News: Council grills Nutter on tax-deadbeat collection plan
Big Tent: Former DEP Secy Katie McGinty exploring run for governor
Philly Clout: Traffic Court candidates choose ballot positions
SEPA
AP: Study: Chesco healthiest county in Pa., Montco comes in 6th
AP: Pa. House nears vote on liquor privatization bill
AP: Both Sides Agree on Tough New Frackin Standards
Bucks Local News: Bucks County Commissioners outline 'A New Direction for Economic Development Initiatives'
Bucks Local News: U.S. Congressman Fitzpatrick honored with National Association of Manufacturers Award
Pottstown Mercury: Chesco lawmaker wants Pa. to tax smokeless tobacco
Delco Daily Times: Marcus Hook mayor asks town for a second chance
Pittsburgh
Early Returns: Mayor Luke vs. UPMC: The Showdown
Early Returns: County controller spokesman leaves for Wagner's campaign
Tribune-Review: Judge says Washington County drilling lawsuit is public record
Tribune-Review: House debating liquor privatization bill
Tribune-Review: $175M in 3 Port Authority of Allegheny County transit projects in talks
Tribune-Review: Zappala rips UPMC response
Tribune-Review: Environmentalists and drillers become "unusual bedfellows"
KDKA: City Council debates, takes no action on issue of officers' side jobs
Post-Gazette: Pittsburgh Public Schools authorizes pursuit of Hazelwood TIF
Post-Gazette: Pittsburgh Public Schools board reappoints Superintendent Linda Lane through 2016
Post-Gazette: Munhall council closes Club Pink's doors
Southwest
Altoona Mirror: Valley View buyer selected
Altoona Mirror: County expects sale to move quickly
Altoona Mirror: Cambria, Blair among unhealthiest counties in the state
Observer-Reporter: Casino's property assessment appeal going to mediation
Observer-Reporter: Washington Co. looks to Harrisburg on reassessment
Beaver Co. Times: State commission hands down rulings on ethics violations in Leetsdale
NEPA
AP: Pa. cities take fight to tax-exempt institutions
AP: Ravenstahl challenges UPMC's tax-exempt status
AP: Judge says Pa. drilling lawsuit is public record
Citizens Voice: County projects get $12M in gaming funds
Citizens Voice: NEPA unemployment rises to 9.8 percent
Times-Tribune: Challenges filed to nominating petitions
Times-Tribune: Matt McGloin honored in state House
Standard Speaker: Hazleton City Council will consider liquor license transfer tonight
Standard Speaker: Schuylkill unemployment hits double digits
Lehigh Valley
AP: New try at privatizing liquor sales advances
AP: Pa. governor is highest paid in U.S.
Pennsylvania Ave: Pennsylvania progressives highlight toll of sequester on veterans
Morning Call: Mayors steer meals to those who can't cook for themselves
Reading Eagle: Obama taps Muhlenberg High grad for State Department
Reading Eagle: Reading could lose over $163,000 in federal housing grants
Reading Eagle: Governor, agriculture chief meet with reporters
Reading Eagle: Mayor, city officials to speak to Centre Park organization
Express-Times: Challenges filed against Northampton County candidates' primary ballot petitions -UPDATE
South Central
Harrisburg Patriot News: Pennsylvania's Tom Corbett is the nation's highest paid governor
Harrisburg Patriot News: Faculty contract for state-system universities ratified by board
Harrisburg Patriot News: Pay-for-play defendant left Ciber before $8.6 million PennDOT deal
Harrisburg Patriot News: Liquor privatization likely to win backing of midstate GOP lawmakers
Harrisburg Patriot News: Liquor privatization in Pennsylvania: The details of the bill
Harrisburg Patriot News: House of Representatives poised for historic vote on liquor privatization bill
Harrisburg Patriot News: Both sides agree on tough new fracking standards
Harrisburg Patriot News: PHEAA exec's workplace discrimination lawsuit dismissed by U.S. judge
Harrisburg Patriot News: Dept. of Public Welfare name change bill wins House panel approval
Carlisle Sentinel: Board OKs pacts with Pa. university faculty raises
Carlisle Sentinel: Both sides agree on tough new fracking standards
Carlisle Sentinel: Pennsylavnia ranked fourth in railroad-related deaths
York Daily Record: Norina Bentzel, Red Lion principal who fought off machete attacker, moving to another school
York Daily Record: Officials says York County will save close to $2.9 million by refinancing debt
York Daily Record: Two Democrats challenge York mayoral candidate Joe Beltrante's residency
York Dispatch: Civil suit filed over York HRC conduct in firing
York Dispatch: Challenge raised to Smith's signatures for controller race
York Dispatch: York residents dispute mayoral hopeful's eligibility
Lancaster Intelligencer/Era: Southern leaders aim to cut ambulance response times
Lancaster Intelligencer/Era: School District of Lancaster board rejects charter for controversial business school
Lebanon Daily News: Surveys find Pa. governor's salary is nation's highest
Roxbury News: Petition Challenge: Brendan Murray
Roxbury News: Election 2013: Ballot Position
Roxbury News: Wendell Young: HB 790 and amendment 375
Roxbury News: Pa Speaker Sam Smith: HB 790
Roxbury News: Pa Rep. Mike Sturla: HB 790
Today's the Day Harrisburg: 2 MINUTE TUESDAY
Today's the Day Harrisburg: Headlines
North by Northwest
Erie Times-News Campaign '13 Blog: Erie County Dems announce Loomis fundraiser
Erie Times-News Campaign '13 Blog: Myers announces candidacy for governor in Erie
Centre Daily Times: Former voice of TV's Elmo faces abuse suit in Pa.
Williamsport Sun Gazette: City needs extra cash to lure big name concerts
Williamsport Sun Gazette: Union County 2nd healthiest in state; Tioga, Lycoming rank 15th and 16th
Williamsport Sun Gazette: WASB reviews lunch policy
Opinions
Pottstown Mercury: Food stamp fraud is a crime against all
Delco Daily Times: EDITORIAL: Pols favoring gay marriage on side of equality
Daily Local News: Lawmakers should step up now and abolish unnecessary office
Morning Call: Paul Carpenter: Keystone Exams loophole undermines impact of standardized tests
Reading Eagle: Elected officials should make decision on special levy
Times-Tribune: Corbett still gamblin' man
Citizens Voice: State property tax system needs work
Standard Speaker: End property tax for school funding
Carlisle Sentinel: Letter: Abortion curb measures 'outrageous'
York Dispatch: EDITORIAL: West York Council members top their own recklessness
Observer-Reporter: The law's letter, not its spirit
Blogs
Lehigh Valley Ramblings: NorcO GOP Fires Monahan as Solicitor
Keystone Politics: Stu Rothenberg: PA Districts Crucial for Dems to Put House in Play
Keystone Politics: Judicial Elections Lack All the Key Ingredients of A Meaningful election
Keystone Politics: You Can't Take Politics Out of the Turnpike Commission
Keystone Politics: Hot New Tax Break for Private Jets Squeaks through PA House Finance Committee –
Keystone Politics: Perhaps Max Myers Would Find More Success As A Republican State Senator?
Keystone Politics: Does John Taylor Think Most of His Constituents Are Beer Distributors?