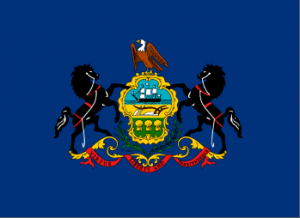 Casey backs McGinty, the latest jobs report is in and we break down the fundraising race in the AG Democratic primary. Plus, last week's Ups & Downs!
3/18 Ups & Downs: Basketball, the budget and a resignation. See who made this week's list!
BREAKING: PA-Sen: Casey Endorses McGinty: The Democratic Senator has chosen the candidate he would most like to serve with in January.
AG Dems 2016 Fundraising Breakdown: Josh Shapiro and Stephen Zappala were their own biggest supporters.
Justice Dougherty Recovering After Philly Attack: The Supreme Court judge was treated for a possible concussion Friday night.
February Jobs Report: Unemployment Steady at 4.6%: It remains below the national average.
PA Building Trades Endorses Zappala for AG: The Allegheny County DA wins the support of the Pennsylvania State Building and Construction Trades Council.
Sunday Show Preview: March 20, 2016: We take a look at the Sunday morning political talk shows that will air throughout the state.
Legislative Elections Update
HD-164: State Rep. Margo Davidson and her primary challenger Councilwoman Sekela Coles have both survived efforts to knock one another off the April 26th ballot.
The 164th district is in Delaware County.
Statewide
StateImpactPA: US proposes new safety rules for natural gas pipelines
PLSReporter: Speaker Turzai implores Gov. Wolf to sign budget supplemental
PLSReporter: Rotunda Ramblings
Capitolwire: Independent pension agency's commissioners agree they need legal counsel from OAG
State House Sound Bites: Casey endorses McGinty for nomination to face Sen. Toomey
PA Watchdog: 3 ways to correct the Pennsylvania school funding mess
PA Budget and Policy Center: No one wants Leviathan
Philadelphia
Inquirer: It's been a while, but Pa. GOP primary actually matters
Inquirer: Sen. Toomey tries to deflect focus on his Supreme Court stance
Inquirer: Kane accuses prosecutors of leaking information to reporters
Inquirer: Flawed ethics reviews, sharp criticism, and a justice's path to resignation
Inquirer: Blumberg towers come tumbling down, raising memories of horror and home
Inquirer: Mother of alleged Dougherty assailant: 'He begs for help'
WHYY Newsworks: Obama's 'more perfect union,' eight years later
WHYY Newsworks: Gallup polls Americans on presidential candidates and their campaign platforms
WHYY Newsworks: First TV ads for congressional seat in Bucks, Montgomery district off and running
WHYY Newsworks: Education philosophies clash at packed Philly SRC meeting
SEPA
Bucks County Courier-Times: Riverwalk for PennEast pipeline
Bucks County Courier-Times: Pennsylvania superdelegates give Clinton extra edge
Pottstown Mercury: VIDEO: Pottstown teachers turn to personal stories in contract push
Pottstown Mercury: Limerick board hears proposal for townhomes, senior living community
Pottstown Mercury: Emergency and long-term repairs planned for One Montgomery Plaza
Pittsburgh
Tribune Review: Democrats' contest for Senate nomination in Pennsylvania 'anybody's race'
Post-Gazette: Pa. jobless rate flat at 4.6 percent in February amid strong hiring
Post-Gazette: Casey endorses McGinty in Democratic primary for Senate
Pittsburgh Business Times: Tax reform paves way for Clairton comeback
WTAE: Presidential nominating races to hit Pennsylvania next month
Southwest
Beaver County Times: Toomey backs bill to restore police departments' access to military-style equipment
Beaver County Times: Casey backs legislation addressing infant addiction
Observer-Reporter: Houston Borough dissolution proposal met with hostility at local fire department
Observer-Reporter: County watches Fed, refinances bonds
NEPA
Times Leader: Glen Lyon residents upset by 'distressed' status report
Times Leader: Local legislators react to Wolf's gift ban request
Times Leader: Senator Pat Toomey chairs hearing on bill aimed at curbing opioid abuse
Times-Tribune: Osbourne, Murphy urge support for Gov. Wolf's budget
South Central
Patriot-News: Budget veto threat lingers while Gov. Tom Wolf seeks counsel with Democratic allies
Patriot-News: Doors open for some Pa. State Police cadets, while others stay firmly closed
Carlisle Sentinel: Catching Bigfoot: Wolf pursues election-year tax increase
York Dispatch: Senate hopeful Harper survives challenge
York Dispatch: Current York City body-cam policy concerns police union
Lebanon Daily News: Lebanon County fire companies pay thousands in taxes
Lehigh Valley
Reading Eagle: Reflections from over a quarter-century on the Berks County bench
Reading Eagle: Here comes the GOP: Republican candidates will soon storm the state
Express Times: How to register to vote for the Pennsylvania presidential primary
Express Times: Eagles legend Chuck Bednarik to be honored by Pa. House
Morning Call: Donald Trump's type of voter found in big numbers in Pennsylvania
Capitol Ideas: New McGinty ad focuses on wage gap
North by Northwest
Centre Daily Times: Centre County collects more of fees assessed than any other Pa. county
Centre Daily Times: Pa. budget woes prompt accreditation issues for Penn State
Williamsport Sun-Gazette: Legislators plead for governor's signature
Opinion
Patriot-News: Is violence becoming the new normal of American politics? Red/Blue America
York Dispatch: Do your jobs
Lancaster Intelligencer: Want a say in choosing the presidential, US Senate candidates and more? Register to vote by March 28
Morning Call: White: Pennsylvania lobbyists are obstacle to changing sex abuse laws
Williamsport Sun-Gazette: Wolf breaks out familiar playbook in budget impasse
Erie Times-News: Use of highway dollars needs to be fixed
Post-Gazette: Sign the budget: Reform is fine, but Wolf must OK spending first
Post-Gazette: Picture of health: On many fronts, Allegheny County gets in shape
Inquirer: Paying for preschool justifies Kenney's soda tax
Inquirer: At a medical crossroads
Blogs
Citified: Philly chosen to host an International Parks Conference
Citified: Most Philly voters support a soda tax, Kenney poll says
Citified: What you could talk about over a $380 coffee with Mayor Kenney
Keystone Crossroads: Scranton settles on payment terms for 2011 union judgment
Keystone State Education Coalition: PA Ed Policy Weekend Roundup March 20: Pressure continues to build statewide for resolution to budget impasse
Lu-Lac Political Letter: Rep. Cartwright call on Michigan Governor Rick Snyder to resign over Flint water crisis
Above Average Jane: Leanne Krueger-Braneky a rising star
Lehigh Valley Ramblings: Opinions Online