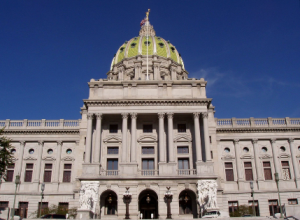 Tom Wolf opens a Pittsburgh office, the Senate introduces bans on cash gifts and McCord releases his education plan. Good morning politicos, here's the Buzz.
PA-Gov: McCord Reveals $1.3 Billion Education Plan: The Democratic gubernatorial candidate unveiled his complete education plan today.
PA-Gov: Tom Wolf Opens Pittsburgh Office: Tom Wolf held an event in honor of the opening of his new Western Pa. office.
ProgressNOW: Corbett, Metcalfe In Running For Most Radical Right-Wingers: PA is one of only three states with two competitors at the national level.
Lt. Gov: Schuylkill Building Trades Endorse Smith: The Bradford County Commissioner continues to build labor support.
In Wake of Philly Scandal, Senators Introduce Gift Bans: Senators Leach, Baker and Smucker each introduced cash gift bans for state legislators.
HD-164: National Organization for Women Endorses Billy Smith: The pro-women's group will support Billy Smith over incumbent Rep. Margo Davidson.
Larry Kane's Political Notebook: Campaign & Kane Updates: Larry Kane takes a look at Schwartz's early frontrunner status in the PA-Gov race and the updates in the botched Philadelphia sting operation.
Legislative Elections Update:
HD-164: United Food & Commercial Workers and United Steelworkers Union Local 10-1 endorsed Rep. Margo Davidson (D-Delaware) in her reelection bid. She faces primary challenger Billy Smith who was just yesterday endorsed by the National Organization of Women.
Statewide
State House Sound Bites: U.S. Supreme Court to hear local challenge of federal contraception mandate
State House Sound Bites: McCord unveils education plan propped up by 10 percent "drillers' tax"
PA Independent: PA House unlikely to appoint independent counsel to investigate Kane, sting operation
StateImpactPA: Driller defends court order barring anti-fracking activist from Pa. land
Capitolwire: McCord again questions Corbett's governing acumen
Philadelphia
PhillyClout: Ori Feibush's attempted takeover of 36th Ward hits snag
Commonwealth Confidential: McCord pitches education plan, dishes barbs at Corbett
Daily News: Democratic candidates for governor decline to 'second-guess' state attorney general Kathleen Kane
The Inquirer: Quartet of Democratic gubernatorial candidates vague on Kane
Axis Philly: Breaking News: District imposes work rules on teachers
WHYY Newsworks: U.S. Supreme Court to hear Pa. firm's challenge of contraception mandate
WHYY Newsworks: Philly tax collection doing better but still struggles to catch up with deadbeats
Phillynow.com: New stats offer sobering truths about city gun violence
SEPA
Delco Daily Times: Still no contract for SEPTA, union
Delco Daily Times: Chester Upland OKs refinance of bond issue
Daily Local News: Downingtown adopts ordinance against LBGT discrimination
Pittsburgh
Post-Gazette: UPMC wants to know what 'evidence' was on ex-mayor's computer
Post-Gazette: Completed federal probe says Monroeville did not violate health privacy law
Post-Gazette: State audit finds improvements in Port Authority, but notes some deficiencies
Post-Gazette: As West Chester looks to secession, analysts point to decline in Pa. public higher education funding
Tribune-Review: 3rd press secretary in 14 months departs attorney general's office amid topsy-turvy time
Tribune-Review: Pennsylvania legislative plan would expand wine and beer sales
UrbanMediaToday: Elected Officials Kick Off Final Push to Enroll Residents in Health Care Plans
Southwest
Altoona Mirror: Flood rates hitting river towns hard
Altoona Mirror: Tax program spurs some to buy lots
Altoona Mirror: Maps could help Tyrone residents
Altoona Mirror: Rates to jump for about 2,900
Tribune-Democrat: Chamber launches membership drive
Tribune-Democrat: Hospital CEOs discuss process of choosing partner
NEPA
Times Leader: Council weighs transcribing meetings
Times Leader: Anti-fracking activist appeals court injunction
Times Leader: DPW to hear input on state hospital's patient population drop
Times-Tribune: Cost of flood insurance about to skyrocket for millions
Times-Tribune: PPL power line on target for 2015 completion
South Central
Patriot News: Another government reform wave emerges in the fallout from the latest corruption scandal involving state lawmakers
Patriot News: McCord questions Corbett's capacity and 'boneheaded' policies
Patriot News: Bill would require Pa. lawmakers to produce receipts for expense reimbursement
York Daily Record: Pennsylvania political roads now leading to York County, Pa.
Lancaster Intelligencer: Mapping wealth in Pennsylvania: Rich neighborhoods, poor neighborhoods
Carlisle Sentinel: Rapp to take over as U.S. Army War College commandant
Carlisle Sentinel: Bill would make English official language of Pennsylvania
Lehigh Valley
Reading Eagle: People rally to keep Birdsboro Elementary open
Reading Eagle: Berks Encore, community center bustle as health care reform deadline looms
Reading Eagle: Berks congressmen talk issues
Express Times: Pennsylvania casino revenues on decline but officials unsure if N.J. online gambling is a factor
Morning Call: Many fees for Pa. vehicles set to rise April 1
Morning Call: Pennsylvania man arraigned in misaddressed White House threat
North by Northwest
Centre Daily Times: State College Area School District could approve tax increase lower than Act 1 index
Williamsport Sun Gazette: Legislative Tally
Williamsport Sun Gazette: Flood insurance fallout numbers
Erie Times News Campaign '14 Blog: Dem governor's debate to air on PCN
Opinion
Delaware County Times: It Could Be A Challenge To Raise Kane
Post-Gazette: Big bully: Pa. lawmakers cower, as usual, before the NRA
Tribune-Review: Obese texting
WHYY Newsworks: Former prosecutor doesn't buy Kane's case
The Intelligencer: Blow it up, and start over
Patriot News: Kane has explaining to do about busted sting and lawsuit threats: Editorial
York Daily Record: Our take: Let's freeze property taxes for seniors
Blogs
Media Trackers: Kane Hires Attorney For Possible Lawsuit Against The Inquirer
Keystone Politics: #HD164: NOW endorses male challenger over female legislator
Keystone Politics: #PAGOV candidates expose their individual weaknesses at forum
PA Budget and Policy Center: PA.'S SHALE FEE VERY LOW COMPARED TO OTHER STATES
2 Political Junkies: Equal Time For What?