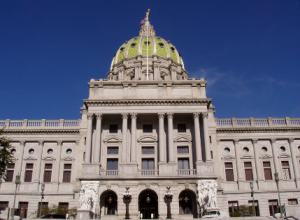 After a year of uncertainty and intrigue, Supreme Court Justice Joan Orie Melvin will resigned. Good morning politicos, here's the Buzz.
Orie Melvin Resigns: Supreme Court Justice Joan Orie Melvin, convicted in February of illicitly using taxpayer resources for campaign purposes, has resigned effective May 1. Lawmakers had been in the process of impeaching her.
Bloomberg PAC Gun Ad to Air in PA (With Video): A super PAC founded and funded by New York City Mayor Michael Bloomberg will air a TV ad in Pa. featuring a man who could be described as a "bitter clinger." It advocates for mandatory universal background checks.
DNC Launches Rendell Robocalls Over Pileggi Plan: The DNC has launched robocalls against 10 GOP state Senators featuring former Gov. Ed Rendell. He urges listeners to call their state Senator to oppose a plan to change the way Pa. allocates its presidential vote.
And ICYMI, McIlhinney Could Face Primary Over Liquor Privatization: Local official and conservative activist Rob Ciervo says he'll challenge the state Senator if he doesn't support efforts to privatize liquor stores.
Statewide
New York Times: Pennsylvania study finds halfway houses don't reduce recidivism
Capitolwire: House liquor vote shows cracks in once-reliable coalition.
Capitolwire: OFF THE FLOOR: House GOP wanted to make history. And they did.
Capitolwire: How to replace Orie Melvin remains unclear, but Castille wants speedy replacement.
Capitolwire: OFF THE FLOOR: Sen. Leach tells Gov. Corbett to nominate a moderate or else, for Supremes.
Capitolwire: POINT OF ORDER: A closer look at what doing nothing on Medicaid expansion could mean for PA.
State House Sound Bites: AMTRAK Announcement Sends An "ALL ABOARD" Message
State House Sound Bites: Sandusky isn't the only one giving jailhouse interviews
State House Sound Bites: Pennsylvanians could soon register to vote online
State House Sound Bites: Public Utility Commission: Beware of scams
State House Sound Bites: Engineering study gives PA, nation low grades for infrastructure
State House Sound Bites: Turnpike CEO touts new accountability measures
State House Sound Bites: Battle over charter schools could focus on authorization
State House Sound Bites: Sandusky says McQueary misinterpreted shower incident
State House Sound Bites: 10 stats about bullying in Pennsylvania schools
State House Sound Bites: Drawings of Flight 93 Memorial plans nearly complete
State House Sound Bites: Embattled PA Supreme Court justice resigns
State House Sound Bites: Game Commission: Deer harvest up this season
State House Sound Bites: Castille: Governor or PA Supreme Court could pick Melvin successor
State House Sound Bites: Governor Corbett plans to nominate interim PA Supreme Court justice
PA Independent: Convicted PA justice leaves deadlocked Supreme Court
PA Independent: Harrisburg-to-Pittsburgh rail to carry $3.8 million in costs annually
StateImpactPA: Controversial Head of DEP Leaving Agency to Work on Behalf of Energy Industry
StateImpactPA: Gas to Liquids Plant Coming to Blair County
StateImpactPA: Is Obama's Energy Nominee Too Close to the Oil and Gas Industry?
StateImpactPA: Northeast Dominates Nat Gas Pipeline Construction in 2012
StateImpactPA: EPA Announces Fracking Study's Peer Review Panel
Philadelphia
AP: AG: Pa. sheriff threatened reporter, volunteer
Inquirer: Corbett's plan to cut – and raise – parts of the gas tax
Daily News: Hey, Pa., let's have a drink!
Heard In the Hall: First budget hearing centers on union contracts, AVI
Heard In the Hall: City sees snow savings
PhillyClout: Opening shots fired in budget hearings
Baer Growls: Casey and change
Big Tent: National Dems target Pa. GOP's electoral vote plan
KYW Newsradio: Marriage equality supporters rally outside Philadelphia's federal building
KYW Newsradio: Philadelphia City Council opens annual budget hearings
WHYY Newsworks: Seventh justice needed to resolve Pa. Supreme Court split
WHYY Newsworks: Watchdog: Philly Council's budget should be more transparent
SEPA
AP: AG: Pa. sheriff said he would chop worker's hands
AP: Castille says 7th justice key to major Pa. rulings
AP: Pa. justice to step down May 1, before sentencing
Delco Daily Times: Democratic officials upset about change in Electoral College votes
Pottstown Mercury: Pa. groundhog's handler taking blame for forecast
Pittsburgh
Post-Gazette: Pittsburgh City Council to consider paying $10,000 for review of police bureau policies
Post-Gazette: Federal jury finds City of Pittsburgh not liable in road rage incident
Post-Gazette: Pittsburgh city attorneys ask to question jurors in civil case about Nate Harper's indictment
Post-Gazette: Pittsburgh protesters back Saturday mail service
Post-Gazette: Divergent sides of gun debate make appeals
Post-Gazette: A conservative champion transformed by gay rights case
Tribune Review: State police arrest Beaver County Sheriff George David on 11 charges
Tribune Review: Federal jury sides with city in police road-rage trial
Tribune Review: Duquesne signs pharmacy exchange deal with Japanese university
Tribune Review: U.S. Steel plant's fate unsolved, Slovakian prime minister says
Tribune Review: US Airways flight center in Moon may close in a few years, CEO says
Tribune Review: Suspended Justice Joan Orie Melvin resigns high court seat
Tribune Review: Federal prosecutors seeking $900,000 from Somerset defense contractor that received earmarks from late Rep. John Murtha
Early Returns: Harris team fires up the Commodore 64
Early Returns: Lunch Sausage: 5 stories to read today
Early Returns: Wheatley to stay on ballot
KDKA: Beaver County Sheriff Arrested For Two Alleged Threats
KDKA: Two Major Projects Aim To Revamp Transit In East Liberty, Castle Shannon
WTAE: Sen. Johnson expected to announce retirement
WTAE: Beaver County sheriff charged with terroristic threats, simple assault
WPXI: Attorney General: Beaver Co. sheriff threatened to 'blow reporter's brains out'
WPXI: Federal court decides city not responsible for Pittsburgh cop road rage incident
Southwest
AP: AG: Pa. sheriff said he would chop worker's hands
Beaver County Times: A year of legal battles
Altoona Mirror: Transportation bill holds future for construction jobs
Johnstown Tribune Democrat: Airport weighing options on projects
Johnstown Tribune Democrat: 'Scam' aimed at new homeowners
NEPA
AP: Castille says 7th justice key to major Pa. rulings
AP: Pa. justice to step down May 1, before sentencing
AP: City of Pittsburgh cleared in cop road rage attack
Standard Speaker: Officials debate decision to toss provisional ballots
News Item: Liquor outcome could end a legacy; Masser responds to quote
Times Leader: Opinions on county manager vary widely as evaluation nears
Citizens Voice: West Side council members to share equipment secured with gaming grant
Times Tribune: Shale boom helps restore service from AVP to Pittsburgh
Times Tribune: Senate bill spurs tax exempt debate
Times Tribune: Court needs seventh member, Castille says
Pocono Record: Pa. bill would limit whistleblowing
Lehigh Valley
The Morning Call: PA Supreme Court Justice Joan Orie Melvin resigns
Reading Eagle: Liquor Privatization faces slower Senate
Reading Eagle: Thornburgh, Ridge, Rendell right on judicial selection
North by Northwest
Centre Daily Times: Centre Hall candidates miss filing deadline, plan write-in campaign
Williamsport Sun Gazette: City woman urges rethinking about Medicaid extension
Williamsport Sun Gazette: Area representatives split on wine, liquor privatization
Erie Times News: Key Democrats endorse Walsh in Erie County judge race
Erie Times News: Roll call: How Erie-area members of Congress voted
Opinions
Williamsport Sun Gazette: Revised Open Records Law catching on, appeal records show
Times Tribune: Raise bar for care workers
Times Tribune: Remake law on nonprofits to help cities
Times Tribune: Good deal exposes lax state regs Best practices should be standard procedure
Citizens Voice: Legislation will be huge help to local governments
Observer Reporter: Using vacation time to help others
Inquirer: Anatomy of a compromise
Inquirer: Iraq war was a mistake from the beginning
Inquirer: Lessons of a grand old bargain
Daily News: Who should be in prison? The answer could save us money