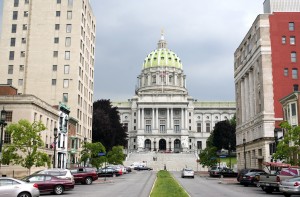 Another Democrat joins the Gov 2014 conversation. Good morning politicos, here's the Buzz.
Exclusive: Conklin Joins Dem Gov-Stakes: Scott Conklin, the Centre County state Rep. who ran for Lieutenant Governor in 2010, is considering a run for the top of the ticket.
Sestak Knocks Toomey in Op-Ed: Joe Sestak, the former Congressman who challenged Pat Toomey in 2010, took a rare, post-campaign shot at the Senator in an op-ed for the Pittsburgh Post-Gazette Tuesday.
Dem Files to Run Against Rothfus: New Kensington Democrat Erin McClelland has formed a campaign committee to challenge freshman Rep. Keith Rothfus (R-Allegheny).
Statewide
Capitolwire: How to replace Orie Melvin remains unclear, but Castille wants speedy replacement.
Capitolwire: OFF THE FLOOR: Sen. Leach tells Gov. Corbett to nominate a moderate or else, for Supremes.
State House Sound Bites: High COurt Chief Justice wants 7th seat filled, pronto
State House Sound Bites: This pick will come from Guv, says legal expert
State House Sound Bites: Senate Dem leader treads lightly on court appointment
PA Independent: PA liquor system turns border jumpers into bootleggers
PA Independent: Convicted PA justice leaves deadlocked Supreme Court
PA Independent: WATCHBLOG: Lawmaker wants wrongfully convicted to see compensation
StateImpactPA: EPA Announces Fracking Study's Peer Review Panel
StateImpactPA: Legislative Proposal Aims to Re-unite Landowners with Mineral Rights
StateImpactPA: Corbett Praises Krancer, Says He Will Be A Talent To Private Sector
Philadelphia
AP: Prosecutor drops charge against Punxsutawney Phil
KYWNewsradio: Local groups on both sides of gay marriage issue keep close eye on Supreme Court proceedings
KYWNewsradio: Archdiocese leads Philadelphia Catholics to 'Marriage March' in DC
KYWNewsradio: Philadelphia's AVI architect takes heat at budget hearings
Phillynow.com: Here's a rundown of what Pa. currently offers its LGBT citizens (answer: not much)
WHYY Newsworks: As Obamacare nears, Medicaid eligibility at issue in Pa.
WHYY Newsworks: It's unlikely that Pa. high court will draft replacement, justice, analyst says
WHYY Newsworks: Pa. to offer halfway houses incentives for cutting recidivism rate
PhillyClout: City Council grills Nutter administration over property assessments
Heard in the Hall: More taxes for Vince Fumo
Heard in the Hall: Council skeptical of AVI, reassessment
Inquirer: With Melvin's resignation, what's next for the Pa. high court? And when?
Inquirer: Corbett's policy on gas taxes called into question
SEPA
AP: Pa. lawmakers questions state's website contract
AP: Punxsutawney Phil off the hook for bum forecast
Delco Daily Times: Catholics head to D.C. to protest same-sex marriage
Montgomery Media: Councilman joins Philadelphia University security protest
Pittsburgh
Post-Gazette: Supreme Court hears gay marriage case arguments
Post-Gazette: Feds accuse Monroeville 911 dispatch center of violating HIPAA privacy rules
Tribune Review: Redesigned liquor stores offered as alternative to privatizing Pennsylvania alcohol sales
Tribune Review: Mercer County charter school executive director fined
Tribune Review: Allegheny County District 3 county council candidate bows out of race
Tribune Review: Casey says legislation shouldn't be needed for Pittsburgh VA to responsibly deal with Legionnaires'
Early Returns: Bloomberg ads in Pgh market
Early Returns: Perry on Politics: GOP seeks a way out
Early Returns: Ironworkers for Peduto
Early Returns: Peduto camp: Peduto leads
KDKA: Casey Introduces Legislation Requiring VA To Report Legionnaires'
KDKA: Beaver Co. Commissioners Briefed On Alleged Incidents Involving Sheriff
WTAE: Clairton councilman's grandson shot, second victim killed
WTAE: Pennsylvania Liquor Control Board opens new-generation state store, despite governor's plan to privatize
WTAE: Pittsburgh reacts to landmark case on same-sex marriage
WPXI: City council split on spending $10K to hire consultant to clean up police force
WPXI: Court might sidestep major ruling on gay marriage
Southwest
Observer-Reporter: One election petition challenge being withdrawn
Observer-Reporter: Voters challenge nominating petitions of two county judicial candidates
Johnstown Tribune Democrat: Judge hears testimony on city bar
Johnstown Tribune Democrat: Agency reverses its hatcheries decision
Johnstown Tribune Democrat: Measure would aid vets: Businesses given hiring incentive
NEPA
AP: Pa. lawmaker questions state's website contract
Times Tribune: Bill pushes utilities to extend natural gas service
Times Tribune: Lackawanna County commissioners make pitch to revamp human services programs
Times Tribune: Lackawanna County tax sale raises another $486G
Times Tribune: Another fired Lackawanna County worker sues over patronage hiring
Times Tribune: Corbett to nominate interim justice
Times Leader: NWA benefits cited as 'excessive'
Citizens Voice: Food stamps outage sparks anger
Wayne Independent: Controversial issue comes to big screen
Standard Speaker: Job incubator has new program to spur start-ups
Lehigh Valley
Reading Eagle: City Council divided over commission nominee
Reading Eagle: Senate vote may boost funding for police program
The Morning Call: Panto doesn't make final cut for Easton school superintendent
The Morning Call: Gov. Tom Corbett's liquor store plan would provide only temporary help for education
The Morning Call: Are gun control laws justified?
The Morning Call: Sen. Pat Toomey represents the elite
Express Times: LETTER: Vote Benol and Phillips for county council
Express Times: Hellertown Councilman Thomas Rieger seeking re-election
South Central
Patriot-News: Hundreds rally in support of same-sex marriage in Harrisburg
Patriot-News: Freshman lawmakers want to end to automatic pay raises
Patriot-News: DePasquale's cost-cutting doesn't spare the child care center
Patriot-News: Palmyra Borough Council awards bids for new municipal building
Patriot-News: Derry Township approves zoning change for old Hershey Chocolate factory
Patriot-News: Lancaster County aircraft maintenance firm principal pleads guilty in federal fraud case
Patriot-News: Mechanicsburg Area School Board's proposed 2013-14 budget would not raise taxes
Patriot-News: Palmyra Borough unanimously passes comprehensive plan
York Daily Record: Judge questions whether York mayoral candidate meets requirements to be on the ballot
York Dispatch: York County Archives running out of room
Intelligencer: Lampeter-Strasburg hosts exchange of ideas
Intelligencer: Manheim Central hires administrator
Intelligencer: Columbia council seeks solution for sewage
Intelligencer: Supreme Court strikes down law allowing county to get rid of jury commissioner posts
The Sentinel: Attorney to run for magisterial district judge seat
North by Northwest
AP: Convicted state court justice to step down
AP: Ohio prosecutor drops charge against Pa. groundhog
AP: Penn State says Freeh recommendations on track
Centre Daily Times: Gov. Corbett touts new program, jobs at Central Pennsylvania institute of Science and Technology
Centre Daily Times: Centre County officials look to buck statewide trend with nonprofit nursing home status
Williamsport Sun Gazette: Sequestration to affect Tioga-Bradford Housing Authority
Erie Times-News: U.S. Rep. Kelly to be honored
Erie Times-News: Hanger campaigns for governor in Erie
Erie Times-News: Erie County magistrate candidate changes mind 3rd time, officially leaves race
Opinions
AP: Pa. liquor bill likely to be pulled over in Senate
Inquirer: State liquor control's coalition of of the ludicrous
Inquirer: Built-in bias of tax system
Daily News: AVI: Love it or hate it, you have to understand it
Daily Local News: Pennsylvania Turnpike Commission scandal confirms need to abolish it
Wayne Independent: A pivotal week for gay marriage and for the Supreme Court
Wayne Independent: Fracking: Be educated on all the aspects
Times Leader: City must give LAG ultimatum
Times Tribune: Senate must belly up to higher bar
Standard Speaker: State's lawmakers don't get picture
News Item: Voluntary efforts to address fracking should be standard
Erie Times News: Our View: Erie has stake in fracking regs
Williamsport Sun Gazette: Revised Open Records Law catching on, appeal records show
Johnstown Tribune Democrat: Schemes target more than the elderly
Intelligencer: Turnpike chief's feigned outrage
Blogs
Keystone Politics: Don't cut the gas tax
Keystone Politics: How Michael Lamb blew the Pittsburgh Mayor Democratic Primary
Keystone Politics: Joe Sestak: we are the "100 percent"
Keystone Politics: When will Daryl Metcalfe get in the primary for governor?
Keystone Politics: Alternative medicine "guru" to challenge Keith Rothfus
John Hanger: Number of gas drilling rigs in PA drop 31% from one year ago but gas production surges 69%
2 Political Junkies: In Pittsburgh, it's all about the yard signs
2 Political Junkies: 10 years later – who was right, who was wrong?