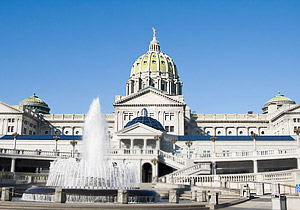 Good morning politicos, here's the Buzz. Monday was endorse-o-rama in Pa politics – everyone from Bill Clinton to Howard Dean('s old campaign, DFA) weighed in on races here. And today is the day of new TV ads. First Steve Welch, more later.
Orie Guilty on 14 of 24 Felony Counts: Pa. Senator Jane Orie was found guilty on 14 of 24 felony counts by an Allegheny County jury, including theft, conflict of interest, and forgery. Once sentenced, she will lose her seat as well as her pension.
Bill Clinton Endorses Kane for AG: Former President Bill Clinton has thrown his support behind Kathleen Kane for Pa. Attorney General. It's the highest-profile endorsement of any candidate in Pennsylvania so far this cycle.
Welch Goes on TV (With Video): Steve Welch, the Chester County entrepreneur running for U.S. Senate, will go on TV today. The 30-second spot seeks to show off his endorsement by the PA Republican party, as well as pre-empt criticism that he has supported Democrats in the past.
AFL-CIO Backs Critz, Holden, Murphy: Pennsylvania's largest labor union held its endorsement meeting today, and backed candidates in three of the state's most heated Democratic primaries. The AFL-CIO is backing Mark Critz in PA-12, Tim Holden in PA-17, and Patrick Murphy for Attorney General.
On top of the AFL-CIO endorsement, there was tons of PA-17 news yesterday:
Lackawanna Dems Back Holden: Tim Holden picked up the endorsement of the Lackawanna County Democratic Committee over native son Matt Cartwright. But the Moosic attorney scored more national support with the backing of Democracy for America, the activist group formed from Howard Dean's presidential campaign.
Progressive PAC Targets Holden: A national progressive political action committee is targeting Rep. Tim Holden in a billboard campaign starting today in Lackawanna, Northampton and Schuylkill counties. The banners target Holden's support for Marcellus shale drilling.
Hoyer Stumps for Holden: Congressman Steny Hoyer, the Minority Whip in the U.S. House of Representatives stopped at Josie's New York Deli in downtown Easton Friday to campaign with incumbent Congressman Tim Holden.
Critz Poll: Critz Within 7: Mark Critz trails Jason Altmire but just 7 points, according his lates internal poll. The 45% to 38% margin shows 3 points of growth for Critz from his February poll (which Altmire lead 47% to 37%), but conflicts strongly with the latest Altmire poll (showing Altmire ahead 55% to 31%).
In PA-18, a Debate Over Debates: Evan Feinberg talked about his campaign, the presidential primary, and efforts to schedule a debate with Rep. Tim Murphy. PoliticsPA caught up with the GOP challenger at this weekend's Pa. Leadership Conference.
BREAKING: Campaign Signs Stolen: The race to replace retiring Sen. Jeff Piccola has reached a new low. One candidate, Republican Josh First, has filed a report with the police concerning the theft. Here is his full and unabridged statement on the matter.
Legislative Election Updates
SD-15: GOP hopeful Josh First informed the press Monday that he had filed a police report over a number of missing campaign yard signs. You can read his unabridged statement here.
SD-23: If Sen. Gene Yaw (R-Lycoming) overcomes his primary challenge from David Huffman, he will face Luana Cleveland in the general. She spoke to the Sullivan County Dems this week.
SD-29: The Pa. Pro-Life Federation endorsed incumbent Sen. Dave Argall (R-Schuylkill) over GOP challenger Brian Rich. "I am grateful for the pro-life community's involvement on crucial issues such as that our state faces as we continue to find ways to stand up and protect the unborn," Argall said.
HD-47: Shane Richardson picked up two endorsements in his bid to challenge Rep. Keith Gillespie (R-York): Elizabeth Marshall, the first female mayor of York, and Mary Toomey, VP of th York Dem Women. "I am endorsing Shane Richardson because of his dedication, his drive and his leadership skills," said Marshall.  "I have encountered many people seeking office in my time and Shane exudes the positive qualities of each of those candidates. His work ethic is top notch and he is by far the most qualified candidate for the job." Richardson must first defeat Sarah Speed in the Dem primary.
HD-107: Ted Yeager spoke to the Sunbury Area Democratic Committee about the rematch he hopes to have against Rep. Kurt Masser (R-Northumberland). Yeager ran against him in 2010, but this year must first face Chris Pfaff in the primary.
HD-108: Likewise, Dan Sweeney spoke to the Sunbury Dems. He failed to get the 300 signatures required to get on the ballot against Rep. Lynda Schlegel Culver (R-Northumberland), and must get 300 write-in votes to make the ballot in the fall.
HD-112: The Lackawanna County Dems endorsed incumbent Rep. Ken Smith, who faces a primary challenge from Kevin Haggarty.
HD-113: The Lackawanna Dems endorsed incumbent Rep. Kevin Murphy, who faces a primary challenge from Marty Flynn.
HD-115: The Lackawanna Dems backed Rany Castellani for the seat of retiring Rep. Ed Staback over Frank Farina. The Republican candidate is Theresa Kane.
HD-153: Democrat Madeleine Dean's campaign is blaming Republican Nick Mattiacci for a push poll in the district. Mattiachi says he doesn't know anything about it, and notes that supporters have reported negative things about him from the poll. The two are facing off in the special election to replace Josh Shapiro.
HD-182: More debate drama. Brian Sims, the attorney and LGBT advocate challenging Rep. Babette Josephs (D-Phila), responded to the incumbent's statement (in yesterday's Buzz) dismissing Sims' call for 6 debates. Josephs has agreed to one. "Debating the issues outside your own neighborhood is not free publicity," said Matt Goldfine, Brian Sims' campaign manager. "Free publicity is sending a campaign style, taxpayer funded mailer to the district complaining about the redistricting mess that could have been avoided if Rep. Josephs hadn't killed reform efforts in 2010."
Don't see your news in the Buzz? Add press@politicspa.com to your press list, and feel free to send us Pa. House & Senate headlines (it's a big state and sometimes we miss them).
National
Huffington Post: Arlen Specter: GOP hurt 'terribly' by going after Women's Rights
Los Angeles Times: Santorum: Cursing at reporter shows I'm a 'real Republican'
Wall Street Journal: Natural gas as a game changer
Bloomberg Businessweek: Road-work halt days away as Congress argues funding bill
The Reporter: U.S. Rep. Meehan meets with advocacy groups, law enforcement to boost support for VAWA
National League of Cities: Local officials push higher Congressional support for the Community Development Block Grant
NorthCentralPA.com: Goodlatte-Holden Chesapeake Bay Bill trades away Bay protections
AP: Obama to Russia: More flexibility after election
AP: Rick Santorum on health care law: Rights come from creator, not government
Pennsylvania Ave: Senate GOP allows bill repealing tax breaks for oil, with a catch
Pennsylvania Ave: Despite delegate math, Santorum and Gingrich remain steadfast
Pennsylvania Ave: Boehner, Reid talks may end U.S. transportation bill standoff
Pennsylvania Ave: Former U.S. Rep. Jefferson loses appeal on bribery conviction
Pennsylvania Ave: Obama's exchange with Medvedev is a 'troubling development'
Politico: House leaders prep new GOP plan
Politico: Lugar runs against 'Obamacare'
Politico: GOP returns to disaster issue
Roll Call: Senate Democrats unveil new jobs proposal
Roll Call: Budget reveals conservatives' distrust of leaders
Roll Call: Mitch McConnell promises more open process
Roll Call: Romney earns GOP health care truce
National Journal: Santorum, Romney trade barbs over each other's desperation
National Journal: White House opposes FCC bill
National Journal: Conservative leader Cardenas backs Romney
Five Thirty Eight: Models based on 'fundamentals' have failed at predicting presidential elections
Washington Post: Where is Ron Paul?
Washington Post: Santorum: Long Primary fight good for the GOP
The Hill: President of firefighters union says Ohio will be carried by Obama
The Hill: Senate Dems look to outdo House GOP with $25 billion small-business tax cut
The Hill: Bernanke: Job market 'quite weak'
NY Times: Most Americans Oppose the Overhaul, poll finds
The Caucus: A.F.L.-C.I.O President calls for Romney adviser's dismissal
USA Today: Romney seems untouchable on support of TARP
USA Today: No. 3 House GOP leader endorses Mitt Romney
Slate: Marbury vs Medicine
Statewide
Morning Call: Steve Welch goes on the air
AP: Judge nixes driller's contempt claim in PA forest
AP: Protest in PA capitol targets ultrasound bill
Capitol Ideas: Even Without Votes Planned, There's Plenty of Emotion During Rally Against Mandatory Ultrasound Bill
Patriot-News: Pa. Lawmaker Calls on Gov. Tom Corbett To End State Capitol Access Restrictions
KDKA: Gov. Corbett in Europe to spur PA growth
Fox Philly: Athiests sue Pa. over Bible resolution
Harrisburg Patriot News: Former President Bill Clinton endorses Pennsylvania Democratic attorney general candidate Kathleen Kane
Philadelphia
Philadelphia Tribune: Schwartz has faith in Obama health plan
WHYY Newsworks: At Pa. Leadership Convention, politicians gather to prove conservative credentials
WHYY Newsworks: Some officials question clarity of voter ID law requirements
WHYY Newsworks: Medical device industry, lawmakers rally against new tax in Philly
WHYY Newsworks: Ever wonder how much taxpayer money City Council spends on themselves?
WHYY Newsworks: City Council unconvinced on Nutter plan for tax assessment changes
Phillynow.com: Daily Grinder: Nutter calls Trayvon Martin's death "an assassination"
Fox: Nutter doesn't back off Trayvon remarks
Fox: Arguments begin in Philly priest case
CBS: Amid plan to revamp Philly property assessments, questions of higher taxes
CBS: Temple law professor thinks Supreme Court might punt challenge to health care law
CBS: Head of Philly-area Catholic schools to step down
CBS: City Council begins hearings on Mayor Nutter's budget Monday
Heard in the Hall: Gentle endorsement for Nutter's homeless policy
Philly Clout: Property taxes are hot topic at budget hearing
Philly Weekly: Josephs: Women who support ultrasound bill are "men with breasts"
SEPA
Pottstown Mercury: Local neighborhood watches respond to Trayvon shooting
Pottstown Mercury: Has PSSA testing security gone overboard?
Courier Times: Bucks County loans $1M to senior housing project
The Intelligencer: Poll causes waves in 153rd state house race
Delco Daily Times: New councilman welcomed
Delco Daily Times: Chester kids join First Lady Obama in planting White House garden
Daily Local: Chester County GOP Committee members upset at endorsement process
Pittsburgh
Tribune-Review: Allegheny County DA investigating $54,000 missing from Goodwill
Tribune-Review: Study: Western Pennsylvania region spends more on health care
Tribune-Review: Experts: Length of Orie jury deliberations not unusual
Tribune-Review: Deadline nears for appeals of property reassessments
Tribune-Review: North Shore Connector carries first commuters
Post-Gazette: Fourth lawsuit claims abuse in SCI Pittsburgh's F block
Post-Gazette: 11th hour changes delay new parking meters
Post-Gazette: Deadline nears for county to impose shale fee
Early Returns: Daily Santorum: Anti-NYT, pro-VP?
Early Returns: Critz internal poll: Gap narrows
KDKA: Townships take state to court over new drilling law
KDKA: Inside the Shell Oil cracker plant deal
KDKA: Beaver County welcomes new Shell Oil cracker plant
KDKA: Allegheny County taxpayers get extension
Southwest
Beaver County Times: Human trafficking coalition forming in county
Beaver County Times: Traveling civil war exhibit to stop in Beaver
Observer-Reporter: State system audit targeted Cal U. expenditures
Daily American: Counting GOP delegates is a mind-bending game
Altoona Daily Mirror: Blair joins Act 47 coalition
WJAC: Blair Co. exploring possibility of establishing veterans' court
WJAC: Local library worried about elimination of Keystone grant
Tribune-Democrat: Pushing back: Richland launches anti-bullying campaign
Daily Courier: Mayors, councils eager to share at G5 summit
Lehigh Valley
Express Times: U.S. Sen. Bob Casey visits Allentown to call for greater transparency on pipeline safety information
Express Times: Election officials, opponents prepare for new voter photo ID law
WFMZ: Casey calls on Pa. PUC for more pipeline transparency
WFMZ: Allentown rewarded for 'green' efforts
NEPA
The Times Leader: Strengths and flaws of Act 13 assessed
Times Tribune: District releases list of applicants for vacant board seat
Times Tribune: Former President Bill Clinton backs Kane for AG
The Daily Review: Candidates for state office speak in Forksville
Citizens Voice: Senate probe status is long-running mystery
Citizens Voice: Democratic lawmaker challenges state trooper subsidy
Daily Item: Other candidates speak at Sunbury Area Democratic committee dinner
Standard Speaker: Tank locations complicate Carbon bill
Standard Speaker: Following probe fate turns on legislative powerbrokers
South Central
York Daily Record: Candidates in local and statewide races appear at Republican Club of York County event
Patriot-News: Election '12: 29 days until the Pennsylvania primary
Carlisle Sentinel: Orie convicted of some counts, acquitted of others
AP: Pa. Senate GOP pursue statement on health care law
AP: Federal lawsuit targets Pa. House's Bible vote
AP: Protest in Pa. Capitol targets ultrasound bill
Harrisburg Patriot News: Pennsylvania representative asks if female sponsors of state ultrasound bill are 'men with breasts'
AP: Sen. Jane Orie convicted on 14 counts of theft of services, conflict of interest, forgery
AP: Jurors have reached verdict in Pennsylvania Sen. Jane Orie's campaign corruption trial
Harrisburg Patriot News: Wisconsin group challenges PA House's 'Year of the Bible' resolution as unconstitutional and 'hostile'
Harrisburg Patriot News: Pa. lawmaker calls on Gov. Tom Corbett to end state Capitol access restrictions
Lancaster Intelligencer/Era: Gingrich wants seat at GOP's banquet
Lebanon Daily News: Pa. GOP senator convicted of theft of services
North by Northwest
Centre Daily Times: Romney still close to Obama, Santorum 5 points back, poll finds
Opinions
Reading Eagle: Reading officials must conduct public business publicly
York Daily Record: Opinion: Our Take: Perzel deserved more jail time
Politico: Opinion: Behind the Senate oil tax vote
Washington Post: Opinion: Why the individual mandate holds the key to health-care reform
Washington Post: Opinion: The Great Whisperer: Sen. Rubio
Inquirer: Editorial: Health Care Law: Everyone loses without reform
Inquirer: Opinion: Health Care Law: History shows path to Obamacare 'abomination'
Erie Times-News: Opinion: Will: Obamacare has contract trouble
Lebanon Daily News: Letter to the Editor: An ode to our legislators
Tribune-Review: Lower Tuition? End federal subsidies
Tribune-Review: Obama's pond-scum racket
Tribune-Review: A slice fo life on the wackier side
Tribune-Review: North Shore "Connector" to spending
The Times Leader: Weak impact fee on drilling could impact your wallet – Commentary by State Rep. Eddie Day Pashinski
Post-Gazette: Toxic status quo: There's a long way to go in cleaning up waterways
Post-Gazette: Drilling activity: The county needs to act soon on the state law
Post-Gazette: Liberal mental health laws, not guns, cause these tragedies
Beaver County Times: Students need better definition
Beaver County Times: No budget, no pay
Beaver County Times: Public voices important
Beaver County Times: Santorum dangerous to nation
WHYY Newsworks: Mitt's base blues
Inquirer: Alternatives to Obama's muddled energy policies
Inquirer: Health care law: everyone loses without reform
Inquirer: The spectacle of the primary campaign
Pottstown Mercury: Voter ID law has good and bad points
Pottstown Mercury: PSSA test security goes too far
Courier Times: Stand your ground law could stand another look
Delco Daily Times: Corbett budget plan bad for environment
Daily Local: There are numerous examples of voter fraud
Harrisburg Patriot News: Legislative resolutions are a waste of time
Harrisburg Patriot News: Energy policy decisions don't help U.S. interests
Harrisburg Patriot News: Lawmakers should check on unemployment claims
Harrisburg Patriot News: Woman's right to privacy
York Dispatch: Sen. Toomey urges EPA to lift York City fine
Lancaster Intelligencer: Bravo, conservative women
Lancaster Intelligencer: This law outlives its usefulness
Williamsport Sun Gazette: Thoughtful voters know jobs situation
Courier Express: Romney can agree with Obama on some positions – because they're the right positions
Blogs
Keystone Liberty: Reduced recidivism achieves big savings for corrections department, taxpayers
Keystone State Education Coalition: Texas education resolution goes nationwide
Commonwealth Foundation: Chart of the Day: Welfare overlap
Lehigh Valley Independent: Wayne Woodman's hand-wringing over GOP social issues agenda
Lehigh Valley Independent: Student loan debt help coming?
Lehigh Valley Independent: Mike Molovinsky's important concession to Team NIZ
NEPArtisan: WFTE to air Supreme Court challenge to 'Obamacare'
2 Political Junkies: Krugman writes about American Legislative Exchange Council
Lu-Lac Political Letter: Attorney General candidate Murphy gets more nods
Keystone Progress: SCOTUS takes up Affordable Care Act
Keystone Politics: Nuttiest candidates win PA GOP straw poll
Keystone Politics: PA-17: Blue America PAC targeting Tim Holden
Keystone Politics: Which state Senate seats should Democrats target?
Keystone Politics: Critz closing the gap on Altmire, according to internal poll
John Hanger: Promising $2.50 gasoline: Pure demagoguery as Chinese and Indian demand push up oil price