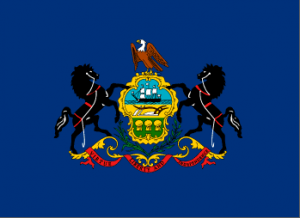 PA GOP drops its challenge, Vazquez wins in the 197th, and the Ups & Downs from last week.  Good morning politicos, here's the Playbook!
Sunday Show Preview: March 26th, 2017: We take a look at the Sunday morning political talk shows that will air throughout the state.
PA GOP Drops Petition Challenge: The PA GOP decided to end their challenge of Judge Mary Murray's nominating petitions, setting up a contested primary.
HD-197: Vazquez Wins as a Write-in: Democrat Emilio Vazquez won the seat as a write-in candidate.
3/24 Ups & Downs: An actual town hall meeting, candidates staying away from contentious issues, and candidates getting kicked off the ballot. See who made this week's Ups & Downs!
Statewide
Capitolwire: Stakeholders remain skeptical of Wolf's pharmacy 'consolidation' plan.
Capitolwire: POINT OF ORDER: Time will tell if we'll ever have a productive conversation about health system reform.
State House Sound Bites: Spanier guilty on one of three child endangerment counts
StateImpact: Judge throws out challenge to DRBC authority over gas drilling in basin
Philadelphia
Inquirer: Trump aide Boris Epshteyn expected to leave White House post
Inquirer: In Northeast, a neighborhood's angst over proposed pot facility in their back yard
Inquirer: Democratic ward leaders can't agree on pick for Philly's next DA
Inquirer: Three questions, after a week of lowlights for Pa. politicians
Inquirer: GOP's failed bid to repeal Obamacare could haunt some Pa., NJ Republicans
Daily News: Armstrong: Dems caught up in sting surprisingly sanguine about DA indictment
City & State: Statute of limitations reform bill to get more discussion in PA House
SEPA
Bucks County Courier Times: Census: Fewer people living in Bucks County
Bucks County Courier Times: Former Abington police Chief Kelly reflects on career as he settles into new job with the Pennsylvania Attorney General's Office
Bucks County Courier Times: Sen. Bob Casey, parents discuss Medicaid funding for children with disabilities at Bucks IU center
Delco Times: Rachel Kohl Community Library reopens after renovations
Delco Times: Local organizations to hold spring runs across Delaware County
Pottstown Mercury: Southeastern Pa. district attorneys support restoring mandatory sentences
Pittsburgh
Tribune Review: An 'elevated' lead level isn't enough for Allegheny County to help some kids
Tribune Review: Pittsburgh's Allentown reinventing itself 1 storefront at a time
Tribune Review: Penn Hills school board member Kuhn taken into custody
Tribune Review: UPMC plans to build hospital in South Fayette
Tribune Review: Westmoreland Notables: Retired Trafford mayor has pushed for memorial honoring Gold Star mothers
Tribune Review: GI Bill helping to boost veterans' college ranks
Tribune Review: GI Bill a 'cash cow' for some Pennsylvania schools
Tribune Review: State legislators, education officials gather at Plum for PlanCon hearing
Tribune Review: NRG dealing with decades old contamination issue, wants to 'pump and treat' groundwater
Tribune Review: As Pennsylvania's recycling mandate nears expiration, state eyes overhaul
Tribune Review: Springdale primary to decide Democratic nominees for mayoral, council races
Tribune Review: Shaler commissioners prepare township for summer with multiple projects
Tribune Review: Penn Hills High School students pitch ideas for water conservation to Alcosan
Tribune Review: Plum mulls testing school district water annually as a precaution
Post-Gazette: Mayoral candidate Welch says city's growth may leave some behind
Post-Gazette: State finds success with social services mobile app
Post-Gazette: Allegheny County Health Department to deploy anti-gun violence teams
Pittsburgh Business Times: Pennsylvania jobless rate down in February
Pittsburgh Business Times: ACHA's cuts to essential health benefits worry local health policy experts
WESA: Uber Says It's Halting Self-Driving Car Rides In All Of Its Testing Cities After AZ Crash
WESA: Costa Introduces Bill To Combat The Opioid Crisis By Sending Users To Involuntary Treatment
KDKA: Reaction Mixed To Withdrawal Of GOP's Health Care Bill
KDKA: Kraft Heinz Lays Off 200 White-Collar Workers
Southwest
Beaver County Times: Wolf says he will 'vehemently oppose' LIHEAP elimination in Trump's budget
Beaver County Times: Beaver County Commissioners name interim solicitor in wake of Andrea Cantelmi's firing
Beaver County Times: Ambridge recycling doubles under new program
Observer Reporter: Poverty in focus at Community Action event
Observer Reporter: Drillers: Permit limbo hurts Pennsylvania's competitiveness
Altoona Mirror: Company disputes driver's claims
Altoona Mirror: Haire behind petition challenges
Altoona Mirror: Republicans resign selves to defeat
Altoona Mirror: Ridge: Police work 'perilous'
Altoona Mirror: Sheriff, county work on deal
Altoona Mirror: City, water authority close to takeover deal
Johnstown Tribune-Democrat: Booze news: Pennsylvania could relax its liquor laws under proposal
Johnstown Tribune-Democrat: Population health center leaders outline strategies, key partners
Johnstown Tribune-Democrat: Local GOP congressmen decry collapse of effort to repeal Obamacare
Johnstown Tribune-Democrat: Congressional hopeful pushes for 'responsible capitalism'
Johnstown Tribune-Democrat: Johnstown residents to vote on time of council sessions
NEPA
 Times Leader: Luzerne County Council rethinks residency requirement for managers
Times Leader: Capitol Roundup: Impact of Meals on Wheels in Pennsylvania highlighted
Times Leader: Northwest Area School Board member Randy Tomasacci running for district judge
Times Leader: Lawmaker delivers pizzas to students who met his reading challenge
Times Leader: Perry seeking Luzerne County Council seat
Times Leader: Consultant to discuss Wilkes-Barre's finances at special meeting next week
Times-Tribune: Scranton landlords joining class-action lawsuit against rental-registration fees
Times-Tribune: CNN correspondent to talk 'Putin's Poker Game' at Schemel Forum
Standard Speaker: Big storm, big bill
Standard Speaker: Decision expected on controller bid
Pocono Record: Voter signatures challenged in Marshalls Creek judge race
Pocono Record: Amateur East Stroudsburg physicist makes bold claim
Pocono Record: Pleasant Valley School District names new superintendent
South Central
WHTM: Report: 102 people killed in PA in domestic violence related incidents
Patriot News: ICE apologizes to Pa. county for putting it on non-cooperation list
Patriot News: State Supreme Court refuses to reinstate law license of Harrisburg-area lawyer
Patriot News: Appeals court throws out attorney general's lawsuit against nursing home chain
Patriot News: Louis Freeh, a voice long silent, erupts after former Penn State President Graham Spanier's conviction
Patriot News: Harrisburg's reduced marijuana penalties take effect
York Daily Record: Federal cuts would hurt MidPenn Legal Services
York Daily Record: Scott Perry and God (column)
York Daily Record: Watch: She was the first woman to serve on Hanover Borough Council
Lancaster Intelligencer: Matthew Desmond, urban policy expert and author of 'Evicted,' to speak April 26 in Lancaster
Lebanon Daily News: Dent, Costello being invited to discuss health care
Lehigh Valley
Morning Call: As Obamacare repeal faltered, Dent drew the ire of Trump
Morning Call: Did President Trump tell Charlie Dent that he's 'destroying the Republican Party'?
Morning Call: Philly prosecutors to probe wacky special election
Reading Eagle: Seeking tax incentive programs for Reading
Reading Eagle: Week in review: Former Allentown official pleads guilty
North by Northwest
Centre Daily Times: Spanier found guilty of endangerment, acquitted of conspiracy
Centre Daily Times: Jerry Sandusky's former lawyer gets heated in court over case
Erie Times-News: Erie schools hearings wrap up this week
Erie Times-News: Tuesday's hearing could determine future flow of millions in gaming money
Opinion
Patriot News: Gorsuch won't be Trump's voice for the voiceless: Tony May
Patriot News: Gorsuch is the opening act – the next great fight over the Supreme Court has yet to come: Charlie Gerow
Patriot News: What to make of Gov. Wolf's mixed signals on Marcellus shale?: Colin McNickle
Tribune Review: Consumer Financial Protection Bureau: Kill it
Tribune Review: PLCB's rare-whiskeys lottery: Whose booze is it anyway?
Bucks County Courier Times: Tough on crime tough on taxpayers
Delco Times: Editorial: Take fight vs. gerrymandering to courts
Erie Times-News: Our view: Harrisburg needed to save Erie's schools
Inquirer: Inquirer Editorial: Trump's proposed budget would hurt Philadelphia
Inquirer: Inquirer Editorial: Williams shouldn't wait another day to resign
Inquirer: Commentary: EPA cuts would endanger public health