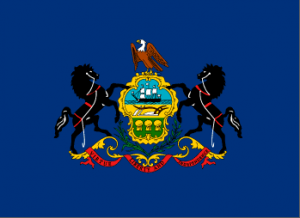 An exclusive interview with Daylin Leach, Jay Paterno drops out and we cover the latest Democratic gubernatorial debate. Plus, last week's Ups & Downs. Good morning politicos, here's the Buzz.
PACD: Gov. Rendell Delivers Keynote: The former governor of Pennsylvania rallied the young base as the Keynote speaker at their annual convention.
PA-Gov: Candidates Well-Behaved and Jovial At PACD: In the smallest Democratic debate yet, candidates agreed on issues and pitched their qualifications.
Corbett Named Most Vulnerable Gov: Tom Corbett was ranked by the Washington Post as the nation's most vulnerable Governor for the ninth month in a row.
Paterno Drops Out Of Lt. Gov. Race: Former assistant football coach at Penn State, Jay Paterno announced that he is withdrawing from the race for Lieutenant Governor.
"The Daily Show" Takes on Fracking in PA: Jon Stewart's satirical news show discussed the effects fracking has had on Pa. residents.
PA-13: An Exclusive With Daylin Leach: The state senator and Democratic contender for Congress gave a no-holds-barred interview with PoliticsPA.
PA-Gov Round-Up: Corbett Visits the Pope, Wolf Recounts Peace Corps Days and McCord Makes Some History: We take a look at the events of the last week in the state's gubernatorial and lieutenant gubernatorial races.
An Exclusive With Bill Richardson: McGinty supporter, former governor of New Mexico and head of the DGA sat down with PoliticsPA this morning.
3/28 Ups & Downs: A former gov candidate supports the legislation of a Lt. Gov. candidate, we've got two dropouts and a couple of endorsements. See who all made this week's list.
Legislative Elections Update:
HD-20: State Rep. Adam Ravenstahl, D-Allegheny, received the endorsement of the City of Pittsburgh Fire Fighters union in his bid for re-election to the Pennsylvania House of Representatives. The 20th District includes Avalon, Bellevue, portions of Lawrenceville, Northview Heights, parts of the North Side, Polish Hill, parts of Ross Township, the Strip District and West View.
Statewide
Capitolwire: Democratic candidates split on allowing student-athletes to join a union
PA Independent: Philadelphia economic development program audit finds poor results, bad record keeping
PA Independent: Week in review: Legislature grapples with ethical issues
StateImpactPA: Report: Philadelphia gas utility second worst for pipeline leaks
StateImpactPA: Judge approves narrower order, barring fracking activist from drilling sites
StateImpactPA: Obama administration unveils plan to cut methane emissions
StateImpactPA: Discussion forum promises 'fracking without all the fracas'
StateImpactPA: Three Mile Island: 35 years later
Philadelphia
Inquirer: With deadline looming, people rush to sign up for Obamacare
Inquirer: Kane's handling of sting: Missteps but little damage
Inquirer: At Drexel, 'torture memos' author stands his ground
Inquirer: Arrest made in arson of home owned by councilwoman
Inquirer: Two development plans rattling Radnor residents
Inquirer: PATCO troubles unite commuters
Inquirer: Democrats running for governor clash in debate at Temple
Daily News: Fact-checking Gov. Corbett and PA GOP on Obamacare claims
SEPA
Courier-Times: One in 10 Bucks County residents now 'foreign born,' census data show
Courier-Times: Pennsylvania driver and vehicle fees increase Tuesday
Courier-Times: Vietnam Vets honored in Bristol Township
Pottstown Mercury: Report: Absence of school funding formula in PA costs Pottstown $5 million a year
Pottstown Mercury: Gubernatorial candidate, alumnus Tom Wolf speaks about integrity at Hill School
Pittsburgh
Tribune Review: Race for lieutenant governor often overlooked in Pennsylvania
Tribune Review: Teacher indecency can get lost in state's system, Trib analysis reveals
Tribune Review: Habitual truancy plagues Western Pa. schools
Post-Gazette: In Allegheny County, school nurses on the front line of student asthma
Post-Gazette: Plan to move Pa. welfare office out of East Liberty is reversed
Early Returns: DeWeese poised to go free
Urban Media Today: Mayor addresses Green Workplace Challenge conference
Pittsburgh Business Times: Pulse fading on new UPMC-Highmark pact
Southwest
Beaver County Times: Study gives Pennsylvania a 'D' on civil rights movement education
Beaver County Times: Bill would force doctors to run prescription drug history checks
Observer-Reporter: Pa. American to invest $5.5 million in Elrama plant
Altoona Mirror: Water authority considers former Russo site for storage
Altoona Mirror: Penelec, union talking
Johnstown Tribune-Democrat: Losing power: Closing of Gamesa plant is latest blow to region's dream for revitalization plan
NEPA
Times Leader: Premiums don't always match claims paid
Times Leader: Can home rule charter be changed?
Times Leader: Most states have no rules for independent tax preparers
Times Leader: A taxing time for local accountants
Times Tribune: In region's tough times, it pays to be in a municipal union
Times Tribune: Carbondale approves deal that may save up to $722,000 in health care costs
Wayne Independent: $1.3 million award to Wayne County communities
South Central
Carlisle Sentinel: Report: Housing costs outpace wages
Carlisle Sentinel: Pa. drug abuse bill under review
AP: Former Democratic governor hopeful Hanger shifts into new campaign
Harrisburg Patriot News: Former Pa. Rep. Bill DeWeese released after corruption sentence
Harrisburg Patriot News: In Philly, Democratic guv candidates make a play for young voters – Vinjce
Harrisburg Patriot News: Penn State alumni trustee candidates are running toward JoePa in this spring's campaign
York Dispatch: Casey urges Pa. residents to claim tax refunds
York Dispatch: Wagner files final campaign finance report for special election in york County
Lancaster Intelligencer/Era: Marcellus Shale reaches Lancaster County with four new pipelines
Lancaster Intelligencer/Era: State gun bill would open Lancaster city to lawsuits, allow challenge of unconstitutional ordinances
Lancaster Intelligencer/Era: Paterno drops out of race for lieutenant governor post
Lehigh Valley
Morning Call: Politics as Usual
Morning Call: Pennsylvania gubernatorial debate gives hint of Democrats' leadership styles
Reading Eagle: The impact of Obamacare in Berks County
Reading Eagle: Democratic gubernatorial candidate speaks at The Hill School
Express Times: Hackettstown council approves agreement to help other towns in need during emergencies
North by Northwest
Campaign '14 Blog: Paterno drops out
Erie Times-News: How Erie's representatives in Congress voted last week
Erie Times-News: Dahlkemper still mulling whether to fill county public safety post
Onward State: Jay Paterno Withdraws from Lt. Gov. Race After Petitions Challenged
Williamsport Sun-Gazette: Officials question FDA's approval of 'dangerous' drug
Opinion
Patriot News: After York election, Republicans reach a pitchfork in the road: Josh First
Chesco Times: CASD super candidates have vetting issues
Tribune Review: Voter fraud: Multiple-voting Melowese Richardson gets a federal pass
Beaver County Times: Ban all gifts
Inquirer: Inquirer Editorial: Unseal the deal
Inquirer: Inquirer Editorial: Shaking up state colleges
Harrisburg Patriot News: A minimum wage hike? More like covering the basics: Mark Price and Chris Lillienthal
Morning Call: Electric choice flimflam suggested in a special forum hosted by state Sen. Lisa Boscola
Erie Times-News: Guest Voice of U.S. Sen. Pat Toomey: The right way to reform taxes
Blogs
Commonwealth Foundation: NFIB Study Finds PA Minimum Wage Bills Kill Jobs
Keystone Politics: Paterno Drops Lt. Gov. Bid
Keystone Politics: Gilberton Dissolves Police Department
Lehigh Valley Ramblings: Tricia Mezzacappa Must Pay Me $67,000 For Internet Defamation
Lehigh Valley Ramblings: NorCo GOP Exec Committee Unanimously Endorses Angle
Lehigh Valley Ramblings: Brown Defends PR Contract in News Conference
Lehigh Valley Ramblings: Centralized Human Services Building to Be Dedicated Next Week