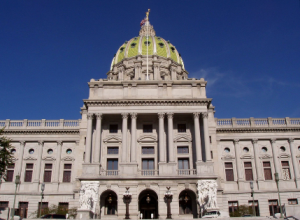 A new poll shows PA supports same-sex marriage, the HRCC outraised the Dems in 2013 and Thompson jumps into the PA-4 race. Good morning politicos, here's the Buzz.
PA-4: Thompson Announces Candidacy: The former Harrisburg Mayor is attempting a comeback after losing her re-election bid in 2013.
PA-15: Dent Kicks Off Re-election Campaign: The incumbent Lehigh Valley Republican makes his campaign official.
PA:3: Ryan Backs Out of the Race: Citing military obligations, Democrat Matt Ryan has bowed out of the PA-3 race.
Toomey & Casey Oppose President Obama's Nominee: Senator Bob Casey announced that he will vote against the President's nominee to head the Civil Rights Division.
DCCC Names PA-6 & PA-8 "Emerging Districts: Two Pennsylvania races are on the DCCC's watch list for 2014.
HRCC Outraises Dems in 2013: The committee charged with maintaining the GOP majority in the state House had a more prosperous 2013 than its Democratic counterpart, although both ended the year with similar cash on hand.
Quinnipiac Poll: Pennsylvanians Support Same-Sex Marriage & Medical Marijuana: A new poll from Quinnipiac finds a majority of Pennsylvanians supporting both policies.
Legislative Elections Update:
HD-36: Rep. Erin Molcany picked up a handful of labor endorsements in her primary battle against fellow incumbent Democrat Rep. Harry Readshaw (Allegheny). Endorsers include: The Laborers' District Council of Western PA, Laborers' Local Union #1058, Laborers' Local Union #373, Ironworkers Local 3, Operating Engineers Local 66, IATSE Local 3.
HD-50: Pam Snyder (D-Greene) has announced her intentions to seek a second term as a Pennsylvania State Representative. Snyder was elected to her first term in November of 2012. Prior to this she served nine years as Greene County Commissioner where she served as chairman during her entire tenure.
HD-197: State Rep. J.P. Miranda is "absolutely" running for a second term, according to his criminal defense attorney, A. Charles Peruto Jr.. Miranda was charged earlier this month with three felonies for hiring a ghost employee to funnel money to his sister.
Statewide
State House Sound Bites: Transportation funding: too touchy to tout?
State House Sound Bites: A push for human services block grant, despite data difficulties
StateImpactPA: Phila. mayor says $1.86B deal to sell city gas works offers Marcellus benefits
StateImpactPA: McGinty contributor got fast-tracked permit for coal plant when she ran DEP
Capitolwire: Is ACRE in the environmental lobby's cross-hairs?
Philadelphia
CapitolInq: Dems name Runyan's House seat a top target
PhillyClout: Nutter announces $1.86B agreement to sell PGW
PhillyClout: State Rep. JP Miranda "absolutely" running for re-election
The Inquirer: In Harrisburg, GOP lawmakers feeling heat from the right
Axis Philly: Welcome to Fantasy Island
WHYY Newsworks: Assess block-grant delivery of Pa. funding before expansion, Bucks lawmaker says
WHYY Newsworks: Philly principals to vote on contract deal with significant concessions
WHYY Newsworks: U.S. Supreme Court turns down Hazleton on laws aimed at immigrants
WHYY Newsworks: Corbett administration rates film tax credit expansion inadvisable
Phillynow.com: Mumia's lawyer faces mounting Pennsylvania opposition
Phillynow.com: POLL: Pennsylvanians support marriage equality by HUGE margin
Phillynow.com: Most Dem Guv candidates oppose Pa. ballot access
SEPA
AP: High Pa. electric bill complaints keep growing
AP: Casey blasts Russian action in Crimea
Courier Times: With drug overdoses rising, Fitzpatrick questions approval of 'highly addictive' medication
Burlington County Times: Belgard named to list of top Democratic challengers
Burlington County Times: Under bill, farming leases may not always go to highest bidder
Delco Daily Times: Toomey urging opposition against former Mumia Abu-Jamal attorney
Pittsburgh
Post-Gazette: Churches paying price on same-sex marriage
Post-Gazette: Protesters block afternoon traffic outside UPMC's Downtown administrative offices
Post-Gazette: Ammo magazine, bullets can be used as evidence in Jordan Miles lawsuit trial
Post-Gazette: Five more closed Pittsburgh city schools get price tags
Tribune-Review: Deal reached to restore life insurance for Allegheny County retirees, officials say
Tribune-Review: County health board approves restaurant grading plan
UrbanMediaToday: Representative Ed Gainey Hopes to Continue Working in PA House District 24
Southwest
Altoona Mirror: Highmark, UPMC waging Harrisburg regulatory battle
Altoona Mirror: Lull gives crews a break
Beaver County Times: Unusual event declared at Beaver Valley nuke plant
Beaver County Times: Moon considers closing elementary school
Observer-Reporter: Pa. Democrats vying for Lt. Gov. clash on drilling
Observer-Reporter: A new way of looking at education
NEPA
Times Leader: Nominating petition hanky panky alleged
Times Leader: PLCB gives more than $2M back
Times Leader: County workers pay more for health care
Times-Tribune: Blue Cross of NEPA looks to mirror success seen in West Virginia
Times-Tribune: Nine NEPA projects will receive federal mine reclamation funds
South Central
Carlisle Sentinel: Cash-strapped districts use advertising to fund programs
York Daily Record: North York severance packages, subject of lawsuit, are not the norm, lawyers say
Patriot News: Is Pennsylvania's economy ready to spring forward or is another swoon on the way?
Patriot News: Pa. misses the mark on tax collections for the third straight month
Patriot News: Gay marriage support in Pennsylvania jumps over 13 months, poll finds
Patriot News: Costs of Jerry Sandusky case investigation mount as probe continues
Lehigh Valley
Express Times: Easton school district's insurance picks up much of $107,000 tab in 'I Heart Boobies' case
Express Times: Easton police dominate 2013 list of highest-paid city employees
Express Times: Mental health system in Northampton County, like Lehigh County, could help courts, officials say
Morning Call: Allentown area zone collects $48.2 million in state taxes
Morning Call: Supreme Court declines to hear appeal in Hazleton immigration case
WFMZ: Reading Library launches TextRPL
WFMZ: Lt. Governor presents education excellence award
North by Northwest
Centre Daily Times: Centre County Democratic Committee to hold annual spring breakfast; candidates to attend
Onward State: State Patty's Day Crime Numbers Down 47 Percent
Erie Times-News Campaign '14 Blog: LaVallee gets endorsement in 3rd Dist. race
Erie Times-News Campaign '14 Blog: Hanger scores victory among progressive activists
Opinion
Post-Gazette: Convention town
Tribune-Review: Big Labor's losses
Patriot News: MontCo teacher's unemployment decision underlines the need for good mass-transit
Reading Eagle: Editorial: Reading should wait for a change in Pennsylvania law
Philly.com: Pa progressives have their say
WHYY Newsworks: PGW: Run, and ruined, by politicians?
Blogs
Media Trackers: Did A Judge Just Let A Teachers Union Rewrite State Transparency Laws?
Media Trackers: Tax Credit Program Offers One Solution to Philadelphia Schools Crisis
Keystone Politics: #HD164: The Ever-Shifting Education Platform of Margo Davidson
PA Budget and Policy Center: Are You a Governor in Need of Some Widely Popular Policy Ideas? Here's One.
2 Political Junkies: Senator Pat Toomey, A Friend? Of Our Veterans