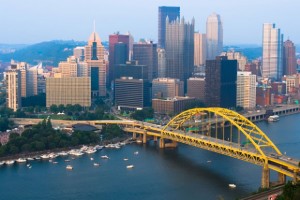 The race in Pittsburgh continues to change, and Gov. Ridge flips on gay marriage. Good morning politicos, here's the Buzz.
Wagner, Harris Circulating Petitions for PGH Mayor: The field for Pittsburgh's mayoral primary has grown by two. Democratic sources tell PoliticsPA that former Auditor General Jack Wagner and City Council President Darlene Harris are both circulating nominating petitions.
US Army Maps Sequester Impact in PA: Check out the U.S. Army's graphic of how the sequester will impact Pa. bases.
Ridge Signs GOP Brief Opposing Gay Marriage Bans: The man who signed Pennsylvania's ban on same sex marriage into law now wants the U.S. Supreme Court to overturn the Proposition 8 ban in California.
Corbett's Gifts: The Philly Daily News is out this morning with a detailed look at the many gifts Gov. Corbett has received from lobbyists and influence peddlers.
Statewide
State House Sound Bites: Dauphin County, PennDOT team up for first-of-its-kind transportation funding program
State House Sound Bites: Philly abortion doctor murder trial begins with jury selection
State House Sound Bites: State lawmakers mull prescription drug monitoring
State House Sound Bites: Naked man arrested after chase across York County
State House Sound Bites: PA senators call for scrutiny of commonwealth charter schools
State House Sound Bites: PA Health Dept. calls for closing nearly half of state public health centers
State House Sound Bites: PA Health Dept. calls for closing nearly half of state public health centers
State House Sound Bites: PA's limited English speakers may need help understanding health care law
State House Sound Bites: Wilson College receives $3.6 million donation for library
State House Sound Bites: Public hearings are slated for Philadelphia next month on casino plans
State House Sound Bites: Pitt will help organize and manage the Arlen Specter archive
State House Sound Bites: PA's young adults could see "rate shock" in insurance premiums
PA Independent: College funding dilemma – should taxpayers support institutions or students?
PA Independent: It's a wrap: Film tax credit funding flat, with new award structure
StateImpactPA: Obama Announces 3 Cabinet Nominations
StateImpactPA: New York's Fracking Decision May Hinge on Results of Geisinger Health Study
Capitolwire: No 'silver linings' for film tax credit expansion, Corbett administration says.
Capitolwire: Montgomery County Commish Shapiro, potential Gov candidate, rips Corbett's proposed budget.
Capitolwire: Congresswoman Allyson Schwartz wins Progressive Summit straw poll.
Capitolwire: OFF THE FLOOR: Hurdles, leverage, abound as budget NEGOTIATION season starts.
Capitolwire: OFF THE FLOOR II: It's all connected.
Capitolwire: Dinniman, Democrats press state education secretary on truancy, cyber-charters.
Capitolwire: Corrections Sec. Wetzel appears before House, Senate Appropriations committees.
Capitolwire: Taylor gives interest groups til Thurs. to respond to his liquor reform amendment.
Philadelphia
Daily News: Proposed pay cuts enrage PFT members
Philly School Files: 'Deep concerns' from state senator over proposed city teachers' contract
Philly.com: Tax break recipients short city $8 million
Inquirer: Referral fees given to wife of Pa. Supreme Court justice raises questions
Inquirer: Sen. Casey to hold hearing on funding for Job Corps
Inquirer: Arlen Specter collection heading west
Commonwealth Confidential: No "silver lining" in PA film tax credit for Oscar winners
Commonwealth Confidential: Education, corrections top final week of budget hearings
Heard in the Hall: And the study says…Philly's overall taxes are high
Heard in the Hall: Making the Inspector General a permanent office
Philly Clout: Is Pat Toomey what GOP needs in budget talks?
Philly Clout: Judge: Firefighters arbitration panel took city's finances into account
CapitolInq: How the sequester could pressure local GOP Reps
WHYY Newsworks: Philadelphia not doing what it could to collect $8 million from tax deadbeats
WHYY Newsworks: Protesters call for mayor to block Philadelphia school closings
SEPA
Delco Daily Times: Delaware County government preparing for sequestration cuts
Delco Daily Times: County Council to hold hearing on economic plan
Bucks Local News: U.S. Congressman Fitzpatrick Honored with National Association of Manufacturers Award
Pittsburgh
AP: Truck spills load of mail on Philly-area highway
Pittsburgh Post-Gazette: State System faculty starting contract vote
Pittsburgh Post-Gazette: Pitt, Philadelphia University to share custody of Arlen Specter's archive
Pittsburgh Post-Gazette: Allegheny County GOP outpaced Democrats to Nov. polls
Pittsburgh Post-Gazette: Hopefuls for Gastgeb seat on Allegheny Council meeting with Republican caucus
Tribune-Review: State Supreme Court Justice Orie Melvin might 'want to fight until the very end'
Tribune-Review: Shrinking Legislature could save Pa. $8M
Tribune-Review: PennDOT may seek to end limits on drivers
Tribune-Review: Pa. inmates prevented from jobless benefits
Early Returns: The holy terror of Jim Ferlo
Early Returns: Dan's happy where he is
Early Returns: Fontana? Wheatley?
Early Returns: Candidate conundrum
Early Returns: They're making a list, they're checking it twice
KDKA: Gov. Corbett: We've had to do some very difficult things
KDKA: Wagner to join Mayoral Race
KDKA: Budget cuts lead to cancellation of Westmoreland Co. air show
WTAE: With Luke Ravenstahl out, more candidates jump into Pittsburgh mayoral race
Southwest
AP: Senators call for scrutiny of Pa. charter schools
AP: Pa. officials look to close some health centers
Observer-Reporter: Pa. lawmakers consider new law to address spike in overdose deaths
Johnstown Tribune-Democrat: Shrinking Legislature could save Pa. $8M
Jonhstown Tribune-Democrat: Somerset food truck program expanding
NEPA
Times-Leader: Luzerne Co. councilman's possible run for Controller raises questions
Times-Leader: PA inmates prevented from getting jobless benefits
Times-Leader: Boscov will be hall of famer
Times-Tribune: Study: Scranton's parking garages need $10 million in repairs over next four years
Times-Tribune: Luzerne Co. Manager restarts new correctional facility conversation
Citizens Voice: Luzerne Co. Manager: New $100 million prison will help "save" money
Citizens Voice: Metal detectors may stay in Hazleton schools
Lehigh Valley
Pennsylvania Ave: Relief from high gas prices on the way
Pennsylvania Ave: ASD may weigh in on Corbett's liquor privatization plan
Pennsylvania Ave: Charter school reform heating up as part of state budget debate
Pennsylvania Ave: Are cruise lines discriminating against women?
Pennsylvania Ave: Allentown man supplied cocaine to Whitehall dealer, state agent says
Pennsylvania Ave: Fountain Hill native now leading Grand View Hospital
Morning Call: Charter school reform heating up as part of state budget debate
Morning Call: Allentown man supplied cocaine to Whitehall dealer, state agent says
Reading Eagle: Senators call for scrutiny of Pa. charter schools
Reading Eagle: Shrinking Legislature could save Pennsylvania $8 million
WFMZ: Development, industrial and commercial, booming in Whitehall
WFMZ: Future of Housenick property in Bethlehem Township still unclear
Express Times: Judge wants to give Bethlehem man fresh trial so he can pass harsher judgment
Express Times: Pohatcong Township police officially welcome Chief Jeffrey Greenemeir
Express Times: Pennsylvania casinos take across-the-board slots hit in February
Express Times: U.S. Rep. Leonard Lance to introduce mental health legislation aimed at curbing gun violence
South Central
AP: Pa. officials want to close health centers, say they aren't effective
AP: Senators call for scrutiny of Pa. charter schools
The Sentinel: Pa. officials say health centers aren't effective
The Sentinel: Senators call for scrutiny of Pa. charter schools
Harrisburg Patriot-News: State university faculty begin voting on labor contract proposal
Harrisburg Patriot-News: PA Republicans: Fiscal crises are of Obama campaign to retake House
Harrisburg Patriot-News: Monroe Township Supervisor Philip F. Kehoe announces election bid
Harrisburg Patriot-News: Corbett among dwindling group of Republican holdouts on Medicaid expansion
York Daily Record: Should Medicaid be expanded in Pennsylvania? Give your opinion
North by Northwest
Centre Daily Times: Candidate for lieutenant governor stops in State College, says education and transportation are top issues
Daily Collegian: Candidate for Pa. lieutenant governor visits State College
Opinions
Daily News: John Baer: The GOP's Mr. Demeanor
Daily News: More Philly Pol Perks
Times-Tribune: AG ponders defending indefensible
Times-Tribune: All aboard for effective rail
Sun Gazette: Find a shield—quickly—against China hacking
Pittsburgh Post-Gazette: Egypt calling: Pittsburgh is the focus of a visiting ambassador
Harrisburg Patriot-News: Merit selection a better way to choose judges
Lancaster Intelligencer/Era: False promises
Lancaster Intelligencer/Era: Obama evolution on gay marriage
Lebanon Daily News: Today's capital reporters need lessons from Bob Woodward
Blogs
WatchdogWire: Gov. Corbett's Medicaid decision, final nail in political coffin
LifeNews: Abortion Clinic Director Considering Run for Pennsylvania Governor
2 Political Junkies: It's Been A While, My Friends…
PA Budget and Policy Center: Revenue Tracker: Collections Fall Short of Estimates in February for a Second Straight Month
Keystone Politics: Philly #AVI Tax Relief Plan Should Complement Broader Tax Reform Goals
Keystone Politics: What Kind of Competition Best Serves Voters in the #PGHMayor Race?