3/6 Morning Buzz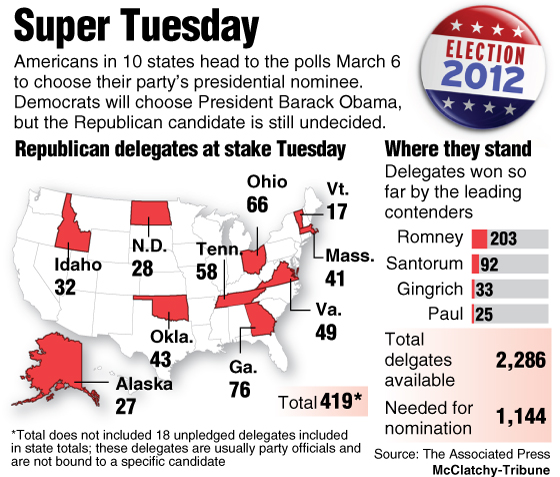 Good morning politicos, and welcome to the Buzz. Would that every Tuesday could be so Super. It's make or break for the GOP presidential hopefuls. There won't be a mathematical winner tonight, be the country should know a lot more about the nomination fight tomorrow morning.
Judge Rules Altmire to Stay on the Ballot: It's been a long two weeks for Rep. Jason Altmire, but Monday afternoon the three-term Congressman breathed a sigh of relief: a Commonwealth Court Judge ruled that he would remain on the primary ballot in the 12th district.
Santorum Slipping in Ohio: Ohio is a particularly important state for Rick Santorum to win, as he looks to regain some of the momentum he's lost to Mitt Romney in recent weeks. But recent polls indicate that's not likely to happen.
It's Scollo v. Marino in PA-10: The 10th Congressional District is taking shape. Democratic businessman Phil Scollo is challenging Republican incumbent Tom Marino, and he's recruited some familiar faces to run his race. Several staffers from Chris Carney's campaigns have joined up.
Boockvar Fundraises on Limbaugh Controversy: 8th congressional district challenger Kathy Boockvar sent out a fundraising email to supporters Friday after conservative talk show host Rush Limbaugh called a female college student a "slut" for supporting the contraceptive coverage mandate. Update: so did Manan Trivedi (PA-6).
Coal Industry Veteran & Senate Hopeful Smith Reacts to GenOn Closings: Why is the company GenOn closing 5 coal plants in Pa? Former coal company owner and Republican Senate candidate Tom Smith points the finger squarely at President Obama.
Veon Found Guilty of Corruption (Again): Former Pennsylvania House Democratic whip Mike Veon has been found guilty of corruption for a second time by a Dauphin County jury. He diverted funds from a non-profit to political allies and his brother.
Legislative Election Updates
SD-1: Sen. Larry Farnese will remain on the ballot, a judge ruled Monday. His Democratic primary opponent Jack Morley Jr. argued that a series of problems in campaign finance reports Farnese has filed since he won his first term in 2008 should bar him from the ballot.  Farnese beat Morley, who was running as a Republican, that year by a margin of 81-19 percent. Farnese' challenge of Morley's petitions is scheduled for Thursday.
SD-33: Sen. Rich Alloway is facing a primary challenge from Jim Taylor in this Franklin County district, and Pa. Right to Work is backing Taylor. The group, which seeks to end "closed shop" arrangements in Pa., gave Taylor $500.
SD-37: Correction. Yesterday we wrote that the Allegheny Dems endorsed Mark Mustio (R) for this seat. Oops. We meant the Allegheny Labor Council backed him – over Raja – for the seat of retiring Sen. John Pippy.
SD-39: Kristin Melville, the Democrat running against Sen. Kim Ward (R-Westmoreland), is criticizing Ward over a petition challenge Melville is facing. "Make no mistake about it, these types of shady legal maneuvers are designed to do one thing, and that is to use Republican lawyers like Lawrence Tabas – the attorney for this complaint, and the General Counsel for Republican State Committee of Pennsylvania – to deliver an election for Senator Ward because they know that she cannot stand on her record and win re-election," she said in a release.
HD-22: Allegheny Dems, you're on notice. Candidate Erin Molchany wants to make sure her name gets forwarded to state committee as a candidate for the open seat of former Rep. Chelsa Wagner. The next Rep. will likely be the candidate who local Democratic party leaders put up for the special election on April 24. In all likelihood that will be Martin Schmotzer, who won the Dems' endorsement last month and the Allegheny Labor Council this weekend. But Molchany wants her name to make it at least as far as Harrisburg, so she wrote PA Dem Chairman Jim Burn.
HD-29: Gloria Carlineo, the primary challenger to Rep. Bernie O'Neill (R-Bucks), is facing a petition challenge. The Bucks GOP says that of her over 500 sigs, 150 are from outside the district (blame the redistricting mess). Carlineo says she has over 400 good ones left (300 are required to make the ballot). "We expected it. That's the way they do things," she said. "We think it's just a way that they try to distract people from his record."
HD-94: GOP Whip Stan Saylor (R-York), who is facing a primary challenge from Red Lion council president Kelly Henshaw, says his plans for another term would include making business want to come to the state by decreasing or eliminating corporate taxes.
HD-103: In the four-way primary to replace the retiring Rep. Ron Buxton of Harrisburg, Former Pennsylvania Human Relations Commission Executive Director Homer Floyd said Monday he plans to endorse former City Council president Gloria Martin-Roberts.
HD-126: One of the four Democrats vying to replace retiring Rep. Dante Santoni's Berks County seat is proposing a natural gas tax to fund education. "I would propose that we create a Marcellus shale extraction tax solely earmarked for public education. This tax would greatly add to the success of any property tax reform plans they're working on now," said John DelCollo.
HD-153: Montgomery News previews the coming special election for Josh Shapiro's former seat. The only candidates on the ballot for the fall election are Democrat Madeleine Dean and Republican Nick Mattiacci, making it likely that they will be the special election candidates as well. This is a seat that leans Dem, but the GOP is hoping that high primary turnout from the presidential primary will put it in play.
HD-157: Paul Drucker, the former state Rep. who lost his seat to Warren Kampf (R-Chester) in 2010, has geared up for his rematch. He opened a campaign office and launched a website this week.
National:
Morning Call: Ohio Super Tuesday key for Rick Santorum
Politico: Super Tuesday preview: What's at stake
Politico: Ohio primary: Mitt Romney touts delegate edge
Politico: White House to Congress Dems: Expect no money
Politico: Rush vs. Fluke: A fight Obama wants
Politico: Newt to keep going
Politico: Huckabee: GOP starting to unite behind Romney
Roll Call: Foreign policy is back for election
Five Thirty Eight: Super Tuesday delegate projection update
Five Thirty Eight: Santorum slumps in Super Tuesday polls
Washington Post: Limbaugh says apology was sincere, jokes about fleeing sponsors
Washington Post: Santorum and Madison on church and state
Real Clear Politics: Santorum and the sexual revolution
The Hill: Obama tells Netanhayu there's time for diplomacy with Iran
The Hill: Sen. McCains calls for air strikes against Syria
New York Times: Intense focus on Ohio before Super Tuesday
New York Times: Before Super Tuesday, big names rally to Romney
New York Times: Santorum strucks populist tone before Ohioans vote
USA Today: Obama: U.S. 'will always have Israel's back'
Slate: Do women control the election now?
Early Returns: Romney talks economy near Y'town
Early Returns: Daily Santorum: It ain't over
CBS News: Santorum likens Obama administration to "drug dealer"
Statewide:
AP: PA ban on texting, driving starts Thursday
Daily Local: Medical marijuana legislation pending in PA
Capitol Ideas: Voter ID Bill headed for Senate floor
Capitolwire (Paywall): Murphy's AG Campaign Calls Into Question Kane's Union Views
Patriot-News: Orie Ex-Aide: 'Political Work Came First'
Patriot-News: Ex-Senate Aide Alan Berlin To Be Tried Again In "Furry" Internet Sex Case
Capitolwire (Paywall): Voter ID Bill On Tap For Senate's Return To Session
Capitolwire (Paywall): Coalition Group Urges 'No' Vote From Senators on Voter Id Bill
Capitolwire (Paywall): Speaker Sam Smith Lost A 4-3 Decision By A 7-0 Score. But He Posed A Good Question
Capitolwire (Paywall): In Reapportionment, What Is Judge McEwen Waiting For?
Capitolwire (Paywall): 'Hold Harmless' State Education Funding Agreements On The Way Out, Tomalis Said
Capitolwire (Paywall): Tomalis, Lawmakers Debate Whether State Is Cutting Or Hiking Education Funding
Capitolwire (Paywall): 17 School Districts, 4 Charters Under State Scrutiny To Stop Potential Cheating
Capitolwire (Paywall): DPW Disputes Claims That Medicaid Case Closures Driven By Budgetary Reasons
Politico: Jason Altmire wins, calls Mark Critz tactics like 'prom king'
Moon Patch: Sen. Casey: Air Force should close golf courses before 911th airlift wing
Morning Call: Revive adultBasic, Corbett urged
Philadelphia:
Daily News: Fluke "definitely" has reason to sue Limbaugh
Heard in the Hall: Robin Hood Dell
PhillyNow: Protests at Temple call on University to hire minority labor
PhillyNow: Daily Grinder: Can city get "School Swaps" money back?
WHYY Newsworks: Opponents blast Pennsylvania plan to require voter ID
WHYY Newsworks: PA businesses huddle on ways to counter IED threat
SEPA:
AP: PA AG responds to Sandusky request for documents
The Intelligencer: Petri to hold town hall on budget
phillyBurbs.com: North Penn receives energy savings award
phillyBurbs.com: GOP challenges Carlineo's nominating petitions
phillyBurbs.com: Tax collectors case reaches state's highest court
phillyBurbs.com: Horsham could land big bucks for roads from UPS
Main Line Media: Gasland attracts a slim crowd, but a lively discussion
Montgomery Media: Whitpain crafts ordinance to regulate billboards
Journal Register: Area child care would suffer under proposed Corbett budget
Bucks Local News: Rivella steps down as president of Morrisville Borough Council for "unknown reasons"
Pittsburgh:
Post-Gazette: Orie staffer says she spent half her time on campaign work
Post-Gazette: Altimire survives Critz's ballot challenge
Post-Gazette: Voter ID bill limits basic right, opponents say
Post-Gazette: Public education supporters ramp up rallies with call-ins
Tribune-Review: Three Democrats vie take on 3rd Congressional District
Tribune-Review: Reapportionment plan on Allegheny County Council set for OK
Tribune-Review: Calls continue for Orie sister to leave bench after testimony
Early Returns: Murphy, Readshaw enter battlefield
Southwest:
Johnstown Tribune Democrat: AP: Veon convicted in 2nd corruption trial
Altoona Mirror: State expands banned crimes for school district employees
Beaver County Times: Altimire stays on ballot, says Critz is "willing to do anything to win"
South Central:
Lebanon Daily News: College of Medicine receives grant
Lancaster Online: Penn Manor teachers, school board to vote on new contract
York Dispatch: 80-year old Occupy Harrisburg activist arrested in York County
York Dispatch: Construction workers protest outside state lawmaker's office
York Dispatch: Saylor backs corporate tax cuts in reelection bid
Harrisburg Patriot News: Obama opens Harrisburg office
Harrisburg Patriot News: Homer Floyd says he plans to endorse Gloria Martin-Roberts in 103rd House District run
Chambersburg Public Opinion: County court study shows shifting workload a better option than eliminating offices
Tribune Review: Laws for Gettysburg preservation are being supported by U.S. senators
NEPA:
Pocono Record: Food distribution for those affected by Irene, Lee
Standard Speaker: Home rule could up revenue, mayor says
Wayne Independent: Plans call for elimination of one Wayne judge's district, redesign of other three
Times-Tribune: Histed bails out of state rep race
Times-Tribune: Mild winter leaving salt surplus for many municipalities
Times Leader: Raising funds to raise flag
Lehigh Valley:
Reading Eagle: House candidate proposes natural gas tax to fund schools
Morning Call: 5,000 reassessments challenged in Lehigh County
Capitol Ideas: Lehigh Valley mayors push for pensions, Act 47 changes
North by Northwest:
Erie Times-News: Mercer County Independent Gray announces for 3rd District House seat
Erie Times-News: Judge's ruling removes Democrat Marin from ballot in the 3rd District
Erie Times-News: Veterans invited to Cambridge Springs Legion for benefits answers
Erie Times-News: Erie to unveil block grant plan Tuesday
Erie Times-News: Erie judge says FOP, promoter don't control 'Cops and Rodders'
Centre Daily Times: Prosecutors don't want to release all requested Sandusky evidence
Williamsport Sun Gazette: Aerial maps get OK, school closings nixed
Williamsport Sun Gazette: Talking IMPACT
Opinions:
Erie Times-News: Opinion: Penn State, Pitt guilty of tuition hikes despite state money increases
Centre Daily Times: Opinion: Tapping even more fossil fuels likely would be fossil foolish
Centre Daily Times: Opinion: By scrapping current policies, U.S. could spur robust economy
Williamsport Sun Gazette: Op/Ed:Wrong decisions spur gas price increases
New York Times: Drill baby drill, redux
New York Times: The last gasp of the G.O.P.?
Philadelphia Inquirer: Cuts a threat to public safety
Pottstown Mercury: Municipalities should prepare for solar energy growth
Pottstown Mercury: Municipalities should prepare for solar energy growth
Courier Times: Future Shock: Life with a gas driller as a very bad neighbor
Delco Daily Times: Target on reproductive rights unsettling
Delco Daily TImes: Catholics need to fight for school choice
Daily Review: Pa. needs a bit of "snob" appeal
Standard Speaker: Evidence shows auto bailouts worked
Standard Speaker: Regression on the Republican campaign trail
Times-Tribune: Revive plan to insure poor workers
Harrisburg Patriot News: Protect religious freedom from government intrusion
Tribune Review: What's that smell? Another Obama deal
Blogs:
Keystone Liberty: Skyrocketing pension contributions
Keystone State Education Coalition: Districts say Corbett's budget jeopardizes future of school busing
Commonwealth Foundation: The squeeze: Government unions' grip on Pennsylvanians
Commonwealth Foundation: Utility rate drops again thanks to Marcellus drilling
Commonwealth Foundation: Chart of the day: Welfare spending
2 Political Junkies: Fact-checking Ruth Ann Dailey
Lu-Lac Political Letter: Romney wins Washington state/Wilkes Barre's debt
Pennsylvania Progressive: Altmire ruling
Pennsylvania Progressive: Rush doubles down
Keystone Politics: Cumberland County Dems endorse Ken Lee for Congress
John Hanger: McKibben gets fracking facts wrong in New York review of books
John Hanger: Oceans are 30 percent more acidic due to carbon dioxide loading
Speak American!: Steve Welch and the crisis of power