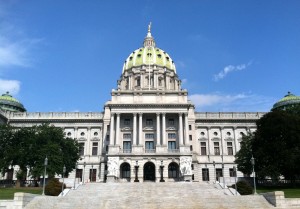 Some new names pop up for the Schwartz congressional seat; the first PGH Mayor poll shows Peduto ahead, and we want to know: who should Dems pick for Lt. Gov? Good morning politicos, here's the Buzz.
Don't forget to check back later today for the Ups & Downs.
Green For Congress? Cohen? More Names Join PA-13 Conversation: Could Philadelphia City Councilman Bill Green take a pass on a mayoral campaign and run for Congress? His name has popped up as a potential replacement for Rep. Allyson Schwartz.
Poll: Peduto 30%, Wagner 20% in PGH Mayoral Primary: Progressive City Councilman Bill Peduto leads the pack according to the first poll of the Pittsburgh mayoral primary since Mayor Luke Ravenstahl announced he won't seek re-election.
New GOP Data Firm: In effort to catch up with Democrats' superior data modeling and microtargeting capabilities, the folks who ran Pat Toomey's and other campaigns are joining with Colorado data firm Magellan Strategies to form Voter Core Score. "Voter Core Score is breaking new ground in the political world," Mark Harris said. "For two election cycles now, Republican campaigns have lagged behind their Democratic counterparts in its access to up-to-date data. Voter Core Score will close that gap." Magellan and Cold Spark people have previously collaborated on Toomey, the PAGOP in 2010, and Tim Murphy for Congress. Cold Spark also managed Tom Smith for U.S. Senate and Raja for State Senate.
Reader Poll: Who Should Democrats Support For Lt. Gov? The race for lieutenant governor is heating up among Pennsylvania's Democrats. Who should they support?
Reader Poll: Voter ID Law Is Unnecessary: We asked our readers if they think the Commonwealth Court should uphold or strike down the Voter ID Law this July. 64% of readers oppose upholding the law on the grounds that it is an unnecessary measure that will disenfranchise certain voter groups.
Update: Everyone Now Running for Pittsburgh Mayor, Except Dan Onorato and Chelsa Wagner: Candidates have flooded into the Pittsburgh mayoral primary since Mayor Luke Ravenstahl's decision to exit the race last week. Here's the latest on each of the prospective candidates.
Harper Poll: Corbett, Sestak Lead Guv Primaries: Gov. Corbett is comfortably ahead of Bruce Castor in a hypothetical GOP primary, though below 50%. Joe Sestak leads Allyson Schwartz by a hair in the Democratic primary.
Statewide
Hardball: Pennsylvania's first female governor? Schwartz may make history
Capitolwire: Big job loss looms if transportation funding not increased, PennDOT warns.
Capitolwire: POINT OF ORDER: Medicaid expansion advocates need to acknowledge Obamacare costs to PA.
Capitolwire: Four Transportation Committee chairmen backing bill to spend more than Gov proposal.
Capitolwire: Beer distributors press against Corbett-backed liquor privatization plan.
Capitolwire: OFF THE FLOOR: Corbett staff says he complied with Thornburgh gift ban. He reported accepting gifts.
Capitolwire: Zogby and House Democrats tangle over budget and priorities.
Capitolwire: Lawmakers make their pitch to colleagues on House Appropriations panel.
State House Sound Bites: New DPW chief underscores Medicaid expansion not ruled out
State House Sound Bites: The politics of Medicaid expansion
State House Sound Bites: Court ruling makes tobacco settlement money a next-budget issue
StateImpactPA: U.S. Federal Reserve Survey Cites Positive Economics of PA's Gas Boom
StateImpactPA: Organic Farmers Split Over Fracking
PA Independent: Corbett, wife accepted thousands in gifts from biz execs, lobbyists
PA Independent: PA governor's budget plans falls flat with House Dems
Philadelphia
City Paper: Law would mandate recycling building waste — can it be enforced?
Phillynow.com: PA Sen. Pat Toomey Stood with Rand Paul on Drone Filibuster
Heard in the Hall: New city office to aid immigrants
Heard in the Hall: Tasco Defends Ally Evans
Philly Clout: Nutter creates Mayor's Office of Immigrant and Multi-Cultural Affairs
Philly Clout: Assault on black Philadelphia? Councilwoman defends State Rep. Dwight Evans
Philly.com: Montco approves $6.9M for open space, $42.3M for capital projects
Inquirer: Pa. fiscal chief rails about Rendell 'Ponzi schemes'
Inquirer: Toomey: welfare spending too generous
Inquirer: Kenney bill would set Philly property-tax rate much lower
Inquirer: Sequester could cost Phila. Housing Authority $42M
Inquirer: Pa. bill introduced amending parole-board process
Inquirer: Uncertainty for thousands, Corbett after judge's health ruling
WHYY Newsworks: Gun-control group tries to pressure Pa. congressmen with poll numbers
SEPA
Daily Local News: Commissioners hitting the road again
Daily Local News: Popular vote idea better way to go then the new Pileggi plan
Montgomery Media: Dublin Borough looks at steps to achieve revitalization plan
phillyburbs.com: Montco municipalities will have to pay tab for new emergency radios
Pottstown Mercury: Montgomery County Oks $56M capital budget, $11M for open space
Pottstown Mercury: Rep. Vereb: Legislation inspired by Monto murder victim will 'put a face' to victims' testimony
Pittsburgh
KDKA: Peduto unveils south hills support as poll shows him in lead
Tribune-Review: Pennsylvania argues precedent set in judges' age-discrimination lawsuit
Tribune-Review: County Councilman Robinson 'very interested' in mayoral bid
Pittsburgh Post-Gazette: Pennsylvania Sen. Bob Casey seeks more funds for early childhood education
Early Returns: Zogby on the agita of projections
Early Returns: Poll: Peduto, Wagner, Lamb…
Early Returns: County Controller will launch "Windfall Watch"
Southwest
Altoona Mirror: Groups approve tax break boundaries
Observer-Reporter: Councilman's gay email flap goes viral
Observer-Reporter: Corbett's liquor privatization bill moves closer to vote
Observer-Reporter: Councilman says city knew of his involvement on board
Observer-Reporter: Sequester could reduce three Washington County Redevelopment programs
Beaver County Times: New Sewickley approves drilling agreement
Beaver County Times: State ranks high on drilling-related companies
Beaver County Times: Marcellus Shale Coalition releases video on methane
AP: Lawyers say thousands wrongly lost Medicaid
NEPA
Standard Speaker: Hazleton ex-Marine and businessman proposes armed citizens patrol
Standard Speaker: Ethics commission wants Luzerne Co. council to amend code
Standard Speaker: Hazleton school board OKs assistant superintendent contract, seeks another
Times Leader: 'Kids for cash' legal fees sought
Times Leader: New judge is sought for trial of fire chief
Times Leader: Lt. gov. promotes private booze sales
Citizens Voice: Staffing levels blamed for violence at prison
Citizens Voice: New, $20 million airport tower could lose overnight services
Times-Tribune: Airport shouldn't be affected, though tower could lose overnight services
Times-Tribune: Bank takeover for Snö Mountain approved by judge
Times-Tribune: Scranton Redevelopment Authority agrees to pay foe's $134K legal bills
Lehigh Valley
Reading Eagle: Firearms certification lapse puts 6 West Reading cops on leave
Reading Eagle: Amendment enables hiring of 20 firefighters by Reading
Reading Eagle: Compromise offered in Schuylkill Valley turn-lane saga
Reading Eagle: Berks judge step closer to federal bench
Express Times: Northampton County official argues for farmland preservation
Express Times: Bethlehem school district hesitant to make lacrosse varsity sport due to $80,000 cost
Pennsylvania Ave: Rand Paul gets filibuster relief from Pat Toomey
Pennsylvania Ave: Easton sharpens design on bus terminal, City Hall project
Pennsylvania Ave: Allentown School District may cut 161 jobs
Pennsylvania Ave: Brooklyn hit-and-run suspect waives extradition-Charqunta
Pennsylvania Ave: Bucks DA clears officer in shooting of elderly woman
Pennsylvania Ave: Senator ends filibuster of Brennan CIA nomination
WFMZ: Presentation grows support for county's farmland preservation program
WFMZ: Bushkill Township approves Public Works radio request
WFMZ: Union president Deb Tretter: Allentown School District to cut as many as 150 positions
Morning Call: Norco officials signal support for farmland preservation
Morning Call: Pawlowski, Panto appear in pro-gun control video
Morning Call: No inspectors? No fresh meat
Morning Call: Corbett's plan to sell state liquor stores getting shaken and stirred
Morning Call: Allentown's arena zone could expand to other cities
Morning Call: Pennsylvania ethics uproar is over peanuts
South Central
Roxbury News: Pa. Rep. Mike Regan: Retired police officers in all publicly funded schools (HB 896)
York Daily Record: Immigrant advocates call for less expensive alternative to detention
York Daily Record: AG rules no charges to be filed against Judge Tom Kelley
Harrisburg Patriot-News: Cumberland County commissioners to return pay raises
Harrisburg Patriot-News: Cumberland County already planning 2014 budget
Harrisburg Patriot-News: Harrisburg's Linda Thompson among mayors demanding background checks for guns
Harrisburg Patriot-News: Santorum petition urges Congress to protect Second Amendment from Obama proposals
North by Northwest
Campaign '13: State Dems file ethics complaint against Corbett
Times-News: House Democrats hear opposition in Millcreek to liquor privatization plan
Times-News: Erie City Council president announces re-election bid
Times-News: Erie Co. Exec. identifies deputy warden finalists for Erie County Prison
Centre Daily Times: New Benner Twp. prison will be statewide inmate transportation hub
Centre Daily Times: Philipsburg charter school proponents mull next steps
Centre Daily Times: Two Patton Twp. supervisors plan another run
Sun Gazette: Williamsport considers expansion of business district
Sun Gazette: Dem lawmaker: Medicaid expansion as important as Shale
Sun Gazette: Democrats say budget is lackluster
Opinions
Observer-Reporter: Not making friends, influencing people
Observer-Reporter: Keep the lottery in Pennsylvania
U-Turn: Gov. Corbett's latest gift: A Bunch of baloney
Tribune-Review: Raise the minimum wage: NO! (& here's why)
Pittsburgh Post-Gazette: Freebie folly: Governor's behavior is no gift to the public interest
Standard Speaker: Gifts to officials raise questions
Standard Speaker: Law to protect women renewed, but it took a fight
Citizens Voice: Tobyhanna makes best of bad situation
Times-Tribune: Unlock phones, and consumers
Times-Tribune: State House Speaker Smith doesn't go far enough
Times-News: Help save arts in Erie schools
Sun Gazette: More plans, more jobs promised; Let time be the judge
The Sentinel: You owe it to yourself to go
York Daily Record: West York council shreds credibility
York Daily Record: Electoral change might backfire
York Dispatch: West York Council works for all taxpayers
Lancaster Intelligencer/Era: Kane hedging bets on Voter ID
Lancaster Intelligencer/Era: The governor's gifts
Blogs
Above Average Jane: PCN's Focus on Education
Keystone State Education Coalition: Accuracy, Fairness, Transparency – funding formula on the left; funding formula on the right; how about a funding formula?
Commonwealth Foundation: Principles of Liquor Privatization
Keystone Politics: Corbett Support Under 50% in GOP Primary
Keystone Politics: Natalia Rudiak, Bruce Kraus and Erin Molchany Endorse Bill Peduto for #PGHMayor
Keystone Politics: Alcohol Reformers Need to Focus on the Senate
Keystone Politics: Bill Peduto: Make Pittsburgh a Food Truck-Friendly City
Keystone Politics: When Party Endorsements Matter and When They Don't
Keystone Politics: Kenyatta Johnson's Improving Understanding of Real Estate Economics, Cont'd
Keystone Politics: AVI and Land Value Tax After 2014: How to Stabilize Tax Bills in Gentrifying Neighborhoods
Keystone Politics: Terry Madonna's Cool With the #PGHMayor Poll Methodology
Keystone Politics: Keystone Analytics Poll: Bill Peduto Leading #PGHMayor Pack