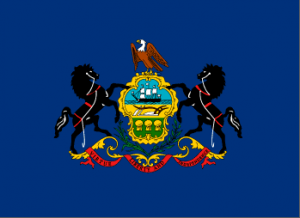 The Department of State orders changes in voting machines by 2020, the Ups & Downs from the week, and the jockeying to replace retiring state House Speaker Dave Reed has begun.  Good morning politicos, here's the Playbook!
Dept. of State Says All Voting Machines Must Have Paper Backup by 2020: The Department of State has begun telling county board of elections that all voting machines must have a paper backup by the next Presidential election.
4/13 Ups & Downs: Casey leads in fundraising, Ellsworth opens a path through the primary, TV viewers get bombarded with ads, and Pearl Kim gets through an easy path through to a tough general election. See who made this week's Ups & Downs!
WHYY: Jockeying begins as Pa. House openings fuel leadership shuffle: Changes are coming to the Pennsylvania House of Representatives, due in large part to the pending departure of one of the most powerful elected officials in Harrisburg. The decision by House Republican Leader Dave Reed to not seek re-election after a brief flirtation with running for Congress sets the stage for a fight over leadership later this year.
Legislative Election Update
City & State: Candidates in PA-1 Dem primary train ads, rhetoric on each other
Post-Gazette: Conor Lamb alone after Ray Linsenmayer drops out of Democratic race for 17th district
Statewide
State House Sound Bites: After critical report, PA police review their role in ICE deportations
StateImpact: After alert on Russian hacking, a renewed push to protect U.S. power grid
StateImpact: FirstEnergy: If feds don't help us, more power plants will close. Trump's thinking about it
City & State: Winners and Losers for the week ending April 13
Philadelphia
WHYY: Wolf, lawmakers push a raft of criminal justice overhauls
Philly Tribune: Wolf leads 'call to action' for criminal justice reform
WCAU: Adwatch: Key Attacks in Pennsylvania's GOP Race for Governor
Inquirer: Philly has a plan to replace decaying water pipes and sewers. And you will pay for it
Inquirer: Philly labor leader John 'Johnny Doc' Dougherty, under federal scrutiny, raises more campaign money than ever
Inquirer: Starbucks episode puts Philly police in national spotlight
Inquirer: Mayor Kenney backs study of merger of Philly's two marketing agencies
SEPA
Pottstown Mercury: Mercury staffers win 6 journalism awards
Bucks County Courier Times: Potential Medicaid cuts subject of Monday public forum
Bucks County Courier Times: Pennsylvanians face Monday deadline to register for primary
Delco Times: Candidates in state races tout their pro-union credentials
Pittsburgh
Tribune Review: $1.6 million in alternative fuel grants awarded
Tribune Review: Legendary, long-serving Greensburg fire chief Ed Hutchinson dies
Tribune Review: Monroeville mayor commended for distancing municipality from 'hateful language'
Tribune Review: More state funding allocated toward a Penn Hills housing project for homeless veterans
WESA: Wolf, Lawmakers Push A Raft Of Criminal Justice Overhauls
WESA: Early Financial Reports Suggest Saccone Has Small Edge In GOP Primary
Post-Gazette: At roughly $12 million, landslides prove a budget-buster for Pittsburgh
Post-Gazette: Words matter in Legislature's Medicaid work-requirement debate
Post-Gazette: Pittsburgh teacher contract includes raises, new rules for teacher assignments
KDKA: Challenger Ray Linsenmayer Suspends Campaign Against Conor Lamb
KDKA: Pa. Senator Ordered To Pay $29K In Gerrymandering Case Legal Costs
Southwest
Beaver County Times: Lamb unopposed in Democratic primary after Linsenmayer drops out
Beaver County Times: Attack ads continue in Republican race for governor
Beaver County Times: Gutting of redistricting reform bill called 'embarrassing,' 'blatant demonstration of unaccountable government'
Altoona Mirror: New DA working to restore trust
NEPA
Standard-Speaker: Carbon clerk of courts to retire
Times Leader: Official calls for resignation of Wilkes-Barre Police brass in report's wake
Times-Tribune: Deadline to register to vote in primary is today
South Central
York Daily Record: What's worse than paying Pa.'s property taxes? For some: not having to pay them.
WGAL: Rally demands end to natural gas fracking in Pennsylvania
Patriot News: GOP gubernatorial candidate Paul Mango: 'We need someone with a different agenda'
Patriot News: Trump's fuel efficiency rollbacks are a wrong turn for Pa. | Opinion
Patriot News: Hundreds gather in Harrisburg for gun-rights rally
Patriot News: Gun-rights rallies held at Pa. Capitol, across the country: Updates
Patriot News: Q&A: What will have to be done to upgrade Pa.'s voting systems?
WPMT: What They're Saying: Local Congressional members on the Syrian attack
York Dispatch: Sen. Scarnati told to pay $29K in gerrymandering case legal costs
Lehigh Valley
Express-Times: Pennsylvania deadline to register to vote is Monday. Here's who's running
Reading Eagle: Pa. lawmakers aim to help grandparents raising grandkids
Reading Eagle: Candidate for lieutenant governor nomination speaks at vigil in Berks County
Morning Call: Despite legislative fix, challenges to Megan's Law continue
Morning Call: Republican Laura Ellsworth hopes to be Pennsylvania's first female governor
Morning Call: Pennsylvania Democrats in sweet spot heading into mid-term elections, new Morning Call/Muhlenberg College poll shows
North by Northwest
Sun-Gazette: Candidates seek local vote at county Democratic Party dinner
Meadville Tribune: Republicans seek to weigh candidates through mire of attacks
Centre County Times: Several local educators have been banned from teaching. Why are they still being paid?
Opinion
Tribune Review: Trib editorial: Severance tax shibboleths
Tribune Review: Trib editorial: Add dried leaf to Pa.'s legal medical marijuana for better supply, demand, cost
Observer-Reporter: EDITORIAL Pennsylvania should make voting easier
Patriot News: Wagner, Mango would better spend their money, time focusing fire on Tom Wolf | Charlie Gerow
Patriot News Is Wagner v. Mango our nastiest campaign? It's right up there | Kirstin Snow
Patriot News: Why didn't Pa. share in 2017's prosperity? The reasons are clear | Colin McNickle
Inquirer: An iceberg on the voyage to fairer Pa. elections | John Baer
Inquirer: No budget, no pay for Pa. legislators who miss deadline | Editorial
Post-Gazette: Pompeo's promise: He is bound to rebuild the diplomatic corps
Reading Eagle: Editorial: Retiring speaker sets healthy example for our politics