Four years ago yesterday, U.S. Marines and Afghan troops launched an operation to liberate the small town of Dananeh from Taliban control.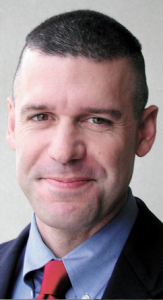 In the process, a sniper shot Sergeant Bill Cahir. He died a day later, leaving behind his wife – who later gave birth to their twin daughters.
Cahir, then 40, had been a newspaper reporter and a U.S. Senate staffer when he enlisted in the Marine reserves in 2003. He served two tours of duty in Iraq.
He spent several years covering Washington, DC for Newhouse Newspapers, which owned several smaller Pa. news outlets. During that time, PoliticsPA named him one of the state's most influential reporters.
Cahir ran for the open congressional seat of retiring Rep. John Peterson in 2008. He lost to Mark McCracken, a Clearfield County Commissioner, by a 6 point margin in the Democratic primary (McCracken went on to lose to GT Thompson, 57% to 41%). Not sure how to pronounce his name? His campaign produced the video above.
"Bill was a person who had reached the highest success as a news correspondent in Washington DC when he accepted the call to serve his country," McCracken said. "His death is still a shock 4 years later and, as a father myself, I am most saddened that he never got to see his twin daughters."
It was during that campaign when he met Bill Van Saun, a young Democratic politico from State College. Van Saun is currently serving as a 2nd Lieutenant in the U.S. Army:
I wasn't really a big player in Bill Cahir's campaign, I spent most of my time volunteering for Hillary. I will say that he was the most gracious losing candidate I ever met. When we needed speakers at an event for Mark McCracken, I called Bill out of the blue and asked him if would come out and support Mark. He of course volunteered and spoke on Mark's behalf on several occasions.

Bill was a great guy and a true patriot, not to sound too cliche. He was actually the reason I joined ROTC. As I worked with him in the Fall of 2008, when I was still a freshman at Penn State and had not yet joined Army ROTC, I gained a lot of respect for him and his service. I saw him as a role model for entering public service.

I joined Army ROTC in the Spring of 2009 and Bill was KIA in August of 2009. His sacrifice is what finally got me to contract and stay in the program. He had been past the age limits when he first enlisted. And I thought if he had given so much after having a career and family, why shouldn't I be able to give some service as a young college grad. I haven't looked back since starting active duty and I owe Bill for the example he set for anyone thinking of entering public service and serving their country.
Cahir's family encourages donations to the Cahir Corps, via Penn State University, to the attention of Damon Sims in the Office of Student Affairs. The Cahir Corps is a program established by the University with Cahir's brother. It encourages undergraduate involvement and assistance in the greater Central Pennsylvania community, focusing primarily on poverty issues.