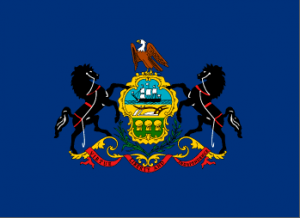 Christiana gets into the Senate race, Urban rumored for a White House posting, and the Ups and Downs from the week.  Good morning politicos, here's the Playbook!
Christiana Jumps into U.S. Senate Race: State Rep. Jim Christiana announced last night he is running for Senate next year.
Sunday Show Preview: April 9th, 2017: We take a look at the Sunday morning political talk shows that will air throughout the state.
Urban Rumored for Trump Chief of Staff: David Urban is rumored to be under consideration to take over as White House Chief of Staff.
Shuster Gets New Press Secretary: Congressman Bill Shuster's Communications Director Casey Contres is moving to a new office, and Joey Brown will be taking over as Press Secretary.
4/7 Ups & Downs: Another candidate eyes a run for Governor, a fine is dropped, and a small school gets a big name. See who made this week's Ups & Downs!
Statewide
Capitolwire: Debate over proposed 'ghost teachers' bill renewed.
Capitolwire: POINT OF ORDER: A little more transparency in the House GOP budget proposal would be nice.
State House Sound Bites: IFO: Wolf's wage increase would raise some revenue, lose some jobs
StateImpact: School officials seek answers on safety of Mariner East 2
StateImpact: FERC says PennEast pipeline would have 'less than significant' environmental impact
StateImpact: EPA cuts would leave states with more work, less money
Philadelphia
Inquirer: Fast Eddie's casino days are over
Inquirer: 'A very special, weird kind of strange:' Neil Carver, 79, Center City attorney
Inquirer: The state of Philadelphia? Decidedly mixed
Inquirer: Delivering Meals on Wheels with an 85-year-old spark plug
Inquirer: Mayor Kenney, please veto this really dumb bill
Inquirer: Swastika among reports of vandalism in Warminster
Inquirer: Lawyers in Seth Williams' case: We need more time
Inquirer: Philly firms rank top 3 in the U.S. for skilled foreign labor requests
Philadelphia Magazine: City Council Votes to Halt Electric Vehicle Parking Program
Philadelphia Magazine: Here's What Philly's Congress Members Think About Trump's Airstrikes on Syria
Philadelphia Magazine: GOP, Green Party Sue Over North Philly Special Election
Philadelphia Magazine: What's Behind the DOJ's Abdication on Checking Police Abuse
WHYY Newsworks: Legal counsel helps turn 'hopelessness to hopefulness' for unauthorized immigrants
WHYY Newsworks: Pa. study: Wolf's wage increase would raise some revenue, sacrifice some jobs
WHYY Newsworks: EPA cuts would leave states with more work, less money
WHYY Newsworks: Democrat's write-in victory for Pa. House challenged in court
WHYY Newsworks: Senators from Pa., N.J., Del. weigh in on Syria
WHYY Newsworks: Americans agree: up with infrastructure spending, paid family leave, ACA; down with the wal
WHYY Newsworks: Civic Leaders host forum to end cash bail in Philadelphia
WHYY Newsworks: Feds admit to spying on Philly DA Seth Williams before indictment
WHYY Newsworks: IFO report says Wolf's revenue estimates are 'reasonable'
WHYY Newsworks: Kenney says Philly tax abatement is here to stay
WHYY Newsworks: Councilwoman Parker wants developers to provide more project information
WHYY Newsworks: Legal battle over LGBTQ workplace protections moving closer to the Supreme Court
WHYY Newsworks: Academy of Natural Sciences speaks out on climate change, water, evolution
NBC 10: ICE Targets Vans Full of Workers in Reading, Berks County, Detaining Numerous Undocumented Immigrants
Billy Penn: Wait, there could be how many new liquor stores in PA?
Billy Penn: Pa. court: Chestnut Hill College has to face racism allegation
KYW Newsradio: Philadelphia Children's Alliance Renews Partnership With Several City Agencies
KYW Newsradio: Syrians, Local Experts Weigh In After U.S. Missile Strike
KYW Newsradio: PA Court Rules Catholic Colleges Subject To Anti-Discrimination Laws
KYW Newsradio: Philadelphia Officials Dispute Weekly Immigration Report
KYW Newsradio: Syrian-American Living In Pennsylvania: 'The U.S. Is Targeting The Wrong People'
Philadelphia Business Journal: The Mar-a-lago meetings: Trump, China and – yes – Philadelphia
Philadelphia Business Journal: Uber to pay $3.5M to Pennsylvania for 2014 violations
SEPA
Pottstown Mercury: Study: Property tax elimination bill will cost middle class households more
Pottstown Mercury: Phoenixville School Board eyes $5.5M for new high school entrance, classrooms
Pottstown Mercury: Zoning ruling on New Hanover quarry expansion due i August
Pottstown Mercury: Giant supermarket in Upland Square gets OK to sell beer, wine
Pottstown Mercury: Pottstown Police Cpl. McClincy retires after 44 years of service
Bucks County Courier Times: Council Rock board members concerned with teacher absentee rate
Bucks County Courier Times: Calendar of Bucks meetings today – Monday, April 10
Bucks County Courier Times: Lower Makefield supervisors look to protect controversial parcel of land from development
Bucks County Courier Times: Warrington supervisors to vote on housing development later this month
Bucks County Courier Times: Chick-fil-A plans advance in Bensalem; zoning board punts on medical marijuana dispensary
Bucks County Courier Times: Semi-annual drug take-back program to be held April 29
Delco Times: Pros & 'Cons' of Fixing Route 322
Delco Times: Potential capital projects force priority talk in U.D.
Pittsburgh
Tribune Review: Port Authority of Allegheny County paying firm up to $111K to find new CEO
Tribune Review: Gorsuch to be sworn in to Supreme Court on Monday
Post-Gazette: More than 100 charged under new Pennsylvania strangulation law
Post-Gazette: As Pittsburgh courts self-driving technology, new report sees one company leading the race
Post-Gazette: Christiana says he's candidate for U.S. Senate
Post-Gazette: Pittsburgh ethics board may not hear campaign finance complaints before primary
Southwest
Beaver County Times: Christiana announces 2018 U.S. Senate bid, says Casey is the 'status quo'
Beaver County Times: Bill that would create task force on opioid crisis impact on children passes state House
Beaver County Times: Beaver County GOP leaders react to Christiana's bid to take on U.S. Sen. Bob Casey in 2018
Beaver County Times: Report: Eliminating property taxes would lead to middle-income families paying more in income, sales taxes
Altoona Mirror: Borough to vote on duck ordinance
Altoona Mirror: Williams announces bid for Altoona school board
Altoona Mirror: Lawmakers still hashing out agency merger
NEPA
Standard-Speaker: Barletta asks Wolf for disaster declaration for March's snowstorm
Standard-Speaker: Fiscal problems take toll
Times-Tribune: Boil water advisory remains in effect for many in Lackawanna County
Times-Tribune: State considers changes to PSSA
Times Leader: Greg Skrepenak talks politics, life and making a positive contribution
South Central
Patriot News: Activists march in support of Muslims, immigrants in Harrisburg
Patriot News: Syria, Russia bring low-profile Tillerson into spotlight
Patriot News: Nuclear plant owners expand search for financial rescue
Carlisle Sentinel: Budget fight of cuts vs. taxes heads to Pennsylvania Senate
Carlisle Sentinel: Wolf administration sees state job cuts in House GOP budget
York Daily Record: Wagner keynotes for natural gas advocates in Harrisburg
York Dispatch: Debates, forums scheduled ahead of primaries
Lehigh Valley
Morning Call: Wolf administration says $1,500 could lose jobs under GOP budget proposal
Morning Call: Area congressman sign off on Syrian air strike
Reading Eagle: U.S. Rep. Charlie Dent talks to the Reading Eagle
Reading Eagle: U.S. Pat Meehan joins task force on sexual assault
North by Northwest
Centre Daily Times: A Trump national security adviser tapped as Singapore envoy
Centre Daily Times: Even on the Supreme Court, the new person gets the jobs no one else  wants
Centre Daily Times: Speaker Paul Ryan needs a win after health care loss
Erie Times-News: Nuclear plant owners expand search for financial rescue to Pa., other states
Erie Times-News: Sonney: Infrastructure key to Erie County job growth
Erie Times-News: Consultant: Erie urban farming plan must engage community
Opinion
Tribune Review: Nearing the 100-day mark, here's how Trump can retake control of his narrative: Charlie Gerow
Patriot News: What Trump really needs is a truth-telling court jester: Tony May
Patriot News:  Trump needs to face it – coal jobs aren't coming back. It's time to find a better way forward: Leanne Krueger-Braneky
Patriot News: Lawmakers should again reject harsh mandatory sentences that drive up costs and don't deter crime: Editorial
Tribune Review: The high cost of Trump
Tribune Review: Stifling free speech: Academia's 'Cone of Silence'
Bucks County Courier Times: A life lost; a life sentence
Inquirer: The state of Philadelphia? Decidedly mixed
Inquirer: Missile strike on Syria makes Trump even more of an enigma
Inquirer: Trump attack on trade deficit could harm economy
Delco Times: EDITORIAL: Public deserves details after police shootings