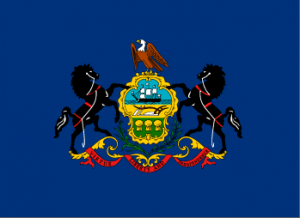 FiveThirtyEight launches their PA forecasts, the Dems target the SEPA seats and voters shift at the registration deadline. Enjoy this last bit of real news before we dive into April Fool's Day fun. Good morning politicos, here's the Playbook!
PoliticsPA Internship Opening: Summer 2016: PoliticsPA is seeking talented individuals to contribute to our news coverage throughout the Commonwealth.
FiveThirtyEight Launches PA Primary Forecasts: The popular website analyzes the Democratic and Republican Presidential primaries in the Keystone State.
Democratic Super PAC Targets SEPA House Seats: House Majority PAC reserves time in the Philadelphia media market.
Sabato: Trump Would Harm GOP's Shot to Win PA: Larry Sabato's Crystal Ball shifts PA from "Leans Democratic" to "Likely Democratic" because of Donald Trump.
Party Alliances Shift Ahead of Voter Registration Deadline: In 2016, 245,000 voters changed their party.
PA-Sen: McGinty Hugs Obama, Ties Toomey to Trump in Latest TV Ad (VIDEO): McGinty's latest commercial touts the endorsement of the President.
PA-Sen: Fetterman Releases Ad Criticizing Citizens United (VIDEO): Braddock Mayor and Democratic Senate candidate John Fetterman uses his community to showcase why he believes the Supreme Court ruling is damaging to democracy.
Guest Column: Casey Explains McGinty Endorsement: Pennsylvania's senior Senator reveals why he is supporting Katie McGinty's campaign.
Represent! PAC Announces Support For 18 Women Seeking PA Legislative Seats: The political action committee threw its support behind 18 female Democratic candidates across the commonwealth.
Statewide
State House Sound Bites: Attorney General Candidates Run on Reform
StateImpactPA: Pipeline protesters arrested, tree-occupation stretches into third day
StateImpactPA: GOP congressional candidates criticize pipeline
Pennsylvania Watchdog: Pennsylvania special education funding formula a relic
Philadelphia
Inquirer: Council bill offers tax break to food makers
Inquirer: Sorry, 42: City Council apologizes for Phillies' race-baiting of Robinson
Inquirer: March against big money in politics ebgins Saturday in Philly
Inquirer: Spending on Pa. Senate race is 4th highest in US
WHYY Newsworks: Kasich tries to reel in Pa. Republicans
WHYY Newsworks: Seeking congressional seat, Dan Muroff wants to curb Philly violence through gun control
WHYY Newsworks: Pa. Attorney General candidates run on reform
WHYY Newsworks: US commits extra $1 million annually to Heinz refuge for education, community connection
Philadelphia Business Journal: Kenney ready to evict PHL subcontractors paying below $12 minimum wage
SEPA
Pottstown Mercury: Sanders slams Clinton during campaign in Pennsylvania over Wall Street speeches
Bucks County Courier Times: BCCC Holds Roundtable Discussion On Sexual Assault For Area Administrators
Delco Daily Times: Route 926 bridge in Pocopson to close for 6 months starting in February
Daily Local News: PennDOT to replace Birmingham Road bridge in Birmingham
Pittsburgh
Tribune Review: Presidential candidate Sanders talks trade, social issues in Pittsburgh
Tribune Review: AG candidate Morganelli asks for ethics investigation into rival Shapiro
Pittsburgh Business Times: Peduto to speak at Smart City Challange forum
Pittsburgh Business Times: Election, stock market fuel business owners pessimism
WESA: Review Commission Calls For Changes In Council Rules And Pay
Southwest
Observer-Reporter: Voter party switching sows primary intrigue in Pennsylvania
Observer-Reporter: Elected official initiates class-action suit to recover mortgage recording fees
Observer-Reporter: Political scientist says polarization will shape 2016 election
Beaver County Times: Before rally, Sanders says trade agreements are 'rigged by corporate America'
Beaver County Times: Valli: 10th Legislative District residents should have 'somebody at the table'
NEPA
Standard Speaker: Heated election sours historic party changes
Times-Tribune: State bureau of laboratories in in danger of decertification
Times Leader: Former Luzerne County judge appointed to fill final vacancy on election board
Times Leader: Government, Law and National security program professors presented at the annual Conference of the Northeastern Political Science Association
Times Leader: Wolf: Higher minimum wage good for business, economy
South Central
York Dispatch: GOP delegates to be topic of York 912 meeting
Lebanon Daily News: Democrats vie to challenge US Sen. Pat Toomey
Patriot-News: Central Dauphin School District complied with these right-to-know requests
Patriot-News: Critics call UDI's proposed rate hike "catastrophic" for Pennsylvania's poor
Patriot-News: Pa. Supreme Court refuses to knock Ted Cruz off GOP presidential ballot over Canadian birth
Lehigh Valley
WFMZ: Local protesters head to Harrisburg to fight UGI rate hike
Morning Call: Governor Wolf visits Allentown to promote minimum wage increase
Morning Call: Kathleen Kane's hiring of Bruce Castor draws fire
North by Northwest
Go Erie: Public hears of plans for east Erie chemical plant project
Go Erie: Erie Port Authority revisits future of bayfront building
Centre Daily Times: Worth Township bridge construction to last into fall
Opinion
Inquirer: Stop attacking Obamacare and make it better
Inquirer: Is taxing Big Cheesesteak next?
Inquirer: Teamsters, other workers will suffer if soda tax becomes law
Observer-Reporter: Wolf correct to veto budget's fiscal code
Times Leader: Area's nonprofits sing for their supper; which one strikes a chord with you?
Patriot-News: Hillary blows up at Greenpeace activist, Clinton's two-front battle in New York and #NoTrump's Wisconsin stand
Patriot-News: The GOP loyalty oath has been shredded – what's a Republican voter to do?
Post-Gazette: New budget battle: Wolf and Republican leaders just never quit
Blogs
LuLac Political Letter: Trump Riles Them Up, Unwittingly Takes on Third Rail: Abortion
Citified: There's Going to Be a Big Philly Stop-and-Frisk Town Hall
Citified: Philly Politicians to Battle It Out in Rare Libel Suit Brought Over Campaign Flyer
Commonwealth Foundation: Wolf's False Choice
PA Budget & Policy Center: An Explanation of Our Infographic, "Especially for Poor Districts, Drastic Corbett Education Cuts Remain"