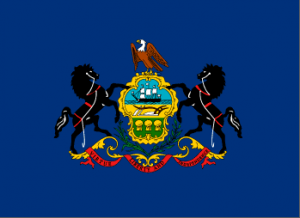 Stack tries his hand at damage control after Wolf orders an investigation, Costello gets a Democratic challenger, Addis focuses on the Senate, DSCC targets Kelly and Barletta, and the rules that will make or break GOP candidates looking to replace Marino.  Good morning politicos, here's the Playbook!
Stack Battles, Concedes Allegations During Awkward Press Conference: Damage control protip: always have a clear path to the exit.
Business Executive and Veteran Looks to Challenge Costello: Democrat Chrissy Houlahan announced she is running to challenge Congressman Ryan Costello in 2018
Wolf Orders Investigation into Stack: Governor Tom Wolf's Office of Inspector General is investigating Lt. Governor Mike Stack's treatment of employees.
Paul Addis Focuses on Senate Bid: The southeast Republican informed PoliticsPA that he is focusing on a bid to challenge Senator Bob Casey in 2018.
DSCC Targets Kelly and Barletta in Google Ads: The Democratic Senatorial Campaign Committee is launching a preemptive strike against two possible opponents to Sen. Bob Casey.
An Insiders' Guide to the GOP Nominee Selection for the PA-10 Special Election: These rules will make or break the Republican hopefuls scrambling to prepare for a special election to replace Rep. Tom Marino.
Reader Poll: Which GOP Commonwealth Court candidate will be the top vote-getter?: The primary is fast approaching and we want to know who you think will get to top spot.
Statewide
Capitolwire: Lt. Gov. apologizes for 'Stack Moment'-prompted OIG investigation.
State House Sound Bites: Stack apologizes for using harsh words "in anger or stress" with staff
State House Sound Bites: PA's return on pension investments is lower than national averages
StateImpact: Environmental group fined by state ethics commission
Philadelphia
Inquirer: Supreme Court shoots down latest Cosby appeal
Inquirer: Redevelopment Authority rejects deal that would have sold W. Philly community garden to a developer
Inquirer: Sinkhole repaired, Center City street reopens
Inquirer: Don't let tax reform hurt nonprofits
Inquirer: Has a bold reform plan helped to shrink Philly's prison population?
Inquirer: Stack apologizes for an occasional 'Stack moment'
Inquirer: Local attorney hopes to become nation's first male trans judge
Philadelphia Magazine: City Controller: Staffing Shortage Could Cause Schools to Lose Funding
Philadelphia Magazine: SEPTA Says It's Getting Tough on Panhandling
Philadelphia Magazine: John Legend Teams With Penn on Criminal Justice Reform
WHYY Newsworks: Five months after finding sanctuary in Philly church, he's still living in limbo
WHYY Newsworks: Why hosting the NFL Draft will cost Philadelphia $500,000
WHYY Newsworks: Judge sets trial date for Philadelphia's District Attorney
WHYY Newsworks: Immigrant children are using comic books to express their fears of deportation [photos]
WHYY Newsworks: Understanding how to navigate Pa.'s right-to-know law
NBC10: Philadelphia Murder Rate Up 20 Percent, Police Say
KYW Newsradio: New Political Action Committee For Formerly Incarcerated Endorses DA Candidate
SEPA
Bucks County Courier Times: State lawmakers, Bucks and Montgomery county residents say 'yay' to radar for local police forces
Bucks County Courier Times: Gerrymandering the topic of Pennridge forum
Buck County Courier Times: Meeting at Parx in Bensalem, lawmakers from Bucks make case for casino impact fees
Delco Times: Lt. governor Mike Stack apologizes for angry remarks amid investigation
Delco Times: Ridley OKs $1.4M renovation of athletic complex
Pittsburgh
Post-Gazette: Stack apologizes for treatment of State Police Troopers
Post-Gazette: Governors group calls for alcohol safety programs for bikers, walkers
Post-Gazette: Public sounds off on DEP's environmental justice policies
Post-Gazette: Pittsburgh mayoral debate to be televised on WTAE
Tribune Review: Launderer connected to UPMC mold crisis sues 2 insurers for denying coverage
Tribune Review: Somerset Coal mine to open in June, hiring workers
Southwest
Altoona Mirror: Reassessment group preps challenge
Altoona Mirror: Lt. governor apologizes for angry comments
Altoona Mirror: Hollidaysburg mayoral options set forum
Beaver County Times: Shell releases sustainability report, says it spent $193 million on 'social investments'
Beaver County Times: Garen Fedeles 'up and running' as new Beaver County solicitor
NEPA
Standard-Speaker: Weatherly Area teachers contract extended
Standard-Speaker: Barletta awarded leadership award
Standard-Speaker: New regime: Kay out, O'Donnell in as Hazleton Area board president
Times-Tribune: Widening Interstate 81 far off
Times-Tribune: Commonwealth Court rejects commissioner's appeal to remove key staffers, recognize him as minority
Times Leader: State lawmaker joins 2018 GOP primary field for U.S. Senate
South Central
Patriot News: Pa.'s lieutenant governor: the perks, the duties and the people
Patriot News: Lt. Gov. Mike Stack: 'I've said things in anger and stress and frustration that I wish I hadn't'
Patriot News: Wolf not commenting on the pending investigation into the lieutenant governor
Patriot News: Pa. congressmen discuss Trump, Syrian bombing and more
Lancaster Online: 99 days in office: 5 takeaways from Scott Martin's LNP editorial board meeting
Lancaster Online: Lt. Gov. Mike Stack: 'I promise to the brave men and women who protect us, we will do better'
Lancaster Online: 2 Democrats launch bids to challenge Rep. Meehan in 2018
Lehigh Valley
Morning Call: Salisbury judge will remain on ballot, Commonwealth Court affirms
Morning Call: Another challenger for Bob Casey as he touts fundraising figures
Reading Eagle: Dan Muroff running for Congress in 7th District
Reading Eagle: Liam Migdail-Smith: Looking forward to next chapter
North by Northwest
Erie Times-News: Toomey talks Syria, Gorsuch, Trump proposals that could hurt Erie
Erie Times-News: Badams recommends all Erie schools reorganize in '17-18
Centre Daily TImes: Goreham, Rudy endorse Cantorna for DA
Opinion
Patriot News: It's time for Pa. to scrap the Lieutenant Governor's office: Editorial
Patriot News: If you ever get *this* angry, you may have had a #StackMoment: John L. Micek
Tribune Review: Citizens' cellphones at U.S. borders: Pass get-a-warrant bill
Altoona Mirror: Gorsuch selection good call
Bucks County Courier Times: Recovering needed control
Lancaster Online: Everyone, every organization, needs to be held accountable, and that includes municipal authorities
Inquirer: Suburbs could learn a thing or two about property taxes from Philadelphia
Inquirer: Harm reduction the first step in addressing opioid crisis
Daily News: Locked up for being poor: Can next Philly DA fix the bail mess?
Daily News: DN editorial: Discussion program offers food for thought – over a meal
Post-Gazette: Holding pattern: Job figures are blah, but it's too soon to judge Trump
Post-Gazette: Pennsylvania's empty promise on property tax reform
Reading Eagle: Editorial: Trustee's email goes to heart of PSU's Sandusky problem