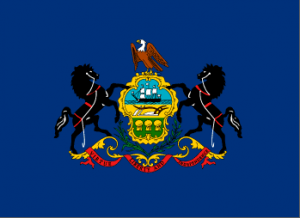 Naughton and Santarsiero duel over direct mail pieces, Senate Dems back Clinton and Toomey remains against Garland's confirmation. Good morning politicos, here's the Playbook!
PA-8: Dems Clash Over Direct Mail Pieces: Shaughnessy Naughton and Steve Santarsiero trade accusations.
PA Senate Democrats Endorse Clinton: Over a dozen State Senators are backing the front-runner.
PA-Sen: Toomey Unconvinced by Garland After Meeting: The Senator feels the SCOTUS nominee would not be a strong check on executive power.
PA-8: Q1: Fitzpatrick Raises $450,000: The incumbent's brother releases his first fundraising numbers.
Thirteen DAs Support Rafferty for Attorney General: The AG candidate secured the endorsement of over a dozen District Attorneys.
PA-Sen: McGinty Touts Obama, Biden Endorsements Again (VIDEO): The party-favorite is doubling down on her biggest endorsements.
PA-Sen: PA Builders Association Back Toomey: The incumbent GOP Senator picked up a labor endorsement.
Cruz to Campaign in Erie: The Presidential candidate is stopping in Northwest PA.
Legislative Elections Update
SD-13: Republican candidate and Lancaster County Commissioner Scott Martin released his first TV ad.
The 13th district consists of parts of Lancaster County.
Statewide
State House Sound Bites: Medical Marijuana To become Law In PA
State House Sound Bites: Bill Would Seal Minor Offenses After Crime-Free Period
Capitolwire: House, Senate majorities send to Wolf Fiscal Code bill with new education funding formula, PlanCon borrowing
PLSReporter: Path cleared for medical marijuana legalization to become law
PLSReporter: Quest for on-time FY 2016-2017 budget begins
PLSReporter: VIDEO: Lawmakers unveil legislation to seal criminal for minor offenses
PLSReporter: VIDEO: Lt. Gov. Stack makes push for two-year budget
Philadelphia
KYW: Medical Marijuana Bill Now Heading To Governor Wolf's Desk
Inquirer: City employees take DROP money and return
Inquirer: Pre-K panel votes to support soda tax
WHYY Newsworks: $3.5 million grant to help Philly cut inmate population, launch other prison reforms
WHYY Newsworks: House and Senate panels reject oil and gas regulations
WHYY Newsworks: Pa. House overhauls limits on filing claims of childhood sex abuse
SEPA
Pottstown Mercury: Montgomery County sign lawsuit dismissed, plaintiff to refile
Daily Local News: East Whiteland unveils new $7 million public works facility
Bucks County Courier Times: Newtown Township joins list of municipalities that want taxes now going to Philadelphia
Pittsburgh
WESA: Supporters Show Up In Oakland For Trump's Pittsburgh Stop
WESA: Chelsea Clinton Makes Stop At Hillary's East Liberty Campaign
Early Returns: Trump appeals to Pittsburgh's industrial past, natural resources during otherwise familiar speech at convention center
Early Returns: New Kasich presidential campaign ad focuses on his McKees Rocks roots
Tribune Review: Trump promises to bring all lost manufacturing jobs back to Pittsburgh
Tribune Review: Pennsylvania House OKs medical marijuana bill, Gov. Wolf will sign it
Southwest
Beaver County Times: Presidential candidate Donald Trump promises to win and keep winning during Pittsburgh rally
Beaver County Times: Trump protesters, supporters meet face-to-face at Pittsburgh rally
Johnstown Tribune-Democrat: From Hero to Heroin: Toomey targets region to tout work in 'Saving Lives'
NEPA
Times Leader: Luzerne County taxpayers continue shoring up employee pension fund for years
Times Leader: Sen. Pat Toomey applauds passage of Addiction and Recovery Act
Times Leader: ABLE Act unanimously approved; governor will sign
Citizens Voice: County council rejects motion to disband manager search team
Citizens Voice: Local attorney named vice chairman of Pa. Supreme Court's disciplinary board
Pocono Record: Pa. bill promotes use of national motto 'In God We Trust'
South Central
Patriot News: 'He changed hearts and minds' Pa. Senate Leader pays emotional tribute to medical marijuana bill's sponsor
Patriot News: House, Senate cast veto-proof majority votes on school funding bill
Patriot News: Gov. Tom Wolf 'proud and excited to sign' medical marijuana bill
Patriot News: A Pennsylvania Attorney General Debate in pieces: Should you ever play judge?
Carlisle Sentinel: County Commissioners hear proposed plan for new radio system
York Daily Record: Tax increase to benefit York County
York Dispatch: Wagner bill would give some criminals a clean slate
Lancaster Intelligencer: Study finds 8 year gap of life expectancy between rich and poor in Lancaster County
Lebanon Daily News: Lebanon County Republicans to hold Annual Spring Dinner
Lehigh Valley
Reading Eagle: State House approves key measure to aid victims of child sex abuse
WFMZ: Changes proposed for Pennsylvania budget process
WFMZ: Pennsylvania to be 24th medical marijuana state
Express Times: How they voted: Lehigh Valley's delegation 9-4 for medical marijuana
North by Northwest
Centre Daily Times: Former Penn State President Bryce Jordan dies
Onward State: President Barron to be subpoenaed in Paterno v. NCAA lawsuit  
Erie Times-News: Hundreds cheer Ted Cruz at Erie campaign stop
Erie Times-News: LECOM, Erie schools agree to tentative tax deal
Opinion
Patriot News: In Harrisburg- common sense prevails with approval of medical marijuana bill
Patriot News: Joe Peters is the most qualified candidate for Attorney General
Patriot News: Ted Cruz goes delegate hunting
Morning Call: is the system to select delegates for the GOP convention 'rigged'
Post-Gazette: Joe Sestak for the Dems: He'd be the toughest challenger to Pat Toomey
Tribune Review: More TSA insecurity: A gaping hole
Times-Tribune: Emails show panel strayed
Citizens Voice: Terms of financial settlements should be fully disclosed
Pocono Record: Keep Politicians out of Medical Care
Daily News: Soda tax would benefit kids, which is why we support it
Inquirer: Philly's AWOL delegation can bet on reelection
Blogs
Commonwealth Foundation: Five Ways to Avoid Another Budget Hostage Crisis
2 Political Junkies: "Ted" Cruz And How Wrong He Is About Climate
Keystone Crossroads: Pa. charter schools law 'worst in US' auditor general says
Citified: MacArthur grant Will Give City Tools To Cut Prison Population