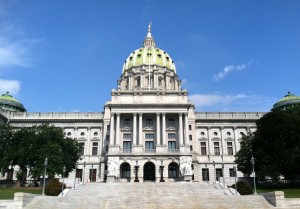 It's been one heck of a week politicos. See you today in Harrisburg for PLC. Good morning, here's the Buzz.
Don't forget to check back late for the Ups & Downs.
Preview: 2013 Pa. Leadership Conference: Before there was such a thing as the Tea Party, Pa. movement conservatives organized the Pennsylvania Leadership Conference back in 1989. Here's what, and who, to watch as they gather in Camp HIll this weekend for their annual meeting.
MCall/Muhlenberg Poll: 89% Support Background Checks: One day after the U.S. Senate voted down a proposal to expand background checks for firearms purchases, a Muhlenberg College poll commissioned by the Allentown Morning Call shows 89% of Pa. adults support such a move.
Toomey Brings in $514K+ in Q1: Sen. Pat Toomey maintained a solid fundraising pace the first quartering, bringing in almost $515,000. Sen. Bob Casey, fresh off his re-election, raised $44,000.
Statewide
AP: PA Supreme Court upholds jury commissioner decision
AP: Courts to study legal problems of older people in PA
AP: Pipeline plans suspended; would have passed through midstate
Capitolwire: Leach offers Corbett list of 5 confirmable GOP judges for Supreme Court vacancy
Capitolwire: Job search requirements for unemployment benefits approved
Capitolwire: Some House Republicans want Turnpike elimination included in transportation funding package
PA Independent: How old is your justice? PA considers bumping up judge's retirement age
Philadelphia
Daily News: City sues former Sheriff Green and his buddy
Inquirer: Senate rejects Toomey-Manchin gun bill; "Shameful day" says Obama
Philly Clout Clarke calls for extension of homestead deadline
Philly Clout: Clarke walks back BRT comment
KYW: Philadelphia City Council holds neighborhood budget hearings
Big Tent: Pa GOP appoints new executive director
WHYY Newsworks: Fuomo affecting property taxes
WHYY Newsworks: PA looks at extending judicial retirement age to 75
CapitolInq: Who supported/ opposed Toomey background check plan
SEPA
AP: Philadelphia abortion clinic worker: I saw 10 babies breathe
Delco Times: Security measures beefed up for Broad Street Run, U.S. Open
Souderton Independent: Redevelopment of old Souderton High property could include hotel, additional restaurants
Colonial News: Conshohocken council rejects Wawa zoning in 6-1 vote
The Advance: For the Council Rock School District, every day is Earth Day
Daily Local News: Great Valley restarting language program next week
Pittsburgh
Tribune-Review: Beaver community college looking at Butler school as possible merger partner
Tribune-Review: Sen. Casey wants to add illnesses beyond Legionnaires' to VA reporting requirements
Tribune-Review: Councilman undeterred by decision on South Side
KDKA: CalU sued by National Guardsman from Canonsburg
Early Returns: Schools, development in mayor's race
Early Returns: Peduto team: Wagner left state "mess"
Post-Gazette: U-Haul survey suggests young are moving to Pittsburgh
Post-Gazette: Ex-Pittsburgh police chief Harper planning to plead guilty in early summer
Post-Gazette: Transit backers rally in Downtown Pittsburgh
Post-Gazette: Pennsylvania harness racing commissioner resigns, saying his employer forbids him to serve
Southwest
Altoona Mirror: Rescuers search ruins of Texas fertilizer plant
Altoona Mirror: Celebrating good works
Altoona Mirror: Toomey's gun bill rejected
Altoona Mirror: Boston official: Video footage shows suspect
Altoona Mirror: Housing authority accused of hypocrisy
Beaver County Times: Ohioville seeks grant for playground improvements
Beaver County Times: Ambridge School Board debates hiring
Observer-Reporter: City of Washington phones down; temporary line working
Observer-Reporter: Tree removal angers Summerbrooke residents
Observer-Reporter: White blasts DEP over response to water impoundment
Observer-Reporter: Commissioners to act on several motions
Johnstown Tribune-Democrat: 5 things to know for today in Pennsylvania news
Johnstown Tribune-Democrat: Route 219 at top of wish list: Local leaders seek north improvements
NEPA
Pocono Record: Pike candidate: Esscuuse me, ossifer, can ya fetch me sum beer?
Pocono Record: New water system nears completion
Pocono Record: Homeless get access to housing, day center in Monroe County
Standard Speaker: Hazleton's legal defense fund runs dry
Citizens Voice: County officials working toward ending flood authority litigation
News Item: Smoogen is candidate for school director in Shamokin Area district
Times-Tribune: Senate approves school safety bill
Times-Tribune: State education secretary discusses school funding
Times-Tribune: Carbondale school board debates how to settle teachers' contract
Times-Tribune: Lackawanna faculty union receives statewide support
The Times Leader: Gas co. gathers public input on local pipeline expansion plans
The Times Leader: County public defender fired
The Times Leader: Casey pushes recipe for eatery tax relief
The Times Leader: County pension payouts approved for 27
Lehigh Valley
Morning Call: Former state Rep. Brennan paroled in assault, DUI case
Morning Call: County commissioner explores dissolving LCA
Morning Call: Northampton County sheriff's deputy faces criminal charges over gun permit application
WFMZ: Mothers rally behind Toomey on guns
WFMZ: Plans suspended for 120-mile gas pipeline in Pa.
WFMZ: Mayoral candidate: I won't perform marriages until all can marry
WFMZ: Businesspeople served economic news by Corbett cabinet member
WFMZ: Allentown School Board discusses LCCC, LCTI proposed budgets
Express Times: Northampton County sheriff's deputy charged in leaking license-to-carry application
Express Times: Easton Mayor Sal Panto Jr. says he won't apply again for school superintendent job
Express Times: Northampton County Council hires attorneys to pursue Gracedale debts
Express Times: Longtime Stockertown Mayor Sherman Metzgar remembered for generosity
Express Times: J. William Reynolds says he won't officiate weddings until same-sex couples can marry
Express Times: Lehigh Valley Chamber of Commerce supports proposed Allentown water and sewer system lease
Express Times: Lehigh Valley advocates push for Medicaid expansion
Express Times: Two Northampton County farms to be protected from development under state program
South Central
York Dispatch: 95th District candidates on cooperation
York Dispatch: York City mayoral candidates on crime
York Dispatch: Special education funding bill heads for Gov. Corbett's desk
Lancaster Intelligencer/Era: Economy to 'tick up,' state official tells Lancaster Chamber
Lebanon Daily News: Lebanon County Earned Income Tax Bureau named as defendant in lawsuit
Roxbury News: Political Action Committee created to support Harrisburg City candidates
Roxbury News: South Allison Hill Homeowners and Residents Association: City Council Candidates Forum
Carlisle Sentinel: Cumberland County department heads express mission review concerns
Carlisle Sentinel: Fallen Harrisburg soldier to be buried Saturday
Carlisle Sentinel: Pa. courts to study legal problems of older people
Harrisburg Patriot News: Toomey returns to work and midstate after bitter gun defeat
Harrisburg Patriot News: Carlisle School Board cuts operating costs, increases capital expenses in four-year HACC agreement
Harrisburg Patriot News: Will Central Pennsylvania groups have a place in the Great American Outdoor Show?
Harrisburg Patriot News: Northern York County School Board votes down funding holiday for health care costs
Harrisburg Patriot News: Some Cumberland County managers apprehensive about state program
Harrisburg Patriot News: Stonewall Dems endorse Miller for Harrisburg mayor
Harrisburg Patriot News: PA Supreme Court OKs plan for county jury commissioner elections
North by Northwest
AP: Pa. firm opens new plant to treat Marcellus waste
Williamsport Sun Gazette: Mayor's wish list of capital projects to face scrutiny
Centre Daily Times: Corbett's lawsuit to overturn Penn State sanctions set for May
Opinions
Express Times: National debate on background checks is far from over
Reading Eagle: Toomey shouldn't stop trying to reach across the aisle
Morning Call: Alan L. Jennings: Keep payday lending firms out of Pa.
Harrisburg Patriot News: Latest scandal should be the end of the road for Pa. Turnpike Commission
Times-Tribune: NP strike bigger farce than most
Centre Daily Times: Judge's order a costly lesson
Tribune-Review: The gun-control votes: 'Shame' & shamelessness
Blogs
Keystone Politics: State Laws Mostly to Blame for Municipal Pension Woes, So State Should Help Pay
Keystone Politics: Democrats Join Republicans in Pennsylvania War on "Welfare"
Keystone Politics: Nobody Believes in Free Markets
Keystone Politics: Daylin Leach on the Filibustered Background Checks Bill
Keystone Politics: To Win on Guns, Keep Doing Politics
Keystone Politics: More Housing for Pittsburgh is a Statewide Economic Policy Issue
Keystone Politics: "The Can of Justice"
Keystone Politics: Thank Bob Casey For Voting With Us on Gun Safety
Jon Geeting: First Look: Bethlehem's Hoover-Mason Trestle Park
Jon Geeting: Fund Hoover-Mason Trestle With Value Capture
Keystone State Education Coalition: Pennsylvania Education Policy Roundup for April 18, 2013: "Hite said enrolling a student in the Philadelphia Virtual Academy would cost the District about $4,100 less per child, per year than the state-approved cybers"
Commonwealth Foundation: Talking Pensions with Rep. Gabler
Lu-Lac Political Letter: The LuLac Edition #2403, April 18th, 2013
PennPatriot: Laborer robbed Pa. drug store with fake bomb
PennPatriot: West Penn Power to spend $110M on Pa. upgrades – WJAC Johnstown
PennPatriot: Pa. medical clinic cited for health violations
PennPatriot: Pa. city low on funds to defend immigrant law
PennPatriot: Pa. courts to study legal problems of older people
PennPatriot: Guide to the Philadelphia abortion doc murder case
PennPatriot: Christie says tax refunds would cost $183M
PennPatriot: Pa. high court upholds jury commissioner decision
PennPatriot: NJ unemployment rate drops to 9 percent
PennPatriot: Christie: Grants for homeowners may take months
PennPatriot: PA abortion clinic worker: I saw 10 babies breathe – KTAR.com
PennPatriot: Pa. city low on funds to defend immigrant law
PennPatriot: Pa. high court upholds jury commissioner decision
PennPatriot: Pa. firm opens new plant to treat Marcellus waste
PennPatriot: Remains of possible explosives at Pa. drill sites
John Hanger: Walmart Accelerates Becoming A Renewable Energy Company: 300 Solar Systems Today & Enough Renewable Power For 700,000 Homes By 2020
John Hanger: Shock Fact: EIA Projects US Per Capita Energy Use Will Fall To 1963 Levels
Lehigh Valley Ramblings: Reibman Snags Laborers Local Endorsement
Lehigh Valley Ramblings: NorCo Sheriff Will Seek More Personnel
Lehigh Valley Ramblings: Shouldn't Northampton County Take Care of Its Buildings?
Lehigh Valley Ramblings: MIA McClure
Lehigh Valley Ramblings: Deputy Who Leaked LTCF Application Faces Felony Prosecution