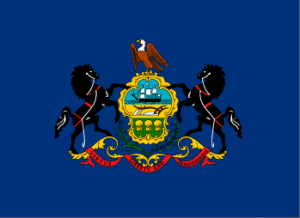 McGinty ties Sestak, Bernie visits PSU and we break down the latest fundraising reports. Good morning politicos, here's the Playbook!
PA-Sen: Monmouth Poll: McGinty 39% Sestak 39% Fetterman 4%: McGinty surges late in the Senate Democratic primary.
PA-Sen: Q1: Digging into Sestak, McGinty Financial Reports: John Fetterman has yet to file his 2016 Quarter 1 fundraising reports with the FEC.
Sanders Rocks Penn State (VIDEO): The presidential candidate received a very warm welcome at the state university.
PA-9: Q1: Shuster vs. Halvorson Fundraising Breakdown: Congressman Bill Shuster is out-raising and out-spending and his opponent, Art Halvorson, in an effort to defend his seat.
Shapiro Closes By Emphasizing Future in New TV Ad (VIDEO): The Attorney General hopeful asserts he is the future of PA progressive politics.
PA Could Make Trump the GOP Nominee (VIDEO): A look at the math from MSNBC's Steve Kornacki.
PA-9: Shuster Reveals Closing TV Ad (VIDEO): The Congressman hopes to fend off his conservative challenger Art Halvorson.
Legislative Elections Update
SD-31: Former NFL Player and Republican candidate Jon Ritchie is blasting his opponent State Rep. Mike Regan for comments he made in his closing statement. Regan said that teachers supporting Ritchie's campaign would be like Al Qaeda supporting George W. Bush.
"Referring to teachers and my campaign as Al Qaeda in the race for the 31st State Senatorial District is outrageous and shows just how desperate Rep. Regan has become," Ritchie said. "This race should be about the issues facing our Commonwealth and we should be able to have a civil debate. Unfortunately, Rep. Regan's attempts to demonize teachers and my campaign have gone too far.
The 31st district includes parts of Cumberland and York Counties.
HD-202: Jared Solomon's won the endorsement of Teamsters Local Union 115 and the Pennsylvania Professional Fire Fighters.
"I am extremely proud to have earned the endorsements of the Teamsters Local Union 115 and the Pennsylvania Professional Fire Fighters," Solomon responded. "These two labor unions trust that I will fight for them in Harrisburg, and I will not let them down."
The 202nd district consists of part of Northeast Philadelphia.
Statewide
State House Sound Bites: Cruz stumps in Hershey
PA Independent: Court affirms right to ridesharing in Pennsylvania
PA Independent: Philadelphia school official suing Gov. Wolf over demotion
StateImpactPA: Pipeline task force was frustrating process, says industry rep.
Capitolwire: Judge upholds removal of constitutional question on April 26th ballot
Capitolwire: IFO issues new analysis of Wolf's FY2016-17 revenue, minimum wage hikes
Capitolwire: Judge weighs removing referendum on judicial retirement age
Philadelphia
CapitolInq: Poll: Sestak, Mcginty in dead heat in Pa. Senate race
WHYY Newsworks: Cruz brings campaign to Hershey
WHYY Newsworks: Masterman's mock GOP primary offers food for thought – and support
WHYY Newsworks: Philly DA, Committee of Seventy vow to fight Election Day improperties
WHYY Newsworks: Dozens pack City Council budget hearing to debate soda tax
Inquirer: How Pa. delegates could be wild card at GOP convention
SEPA
Delco Daily Times: Bernie Sanders adds more campaign stops in Pennsylvania
Pottstown Mercury: Montgomery County Commissioners to host six events across county in May
Pottstown Mercury: Bernie Sanders coming to Oaks on Thursday
Pottstown Mercury: Judge mulls pulling ballot question from next week's primary
Pittsburgh
WESA: Search Warrants Served In Probe Of State-Created Authority
WESA: Candidates Add More PA Campaign Stops
City Paper: VIDEO: Former President Bill Clinton speaks to educators in Pittsburgh
Post-Gazette: State audit questions costs at Pa. Coalition Against Domestic Violence
Post-Gazette: Pa. attorney general won't seek hearing on leaked FBI recordings
Tribune Review: Investigators serve search warrant on Pittsburgh ICA headquarters
Southwest
Altoona Mirror: Sociology textbook draws ire
Altoona Mirror: Starr critical of abuse report
Beaver County Times: Third key piece brought to new facility at Bruce Mansfield Power Plant
Beaver County Times: From humble beginnings, W.D. Wright builds impressive operation — and it's not finished yet
Beaver County Times: Hillary Clinton to return to Pittsburgh
NEPA
Times Leader: Pittston City Council members approve buyout program for flood damaged properties
Times Leader: Aaron Kaufer touts issues not party politics at Global Landscapes Conference
Times-Tribune: LGBT activist urges county ordinance
Times-Tribune: Lackawanna County Prison Board debates whether to increase number of parole violators
Times-Tribune: Region's air quality improving, study says
South Central
York Dispatch: York-area air ranks among worst in country
York Dispatch: Chief: York City's interactive crime map will increase transparency
York Daily Record: Donald Trump coming to Pa. Farm Show complex
Carlisle Sentinel: Lots of claims in 31st senatorial race
Patriot-News: Trump no stranger to Harrisburg; he sued the state and lost
Patriot-News: With 'Mothers of Murdered Children,' Clinton pledges police reform, gun control in battle scarred city
Lehigh Valley
Morning Call: Lehigh Valley air is still bad but improving, report says
Morning Call: DA: Teachers have right to use force to protect themselves against unruly students
Capitol Ideas: Sestak, McGinty tied in new Senate poll
WFMZ: Kathleen Kane will not seek hearing on leaked FBI recordings
Reading Eagle: Bernie Sanders to speak in Reading
North by Northwest
Erie Times-News: Erie City Council OKs use of grant funds for Little Italy
Williamsport Sun-Gazette: Marino slams Obama's moves on immigration
Centre Daily Times: John Kasich to visit Penn State Brandywine
Opinion
York Dispatch: Shocking case of political bipartisanship
York Daily Record: Folmer: Medical cannabis a long time coming
Carlisle Sentinel: Goldberg: Higher minimum wage problematic
Carlisle Sentinel: Reagan: Paul Ryan's 20-20 vision
Patriot-News: Analysis: In Hershey, Ted Cruz warns of November 'bloodbath' if Trump wins the GOP nod
Lancaster Intelligencer: Lancaster couple dines at George Clooney's house with Hillary Clinton
Lancaster Intelligencer: At Hershey rally, Cruz says Trump overconfident about chances in Pennsylvania primary
Erie Times-News: Pitts: Conservatives lie because truth indefensible
Daily News: McGinty for Senate; Zappala for AG; Evans for Congress
Post-Gazette: Inspect the shove: Review the city officer's actions at Trump rally
Post-Gazette: Loose in Libya: A volatile country becomes even more chaotic
Blogs
Citified: Lack of diversity in some City departments is "problematic"
Citified: Is Josh Shapiro the guy to clean up Kathleen Kane's Scandal Ravaged Office?
Keystone State Education Coalition: Follow the Students First PAC Money
Lu-Lac Political Letter: Connolly, Geissinger square off in WYLN TV 35 debate
Lu-Lac Political Letter: Eyewitness Newsmakers
2 Political Junkies: Some surely, unsolicited advice
Lehigh Valley Ramblings: Independents: You can still vote in next week's primary