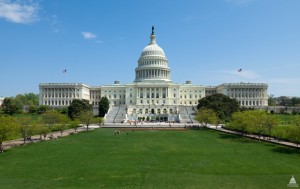 We've got updates from the battle for Congress, Pittsburgh mayor and even President. Good morning politicos, here's the Buzz.
Rand Paul wins PLC Presidential Straw Poll: Kentucky Senator Rand Paul has emerged as a favorite among Pennsylvania's conservative activists. By a wide margin, he won the presidential straw poll at this weekend's Pa. Leadership Conference.
Rothfus Camp Wins Gold, and Other PA "Pollie Award" Winners: The results are in, and Pa. campaign consultants had a good year at the Pollies, awarded by the American Association of Political Consultants. Campaigners for Keith Rothfus and Matt Cartwright took gold, plus we have all the other Pa. winners.
NRCC Moves to Protect Fitz, Ding Dem Opponent: Most observers agree Rep. Mike Fitzpatrick is the most vulnerable congressman in Pa. The NRCC agrees: they added him to its incumbent protection program, and took a swing at his first announced Democratic opponent.
Another Bio Ad for Wagner in Pittsburgh (With Video): One of the perks of being the frontrunner in a race: you can sit back and air positive television ads. Pittsburgh mayoral hopeful Jack Wagner talks about his Vietnam service in his latest television spot.
Statewide
StateImpact PA: DEP Proposes Increasing Gas Well Permit Fees
State House Soundbites: Lawmaker says PA's schools should have anti-allergy injectors
State House Soundbites: Bill would allow lawmakers to decide tax-exempt status
Philadelphia
AP: Guide to the Philadelphia abortion doc murder case
CBS3: Local officials question strength of current immigration laws following Boston bombings
WHYY Newsworks: Joe Sestak — candidate for what, from where?
WHYY Newsworks: Despite grim district budget, Philadelphia charters seek 15,000 new seats
Commonwealth Confidential: Is that legislative movement we see on liquor privatization?
Commonwealth Confidential: Is there a loophole in the Delaware loophole bill?
Heard in the Hall: Nutter lauds early crime numbers
Heard in the Hall: Moving days for the Parking Authority
Heard in the Hall: Philadelphia voices interest in the 2024 Olympics
Heard in the Hall: DA Williams blasts Nutter on budget
Heard in the Hall: AVI-Inspired bills pass first test
PhillyClout: Could Philadelphia host 2024 Olympics?
PhillyClout: City Council to hold 2nd neighborhood budget hearing
PhillyClout: State legislators give property-tax bills preliminary OK
Inquirer: Wissahickon board approves school redistricting
Daily News: 3,300 rally over wages, schools
SEPA
AP: Rep. Wheatley gets nod from Pittsburgh blacks
AP: Bill moves cover universities with Pa. records law
AP: Green Party plans protests across Pa. on Earth Day
AP: 5 Things to know for Monday in Pa. news
Bucks Local News: State Rep. Steve Santarsiero call for vote on bipartisan bill to require universal background checks for firearms in Pa.
Daily Local News: Sources say District Justice Arnold to be charged
Delco Daily Times: Former Rep. Joe Sestak raises $460,000, but for what?
Pittsburgh
WTAE: Peduto Pledges to take Pittsburgh to new level as mayor
WTAE: Pittsburgh Mayor's Race: Black Voters
Early Returns: Wagner Ad: Vietnam, public services
Post-Gazette: Protesters occupy DEP's Washington Landing Office
Post-Gazette: Pa. legislative package would boost funding for natural-gas vehicle conversions
Post-Gazette: Supreme Court agonizes over adoption case
Tribune Review: Pittsburgh celebrates new beginning for Hill District public housing
Tribune Review: 8 vying for Democratic nomination for Fayette County treasurer
Southwest
Altoona Mirror: Compensation law raises questions
Altoona Mirror: Frankstown, Tyrone armories moving closer to being sold
Johnstown Tribune-Democrat: Pa. may limit abortion coverage
Beaver County Times: Bill would put universities under Pa. records law
NEPA
Standard Speaker: Luzerne works to end flood authority litigation
Standard Speaker: Elections director: Influx of applications forced shortcuts
Standard Speaker: NEPA foreclosures rocket in Q1
Times-Tribune: Project to replace 6,000 feet of Dunmore water mains to begin this week
Times-Tribune: Candidates for Dunmore council share ideas to make the borough better
Citizens Voice: Looking for a job? Join the club
Citizens Voice: Protesters to rally outside DEP office
Wayne Independent: Missing fisherman found dead
Pocono Record: Proposal: Lead feet could fund Pennsylvania road repairs
Pocono Record: FAA furloughs kick in, some flight delays appear
Pocono Record: Today is deadline to register to vote in May primary
Lehigh Valley
Morning Call: Lawmakers try to close corporate tax loopholes
Morning Call: In Northampton County executive race, Gracedale rules
Pennsylvania Ave: Mayors Pawlowski, Callahan among local contributors to Obama inauguration
Pennsylvania Ave: Casey on Morning Joe: Background checks 'not nearly enough'
Express Times: Lehigh County executive primary includes old political foes
South Central
The Sentinel: Cumberland Valley School Board approves budget with tax increase
The Sentinel: South Middleton School Board agrees to outsource cafeteria management
Lebanon Daily News: Dent, Gerlach update constituents in Lebanon town-hall meeting
Lebanon Daily News: Richland Borough Council close to approving property code
Patriot-News: PA Right to Know Law: Bill expanding universities' open records requirements passes House committee
Patriot-News: Susquehanna Twp. School Board approves four-year contract for superintendent
Patriot-News: Derry Twp. School Board passes budget with no tax increase
Patriot-News: Middletown Area School Board reaffirms approval for Central Penn Car Show with pinup girl contest
Patriot-News: Cumberland Valley approves amended sponsorship agreement with HACC
Patriot-News: Lack of staff, money compound Harrisburg's blight problem
Patriot-News: Investigation launched after inmate becomes unresponsive, dies in Dauphin Co. Prison
Patriot-News: Congress must not give up on comprehensive gun legislation: U.S. Sen. Bob Casey, Jr.
York Daily Record: Democratic York mayoral candidates talk politics
York Dispatch: South Eastern slashes tax hike in budget proposal
Lancaster Intelligencer/Era: Human Relations Commission gone, but minorities believe discrimination remains
North by Northwest
Erie Times-News Campaign '13 Blog: Banker suggests Millcreek district restructure bond debt to save $2 million
Centre Daily Times: Beaver Stadium run raises more than $360,000, sets Special Olympics Pa. fundraising record
Williamsport Sun Gazette: Lawmakers favor gun sales checks
Opinions
Delco Daily Times: Corbett must heed health care chorus
Daily Local News: The language and use of the word 'terror'
Patriot-News: To truly serve the cause of justice, Pennsylvania should abolish the death penalty
Lancaster Intelligencer/Era: Putting teeth in pension reform
Lancaster Intelligencer/Era: Reforms take root
Blogs
Keystone Politics: PA Lawmakers Need to Reduce Barriers to Rooftop Solar
Keystone Politics: Don't Register As An Independent
Keystone Politics: Joe Sestak Needs to Decide What He's Doing and Fast