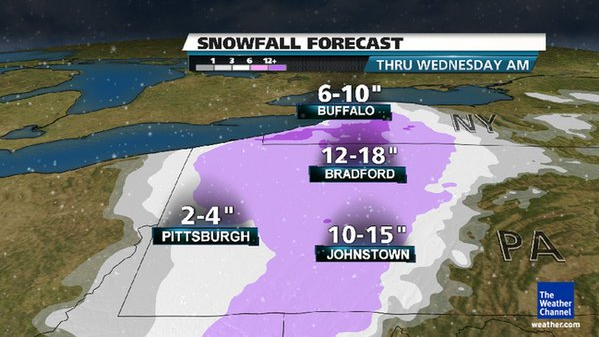 Good morning politicos, here's the Buzz. We hope you had a more relaxing weekend than the Smith, Kane and Critz campaigns, as they nervously watch the winter storm move across western Pa. Any time we ever told you it was a busy day in politics, we were lying. The primary is REALLY heating up – here's the latest news.
4/20 Ups & Downs: These are the final Ups & Downs before the primary on Tuesday. See who has the momentum and who doesn't in the kay races around Pennsylvania.
Last Poll Before Election Day: Which Race Will Be The Closest? In our last reader poll before the only poll that really matters, we are asking PoliticsPA readers which race they think will be the closest?
Presidential
Presidential Campaign Events Open Thread: Latest: Today, Romney will be in Allegheny County this morning with Tom Ridge, and Delaware County with Florida Sen. Marco Rubio.
Ron Paul Rallies in Pittsburgh: Days before Pennsylvanians head to the polls to vote in the primary, Texas Rep. Ron Paul held a rally at Soldiers and Sailors Hall in Pittsburgh.  His passionate supporters packed the auditorium, where there was standing room only.
U.S. Senate
Smith: Did Welch Vote for Casey? Or, Welch: Did Smith Vote for Casey? Two of the GOP candidates trying to unseat Bob Casey today accused each other of voting for him. Tom Smith today asked rival Steve Welch whether he voted for Casey in the 2006 general. Welch responded by asking Smith whether he voted for Casey in the 2002 or 2006 Democratic primaries.
Rohrer Raises $156K in Q1: Rohrer brought in $156K and had $84K cash on hand – a good performance for the former lawmaker that moved him into 2nd place for the quarter. Unfortunately for Rohrer, it's not enough to get him on TV.
Updated: Anti-Smith IE Hits PA Airwaves (Watch Video): A new Super PAC is on the air in Pa., taking aim at U.S. Senate front runner Tom Smith. The 30 second spot, from the Freedom Fund for America's Future, hammers Smith on his Democratic past. Update: the ad firm is Brabender/Cox, the same as Welch's, and the buy is $145K.
Attorney General
Final Murphy Ad Targets Kane 3,000 Case Claim (Watch Video): Kathleen Kane has based her Attorney General campaign and her claim to the office on the number 3,000. That's how many cases she's prosecuted. Rival Patrick Murphy's final ad highlights Kane's statement that she's only taken about 24 to trial.
Exclusive: Kane Goes Negative (Watch Video): Kathleen Kane is swinging back against Democratic Attorney General opponent Patrick Murphy. In an ad meant to rebut Murphy's own attack against her, Kane reiterates her campaign's line that she has prosecuted more cases in Pa. than Murphy.
PA-17, Rep. Tim Holden v. Matt Cartwright
Cartwright: Holden Not Worried About Cancer: Matt Cartwright's latest campaign mailing takes a harsh jab at Rep. Tim Holden, saying he isn't worried about cancer. The piece that links Holden's vote against Obamacare to the fact that he has the standard health plan for members of Congress.
NEPA Newspapers Back Cartwright: Matt Cartwright, the Lackawanna County attorney challenging Rep. Tim Holden, woke up to good news Sunday morning. The editorial board of the Scranton Times-Tribune backed his candidacy, as did Wilkes-Barre Times Leader columnist Kevin Blaum. Update: so too the W-B Citizens Voice.
Rendell Backs Holden: Tim Holden is getting a last-minute boost from Ed Rendell. The former Guv threw his weight behind the incumbent Congressman, saying his experience and seniority are crucial for Pennsylvania.
Sestak Backs Cartwright: The PA-17 primary is a pretty good parallel to the 2010 primary between Sen. Arlen Specter and Rep. Joe Sestak, but will the result be a repeat? Sestak hopes so. He's rallying for Cartwright this weekend.
After Ceasefire, Cartwright Releases Final Ad (Watch Video): Democratic Congressional candidate Matt Cartwright and PA-17 challenger released his final campaign ad Thursday, all positive.
Other Congressional Races
Feinberg Ad: Murphy a Cleveland Fan? Now it's personal. With less than a week to go until primary day, Evan Feinberg's campaign released a radio ad accusing Rep. Tim Murphy of being a Cleveland fan.
Labor Mobilizes for Critz GOTV: It's organized labor's 'put up or shut up' moment in western Pa. this weekend. Mark Critz has enjoyed message momentum in the past week, but that doesn't get supporters to the polls. GOTV, labor's traditional strength, it what does. Will they deliver?
Tiny TV Buy in Quiet Pa-11 Primary (Watch Video): Wilkes-Barre attorney Bill Vinsko will be the only candidate on TV in the Democratic primary for PA-11, but only just. He'll air a few ads on Sunday as he seeks to best activist Gene Stilp and face Rep. Lou Barletta in the primary.
DCCC Ready for Some Football: To criticize the GOP's "Small Business Tax Cut Act," the Dems' campaign arm is going nuclear. They note the bill gives breaks to any employer with fewer than 500 employees, regardless of revenue. Including, they say, even the Dallas Cowboys and New England Patriots.
SD-37, Mustio v Raja v Means
Post-Gazette Pulls Mustio Endorsement Over Mailer: The Pittsburgh Post-Gazette Saturday withdrew its endorsement of Rep. Mark Mustio, citing his campaign's use of "a racist appeal" in the form of a questionable mailer, and backed his opponent Raja instead.
Mustio Calls for Ceasefire, Releases Positive Ad (Watch Video): Mark Mustio has pulled his negative ads and is asking opponent Raja to do the same. After weeks of nasty intra-GOP fighting, the state Rep. has laid down his arms.
Murphy's Kind Words for Raja: Rep. Tim Murphy was one of Mark Mustio's first endorsers when the state Rep. threw his hat in the ring to run for the seat of retiring Sen. John Pippy. But asked about the recent tenor of the campaign, the Congressman had kind words for Mustio opponent Raja.
Legislative Election Updates
Capitol Ideas has a look at the 6 state House special elections on Tuesday and what they could mean for either party, and more!
The Keystone State Education Coalition made its 2012 primary endorsements: Erin Molchany (D, HD-22), Shauna D'Alessandro (R, HD-39), Duane Milne (R, HD-167), Babette Josephs (D, HD-182), Jim Roebuck (D, HD-188) and Pat Vance (R, SD-31).
Chris Brennan and Vinny Vella have a good run down of most of the contested Philly House races (HD-169, HD-186, HD-190, HD-192, HD-195, HD-198, HD-201, HD-202 and HD-203).
SD-15: John McNally is a heavy favorite for the GOP nomination to replace retiring Sen. Jeff Piccola. Long shot Republican opponent Josh First unveiled this weekend the "McNally Meter," which highlights the fact that First is being out-spent 22 to 1. He also dings the former Dauphin GOP chair for the drop in GOP voter registration during his tenure (though omits the party's decisive success in the 2009, 2010 and 2011 cycles).
SD-15: The Patriot-News takes a look at the two Democrats vying for the nomination in Piccola's seat, Alvin Taylor and Rob Teplitz. Dem insiders are strongly pulling for Teplitz, who they think has a strong chance to win the seat in November.
SD-21: The Times-News suggests the seat will go from one Venango County Republican to another. Scott Hutchinson is running for Mary Jo White's seat that she is vacating.
SD-29: Two news articles profile Sen. Dave Argall (R-Schuylkill) and challenger Brian Rich in one of the hardest-fought primaries in PA. Meanwhile, the Associated Builders & Contractors and the Pennsylvania Builders Association have both backed Argall. "Senator Argall has been a true friend to the home building industry," said PBA President Warren Peter.  "That is why it is my privilege to let you know that the Pennsylvania Builders Association is endorsing you for the 29th Senatorial seat." Capitolwire has a look at the race, too.
SD-31: Our Cumberland County Republican friends have gotten about a million mailers in the race between Sen. Pat Vance and Andrew Shaw (about 10 from Vance; 4 favoring Shaw). The latest comes for Shaw, from the Family Research Council's PAC in DC, hammering Vance for her moderate stances on gay marriage and abortion.
SD-33: White nationalism? "Taylor said he had agreed to help his friend, [William] Regnery, to raise money to start a 'respectable, academic' organization that would review the effect of public policy on whites," reports the Chambersburg Public Opinion. Turns out James Taylor, who is running a write-in campaign against Sen. Rich Alloway (R-Franklin), has myriad connections to several white nationalist groups. The PO has a more detailed review of the race, and Alloway's 10-1 fundraising advantage, here.
SD-37: Things in this race have really hit the fan. The Post-Gazette ed board actually pulled its endorsement of Mark Mustio over a flyer they said was racist (view it here). This came just a day after Mustio called for a ceasefire on negative ads with main rival Raja, which itself came a bit after Mustio-backer Rep. Tim Murphy offered some kind words for Raja, and shortly before Allegheny GOP Chair Jim Roddey made the same request – a ceasefire. Mustio had been hammering Raja over outsourcing and being Indian, Raja blasted Mustio for voting for the 2005 legislative pay raise.
HD-14: Democratic Midland Councilman Sam Rosatone Jr.'s write-in campaign hasn't gone unnoticed by GOP state Rep. Jim Marshall (R-Beaver), who will run his own write-in campaign on the Democratic side. "Why not?" Marshall told the Beaver Co. Times.
HD-16: A Kathy Coder supporter says the Bellevue Republican has the boots on the ground to score a strong win against GOP opponent Jeremy Angus. She has a GOTV event with Campaign Chair Rockey Blier this weekend. The two are competing to face Rep. Rob Matzie (D-Beaver).
HD-31: Anne Chapman is hitting Helen Bosley over her past employment with Planned Parenthood. The two Republicans are vying to face Rep. Steve Santarsiero (D-Bucks). GrassrootsPA has the mailer (PDF).
HD-56: Marybeth Kuznik, one of two Dems vying to face Rep. George Dunbar (R-Westmoreland) picked up the endorsement of Auditor General Jack Wagner and Allegheny County Council President Charles Martoni. "Marybeth Kuznik is a strong advocate for good government," Mr. Wagner wrote, "She wants to improve the efficiencies of state government in the best interest of the taxpayers." Her opponent is Raymond Geissler.
HD-79: The PennPatriot blog has another piece about why they don't like Rep. Rick Geist and favor his primary opponent Joe McGinnis. The author blames Geist for (basically all of) PA's transportation problems.
HD-83: Republican Harry Rogers was the biggest spender this primary cycle.
HD-92: The Citizens Alliance for Pennsylvania (CAP)? They're the ones infamously targeting moderate GOPers in Harrisburg. The Conservatives Alliance of Pennsylvania (CAP)? They're new. And they're going after Mike Regan in the race for Rep. Scott Perry's (R-York) seat. You can see their mailer (front and back) here. Said CA(f)P spokesman Leo Knepper: "This is just pure dirty politics. The claims made in the mailer are completely false, saying that Mr. Regan worked for Obama because he happened to be at the justice department while the president was in office is ludicrous. That someone would use the credibility that we have built for CAP in order to lend credibility to these spurious claims is beyond the pale. We are consulting with legal council and will pursue legal action if viable. Furthermore, we will work to determine who is behind this sham organization and expose them as the frauds they are."
HD-93: Linda Small, the former weather forecaster hoping to take on Rep. Ron Miller (R-York), says PA should scrap its fuel subsidies. "Ending the $2.9 billion fossil fuel subsidies PA gives each year and moving quickly to renewable energy and efficiency will create 21st century jobs, keep our energy dollars in the state, and have many other positive effects," she said.
HD-103: The four-person Democratic primary to replace retiring Rep. Ron Buxton (D-Dauphin) has turned negative, with Patty Kim taking shots at Roy Christ and Christ returning fire. The Patriot News has the story.
HD-112: The Scranton Times-Tribune ed board backed challenger Kevin Haggarty over Rep. Ken Smith, saying the incumbent's personal tax and debt issues were hypocritical.
HD-113: Can he get an extension? Turns out Rep. Kevin Murphy didn't actually graduate from the University of Scranton, as he has maintained for decades. He acknowledged Friday that he doesn't have a degree, after primary opponent Marty Flynn and a supporter uncovered the issue. Murphy says he's one final paper short of officially graduating, and will compete it this week. Additionally, the Scranton Times-Tribune ed board endorsed Flynn.
HD-115: NEPArtisan has a look at the primary between Randy Castellani and Frank Farina
to replace retiring Rep. Ed Staback (D-Lackawanna).
HD-117: The HRCC is stepping in to thwart a Dem write-in candidate seeking to get on the ballot against Rep. Karen Boback. This mailer (front and back) to Dems asks them to write in Boback (instead of Mark "Duke" Barrett, the Dem who came up short on petitions). Not that Republicans have much to worry about. Boback took over 81 percent in 2010 and 71 percent in 2008.
HD-126: For Frank Denbowski, the wrath of John Morgan. The PA progressive notes that the Democrat running to replace retiring Rep. Dante Santoni in the Reading area/City district failed to file any paperwork prior to April 13 and other misc issues. Oops. There are three Dems in the race, including also John DelCollo and Mark Rozzi. James Billman is the sole Republican and a long shot for the seat regardless of the Dems' outcome.
HD-157: Former Rep. Paul Drucker isn't wasting any time setting up his rematch with Rep. Warren Kampf (R-Chester). On Wednesday, he'll have his official campaign kickoff at his office in Phoenixville. Here's his website.
HD-172: Dan Collins, the Dem challenger to Rep. Kevin Boyle (D-Phila) in John Perzel's old district, is on TV. His simple spot, boasting Collins' local roots and endorsement by the Philly FOP, started Saturday morning and will run through Tuesday on cable (news, sports, specific interest channels). The primary winner faces Al Taubenberger in the general, one of the rare competitive general election Philly races.
HD-186, HD-188 and HD-190: Vouchers are playing a role in several Phila. based state House races because the candidates who support either parts or all of the voucher legislation are getting financial support from groups tied to state Sen. Anthony Williams.
HD-197: The Daily News takes a look at the complicated race to replace now Philly Sheriff Jewell Williams. The special election candidate, Gary Williams, is not on the primary ballot, but Jewel Williams is. That's Jewel with one 'L,' the Councilman's daughter.
National
Politico: Mean season: When incumbents clash
Politico: Romney plays the victim card
The Caucus: Gingrich won't leave race, or costly secret service protection
The Caucus: GOP National Committee warmly embraces Romney
The Caucus: Obama hold fundraising edge over Romney
NY Times: Obama attacks Romney from the left
USA Today: Obama bundlers raise at least $106M
USA Today: When/will Santorum endorse Romney?
National Journal: The great 2012 debate: who broke the economy?
Washington Post: Romney gaining conservatives' support, if not their hearts
The Hill: Democrats jab Romney with Dream Act
Statewide
Brad Bumsted, Tribune Review: Corbett's worst nightmare: AG Murphy and Auditor DePasquale
Patriot News: Analysis: GOP (Prez) primary has little drama, again
Wall Street Journal: Primary in Pennsylvania tests influence of Labor Unions
Valley News Dispatch: Leader Times: Armstrong County DA, Sheriffs endorse Murphy for AG
Capitol Ideas: Canaries in the ballot box. What Tuesday's special elections might tell us
Capitol Ideas: The weekend warm-up
State House Sound Bites: Group says preliminary Senate district plan splits Latino vote
State House Sound Bites: Accounting cred becomes issue in auditor general race
Pa Independent: Critz, Altmire in tight congressional primary in PA's District 12
Capitolwire: Murphy gets Morganelli endorsement
Capitolwire: Argall, Rich don't like property taxes, differ on solutions
Philadelphia
Inquirer: Tension runs high in Penna.'s AG race
Inquirer: Santorum holding out on endorsing Romney
PhillyClout: Scorecard! Getcha primary election scorecard here!
Philly Tribune: Black support eludes Romney
WHYY Newsworks: Candidates' donors hidden by antiquated PA law, ACLU says
SEPA
Intelligencer: Former Rep. Greenwood (R-Bucks) criticizes lawmakers for refusing to compromise
AP: Bitter PA Senate GOP primary heads into last days
Intelligencer: PA's presidential primary vote means little Tuesday, a lot in November
AP: Would-be Casey opponents struggle to get noticed
Delco Daily Times: Mitt Romney coming to Delaware County Monday
Daily Local: Group trying to change direction of Chester County GOP
Pittsburgh
Post-Gazette: State races draw interest in primary
Post-Gazette: Luster is off Tuesday's primary
Post-Gazette: State races draw interest in primary
Post-Gazette: Ron Paul keeps on running
Tribune-Review: Ron Paul sticks to risky issues, appeals to young people in Pgh
Tribune Review: Despite late primary, Pennsylvania a meaningful player
Tribune Review: Mitt Romney coming back to the region on Monday
Tribune Review: Rove: Voters need reason to like Romney
Tribune Review: At Dormont High, Paul 'best all-around'
Tribune Review: Altmire taking heat over ads attacking Critz
Early Returns: Murphy makes final pitch in AG race
Early Returns: Getting weird: Altmire and Dem leadership
Southwest
Beaver County Times: JD Prose: Political Prose: Altmire, Critz want a job…sha-na-na-na sha-na-na-na-na
Beaver County Times: Bitter Pa. Senate GOP primary heads into last days
Tribune Democrat: Low voter turnout expected
AP: Senate candidates search for spotlight
ChartiersValleyPatch: Q&A with Congressman Tim Murphy
Observer-Reporter: Fallowfield voters split on ballot for congressional district
Observer-Reporter: Candidates seek write-in votes
Observer-Reporter: Mitt Romney to visit South Park Monday
Altoona Mirror: Senate candidates search for spotlight
Lehigh Valley
Morning Call: Politics as usual
Morning Call: Eaton, Daugherty square off in PA-15
Morning Call: Welch, anti-Smith Super PAC use same media consultant
Morning Call: Sestak supports Cartwright over former colleague
NEPA
The Times Leader: Holden on defensive over campaign ad spots
The Times Leader: Cartwright: 'Ad went too far'
Times Tribune: Voter ID gets dry run on Tuesday
Time Tribune: Former governor Ed Rendell endorses Holden
Citizens Voice: Stilp, Vinsko agree on plenty, nice play
Pittston Politics: Holden wraps up campaign in Exeter at Valenti's
Standard Speaker: Stilp: Watchdog pledges to be 'warrior' in Congress
Standard Speaker: Vinsko: 'Incumbent protection' victim in 11th
Pocono Record: Can Blue Dog Democrat Holden survive in more liberal district
AP: Primary 2012: Negativity, attacks dominate 17th race
Republican Herald: Holden seeks 11th term, says he stands for hard work
Republican Herald: Cartwright emphasizes work on nation's infrastructure
Standard Speaker: Vinsko: 'Incumbent protection' victim in 11th
South Central
Patriot News: Chris Reilly raises more than $192,000 in 7-way race
Carlisle Sentinel: Cumberland County polling places for Tuesday's primary election
York Daily Record: York 912 Patriots interviewed for NewsHour story
North by Northwest
Sun Gazette: Candidates hear about different issues along campaign trail
Campaign '12 Blog: 5th Congressional district candidates debut on Erie area ballots
Campaign '12 Blog: Freed campaigns in Erie for AG
Sharon Herald: Voter turnout expected to be light
Sharon Herald: Colleges may add dates to ID cards for voting youth
Opinions
Inquirer: Editorial: Pa. primary voters still have big decisions
Citizens Voice Editorial: Vinsko in the 11th
JD Prose, Beaver County Times: Altmire, Critz want a job
York Dispatch Editorial: Perkinson the right choice for Dems (CD-4)
Times-Tribune: Opinion: Year of the challengers
Centre Daily Times: Opinion: Don't skip Tuesday's primary election
Centre Daily Times: After quiet primary, political parties will 'swing' into action
Post-Gazette: Editorial: Tuesday's choices: Both parties have critical nominations to make
Sun Gazette: Quietly, democracy is tested Tuesday
Sharon Herald: Aside from duty, it's a search for reason to vote on Tuesday
Courier Express: Elections and endorsements
Times Tribune: Year of the challengers
Standard Speaker: Cartwright more passionate than incumbent Holden
Tribune Review: Primary 2012 recap: The Trib endorses…
Inquirer: PA primary voters still have big decisions
Philly Tribune: Debates over, time to ask questions
Pottstown Mercury: Romney's four battles
Bucks Local News: Helen Bosley, 31st Legislative District candidate to bring conservative leadership to Harrisburg
Times Leader: Cartwright the better choice for Dems on primary day; Kevin Blaum in the Arena
Blogs
Keystone Politics: Steny Hoyer: Altmire's ads "continue to mislead Pennsylvania voters"
Keystone Politics: Fraternal Order of Police Lodges endorse Critz
Young Philly Politics: Keeping Promises: Patrick Murphy for AG
Keystone State Education Coalition: Education voters PA endorsements for the 2012 Pennsylvania Primary
NEPartisan: HD-115: Randy Castellani or Frank Farina
NEPartisan: HD-113: Murphy hit on false claim, Flynn on TV
NEPartisan: PA-17: Holden sheds integrity and dignity, deserves the boot
Pennsylvania Progressive: Denbowski house campaign wasn't legal until April 13th
Pennsylvania Progressive: Joe Sestak endorses Matt Cartwright
Penn Patriot: Geist's leadership in Harrisburg has been a disaster