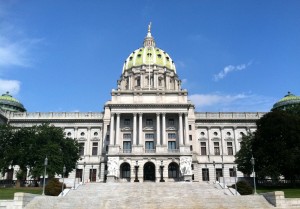 We have lots of polls, and see which Dems for Guv showed up in Centre County this weekend and more. Good morning politicos, here's the Buzz.
Guv Candidates Travel to Centre County: A number of potential gubernatorial hopefuls and three of the five declared candidates made the trip to the Centre County Dems' breakfast to begin a long day of campaigning.
UFCW Poll: Voters Oppose Corbett Liquor Plan: Voters aren't keen on Gov. Tom Corbett's plan to privatize the state's liquor stores, according to a poll commissioned by the labor union most vocally opposed to the proposal. The survey was conducted by a Republican pollster.
4/26 Ups & Downs: From DC to Philly to Harrisburg, it's been an up and down week in Pa. politics. Here's who won the week and who fell flat.
Cartwright Gets "Better Known" by Colbert (With Video): Freshman Rep. Matt Cartwright got the Colbert treatment Thursday night as he and the Comedy Central host talked about immigration, Catholicism and the transgendered.
Quinnipiac Poll: Gun Issue Boosts Toomey Approval: Sen. Pat Toomey's approval rating is its highest ever according to the latest survey from Quinnipiac University. The jump was driven by his high profile on a recent bill to expand background checks.
Statewide
PA Independent: WATCHBLOG: Per diem kings and queens for March 2013
PA Independent: Week in Review: PA universities, legislative spending get scrutinized
State House Sound Bites: State grants for college students expected to increase
State House Sound Bites: Poll shows Toomey's more popular than ever
State House Sound Bites: House mulls anti-bullying policies
StateImpact PA: DEP Fines Gas Driller for Lycoming County Spills
Capitolwire: OFF THE FLOOR: Union's new poll showing liquor privatization low priority for voters
Philadelphia
Crime and Punishment: Archbishop Chaput on Gosnell
Inquirer: DA assembles team to investigate corruption
PhillyClout: The long-awaited reassessment 'formula' has been released
CBS3: Philadelphia suburban church hosts memorial for victims of gun violence in the city
WHYY Newsworks: PHA agrees to $8.2 million payment, returns to city control
SEPA
AP: Pa. beer laws adding volatility to liquor debate
AP: Philly DA assembles team to investigate corruption
AP: Governor: Pa. plant decision probably next year
AP: Harrisburg mayor calls first dumper "scourge"
Pottstown Mercury: Most western Montco primary contests are on GOP ballot
Delco Daily Times: Pileggi: Pa. budget must be resolved
Perkasie News Herald: ELECTION 2013: Bennington, Salvadore to face off in Hilltown's Republican primary
Pittsburgh
Tribune Review: Fill 'er up, if you can
Tribune Review: Pittsburgh mayoral candidate Wheatley trumpets 'behind scenes' service
Tribune Review: $307M to run state legislature is a steal for taxpayers
Tribune Review: Connellsville candidates' forum to be aired on local cable channel
Post-Gazette: Pittsburgh mayoral campaign leads Wagner to open up about self, Vietnam
Post-Gazette: Wagner's negative TV ad gives response to Peduto's
Post-Gazette: How towns spend their Act 13 drilling fees
Post-Gazette: Is evolution missing link in some Pennsylvania high schools?
Post-Gazette: Pennsylvania voters favor stricter background checks, poll finds
Post-Gazette: Pa. open records advocates getting mixed results
Post-Gazette: Pennsylvania Turnpike CEO discusses steps taken in wake of scandal
Post-Gazette: Pittsburgh primary 2013: Peduto parades supporters; Wagner trumpets experience
Early Returns: Wagner ad hits back at Peduto
KDKA: Jack Wagner Picks Up Support In Mayoral Campaign
KDKA: Peduto Attacks Wagner In New TV Ad
KDKA: Council Discusses Cost For Extra Security At Pittsburgh Marathon
Southwest
Beaver County Times: Shell game: Cracker plant decision may be pushed back to 2014
Observer-Reporter: Corbett: Plant decision probably next year
Observer-Reporter: DEP moves location of public hearing to Slovan
Observer-Reporter: EPA report further divides fracking camps
Altoona Mirror: Supreme Court rejects request
Altoona Mirror: Hollidaysburg administrators push for 2-mill tax increase
NEPA
The Times Leader: Area congressmen critique deal, say more left to fix
The Times Leader: Casey: Are nuke plans reasonable?
The Times Leader: Putting on a new face
The Times Leader: Property Transactions
Times-Tribune: Scranton tax collector to hire new solicitor
Times-Tribune: Scranton council candidates say mayor/council feud must end
Times-Tribune: Mayor candidates want better relations with council
Times-Tribune: PPL battles homeowners over drilling royalty checks on forgotten land
Citizens Voice: Online voter guide goes live May 7
Citizens Voice: Embattled Toomey could be GOP's last hope
News Item: Paxinos woman makes dean's list
Standard Speaker: PPL battles homeowners over drilling royalty checks on forgotten land
Standard Speaker: Questions linger in PPL's lost land
Standard Speaker: Officials learn about natural gas vehicles' low cost
Pocono Record: It's your Right to Know: Use it or lose it
Lehigh Valley
Pennsylvania Ave: QPOLL: Toomey gets high marks for gun control work
Morning Call: Corbett's asset test finds little abuse in $2.6 billion food stamp program
Morning Call: Voters credit Pat Toomey on gun control try
Morning Call: Casey: U.S. should intervene in Syrian crisis
South Central
RAW TEXT: Harrisburg Schools' Act 141 Recovery Plan
Patriot-News: Harrisburg debt crisis solution imminent with incinerator sale, parking lease, officials say
York Daily Record: York education parade focuses on community
York Dispatch: Proposed Spring Grove school budget includes 2.1 percent tax hike
Intelligencer/Era: 7 biggest property tax bills in Lancaster Co.
Intelligencer/Era: Why the School District of Lancaster is financially thriving when similar districts in Pennsylvania are failing
Lebanon Daily News: Rise in payroll tax not so taxing in Lebanon Valley
The Sentinel: Air Quality: Health issues rise with bad air
The Sentinel: The right to know or the right to no?
North by Northwest
Erie Times-News Campaign '13 Blog: PCN show has local flair tonight
Erie Times-News Campaign '13 Blog: PoliticsPA's Ups & Downs for the week
Centre Daily Times: Auditor general may investigate Benner Commerce Park sale
Centre Daily Times: Auditor General DePasquale backs predecessor Wagner's recommendations for changes to Penn State governance
Williamsport Sun Gazette: Local airport officials, lawmakers react to plan to transfer funding
Williamsport Sun Gazette: Democrats rally at local party dinner
Williamsport Sun Gazette: 4 Republicans, 3 Democrats seeking City Council nominations

Opinions
Post-Gazette: Right to know: In Pennsylvania, records access is a constant battle
Altoona Mirror: New 'open' bill long overdue
Pottstown Mercury: Rep. Mario M. Scavello: Say farewell to Pennsylvania's antiquated Prevailing Wage Law
Pottstown Mercury: Pa. needs standards for carbon monoxide alarms
The Intelligencer: Privatization: Let's do it right
Reading Eagle: Any means to reduce smoking would be good for nation
Express Times: Congress settles air-travel backup, then flies home
Patriot-News: Lawmakers need to cash out their $140.7 million surplus
Blogs
Keystone Politics: Absolutely Everyone Now Endorsing Bill Peduto for #PGHMayor
Keystone Politics: Shorter Jannie Blackwell: Where Am I?
Keystone Politics: Video: Cartwright on Colbert Last Night
Keystone Politics: Shut Up or Get Out: PA City Punishes Domestic Violence Victims Who Call the Police
Keystone Politics: Counterpoint PA: A Show About PA Politics with Progressive Commentary Coming Soon
Keystone Politics: Poverty Rate of Philadelphia City Workers Doubles under Mayor Nutter