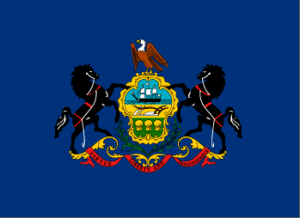 Wolf holds his lead in latest F&M poll, the DCCC goes after Fitzpatrick and Senators Stack and Leach propose a minimum wage increase. Good morning politicos, here's the Buzz.
F&M Poll: Wolf 33%, Schwartz 7%: No challengers make significant gains on Wolf in March.
F&M Poll: Obama Performing Well, Hillary Leads 2016: The President scores high on job performance among registered Democrats and Hillary Clinton posts an early lead in the 2016 primary.
F&M Poll: Education Most Important Issue: Education and schools lead the concerns of registered Democrats in PA.
DCCC Launches "Battleground" Ad Against Fitzpatrick: The ads come as a response to the new Republican budget.
Senators Stack and Leach Propose Minimum Wage Bill: Legislation would increase minimum wage, and end tipped minimum wage.
2014 Pennsylvania Leadership Conference Agenda: The loyal conservatives of Pennsylvania are gathering for their annual conference this weekend at the Camp Hill Radisson. Here's their schedule of events.
Legislative Elections Update:
HD-36: Democracy for America, a national progressive organization founded by Gov. Howard Dean, has endorsed Rep. Erin Molchany in her fight for the PA State House (PA-HD-36). DFA also endorsed Molchany in her 2012 race. This year, she faces Rep. Harry Readshaw in the Democratic primary, courtesy of redistricting that moved her seat to Lehigh County.
HD-182: Following a petition challenge, Babette Josephs was removed from the ballot. She had intended to win back the seat she lost to Brian Sims in 2012.
Statewide
PA Independent: State senator wants more oversight over Obamacare navigators
PA Independent: Republican-led county governments making push for 'paycheck protection'
PA Independent: Legal trouble grows for York school board that shut down free speech
StateImpactPA: PA DEP does not keep public records of all drilling complaints
Philadelphia
Inquirer: Mayor Nutter quietly signs law limiting value of gifts to city workers at $99
Inquirer: Who paid for Nutter's trip to Rome is obscure
Inquirer: Pay raise in works for BRT – but what about Pa. Constitution?
Inquirer: Charter schools urge Phila. City Council to extend 1 percent sales tax
Inquirer: Chesco DA criticizes Coatesville school board
Daily News: Wolf still leads the pack
Big Tent: McCord explains outsourcing record
PhillyClout: Babette Josephs booted from ballot
SEPA
Courier-Times: 20+ state roads, bridges in Bucks, Montco to get work in 2014-2015
Courier-Times: Bucks County urges citizens to vote
Courier-Times: Bensalem school district hires CPA, delays website upgrades
Pottstown Mercury: Pa. Sens. Rafferty, Dinniman oppose Sunoco's pipeline request
Pottstown Mercury: Trappe lawyer to battle Quigley for GOP nod in 146th House Dist.
Pittsburgh
Tribune Review: Attorney General seeks dismissal of Spanier complaint
Tribune Review: Pittsburgh police department earns state accreditation after delay
Tribune Review: More than a half-billion dollars in bridge, road work coming to area this year
Tribune Review: Peduto nominee for planning director had same position in Seattle, NYC
Post-Gazette: Weak records cited on Pa. shale pollution
Post-Gazette: GOP proposal would regulate 'navigators' of federal health law
Early Returns: Allyson to the airwaves?
Southwest
Beaver County Times: Pa. House passes child safety bill to prevent schools from 'passing the trash'
Beaver County Times: State orders Ohioville and Midland authority to work together
Observer-Reporter: Labor arbitrator rules on Washington County workers' contract
Observer-Reporter: Piece of former Mayview property taken by eminent domain
Altoona Mirror: High court decision angers crowd
NEPA
Times Tribune: Commissioners, Volpe never meet, but both go at it before chamber
Times Tribune: State approves new regulations on electric suppliers, utilities
Times Tribune: Keystone Landfill files plans to grow enough for almost 50 years of garbage
Citizens Voice: Taxpayer advocate: Nanticoke tax hike violates charter
Standard Speaker: Lawmakers have different takes on gifts
Times Leader: Lawton bounces resolution back to council
Times Leader: Nanticoke hospital will be vacant by fall
South Central
Harrisburg Patriot News: Mayor Eric Papenfuse asks state to replace Gene Veno, Harrisburg schools recovery officer
Harrisburg Patriot News: Wolf retains Democratic gubernatorial primary lead in latest F&M poll
Harrisburg Patriot News: Wealthiest political donors affected most by Supreme Court ruling
York Daily Record: Transportation plan projects outlined
Lebanon Daily News: Lebanon County's jobless rate falls to its lowest since October 2008
Lehigh Valley
Morning Call: Pennsylvanians rank 10th in state, local tax burden
Morning Call: State approves new regulations on electric suppliers, utilities
Reading Eagle: Wolf retains big lead in Democratic race for governor
Express Times: Northampton, Lehigh counties to see $14.5 million in highway, bridge projects this year
North by Northwest
Campaign '14 Blog: Wolf continues to lead primary field, poll says
Erie Times-News: Erie City Council passes garbage-fee amendment
Centre Daily News: Rep. Glenn Thompson recognized for work on Career and Technical Education issues
AP: More Americans see their middle class status slipping
Williamsport Sun Gazette: Gateway commission members to be formally sworn in
Opinion
Harrisburg Patriot News: House ban on cash gifts is a start, but not enough: Opinion Quick Take
Express Times: EDITORIAL: Supreme Court wrong again on campaign contribution limits
Tribune Review: The campaign finance ruling: A nibbling court
Post-Gazette: Pedal plan: Downtown's bike lane must be chosen carefully
Inquirer: Inquirer Editorial: Mobile home
Daily News: DN Editorial: Contribu-tories
Blogs
Josh First: Is it time to recall AG Kane?
Above Average Jane: Keystone Progress PAC Endorses Billy Smith
Keystone Politics: #PAGov: Corbett's Fake Medicaid Expansion Probably Not Happening
Keystone Politics: 7 Things to Know About the Liberty City Dems 2014 Scorecard
Keystone Politics: MAP: How Many Pittsburgh Committeeperson Candidates are Running in Each Division?
Keystone Politics: #PASSHE Secession: Senate Ed Committee Hearing Postponed
Keystone Politics: Breaking #PAGOV: McGinty Statement on PASSHE Secession Legislation
Keystone Politics: #HD182: Court strikes Josephs from the May 2014 ballot
Keystone Politics: #PAGov: Have We Reached the Endgame?
Keystone Politics: What Do the #PAGov Candidates Think About a State-Level Open Data Policy?
Lehigh Valley Ramblings: Brown at Three Months: Good or Bad?
Lehigh Valley Ramblings: NorCo Controller Suing Over No-Bid Contract
Lehigh Valley Ramblings: Dolan Using Council Position To Enrich Her Nonprofit