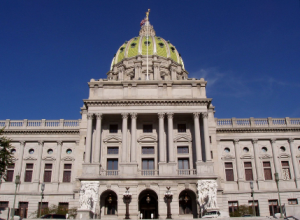 One less Dem for Guv, one more Dem for Congress, and a Pittsburgh poll. Good morning politicos, here's the Buzz.
Don't forget to check back later for the Ups & Downs.
Knox: Won't Run for Guv, Maybe Philly Mayor: For the first time in awhile, the headline today is that a Democrat is taking his name OUT of contention for Pa. Governor. Philadelphia Businessman Tom Knox has ruled out a bid for Guv, but is keeping his options open for Philadelphia mayor.
Fitzpatrick Gets His First Challenger: Sound familiar? A young Iraq war veteran announced Thursday that he will challenge Rep. Mike Fitzpatrick (R-Bucks).
Keystone Analytics Poll: Wagner 38, Peduto 30: With the Pittsburgh mayoral primary essentially a two man race, former Auditor General Jack Wagner has the lead.
Leach Announces Campaign Team: State Sen. Daylin Leach unveiled the team of staffers and consultants who will manage his bid for Congress. The list includes some familiar names.
Statewide
Capitolwire: What will the Gov have to do to pass liquor bill through Senate?
Capitolwire: Corbett critics blame him for 4,000 fewer kids enrolled in CHIP. Is it all his fault?
State House Sound Bites: Making the new rules stick
PA Independent: Turnpike paid up to defend against whistle-blower lawsuits
PA Independent: More trouble at another Pennsylvania tolling authority
PA Independent: PA's Solyndra? Pittsburgh solar plant received $10 million in stimulus, now going bankrupt
PA Independent: Users will pay fees for sole-source services contract
StateImpactPA: Pennsylvania Will Get 3 Percent Less This Year In Shale Drilling Impact Fees
Philadelphia
AxisPhilly: A great job if you can get it (Philly courts)
Philly.com: Rutgers pressured for more answers in coach's firing
Philly.com: Tougher city gun penalties proposed
Philly.com: Court sentences man to paralysis
Philly.com: Is Philly sick-leave bill dead?
Philly.com: Knox mulls another mayoral run
Philly.com: GOP launches 2014 ad attacks
Philly.com: West Philly man charged with housing scam
Commonwealth Confidential: Leach names Congressional campaign team
Heard in the Hall: Tom Knox considers another mayoral run
Heard in the Hall: Clarke Wants Water Rate Board, Revenue Officer
Heard in the Hall: Nutter Wants Money For Schools, No Plan To Find It Yet
Heard in the Hall: First District, First Ward To Host Council Budget Hearing
PhillyClout: Thursday's DN: Feds subpoena DRPA spending details
PhillyClout: Tom Knox declares that he is still trying to decide about running for mayor
PhillyClout: Clarke pushes for revenue generator office
PhillyClout: Shots for schools?
CapitolInq: Strouse hopes to challenge Fitzpatrick
WHYY Newsworks: Do gun buybacks reduce gun violence?
WHYY Newsworks: Nutter vetoes Philadelphia paid sick leave bill again
WHYY Newsworks: Summer school gets cheaper at Delaware State
WHYY Newsworks: Penn's Landing project gets consultant to cover I-95 with a park
WHYY Newsworks: Feds probe DRPA's economic development
WHYY Newsworks: Peterson Toscano explains gender diversity — as portrayed in the bible
WHYY Newsworks: Facebook COO Sandberg tells women to push harder for leadership roles
WHYY Newsworks: Wilmington officers sworn in as NCCo officers and vice versa
WHYY Newsworks: Mobile Mennonite meat canners supply global aid with local muscle
WHYY Newsworks: Corbett tightens grant awards, process in Pa.
WHYY Newsworks: Retail expansion projects on track at Delaware's Christina Mall
WHYY Newsworks: Pa. plan to get tougher on illegal weapons in Philly draws widepread support
WHYY Newsworks: Citing health concerns, Germantown High School principal retires effective today
WHYY Newsworks: Philadelphia mayor's education office seeks to lift the veil on charter board meetings
WHYY Newsworks: Nutter hedges on source of $60 million to help Philly schools
WHYY Newsworks: Philly Council president calls for alternative revenue gatekeeper
WHYY Newsworks: N.J. revenue projections off by $637 million, says budget official; treasurer disagrees
City Paper: Private Lawyers Appointed to Represent Poor Philadelphians Demand Better Pay
City Paper: Delayed Capital Projects Source of Frustration for Councilmembers
City Paper: For Those Living With AIDS, Federal Budget Cuts Could Be Deadly
City Paper: Nonprofit Razes City Block – But Will Anything Rise In Its Place?
Phillynow.com: Nutter Vetoes Paid Sick Leave—Again
KYW Newsradio: City Controller Says Tax Payers Are Footing Bill For Excessive Workers Comp Claims
KYW Newsradio: Funeral Director Accused Of Abusing Corpses Now Facing Theft Charges
KYW Newsradio: Nutter Vetoes Earned Sick Leave Legislation
KYW Newsradio: Pa. Environmental Protection Chief Leaving, Delighting Environmental Groups
KYW Newsradio: Tom Knox Won't Run For Pa. Governor, Considering Another Phila. Mayoral Run
SEPA
AP: Pa.'s Marcellus gas fee generated $198M in 2012
AP: Taxpayer-subsidized solar energy plant shuts down
AP: Newspaper: DRPA focus of federal grand jury probe
AP: Police probe video that threatened Luzerne County lawmaker for marijuana stance
AP: Corbett raises idea of private Medicaid plans
Daily Local News: Corbett plan seeks to pump cash into ailing infrastructure
Delco Daily Times: Agreement awarded for voting machine delivery
Delco Daily Times: Chester mayor Linder defends moves for police department brass
Pittsburgh
Post-Gazette: Pittsburgh Mayoral Candidate A.J. Richardson says he plans to plead guilty to D.U.I.
Post-Gazette: Pittsburgh Council President endorses Wagner for mayor
Post-Gazette: Pittsburgh's black community will hold convention for mayoral choice
Post-Gazette: End the fund: The mayor doesn't need a separate travel account
Early Returns: Gun Control group endorses Peduto
Tribune Live: Group organizes black voters' endorsement convention in mayor's race
Tribune Live: Corbett orders staff to review 'integrity' of firms with turnpike contracts
Southwest
Beaver County Times: Quaker Valley sees budget problems ahead with pension obligations
Beaver County Times: Crescent breaks down reasons for extra tax increase
Beaver County Times: Decades after MLK death, Memphis jobs in spotlight
Beaver County Times: Former student testifies about Hopewell teacher's advances
Observer-Reporter:
 Westmoreland County sheriff's deputy charged with using heroin
Altoona Mirror: Corbett says private Medicaid a possibility
Altoona Mirror: Retired teacher says poor targeted
Johnstown Tribune-Democrat: 'Mean Girls' exhibit in Pa. focuses on bullying
NEPA
AP: Corbett raises idea of private Medicaid plans
AP: Millionaire Tom Knox won't run for PA governor
Times-Tribune: Transportation hearing focus on interstates
Standard Speaker: Congressmen work across the aisle to benefit region
Standard Speaker: Commuter tax? Officials, wage earners split on extra fee
Standard Speaker: York Area chief shares experience in creating regional fire department
Standard Speaker: McAdoo sewer authority airs system upgrade plans
Standard Speaker: St. Luke's to pay $1M to settle allegations on Medicare claims
Citizens Voice: County gadfly's background under scrutiny
Lehigh Valley
Pennsylvania Ave.: Shocking: Santorum not ruling out 2016 run
Pennsylvania Ave.: Another Democratic vet targets Fitzpatrick in Bucks
Express-Times: Northampton Community College approves new faculty contract with lump sum raises
Express-Times: Northampton Co. Council discusses suing John Stoffa if he pursues LifeStar contract
Express-Times: Glenn Reibman, Northampton Co. executive candidate, announces endorsements
Morning Call: Report: Pennsylvania lags in public health spending
Morning Call: Donchez says he'd put public safety first if elected Bethlehem mayor
Morning Call: Allentown councilwoman remains hospitalized in Venezuela
Morning Call: Lower Macungie commissioners approve Jaindl zoning settlement
Reading Eagle: Corbett in Berks to tout liquor privatization measure
Reading Eagle: Nonprofit group forming to reduce crime in Reading area
Reading Eagle: City schools begin pondering $8 million budget gap
Reading Eagle: Board members urged to back House bill
Reading Eagle: No tax increase in Tulpehocken schools budget proposal
Reading Eagle: Committee discusses block scheduling
WFMZ: Plainfield Twp. supervisors cite money as reason police presence cut back at Wind Gap Middle School
WFMZ: Legal battle looms between county council and executive over Gracedale ambulance service
South Central
AP: Millionaire Tom Knox won't run for Pa. governor
AP: Corbett takes action on Pa. turnpike allegations
AP: Pa. district may extend year if threats continue
AP: Walking, biking get a voice in Pa. roads debate
AP: Pittsburgh mayoral candidate will plead to DUI
AP: Judge: No donor limits in Pittsburgh mayor's race
AP: 5 Things to know for Thursday in Pa. news
Carlisle Sentinel: Polling official: Despite recent events, Thompson could be tough to beat in mayoral race
York Dispatch: Program aims to reduce hospital readmissions in York seniors
Harrisburg Patriot News: Corbett's list of travel companions on South American trip longer than initially announced
Harrisburg Patriot News: 'I believe in Harrisburg,' says John Campbell, Historic Harrisburg executive director and city treasurer
Harrisburg Patriot News: Harrisburg City Council candidates on cures for trash, finance, violence
Harrisburg Patriot News: Harrisburg Senators, 'Game of Thrones,' warmer weather: things to know
Harrisburg Patriot News: Good morning, central Pa.: Linda Thompson says her campaign is strong, Kortne Stouffer's family seeks answers
Harrisburg Patriot News: Commissioners: Harrisburg could participate in loan program
Lancaster Intelligencer: County to get state funds to control West Nile virus
North by Northwest
Williamsport Sun Gazette: Elected officials' 'optimistic' on Route 15 bypass funding
Williamsport Sun Gazette: Representative: Health care law too expensive
Williamsport Sun Gazette: Capital projects proposals to be reviewed
Centre Daily Times: Benninghoff: Changing Centre Crest reimbursements doesn't solve problem
Campaign '13: Knox out of governor's race
Opinions
Daily Local News: Pennsylvania Senate must show some 'adult' leadership in liquor debate
Bucks County Courier Times: Bucks forced to keep unwanted officials
The Intelligencer: Better leaders will result in better schools
Harrisburg Patriot News: Senior citizens will pay the price for Pennsylvania Lottery privatization
Carlisle Sentinel: Our View : LERTA approval was the right one
News Item: Thruway project will boost region's economy
Standard Speaker: An unwise choice in health coverage
Express-Times: Reducing Gracedale costs means accepting low bids
Reading Eagle: Justices shouldn't be ruling on case that impacts them
Blogs
DownWithTyranny: Imagine A Liberal Lion Replacing New Dem Vice Chair Allyson Schwartz In Congress: Daylin Leach
Above Average Jane: Bill Removes State Supported Schools from Open Records Act
Commonwealth Foundation: Union Poured Member Dues into Defeating Liquor Privatization
Commonwealth Foundation: Liquor Privatization: Good for Business (Except in Jersey)
Keystone State Education Coalition: Pennsylvania Education Policy Roundup for April 4, 2013: Districts are able to provide quality cyber and blended services at a fraction of the cost without wasting tax dollars on advertising and corporate bonuses
Keystone Politics: Catching up with the World: A Universal Health Care System for Pennsylvania
Keystone Politics: Darrell Clarke Can Do the Revenue Generating Right Now
Keystone Politics: 33-Year-Old Veteran Kevin Strouse Challenging Mike Fitzpatrick
Keystone Politics: Jack Wagner: Pittsburgh's Socially Conservative Candidate for Mayor
Keystone Politics: Philly's One Vote Away from Earned Sick Days
Keystone Politics: Jack Wagner: "I Support Sen. Scarnati's Bill" to Weaken Pittsburgh Transit
Keystone Politics: "Private Option" is More Expensive Than Medicaid Expansion