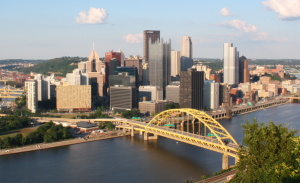 Campaigns head into the home stretch for May 21, and the action heats up in Harrisburg. Good morning politicos, here's the Buzz.
Sestak Seeks First US Senate Rematch in PA History: If Sestak wins the 2016 Democratic nomination he will be the first major party candidate to secure a rematch in a Pennsylvania U.S. Senate race in the popular vote era, writes guest commentator Eric Ostermeier of the University of Minnesota.
Politically Uncorrected: Not Your Grandfather's Pennsylvania Anymore: Madonna and Young assess Pennsylvania's changing cultural values and the shift away from traditional views on social issues.
Unaccountable for Accountability?: You know that liberal group with the 'shell game' ads against Tom Corbett? Maybe the IRS ought to give their status as a 'social welfare group a second look, suggests this report from Public Source. An extensive look turned up few details about who's paying $250,000 to knock the Guv – beyond strong ties to labor unions.
Statewide
Capitolwire: House panel discusses Common Core education standards
State Impact: Amid Concerns Over Drilling, DEP Testing Air Quality in Susquehanna County
State Impact: Does Pennsylvania's Shale Gas Have Too Much Radon In It?
PA Independent: WATCHBLOG: House sees Gov's $28.4 million budget as "ceiling"; no plans to include pension savings
PA Independent: WATCHBLOG: PA senators, Tea Party groups weigh in on IRS target scandal
PA Independent: Democrats pushing Gov. Corbett on Medicaid expansion
PA Independent: What's in your package? PA beer distributors call for six-pack sales
PA Independent: Turnover at the top of the Dept. of Education
Philadelphia
Inquirer: ABC's Diane Sawyer to profile Strawberry Mansion High
PhillyClout: Nutter proposes more taxes on cigarettes, booze to fund schools
PhillyClout: City Council on the fence about Nutter's school funding proposals
PhillyClout: Firefighters' union sues city over promotions
Philly.com: What's in your package? PA beer distributors call for six-pack sales
Commonwealth Confidential: Dems try to advance Medicaid expansion, study finds uncompensated care tops $1 billion
Commonwealth Confidential: PA Department of Education shakeup
WHYY Newsworks: Helping jurors cope with impact of graphic trials
SEPA
Phillyburbs: Bucks County to spend $11.7 million on prison health care
Phillyburbs: Neshaminy board responds to "unsubstantiated rumors" over contract talks
Phillyburbs: Forum on hydraulic fracturing/gas drilling on June 8
Pottstown Mercury: 4 lawyers seeking nominations for 2 Montco judge seats
Pottstown Mercury: Cost of Pottsgrove High School renovations drops by $1.4M
Pottstown Mercury: Proposed tax hike in Pottsgrove School District down to 2.8%
Montgomery Media: College Settlement receive grants
Pittsburgh
Post-Gazette: Contractor's bid on Riverview park work questioned
Tribune-Review: South Hills candidates for 42nd District seat want smaller house
Early-Returns: Sestak vs. History
Early-Returns: Ravenstahl PAC files report
Southwest
Beaver County Times: Midland raises school taxes 0.75 mills
Beaver County Times: Rothfus hosting Service Academy Day
Beaver County Times: Matzie introduces Economic Responsibility Act
Beaver County Times: Beaver councilman quits; calls anonymous attackers "scum"
Observer-Reporter: Canon-Mac School Board proposes small tax increase
Observer-Reporter: Three seek to unseat incumbent Charleroi mayor
Altoona Mirror: Murray report due out June 3
Altoona Mirror: Protection hearing process revised
Johnstown Tribune-Democrat: Critz offers no decision about future
South Central
Lancaster Intelligencer: Manheim Twp. sets 2014 budget calendar
Roxbury News: Election 2013: Defacing Papenfuse campaign signs, a possible witness?
Carlisle Sentinel: Corbett names CV Superintendent Harner as new education secretary
Carlisle Sentinel: Camp Hill School District faced with budget shortfall
Carlisle Sentinel: Cumberland County Dept. of Transportation losing $4 per bus trip
Carlisle Sentinel: Hertzler: Cumberland County needs more property tax relief
Patriot News: With Tomalis leaving, latest shake-up in Corbett administration has some wondering what's going on
Patriot News: State Rep. Patty Kim posts her expense reports on her website
Patriot News: Papenfuse waiting for arrests in 'midnight rampage' on his campaign signs
Patriot News: Split vote? Harrisburg neighborhood voter survey suggests close mayoral election
Patriot News: Primary focus: Halifax Area School Board candidate roster split between incumbents and newcomers
Patriot News: State Rep. Bloom will hold 'Coffee and Conversation' in Newville
Patriot News: Harrisburg leaders announce team guiding city rebranding, economic development
York Daily Record: What's happening at the York County commissioners' meeting?
York Daily Record: Springettsbury gets a chance to hear from its candidates
York Daily Record: Rep. Seth Grove to host Paradise Township town hall meeting Thursday
York Daily Record: York 912 Patriots president says the group wasn't targeted by the IRS
York Dispatch: Proposed legislation turns up flaw in York County Prison computer system
NEPA
Times Tribune: Courtright, Randol mix it up at Tuesday debate
Times Tribune: With Doherty gone, running for mayor cheaper
Times Tribune: Kids-for-cash lawsuits combined into class-action case by federal judge
Citizens Voice: LCTA director: Drivers miscounted seniors
Citizens Voice: Plains Twp. commissioner candidates focus on quality-of-life issues
Wayne Independent: Debates aplenty for council
Wayne Independent: Farina continues to serve community
Standard Speaker: Eight candidates seeking four seats on Freeland council
Standard Speaker: Budget approved; Tamaqua Area won't see tax increase
Standard Speaker: Hazle Twp. residents' petition targets blighted home
Standard Speaker: Ethics Commission: Black Creek super owes $3,400
Standard Speaker: White Haven election preview
Standard Speaker: Penn Lake Park election preview
Standard Speaker: Jeddo Borough election preview
Standard Speaker: Foster Township election preview
Standard Speaker: East Side election preview
Standard Speaker: Dorrance Township election preview
Standard Speaker: Dennison Township election preview
News Item: Five seek seats on Southern Columbia Area board
Times Leader: Lawton picks a different judicial record division head
Lehigh Valley
Morning Call: Where in the world is Ed Pawlowski? All over the place, according to his campaign records
Morning Call: Allentown mayor promises public a say in new police chief
Morning Call: Saucon Valley likely to hold line on taxes — again
Morning Call: Macungie seeks volunteers for multiple boards
Express Times: Pohatcong Township to film council meetings
Express Times: Northampton County Council to consider sheriff's request for additional deputies
Morning Call: Hesitant Exeter School Board hikes taxes in tentative budget
WFMZ: Mount Penn mayor resigns; former councilman takes his place
North by Northwest
Sun-Gazette: Canton board rejects teachers' contract
Sun-Gazette: Tioga commissioners announce manure management enforcement
Centre Daily Times: Attorney General wants to throw out Curley/Schultz appeal
Erie Times-News Campaign '13: Brennan camp announces endorsements
Erie Times-News Campaign '13: Dahlkemper gets endorsements
Erie Times-News Campaign '13: Bizzarro: 'One less voice in Harrisburg'
Opinions
Altoona Mirror: Endorsing Miller (Letter)
Blogs
Keystone Politics: Philly's 10-year Tax Abatement and Bank Financing for Apartments
Keystone Politics: VIDEO: Willie Reynolds New TV Ad
Keystone Politics: PA Could Be Getting Four Times as Much Revenue From Fracking
Jon Geeting: 40 Democratic Elected Officials Endorse Callahan
2 Political Junkies: David Conrad Disagrees With The P-G's Wagner Endorsement