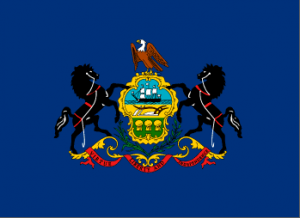 Casey hits Trump, Shuster tries to unify the GOP and we review the Sunday morning talk shows. Plus, last week's Ups & Downs! Good morning politicos, here's the Playbook!
5/13 Ups & Downs: A new scandal, a new poll and a new legislator. See who made this week's list!
PA-Sen: Casey Goes After Trump: The Democratic Senator makes his first foray into the presidential contest.
PA-9: Shuster Applauds Trump-Ryan Meeting (VIDEO): The Congressman believes the move will help unify the party.
Sunday Show Preview: May 15, 2016: We take a look at the Sunday morning political talk shows that will air throughout  the state.
Statewide
Capitolwire: Feds issue school district policy 'guidelines' for transgender students
PA Watchdog: Pennsylvania school choice foes agree charter reform is needed
PA Watchdog:  Charter school supporters rally at Pennsylvania Capitol
Washington Post: When the Amtrak train crashed, his military training kicked in
Philadelphia
Inquirer: Teamsters ask fellow unions to reconsider soda tax stance
Inquirer: Helping community or himself? Fattah trial starts Monday
Inquirer: Obama decries Trump proposals in speech to Rutgers grads
Inquirer: Tiptoeing around Trump's Shadow
PlanPhilly: Wolf's city ideas: Retail "structure" for Broad and Spring Garden: Fairmount Park in Streetview
WHYY Newsworks: Photo controversy highlights black women in Long Gray Line
KYW: President Obama To Honor Fallen Philadelphia Police Officer  
KYW: The Pat Toomey Ticket
SEPA
Pottstown Mercury: Phoenixville Area School Board OKs 3-year teacher contract
Pottstown Mercury: PoliticalFest coming to Philadelphia during Democratic convention in July
Pottstown Mercury: Pottstown Officer injured during arrest of suspects
Bucks County Courier Times: Candidates pledge: No dirty fighting
Bucks County Courier Times: Public schools cash in with naming rights
Delco Daily Times:  NAACP conference focuses on trauma and funding disparity
Bucks Local News: Newtown Township supervisors approve resolution opposing Elcon's plan for a hazardous waste recycling facility in Falls Township  
Pittsburgh
Tribune Review: Vote on Greensburg Hempfield Library tax referendum at least 1 year away
Tribune Review: Planned Parenthood mobilizes support in Pittsburgh
Tribune Review: Youngwood leaders frustrated by state's revival of playground dipsute
Post-Gazette: State program will aid in connecting farms to food banks
Post-Gazette: Pennsylvania prepares strategy to fight Zika virus this summer
Pittsburgh Business Times: Social media now part of government background checks
Pittsburgh Business Times: Pittsburgh's message hits campaign trail
Southwest
Beaver County Times: U.S. House approves bipartisan package to combat opioid crisis
Beaver County Times: Beaver County officials seek clear answers to complicated questions
Observer-Reporter: March in Greene attracts 1,000
Johnstown Tribune-Democrat: McGinty win would make her Pennsylvania's first female U.S. senator
NEPA
Times Leader: What does a $4 million cut in spending in the Wilkes-Barre Area School District look like?
Times Leader: Capitol roundup:Rep. Lou Barletta seeks to control costs of federal disaster responses
Times Leader: Gov. Tom Wolf uses roundtable discussions to address opioid problem in Pennsylvania
Times Leader: Avoca Borough Council member approve payments for new borough building
Times-Tribune: Trump, Biden at Penn graduation as parent, grandparent
Times-Tribune: County newsletter, criticized for 'electioneering,' still being published
Times-Tribune: Luzerne County council looking into vehicle registration fees to raise funds
South Central
York Dispatch: York County D.A. asks McGinty to not support 'sanctuary cities'
York Dispatch: Toomey's balancing act: Win over moderates, deal with Trump
York Dispatch: Planned Parenthood trains volunteers for election campaign
Patriot-News: Paralyzed drunken-driving victim calls for stricter laws: 'I never got justice'
Patriot-News: Philly police admit to disguising surveillance truck as Google vehicle
Patriot-News: U.S. Rep. Chaka Fattah's corruption trial set to begin Monday
Patriot-News: In Kathleen Kane's absence, her staff continues to grapple with 'Porngate' quagmire
Patriot-News: Katie McGinty hires former member of Rendell administration to direct campaign
Lancaster Online: New PAC looks to get Amish vote for Donald Trump
Lehigh Valley
Reading Eagle: Infrastructure, taxes, shareholders hike costs for PA American customers
Morning Call: Politics As Usual: Smokers Beware, Cops Could Be on Patrol
Morning Call: Bill would require patients get test results
Morning Call: Planned Parenthood trains volunteers for election campaign
Morning Call: Rebuking Trump, Obama tells graduates walls won't solve ills
North by Northwest
Sun Gazette: Toomey's balancing act: Win over moderates, deal with Trump
Centre Daily Times: Local school districts respond to federal guidance for transgender students
Centre Daily Times: OAG calls Sandusky docs about Kane testimony 'inaccurate'
Sun Gazette: Senator, county DA blast 'sanctuary city' Philly
Sun Gazette: Senator, vying for re-election, wary of Trump, eyes centrists
GoErie: How the transgender bathroom issue plays out in Pa., Erie
GoErie: EMTA dispute creates 'real concern' for Erie-area bus riders
Opinion
York Dispatch: OPED: McGinty's record fails 'leadership test'
Pottstown Mercury: Katie McGinty is as establishment as they come
Pottstown Mercury: With Bible bill vetoes, governors uphold religious freedom
Pottstown Mercury: The Democrats' LGBT war on women  
Bucks County Courier Times: There's a time and place for cursing…and politics isn't it
Times Leader: Luzerne County's penny-inching o wail service will pay off
Times Leader: Anxiety over nations 'bathroom bills' rooted in restroom psychology
Times Leader: Newly appointed Luzerne County Manager David Pedri deserving of fair shake
Post-Gazette: A $16 million tip: The county taxes for transit gather a surplus
Patriot-News: To fix Pa's pension problem – cut corporate welfare
Patriot-News: It's time for Pa. to switch to an open primary
Blogs
Lehigh Valley Ramblings: America's Hidden Epidemic – Child Abuse
Lu-Lac Political Letter: Why Trump Won't Release His Tax Returns
Lu-Lac Political Letter: Ed Rendell Says Bernie People Should Behave
Commonwealth Foundation: The $20 Billion Energy Tax
Keystone Crossroads: Four ideas for fixing parking politics from Donald Shoup
Citified: Sorry, But the Johnson-Feibush Verdict Won't End Councilmanic Prerogative