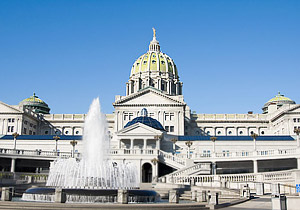 Good morning politicos, here's the Buzz. The Senate continued its 1100 day-plus streak of no budgets yesterday, progressives continue their battle against ALEC, and Karl Rove's Super PAC is up with an ad in PA.
Once Again, Toomey Budget Fails (But Outperforms All Others): A plan to balance the federal budget proposed by Sen. Pat Toomey was voted down by the Senate 42 to 57 on Wednesday, but still garnered more votes than any other proposal.
In PA: The Battle Against ALEC Rages On: After receiving criticism over using public funding for payments toward ALEC, members of the Pennsylvania legislature have severed their ties to the group after Keystone Progress, a liberal activists group, made the practice known after a Right-To-Know request led to the discovery of documents that showed taxpayer dollars may be going to this organization.
Is PA a Swing State? Pennsylvania has voted decidedly Democratic in the last three presidential elections, but neither candidate takes an Obama victory for granted in 2012. Stu Rothenberg asks, is PA really in play?
Crossroads GPS Hits Back with PA Ad (Watch Video): Crossroads GPS, the conservative Super PAC founded by Karl Rove, is launching a nearly half a million dollar ad buy in Pennsylvania. Their television spot that hammers President Obama over broken promises, and comes as Mitt Romney endures a blistering ad assault here.
Legislative Election Updates
HD-131: Union workers held a rally Wednesday to demand that Republican "Rep. Justin Simmons stop his attack on working families and support prevailing wage."
National
Politico: Obama Brings Hoagies From Philly Native To Congressional Leadership
Roll Call: At White House, Hoagies Win Praise Even As Debt Crisis Looms
Five Thirty Eight: Sen. Casey Is Safe; Dems Odds of Retaining Control Of Chamber Are A Toss-up
Washington Post: Gerlach Is Headed On Bipartisan House Delegation To Asia
Fox Philadelphia: Congress Considers Threats From Airport Employees
Statewide
Capitol Ideas: Pennsylvania governor, lawmakers report gifts, travel
Capitol Ideas: Lehigh Valley Business Leaders: Pay now or pay more later for road and bridge repairs
Sound Bites: Legislators want to grant tax-exempt status to lessen burden on cities lacking taxable property
Sound Bites: State police counting cadets — before they hatch?
PA Independent: EPA rules Dimock water safe; contamination not caused by gas drilling
PA Independent: Former Pa. school nears sale after three years
PA Independent: Congressman Pitts' campaign contributions advance out-of-touch image
State Impact: Study: Pennsylvania's Regulations "Have Been Effective"
State Impact: WAMU's nationally-syndicated Diane Rehm Show focused on Marcellus Shale nat­ural gas drilling
State Impact: Governor Corbett Says Doctors' Concerns Over Act 13 May Be "Moot"
State Impact: Pa. DEP Secretary Krancer's top 5 EPA-bashing letters
State Impact: "Medical Records Could Yield Answers On Fracking : NPR"
State Impact: Drill Bits: Well Safety Violations, Bad Roads, and Wind Farms Axed
Capitolwire: Advocates, Dems want to restore child care funding cuts in Senate budget
Capitolwire: Senate will defend college restorations, distressed school funding in budget negotiations
Philadelphia
AP: Bush says he backs Romney
AP: Role unlikely for George W. Bush in Romney Bid
AP: Biden attacks Romney tenure as venture capitalist
AP: Focus of primary races shifts to top state races
Inquirer: GOP SuperPAC strikes with $25 million ad buy
Inquirer: Obama to meet with Center High School's seniors
PhillyNow: Community action groups shutdown center city, protest Gov. Corbett
Fox Philadelphia: Romney hits Obama on debt, Campaigns in Fla.
WHYY Newsworks: Presidential campaign ad wars open up in Pennsylvania
WHYY Newsworks: Some Pa. lawmakers get heat for membership in ALEC
Pittsburgh
Post-Gazette: Biden rips Romney's business background in Youngstown
Post-Gazette: DeWeese chief of staff sentenced to up to 4 years
Early Returns: Biden on attack in Youngstown
Early Returns: Biden vs. Bain
Early Returns: GOP SuperPAC targets Obama in Pa
Fox Philadelphia: Bill Would Push Pa. Turnpike Speed Limit To 70 MPH
Opinions
Washington Post Editorial: Obama's Bain Ad Buy Was Cheap But Effective
Inquirer Editorial: Health care losing to politics
Inquirer Editorial: Barking up wrong tree on 'fracking' for gas
Inquirer Op-ed: Medicare cheaters are soaking the taxpayers
Inquirer Op-ed: The President tests a stalwart
Inquirer Op-ed: An immigration crackdown killed-by conservatives
Daily News Editorial: College debt a ticking time bomb-or two, or three
Daily News Op-ed: Does the Free Library even know what century it's in?
Blogs
Keystone State Education Coalition: Privatizing Public Education in Philadelphia?
Commonwealth Foundation: Who Should Need the Government's Permission to Work?
Lehigh Valley Independent: Will Lower Mac Put Taxpayers on the Hook for Costly Jaindl Sewer Buildout?
Lehigh Valley Independent: Ben Franklin Tech Development Partners Gets $5M From the Feds
2 Political Junkies: A Birther Update
Lu-Lac Political Letter: The LuLac Edition #2056, May 16th, 2012
The Pennsylvania Progressive: Pennsylvania Hunger Games Diet: Cash for Corporations, Cuts for Kids
Above Average Jane: Pitts Sees Dead People
Keystone Politics: Here Comes Another Fake Debt Crisis
Keystone Politics: Bill Green Offers Worst Idea Ever as Alternative to AVI Assessment
Keystone Politics: Tavern Licensing Reform Must Be a Part of Alcohol Reform
Keystone Politics: Is the State Booze Monopoly the Best Way to Reduce Alcohol-Related Harms?
Keystone Politics: Hail Marty Moss-Coane!
John Hanger: Heating Degree Days Hit Record Low, Hammering Gas Price and Electricity Demand
John Hanger: Drilling Hysteria Lessens: Susquehanna River Off 10 Most Endangered Rivers List
John Hanger: Solar Exceeds 1,000 Megawatts in PJM: Lancaster County, PA Red Hot Solar Spot