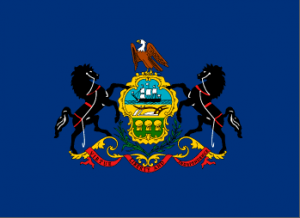 The DSCC throws some cash behind McGinty while the Koch Brothers back Toomey and Stephen Reed gets some good news. Good morning politicos, here's the Playbook!
BREAKING: PA-Sen: DSCC Committing $8.2 Million to Senate Race: The Democratic Senatorial Campaign Committee is bringing out the checkbook for Katie McGinty.
PA-Sen: Koch Brothers to Target Toomey-McGinty Race: The billionaire brothers will be focusing on a handful of Senate races, including Pennsylvania's.
Voit Accuses Torsella of Stealing Website Idea: The Democratic nominee maintains he mentioned the model first.
Pennsylvania Part of Clinton's, Trump's November Plans: Both candidates are focused on the commonwealth's twenty electoral votes.
Judge Dismisses 305 Charges Against Reed, 144 Still to Go: The former Harrisburg Mayor got some good news today, relatively speaking.
PA-2: Fattah Trial to Start Today: The Congressman is facing the fight of his life.
Deceased Philadelphia Police Officer Honored In White House Ceremony: President Obama awarded the Medal of Valor to slain Philadelphia police Sgt. Robert Wilson III.
Statewide
State House Sound Bites: Wolf touts response to opioid crisis, says more help is coming
State House Sound Bites: Judge tosses hundreds of charges against longtime Harrisburg mayor
Capitolwire: Senate panel approves DNC's special occasion permit
Philadelphia
Inquirer: With abuse bill looming, Chaput calls priest meeting
Inquirer: Fattah defense pins blame on ex-aides as federal corruption trial opens
Inquirer: Slain Phila. officer honored in White House ceremony
Inquirer: Pa. close to requiring ignition locks for first-time DUIs
Inquirer: Phila. School District unveils sustainability plan
Philly.com: Ex-mayor of Pennsylvania capital gets most charges dismissed (AP)
WHYY Newsworks: Supt. Hite to have his own test — going before Philly City Council
WHYY Newsworks: U.S. Attorney General Loretta Lynch addresses Penn Law grads
KYW: PennDOT Spending $12 Million To Improve Traffic Signals
SEPA
Pottstown Mercury: Royersford Water Pipes to be Replaced   
Pottstown Mercury: Court rules against Limerick nuclear plant relicensing challenge
Pottstown Mercury: Pa. approves tom improve traffic area problems
Bucks County Courier Times: Middletown supervisors take steps toward new township skate park
Bucks County Courier Times: Sen. Bob Casey wants to adopt Pennsylvania child abuse laws at federal level
Montgomery News: Police honored for successfully resolving Lansdale hostage situation     
Pittsburgh
Post-Gazette: Allegheny County has $16 million extra in drink tax account
Post-Gazette: $4.9 billion in regional transportation projects proposed
Post-Gazette: Local officials pitch to U.S. Transportation secretary for Smart City Challenge Grant
WESA: Governor Wolf Calls For Reimagining Of Pennsylvania Cities
KDKA: Pat Toomey Calls For An End To Sanctuary Cities
Pittsburgh Business Times: Wolf Pledges $11M to help fund Pittsburgh's Smart Cities Challenge
Tribune Review: Broad Pa. laws allow dubious use of campaign cash
Southwest
Johnstown Tribune-Democrat: Ex-Harrisburg mayor gets most counts dismissed
Johnstown Tribune-Democrat: Republicans push to get Amish, Mennonites to the polls
Johnstown Tribune-Democrat: Region's heroin epidemic in spotlight at town hall meeting
NEPA
Times Leader: Wilkes-Barre's budget surplus grows to nearly $8 million
Standard Speaker: Wolf, GOP at odds over teacher layoff bill
Standard Speaker: Senate moves on rain fee bill
Pocono Record: Hoffman picked to fill open supervisor seat in Eldred Twp.
South Central
York Dispatch: Pa. legislature resumes session, budget decisions loom
York Dispatch: York County D.A. asks McGinty to not support 'sanctuary cities'
Patriot-News: Dem AG candidate Shapiro launches gun background check petition: Monday Morning Coffee
Patriot-News: Pa. House votes to extend use of ignition interlock devices for most first-time DUI drivers
Patriot-News: Gun background check advocates want loophole closed; 'we are not going away'
Carlisle Sentinel: Legislature resumes session, budget decisions loom
Carlisle Sentinel: Hundreds of charges dropped against ex-Harrisburg mayor Stephen Reed
Lancaster Online: Ex-mayor of Pennsylvania capital gets most counts dismissed
Lehigh Valley
Morning Call: Upper Milford will vote on open space tax in November
Reading Eagle: Week in Review: Judy Schwank sponsors a bill that ensures parents aren't sent to prison for child's truancy
Reading Eagle: State could enter online gambling game
Reading Eagle: District judge charged with theft suspended without pay
Lehigh Valley Live: IRS scam making the rounds in Palmer Township, police say
North by Northwest
Sun Gazette: Republicans push to get Amish, Mennonites to the polls
Sun Gazette: US Rep. Fattah: Consultants to blame for any financial crime
Sun Gazette: Home repairs in city, lighting contract for county among votes
Go Erie: Pa. Legislature resumes work with 6 weeks until budget deadline
Go Erie: Erie Democrats to protest party leadership
Opinion
Pocono Record: Scavello takes wrong approach on school funding
Tribune Review: Transparent mud: The Obama shield
Patriot-News: Here's why Gov. Wolf should veto that teacher layoff bill: Jerry Oleksiak
Patriot-News: Results of "unofficial" ballot referendum was encouraging; more time in office for Pa. judges will lead to more corruption: PennLive letters
Reading Eagle: Ron Southwick: Why polling voters is getting tougher
Morning Call: Is Pennsylvania wired for corruption, or does it just seem that way?
Daily News: School District's structural deficit
Blogs
Citified: Philly to Focus Outreach to Homeless on Center City "Hotspots"
Keystone Crossroads: Study calls for at least $3.2 billion in added Pa. school funding
Keystone Crossroads: Auditor general to cities: We have a problem in Pennsylvania, folks
Commonwealth Foundation: Unions Targeting Vulnerable Pennsylvanians
Lu-Lac Letters: County Vehicle Registration Fee
2 Political Junkies: Meanwhile, Outside…(How Can Global Warming Be True When There Was Snow In Pennsylvania This Weekend? IN MID-MAY??)
Lehigh Valley Ramblings: Waiting For Godot: Governor Tom Wolf