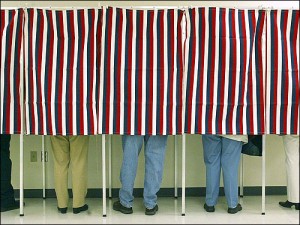 Good morning politicos! Jim Kenney won the Democratic Philly Mayoral Primary, the parties chose their PA Supreme Court nominees and so much more is included in our special post-Election edition of the Buzz!
Election Results
PHL-15: Kenney Wins Democratic Nomination: Jim Kenney is officially the Democratic Party's nominee to be the next Mayor of Philadelphia.
Donohue, Dougherty and Wecht Win Dem Supreme Court Nominations: The three judges will be on the Democratic ticket for the three open seats on the PA Supreme Court in November.
Olson, George and Covey Prevail; Win GOP Supreme Court Nominations: The three Republican candidates for Supreme Court are official.
Brown, Domb, Green, Greenlee, and Gym are the Dem Philly Council Slate: Two incumbents hold their at-large seats while three new nominees emerge.
Republicans Are Set for Battle over Philly City Council Seats: Oh and O'Brien aim to keep seats against three challengers.
Wojcik Beats Eagen in Upset for Democratic Commonwealth Court Nomination: The Allegheny County Solicitor beat the party-endorsed candidate.
Dubow Wins Democratic Primary for State Superior Court: She prevailed over Robert Colville.
Johnson and Sanchez Retain Dem Nominations for Philly Council: Kenyatta Johnson eases to victory, while Sanchez ekes it out.
Wagner Wins Allegheny County Controller Dem Primary: Chelsa Wagner beats Mark Patrick Flaherty and moves closer to her second term.
Non-Election Results
Pres. Obama Meets Philly Officials on Tarmac: Philadelphia Mayor Michael Nutter and Sen. Bob Casey joined the President to talk about the Amtrak crash.
Reader Poll: Who's Your Favorite 2016 Presidential Candidate?: We ask our readers for their preferred presidential hopeful next year.
Reader Poll: Super PACs Are Dangerous: Our readers feel Super PACs harm the political process.
Casey Endorses Eagen for PA Commonwealth Court: Senator Bob Casey announces his support before tomorrow's election.
PA-8: Fitzpatrick Ranked as Sixth-Most Bipartisan Congressman: The rankings come from the Lugar Center and included Reps. Charlie Dent and Jim Gerlach in the top 15.
Statewide
Politico: Harvard professor apologizes to Rick Santorum
PLSReporter: Gov. Wolf calls on rail companies to improve safety in crude oil deliveries
Capitolwire: AFSCME, UFCW ratify short-term agreement
Philadelphia
Commonwealth Confidential: Pension posturing
PhillyClout: Charter school boss tells teachers Helen Gym 'hates us'?
PhillyClout: Scenes from the deli
WHYY Newsworks: State pension crisis: How did we get here?
Philadelphia Business Journal: Governor asks exec from natural-gas producer to serve on the Public Utility Commission
SEPA
Delco Daily Times: 6 Dems do battle in Philly mayoral race
Delco Daily Times: Top Pa. race? 3 open seats on Supreme Court
Pottstown Mercury: Montco officials: Voter intimidation complaints unfounded
Pittsburgh
Post-Gazette: Turnout light, but alcohol votes draw attention in Bellevue, Wilkinsburg
Post-Gazette: Jamie Dixon was Pitt's highest paid employee in 2014, tax documents show
Post-Gazette: Allegheny County DA issues search warrants in Plum teacher sex cases
Post-Gazette: Wolf, Pittsburgh school administrators discuss proposed funding
Post-Gazette: Unions urge Amtrak to put 2nd engineer in every locomotive
Tribune-Review: Governor decries low voter turnout for primary election
Tribune-Review: Top floors of Macy's Downtown could become high-end apartments
Business Journal: Who are the City of Pittsburgh's highest-paid employees?
Business Journal: Exclusive: Why a law firm's decision on moving offices could have a big impact on Pittsburgh's North Side
Southwest
Altoona Mirror: Altoona schools get new superintendent
Altoona Mirror: UPMC says it will keep vendors
Beaver County Times: Contested races dot primary ballots
Beaver County Times: Route 18 construction proves to be headache for Beaver Falls businesses
Tribune-Democrat: Primary election focusing on county, local positions
Tribune-Democrat: Advocacy group: Wind turbine rules needed to protect birds
NEPA
Times Leader: In Focus: Why does apathy rule in the Wyoming Valley on primary day?
Times Leader: Superior Court overrules Luzerne County judge's decision in homicide case
Times-Tribune: Early turnout light as decision day gets underway
Times-Tribune: State found Regional Hospital of Scranton had nursing shortages
Times-Tribune: Boscov: mall changes must go through me
Times-Tribune: Ex-cop gets house arrest for drunken road rage incident
South Central
Harrisburg Patriot News: Defense attorney lauds judge's decision to bar release of fatal police shooting video
Harrisburg Patriot News: The Toomey household faces more than one tough race
Harrisburg Patriot News: Law enforcement respond to politically charged spat at Middletown polling place
Harrisburg Patriot News: Dauphin County judge tells DA he can't release fatal police shooting video
Harrisburg Patriot News: Middletown Borough Council candidates aim to tackle communication, transparency
Lancaster Intelligencer/Era: Democrats pick nominees for 2 open seats on appellate courts
Lebanon Daily News: Programming error affects voting in Palmyra Borough Council race
Lehigh Valley
Morning Call: It's primary election day in the Lehigh Valley
Morning Call: Meet the new man in charge of Lehigh County's voting machines
Morning Call: Commissioners to vote on reapproval of Jaindl 269-home project
Reading Eagle: Primary has 12 seeking 3 Pennsylvania Supreme Court seats
Reading Eagle: Early on, voter turnout uneven throughout Berks County on Election Day
Reading Eagle: Voters file into Reading polling place
Reading Eagle: Pennsylvania Supreme Court will hear Berks painter's appeal in suit against PPL
WFMZ: Incumbent, 5 others seek Democratic bid for Reading mayor
North by Northwest
Centre Daily Times: Few Centre County ballots see contested races
Williamsport Sun Gazette: Commissioners approve repairs of issues at courthouse
Williamsport Sun Gazette: Clinton commissioners hit capitol
Williamsport Sun Gazette: Muncy Township supervisors tend to light agenda
Williamsport Sun Gazette: Primary today will narrow the political field
Erie Times-News: Voter turnout in Erie County could use a boost
Opinion
Philly.com: Protect court from influence of donations
Reading Eagle: Local elections have greatest impact on taxes, services
Post-Gazette: Vote today: Casting a ballot is the American thing to do
Tribune-Review: Pittsburgh Tuesday takes
Bucks County Courier Times: Freebies and favors, and toothless laws
Delco Daily Times: Middle-income Americans need health care reform
Blogs
Citified: D.A. Seth Williams Charges Four with 2014 Election Fraud
Citified: Voters Seek Fresh Blood in At-Large Council Race
Citified: Jim Kenney Wins in Historic Landslide