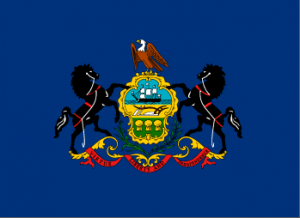 The Quigley controversy continues, MSNBC looks at western PA and we examine the PA-9 GOP primary. Good morning politicos, here's the Playbook!
Bickering Continues After Quigley's Exit: This controversy doesn't appear as if it will end anytime soon.
PA-Gov: The Email That Caused Quigley's Ouster: A look at the message that reportedly ended the ex-DEP Secretary's tenure.
MSNBC Examines Western PA's Red Trend (VIDEOS): Appalachia is exiting the Democratic Party.
PA-9: Map: Shuster's Survival: An in-depth look at how the Congressman narrowly prevailed in last month's GOP primary.
HD-46: White Concedes To Szpara: Joseph Szpara defeats Jesse White to become Democratic nominee.
Washington Post Rates PA as "Lean Democratic": The Washington Post puts Pennsylvania's 20 electoral votes in the blue column, for now.
April Jobs Report: Unemployment Jumps to 5.3%: The PA unemployment rate went up 0.4% this month.
Statewide
Capitolwire: Quigley email to environmental groups surfaces
StateImpactPA: Here's the email that led to the resignation of Wolf's environmental secretary
StateImpactPA: Dredging the Delaware has scientists worried about the impact of climate change
WITF: Midstate county office getting audit from state
WITF: Proposed development near Gettysburg is "greatest threat to hallowed ground"
WITF: Harrisburg reaches deal with state over trash services
Philadelphia
WHYY Newsworks: City worker hit with $1,800 penalty for political work
WHYY Newsworks: Pa. lawmaker proposes greater drone regulation
WHYY Newsworks: Health leaders get vocal in support of Philly soda tax proposal
Inquirer: School district may miss out on ride-sharing revenue
Philadelphia Business Journal: Bucks County hospital names new president & CEO
Philadelphia Business Journal: Deeper channel may not mean more business at the ports
SEPA
Bucks Local News: APPEALING DECISION: Veterinarians take fight to Commonwealth Court in quest to use Satterthwaite property in Lower Makefield as a horse hospital
Delco Daily Times: Hearing, vote on proposed U.D. budget set tonight
Bucks County Courier-Times: Bucks official says state money helps fight county's opioid epidemic
Bucks County Courier-Times: Bucks lawmakers sign rebuke against Obama's transgender bathroom letter
Pittsburgh
Tribune Review: 'We failed,' admits Penn Hills School District
Tribune Review: McCandless creates environmental advisory committee
Tribune Review: Ex-DEP secretary's email mixes profanity, criticism of environmental groups
Tribune Review: Plum School Board divided on speaking out over grand jury report fallout
Post-Gazette: Peters Township hires new assistant manager, police chief
Post-Gazette: UPMC will outline hospital plans at Pleasant Hills hearing Oct. 5
Post-Gazette: Bomb threats force evacuations of 3 Allegheny County schools
Southwest
Beaver County Times: Road rage incident leads to lockdown in Moon Area schools
Beaver County Times: Urban League report calls for $1 trillion 'Marshall Plan' for urban communities
Beaver County Times: High school graduates aren't feeling the economic recovery
Observer-Reporter: New signaling technology pitched to ease Route 19 congestion
Observer-Reporter: Supreme Court upends all-white jury verdict, death sentence    
NEPA
Times Leader: Peace and Justice Center honors area residents
Times Leader: Wilkes-Barre Area School Board gets earful before approving program cuts
Times Leader: Ashley Borough employees expected to be on their best behavior at council meetings
Times Tribune: State Lawmakers turn attention to drug epidemic
Pocono Record: DEP official's private email had urged groups for 'pushback'
South Central
Patriot News: Rampant paranoia in AG Kathleen Kane's office: 'You never knew if they'd come for you'
Patriot News: Harrisburg more than doubles the trash bill for 33 state-owned buildings
York Daily Record: Pa. DEP leader had urged groups for 'pushback' in email
Lancaster Intelligencer: Williams begins stockpiling pipe for Atlantic Sunrise even though gas project doesn't have federal approval
Lebanon Daily News: Gov. Tom Wolf bring heroin crisis roundtable to Lebanon
Lebanon Daily News: Congressman honors veterans in Palmyra
Lehigh Valley
Morning Call: Palmer parents: Schools unsafe during election
Morning Call: Email undoes Tom Wolf's environmental secretary
Morning Call: In ads, Toomey casting himself as a protector
WFMZ: Reading hires new police chief, managing director
North by Northwest
Centre Daily Times: DePasquale to audit state grant The Second Mile
Williamsport Sun Gazette: Marino, Timson vote for Zika virus response
Eries Times-News: Erie schools faced with taking loan or state advance
Erie Times-News: Badams talks budget with Erie high school students
Opinion
Patriot News: Verizon's striking workers and customers deserve better
Patriot News: When it comes to non-union state employees, give 'em a raise Gov. Wolf
Patriot News: With Internet gaming vote coming, lawmakers need to tread carefully
Daily News: The mass shootings that America forgot
Daily News: Charter Schools Office rightly exercising its power
Post-Gazette: Fix the locks: Don't miss this chance to repair vital waterways
Post-Gazette: To serve and object: Pittsburgh police and the Beyonce factor
Post-Gazette: One down: The U.S. kills Taliban leader, but game not over
Blogs
Citified: "Tax" on Uber and Lyft Would Actually Be a $4 Million Windfall to the PPA
Citified: After Inviting Reporters to Outdated Jail, Kenney Kicks Them Out
Keystone Crossroads: Reading officials ponder issuing municipal ID cards
Keystone Crossroads: A garden, a redevelopment plan, and a fight over who owns a neighborhood
Keystone State Education Coalition: PA Ed Policy Roundup May 23: How can I be rated based upon people I barely pass in the hallway?
Commonwealth Foundation: PA Business Climate isn't Winning any "Miss Congeniality" Contests