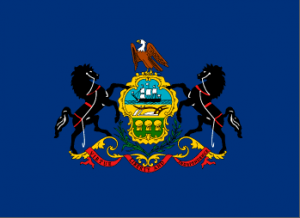 Kane's drama reverberates through the AG's office, the DNC picks its platform committee and Voit endorses Trump. Good morning politicos, here's the Playbook!
Kane's Struggles Weigh on AG Staff: A new report suggests employees in the AG's office are terrified of their boss.
DNC Names Convention's Platform Committee: Bernie Sanders got some input into the drafting body's make-up.
Voit Endorses Trump: The GOP's nominee for State Treasurer proudly backs his party's new leader.
Reader Poll: Do You Think Quigley Deserved to Go?: We ask our readers about the controversy surrounding the former DEP Secretary.
Reader Poll: Marijuana Should Be Legal in PA: Our readers think pot should be legalization in the Keystone State.
Sanders Welcomes "Messy" Convention in Philly: "So what! Democracy is messy" the Democratic candidate says of potential convention chaos.
PA-Sen: Toomey Ramps Up Sanctuary City Attack in New Ad (VIDEO): The Toomey campaign continues to go after McGinty over sanctuary cities.
Statewide
Capitolwire: General Assembly's Taxpayers' Caucus says it's found $3 billion in budget savings, Wolf administration unimpressed
Capitolwire: House hits a wall with gaming expansion measures
Capitolwire: DHS making progress on issues highlighted in ChildLine audit
Capitolwire: Shapiro calls for more robust civil, public protection divisions at OAG
PA Watchdog: Teachers union, religious objectors battle over how dues are spent
StateImpactPA: Deepening the Delaware: Windfall or boondoggle?
WITF: Nearly 42,000 calls unanswered in 2015 at state's child abuse hotline
Philadelphia
Inquirer: Feibush's winning lawsuit could cost city $116,393.12 more
Inquirer: School advocates hammer PPA over Uber deal
Inquirer: Pa. seeks more data from Agora Cyber Charter
Inquirer: Pa. seeks financial, contract info from Agora Cyber Charter
WHYY Newsworks: A garden, a redevelopment plan, and a fight over who owns a neighborhood
KYW Newsradio: Philadelphia Principals, School District Come To Agreement
Philadelphia Business Journal: Former Vanguard Group lawyer's whistleblower lawsuit tossed
Philadelphia Business Journal: Pa.'s 'Plan on Aging' lacks details on senior centers, transportation
SEPA
Bucks County Courier Times: Water contamination meeting draws hundreds
Bucks County Courier Times: Morrisville School District to re-register students this summer
Delco Daily Times: Hearing, vote on proposed U.D. budget set tonight
Local Daily News: West Chester agrees to settle litigation with Wyeth, Pfizer
Pittsburgh
Tribune Review: Plum residents call for superintendent to step down at board meeting
Tribune Review: Pittsburgh files for $50M transportation grant in Smart City Challenge
Tribune Review: Plum residents call for superintendent to step down at board meeting
Tribune Review: Lawmaker: Pa. should get rid of instant background check system for firearms
Tribune Review: Gov. Wolf asks Liquor Control Board to allow six-pack sales at gas stations
Post-Gazette: Wilkinsburg School Board approves resignation of acting superintendent
Post-Gazette: City Council to hear arguments about proposed ban on animal performances
WESA: Legislator Pushes To End PA Blue Law Restricting Hunting On Sundays
Pittsburgh Business Times: DoD awards $8.9M to CMU for surveillance research
Pittsburgh Business Times: Pittsburgh submits final application for Smart City Challenge
Pittsburgh Business Times: Taxes and labor laws need to be adapted to gig economy, Congress told      
Southwest
Observer-Reporter: Local efforts to fight overdose epidemic highlighted
Observer-Reporter: Monongahela Planning Commission hears testimony on backyard chickens
Observer-Reporter: Trinity approves purchase of alarms for elementary schools
Beaver County Times: Auditor General DePasquale says nearly 42,000 calls to Pa. child abuse hotline went unanswered last year
Beaver County Times: Beaver County waterways receive nearly $180,000 for preservation efforts
Altoona Mirror: Airports at risk of losing gov't subsidy  
NEPA
Times Leader: Tom Blaskiewicz named West Pittston mayor
Times Leader: Luzerne County Manager Pedri still awaiting Penn Place air quality test
Times Tribune: State officials mull option for Scranton's troubled pension funds   
South Central
Lancaster Intelligencer: 'Alarming' number of call to child abuse hotline are going unanswered, Auditor General says
York Dispatch: York lawmaker say that can save the state $3B
York Dispatch: Tax collectors ask York County for pay hike
York Dispatch: Group touts fair education funding in York
Patriot News: Gov. Wolf wants to 'free the six-pack,' but the PLCB will have the final say
Patriot News: Bill to close background checks loophole for clergy, doctors wins House panel approval
Patriot News: Should Pa. eliminate its conceal carry permit requirement for firearms?
Patriot News: Enviros rush to defend ousted DEP boss John Quigley
Lehigh Valley
Express Times: Why the DA thinks allowing online gambling is a bad bet
Morning Call: Pa. House rejects bids to expand gambling
Morning Call: Vote on 55-plus housing Green Pond Country Club
Morning Call: Gov. Wolf pushes gas pedal on letting Pa. Stores sell gas and beer
Reading Eagle: City Council breaks up Reading Area Water Authority
Reading Eagle: Advocates ress Reading for a municipal ID card
Reading Eagle: Daniel Boone School Board votes to outsource support staff
North by Northwest
Williamsport Sun Gazette: No tax hike in South Side
Centre Daily Times: Auditor general: Kids' lives at risk from unanswered hotline calls
Centre Daily Times: SCASD board approves change orders for State High project
Erie Times-News: Erie County Executive Dahlkemper named to national committee
Opinion
Morning Call: Legislation would give people convicted of minor crimes a 'clean slate'
Patriot News: Wolf made the wrong move by vetoing teacher layoff bill
Daily News: What's the (bleep)ing problem with caring about Pa.'s environment?
Inquirer: PennDot puts drivers at risk of identity theft
Pottstown Mercury: Is it true what Democrats say about Republicans and voting?
Post-Gazette: Delayed, but justice: The Supreme Court speaks loudly for fair trials
Post-Gazette: City in motion: Downtown and Lawrenceville are on the rise. Millvale too!
Post-Gazette: As goes Austria … : A far-right populist almost became president
Blogs
2 Political Junkies: My Chat With Representative Mike Doyle
Third and State: Finally: Waste, Fraud, and Abuse!!!
Third and State: Make believe Budgeting in Harrisburg
Commonwealth Foundation: Lawmakers Identify Billions in Budget Savings
Keystone State Education Coalition: PA Ed Policy Roundup May 24: "The state has said that students in other districts are worth more than you are. That's what this broken system says"
Keystone Crossroads: Department of Human Services calls for more affordable housing in Pa.
Citified: Activists: Uber and Lyft Tax Should Fund Philly Schools, Not the PPA
Citified: City Officials Target Illegally Towed Cars
Citified: Op-Ed: Kenney Broke His Campaign Promises to Minorities and the Poor