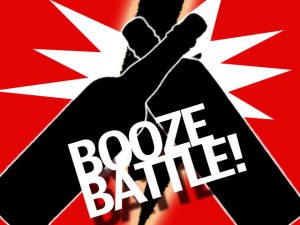 The booze battle may be coming to a television near you. Good morning politicos, here's the Buzz.
Don't forget to check back later for the Ups & Downs.
Booze Union Starts Statewide TV Buy (With Video): UFCW 1776, the labor union that represents the 3,000 employees of Pennsylvania's state-owned wine and spirits stores, is taking its message to the air. It opposes a GOP plan to privatize the industry.
HBG Mayor: Papenfuse on TV (With Video): And the first Harrisburg mayoral hopeful on TV is… businessman Eric Papenfuse. He hit the airwaves with a biographical ad that emphasizes his outsider status.
Mandel Poll: Mandel 27, Butkovitz 23 in Philly Controller Race: Challenger Brett Mandel leads incumbent Philadelphia Controller Alan Butkovitz 27% to 23% according to a poll commissioned by Mandel's campaign. 46% of likely Democratic primary voters are undecided.
Statewide
StateImpactPA: Revolving Door Keeps Spinning for Former DEP Chief Michael Krancer
Pa Independent: Annual PA lawmaker gift disclosures turn up pens, robes, trips for Corbett
Capitolwire: OFF THE FLOOR: Gov Tom. Corbett pays an unfairly high candor tax
Philadelphia
Inquirer: Gosnell jury again focuses on codefendant
Inquirer: Corbett to Malvern audience: Dems twisted my words
Inquirer: Montco Commissioners stymied on moving polling places
Commonwealth Confidential: Labor secretary backs up Corbet on drug test failures
Commonwealth Confidential: The Booze Wars, now televised everywhere in PA
PhillyClout: City Controller candidates lob ethics charges in testy debate
PhillyClout: City Council approves bill for advertising on city property
Heard in the Hall: Oh wants subpoena for reassessment info
WHYY Newsworks: New effort targets PA's 'triple-dipping' state workers
WHYY Newsworks: PA lawmakers, game commission at odds over swine
SEPA
AP: Pa.'s housing agencies cutting staff, rent aid
AP: Pa. homeowners to share nearly $612M in tax reductions
AP: Pa. slots revenue down for 5th straight month
AP: Gov. Tom Corbett panned for linking Pennsylvania joblessness, drug use
AP: Kane: Lottery deal likely to need legislative OK
Delco Daily Times: PRIMARY ELECTION 2013: Democratic slates vie for Media Council
Pittsburgh
KDKA: Dozens Hold Protest Outside Mayor's Office Over Ad Campaign
KDKA: More Fall-Out From Disclosure Of Ravenstahl's Role In Mayoral Campaign
KDKA: Council Gives Preliminary Approval For New Parking Ordinance
Tribune Review: Ridge visits Richland
Tribune Review: Pittsburgh's bottom line shows a surplus, but long-term concerns persist
Tribune Review: Pittsburgh council proposes licenses for valets
Tribune Review: Murrysville council votes to close Branthoover cutoff
Tribune Review: Greensburg eyes 2 firms for health district project
Post-Gazette: Pittsburgh mayoral candidate Jack Wagner distances himself from ads
Post-Gazette: Pennsylvania bill would limit covert farm recordings
Post-Gazette: Controller says Pittsburgh's finances generally in good shape
Early Returns: City politics: a problem of causation
Early Returns: Hanger: Enact natural gas severance tax
Southwest
Beaver County Times: Study: Residents believe health issues related to nearby drilling
Observer-Reporter: Councilman Manning's candidacy in jeopardy
Observer-Reporter: City council ballot dispute continues with hearing Wednesday
Observer-Reporter: Councilman bumped from ballot
Observer-Reporter: Slots revenue at Pa. casinos down for the fifth straight month
Observer-Reporter: Pittsburgh mayor behind ads attacking candidate
Altoona Mirror: District upgrading despite deficit
NEPA
Citizens Voice: State tax revenue won't grow as anticipated
Citizens Voice: Natural gas service bills clear Senate panel
Citizens Voice: W-B says Glodzik missed payment deadline
The Times Leader: Budget shortfall shrinking for WBA
The Times Leader: Pa. lawmakers, officials disclose gifts, travel
The Times Leader: 3 districts OK'd to exceed tax limits
Times-Tribune: Funding campaign to restore No. 505 trolley kicks off
Times-Tribune: Scranton mayor says city won't pay for separate tax office solicitor
Times-Tribune: Montrose man sent to state prison for running over four state troopers
News Item: Senate OKs end to 'triple dipping'
Wayne Independent: Post Plan to become effective
Standard Speaker: Candidates can participate in voters guide project
Standard Speaker: HHA hires attorney for 'potential litigation'
Pocono Record: Homeowners to share nearly $612M in tax reductions
Lehigh Valley
Express-Times: Bethlehem mayoral candidates lay out economic development plans
Express Times: U.S. Rep. Charlie Dent discusses gun control at town hall meeting in Bushkill Township -UPDATE
Morning Call: Corbett says drug use costing jobs
Reading Eagle: City Council member wants to keep seat, 'get some things done'
Reading Eagle: Pa. built surplus in April, but smaller than hoped
WFMZ: Auditor general:'Serious findings' in audit of Reading School District
WFMZ: City Council challenges administration hiring parks director before he's confirmed
WFMZ: Quakertown Council approves Economic Development Liquor License Request
South Central
The Sentinel: Diocese: Harrisburg Bishop Joseph P. McFadden dies suddenly Thursday
Patriot-News: Bishop Joseph McFadden: Parishioners stunned by his death
Patriot-News: Bishop Joseph McFadden: Admired and admonished, a man of faith tended to his flock
Patriot-News: Gov. Corbett: Bishop McFadden set an example for people of all faiths
Patriot-News: Congressional delegation saddened by Bishop McFadden's death
Patriot-News: Palmyra Area School Board mulls random drug testing
Patriot-News: Supreme Court asked to suspend fmr. Auditor General Don Bailey's law license
Patriot-News: Derry Twp. School Board candidates meet at public forum
Patriot-News: Incumbent Penn State trustee Keith Eckel wins new term on board in ag society election
York Daily Record: National Day of Prayer in York focuses on the unborn
York Daily Record: Internal reform suggested for York City Schools financial recovery
York Daily Record: Four going for district judge in Manchester Township
York Daily Record: District judge seat in city up for grabs
York Daily Record: Four Republicans vie for two seats on Springettsbury Twp. board
York Dispatch: Opponents hope power of prayer will stop Chanceford Twp. strip club
York Dispatch: Not a word at Red Lion meeting on prom king issue
Lebanon Daily News: Lebanon County considers outsourcing printing operations
Lebanon Daily News: Palmyra school board slashes tax hike
Intelligencer/Era: Was baby found in high school born alive or stillborn?
AP: Penn State board to weigh governance reforms
North by Northwest
Erie Times-News Campaign '13 Blog: Dahlkemper to campaign in Albion
Erie Times-News Campaign '13 Blog: Horton gets endorsement in County Council race
Centre Daily Times: Kathleen Kane: Lottery deal likely to need legislative OK
Williamsport Sun Gazette: Lawmakers disclose gifts
Williamsport Sun Gazette: Lawmaker reacts to closed-door meeting about state forest with public discussion
Opinions
Express Times: EDITORIAL: Counties in Pennsylvania should be checking references for right-to-carry permits
Reading Eagle: Spencer has been long on proposals, short on delivery
Bucks County Courier Times: Guilty of honesty
Delco Daily Times: EDITORIAL: Chester gun violence a sad commentary
Intelligencer/Era: The unseemly Gosnell case
York Dispatch: York City should release HRC report
York Daily Record: What will we do with nuclear waste?
Blogs
Keystone State Education Coalition: Pa. Ed Policy Roundup for May 2, 2013: Less Rosy Revenue, More Business Tax Cuts?
Commonwealth Foundation: Reality Check: We're Overspending