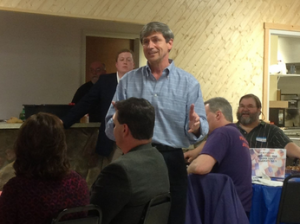 The Dems for Governor set their first debate date, Joe Sestak is making the rounds, and the city of Harrisburg makes some inauspicious history. Good morning politicos, here's the Buzz.
Date Set for First Dem Gubernatorial Debate: The first debate of the Democratic primary for Governor is on the calendar. A Harrisburg community group will host the event in June; 4 candidates have already confirmed.
Sestak to Carbon Co: Looking more like a gubernatorial candidate, former Congressman Joe Sestak hit Carbon County over the weekend (photo above). Submitted PoliticsPA reader Jeremy R. Haloskie: Sestak talked to the roughly 200 Democrats in attendance about the nation's unique identity of rugged individualism and cooperation. "I really appreciated Sestak coming to the county," said Carbon County Dem Chair Billy O'Guerk. "We are a small county and it is easy for candidates to overlook us." Sestak's last trip to Carbon County was an event for Ron Rabenold, who ran for State Representative. Lt. Gov. hopeful Brad Koplinski also made the trek to Jim Thorpe.
Toomey Taps New Press Secretary: Pat Toomey has a new flak. Central Pennsylvania Manager Steven Kelly will split press duties with constituent outreach.
Update: HBG Mayor: Papenfuse on TV (With Video): And the first Harrisburg mayoral hopeful on TV is… businessman Eric Papenfuse. He hit the airwaves with a biographical ad that emphasizes his outsider status. Updated with 2nd, negative ad.
Statewide
Pa Independent: SEC charges Harrisburg with fraud
Pa Independent: WATCHBLOG: House to tee up budget proposal next week
Pa Independent: WATCHBLOG: Corbett sees Affordable Care Act "collapsing," "believes in conspiracies"
AP: Latino groups to appeal PA reapportionment ruling
Roll Call: George Gekas – Life After Congress
Capitolwire: House moves Corbett's business tax cut proposal to Senate
Capitolwire: OFF THE FLOOR: Corbett holding out for pension reform, as hopes dim
Capitolwire: OFF THE FLOOR II: Senate Dems budget priorities mix wannas with gonnas
StateImpactPA: EQT Buys Marcellus Shale Holdings from Chesapeake
Philadelphia
Sunlight Foundation: Mayors Against Illegal Guns hits airwaves in PA and NH
Inquirer: Judge explains charges to Gosnell jury
Inquirer: Philly school staff paint a doomsday budget picture
Daily News: PA gifts that keep on giving
Philly.com: Hundreds of students to rally on North Broad over school cuts
PhillyClout: OSHA launches inspection of PHL work conditions
Big Tent: McIlhinney opposes electoral vote change
Commonwealth Confidential: Corbett, legislative leaders talk budget
Commonwealth Confidential: House passes bill to close "Delaware loophole," reduce business taxes
Heard in the Hall: Inspector general uncovers more sham contracts
WHYY Newsworks: Though Philly Traffic Court faces elimination, dozens ready to run for three vacancies
SEPA
Pottstown Mercury: 6 seats up for grab on Perkiomen Valley School Board
AP: Gosnell abortion trial jury continues deliberations
AP: Corbett, Kane, praise slain officers, including one from Chester
Delco Daily Times: Six candidates vying for Garnet Valley board
Delco Daily Times: County council approves three contracts concerning library system
Delco Daily Times: Sen. Pat Toomey to deliver Villanova University commencement address
Montgomery Media: A plan for preserving Central Roxborough
Montgomery Media: Lower Salford board discusses road widening for planned development
Pittsburgh
Tribune Review: Election may determine how city-county relations develop
Post-Gazette: City of Pittsburgh wants lawsuit challenging UPMC's non-profit status back in state court
Post-Gazette: 3 vie for District 9 Pittsburgh school board seat
Post-Gazette: Allegheny County official opposes paying Election Day constables
KDKA: Local Retailers Want Online Tax To Level Playing Field
KDKA: Internet Sales Tax Will Hit Pa. Hard If Approved
KDKA: Former Police Chief Guilty Of Selling Police Gun, Equipment
Southwest
Observer-Reporter: Lawmaker seeks state help with reassessment
NEPA
AP: Corbett, Kane, praise slain officers at ceremony
AP: Pa. House passes proposal to lower business taxes
Citizens Voice: Sluggish tax revenues spur jobs debate
Standard Speaker: City officials keep quiet on vacant housing
Standard Speaker: Hazleton center city alliance dissolves
Standard Speaker: Pair of natural gas service bills clear Senate panel
Standard Speaker: Legislation would expand drilling impact safeguards
Times Leader: Barletta warming up in bullpen
Times Tribune: Scranton mayoral candidates talk crime prevention
Lehigh Valley
Morning Call: More than 100 parents, students hold mid-day march against Allentown school cuts
Morning Call: State audit: Parkland paid too much to former superintendent, engaged in risky swap deal
Express Times: Carl Strye Jr. replaces former Nazareth Mayor Fred Daugherty Jr. as borough mayor
AP: Bill to make it easier to collect sales tax on online purchases expected to pass Senate
AP: PSU trustees approve changes; incumbents rejected
Reading Eagle: State renews permit for landfill in Exeter
Reading Eagle: New Berks GOP chairman seeks renewed unity
Reading Eagle: Measure aims to extinguish tax for merging fire companies
South Central
Carlisle Sentinel: Corbett, O'Brien speak at annual PCAR gala in Hershey
Carlisle Sentinel: Critics decry state's revived food stamp test
Harrisburg Patriot News: SEC case puts all municipalities on notice
Harrisburg Patriot News: Five things you ought to know about securities fraud charges
Harrisburg Patriot News: U.S. Attorney reviewing SEC case against Harrisburg
Harrisburg Patriot News: Cumberland Valley School Board flips coin to choose general contractor
Harrisburg Patriot News: Harrisburg officials: legal bills only recent sign of SEC probe
York Daily Record: ACLU: Transgender student's legal name will be read at Red Lion graduation
York Daily Record: Rep. Scott Perry hosting 'Service Academy Night' for students seeking nominations
York Daily Record: Watch editorial board meeting with York County DA candidates
York Daily Record: Flannelly and Platts say different experiences qualify them for the York County bench
York Daily Record: York Suburban candidates weigh in on finances
Lancaster Intelligencer/Era: County purges 8,000 voters from rolls
Lancaster Intelligencer/Era: Gov. Corbett signs law allowing for elimination of jury commissioners
Lebanon Daily News: Lebanon Valley Council on the Arts seeks input on future of building
Lebanon Daily News: Palmyra tree committee formed
Roxbury News: Crews do not find body after spending day digging, will search tree Tuesday
Today's the Day Harrisburg: Headline 5.05.13
North by Northwest
Erie Times News Campaign '13 Blog: Trade union group endorses Grossman in county executive's race
Centre Daily Times: State College school district OKs proposed budget with 2.7 percent tax increase
Centre Daily Times: State College Borough Council takes no action on Columbia Gas pipeline request
Centre Daily Times: Sen. Jake Corman attorney: Commonwealth Court to hear arguments in lawsuit against NCAA in June
Williamsport Sun Gazette: Lawmaker on mission to uphold gun rights
Williamsport Sun Gazette: Montoursville Area School Board features race in Region 3
Williamsport Sun Gazette: Illiteracy remains a big problem in county
Williamsport Sun Gazette: 2 in competition for Montgomery school position
Williamsport Sun Gazette: Area man OK with PA gun laws, has trouble finding some ammunition
Williamsport Sun Gazette: County OKs changes in coroner's office
Opinions
Williamsport Sun Gazette: State's Office of Open Records busy for right reasons
Post-Gazette: School choices: A mixed bag of contenders is running for the board
Delco Daily Times: Letter: Brookhaven mayoral candidate looks forward to leading borough
Reading Eagle: Proposed changes to open-records law raise a red flag
Blogs
Lehigh Valley Ramblings: Is Lamont McClure Involved in an Asbestos Litigation Scam?
Lehigh Valley Ramblings: Exec Candidates in Both Counties to Appear at "Top 1% Only" Forum
Jon Geeting: Bethlehem Primary Endorsements
Keystone Politics: Upcoming Potential Milestone in PA Redistricting Reform & What You Can Do About It NOW
John Hanger's Facts of the Day: Is PA 49th or 50th In Job Creation?
John Hanger's Facts of the Day: 96.5% Pass Jobs Drug Test – Governor Should Stop Slandering Job Seekers
Above Average Jane: Rob Teplitz on PCN's "Freshman Focus"
The Pennsylvania Budget and Policy Center: A Missed Opportunity to Close Tax Loopholes
Commonwealth Foundation: Why We Can't Just "Let Act 120 Work"